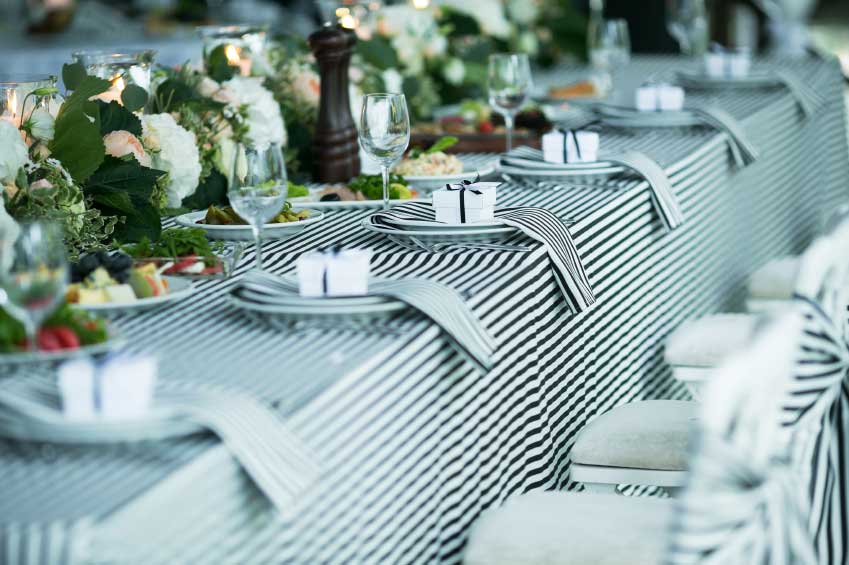 Wedding table layouts. They're not something too many of us ever think about before we start planning for a wedding, yet it's a crucial exercise that can make – or break – the overall atmosphere of your wedding reception. Here are the most popular choices when it comes to wedding seating and table layouts – and how to choose the right one.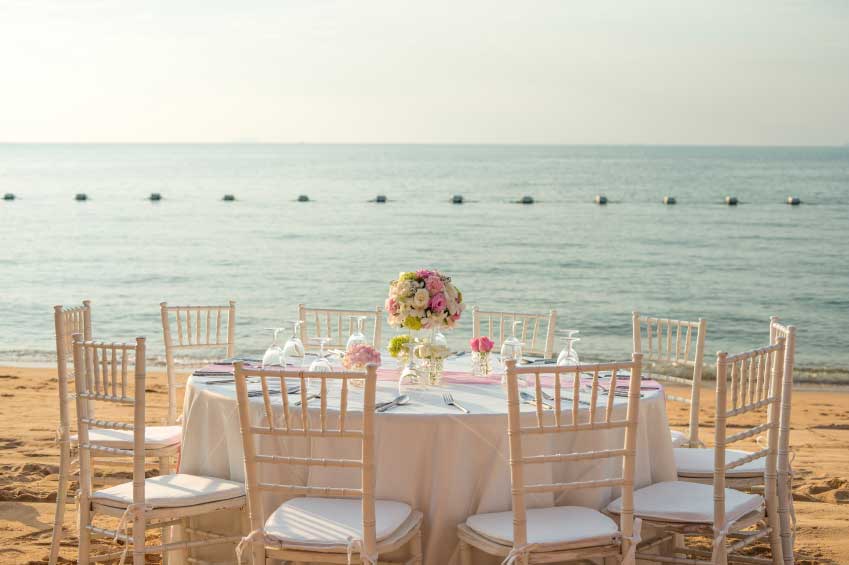 Where to start…
Most wedding receptions last for more than three hours, so the overall layout of your wedding reception seating (and, of course the combination of people you place together at the same table) will have a huge bearing on the comfort of your guests and, therefore, the overall success of your function.
Your first stop as to a potential seating plan is your wedding venue management. Ask them what they believe will suit your reception room. After all, they do this for a living. Knowing how best to seat the number of guests you have and how to best allow waiting staff to move freely are bread and butter issues to these professionals, so do take their suggestions into account.
[ew-supplier-carousel]
Of course, if you have a preference, by all means speak up. In fact if you are set on round tables then determine if this option is available before booking your venue. If not, you may be able to hire tables that are the size and shape you want.
Also, keep in mind that though you may have a layout preference, you're going to be restricted by the number of guest you're inviting; the location of the reception (ie on the sand at a beach wedding or in a garden) and, of course, the shape and size of the room (if your wedding reception is indoors) you've chosen.
The traditional wedding seating layout
This involves the bridal table at the head of the room with the close family members at tables placed closest to the bridal table. The general rule is that the higher the honour of the guest, the closer they sit to the bridal table. How the remaining guests are seated and with whom is up to you.
However, there are some elementary rules including:
Don't put people on the same table if they are not speaking to one another
Don't split couples
Do put shy people next to overly gregarious people
Divorced parents sit with their current partner and not their former partners
With an informal wedding, guests can be offered the choice of where they sit.
The horseshoe seating plan (or U-shaped table layout)
This option is exactly as it sounds with the tables forming the horseshoe (albeit a square horseshoe) with the bridal table sitting at the bottom of the horseshoe. In many cases the inside of the horseshoe is kept empty for dancing in.  It also makes it easy for the waiting staff to access the tables and for the bridal party to move around the room.
Many venues use the horseshoe layout and some of these operate on various levels with theatres and casinos being a good example. You're not likely to find different levels in a wedding reception.
Banquet table layout
Banquet style layouts involve everyone sitting in small groups. If you have a choice it could involve square, rectangular or round tables. Looking at pictures of reception venues with their different configurations can be helpful. Is there one layout which particularly appeals? Will that layout suit your number of guests? Remember that the banquet layout is often used for very large gatherings.
If you think of college dining rooms you will get an idea of how one layout of banquet style dining is set up. There are variations available and not just in the type of table. A hollow rectangle is often used for wedding receptions using the banquet layout.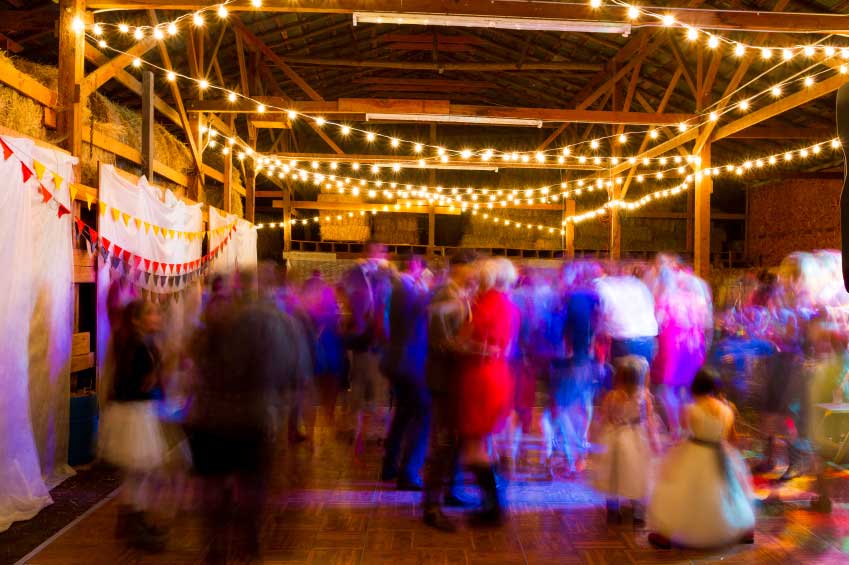 The cocktail wedding reception
This is the least formal type of reception. There are no tables for dining as such. There is waiting staff, however. They tend to move around with guests often standing. Food can be placed at different locations and guests have the option to help themselves. Certainly drink waiters move around providing beverages and there may even be food waiters as well. It's usually finger food.
But a cocktail reception is not just for standing guests. Do not neglect to provide adequate seating. If you fail to provide enough chairs, settees, whatever, you may find guests leave before you do – and don't forget elderly guests or those with, say, back issues who won't be able to stand for the duration of festivities.
Yes it's informal but no, it's not a party in someone's lounge room!
Be sure to provide some seating. Being able to sit and give your feet a break is Heaven sent. And if you're juggling a plate of food and a glass, being able to sit at least some of the time is essential.
Whichever seating layout you choose, make sure you have a professional-looking display board which guests can read easily and at their leisure during the pre-reception drinks. Ask your florist to add a little pizzazz to the board. Make sure the font you choose is easy to read and large enough. Always list names in alphabetical order and make it as easy to follow as possible.