Want some gorgeous wedding day chalkboards or wedding signs and need some romantic wedding quotes? If nothing immediately springs to mind, we've got a few ideas that would make for lovely wedding day signage. Here are some ideas for your romantic wedding quotes and sign ideas: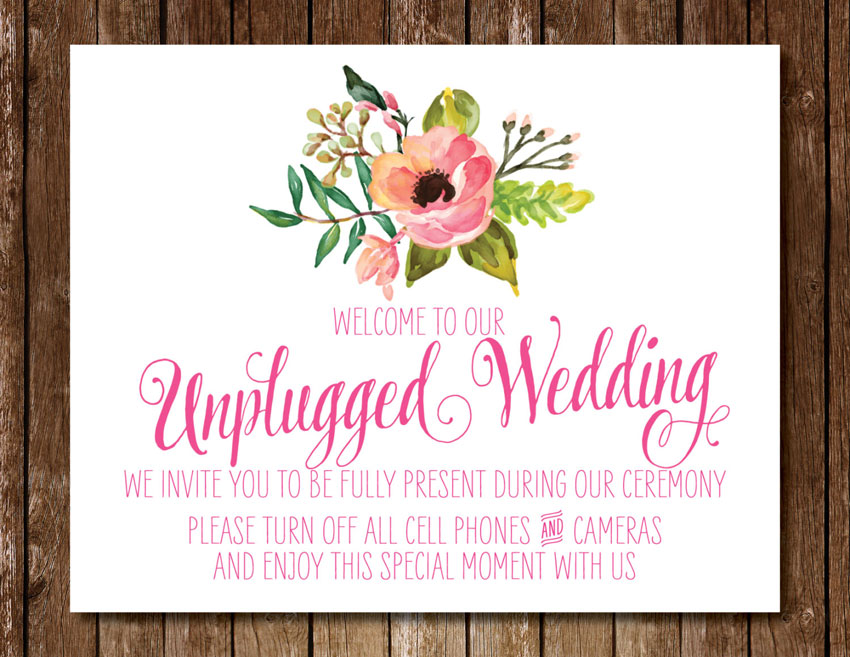 Unplugged wedding signs:
If you're having an unplugged wedding, it makes sense to notify your guests on the invitation and on your wedding website. But in addition, you might choose to have a sign for your guests as they enter, asking them to be fully present in the moment and put their phones away. It doesn't hurt to ask your celebrant to remind them as well.
"There's a girl here taking pictures. We asked her to come. So please rest your cameras. Our ceremony needs only one."
"Thank you for coming, but we have one plea, please keep our ceremony camera free."
"Welcome to our unplugged ceremony. We invite you to be fully present at our ceremony. Please turn off all mobile phones and cameras and enjoy this moment with us."
"We would love to see your faces, not your devices. Please put away your phone and camera until after the ceremony."
"We're so glad you're here to share our day, please be fully present with us, and keep your phones away".
Wedding quotes for your signage: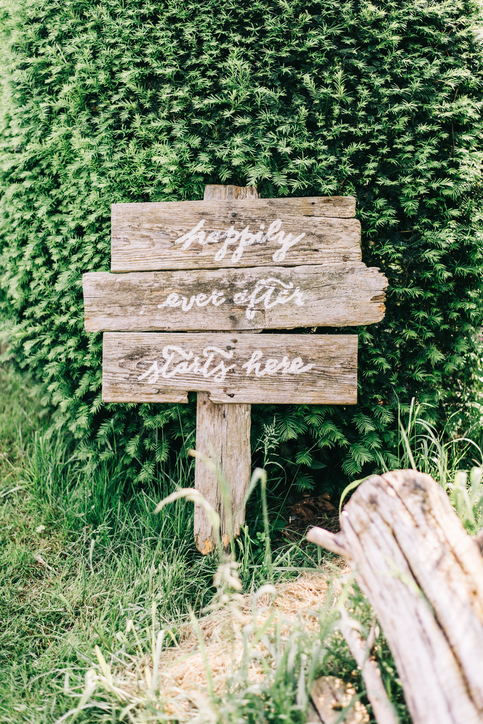 If you are having a welcome sign at the entrance of your ceremony location and want more than a "welcome to the wedding of …" then these beautiful love quotes will suit you perfectly:
"I have found the one whom my soul loves." Solomon 3:4
"I love her, and that's the beginning and end of everything." F Scott Fitzgerald
"True love is the greatest adventure"
"Happily ever after starts here."
"All of me loves all of you"
"True love stories never have endings" – Richard Bach
"And so our adventure begins"
"Where you go, I will go, and where you stay, I will stay. 
"It was always you."
"This is how our story begins."
"Together is a beautiful place to be".
"She became his wife, and he loved her". Genesis 24:67
" I will love you all the days of my life". 
"We decided on forever"
"My heart is, and always will be, yours" – Sense and Sensibility
"Whatever souls are made of his and mine are the same" – Emily Brontë
Grow old along with me! The best is yet to be. – Robert Browning
But to see her was to love her, love but her, and love her forever. – Robert Burns
Seating plan signs: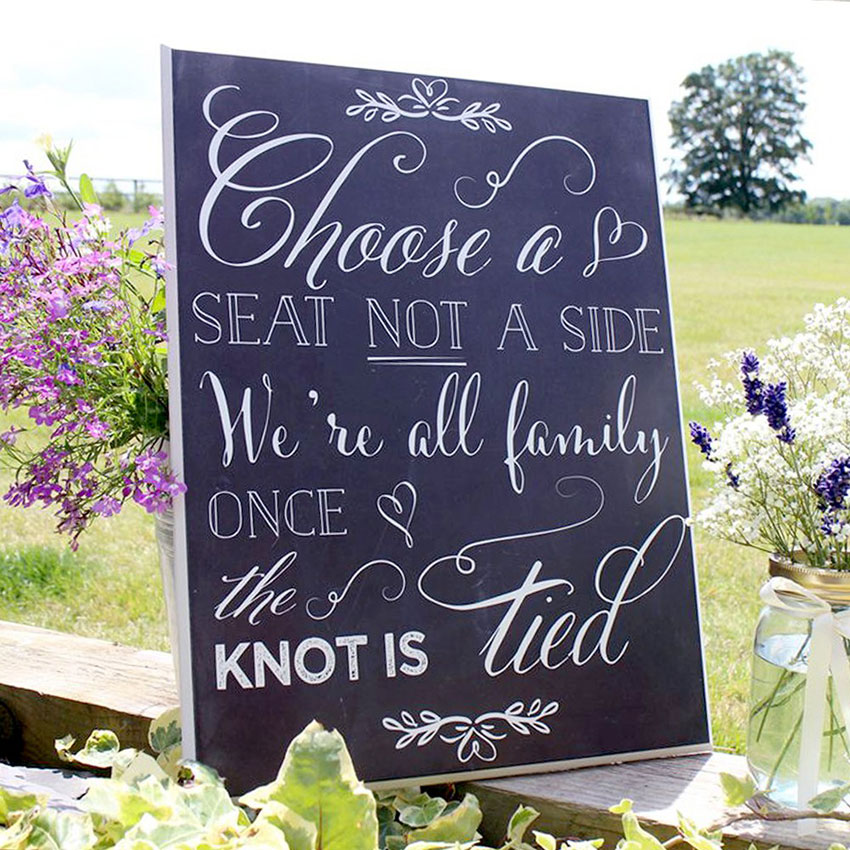 If you decided against having a seating plan for your reception or wedding ceremony, then these wedding day signage ideas might come in handy for you to encourage your guests to sit wherever they would like.
Come as you are, stay as long as you can, we're all family here, so no seating plan!
Pick a seat, not a side, we're all family once the knot is tied. 
Today, two families become one. Please choose a seat, not a side.
Choose a seat, not a side. you're loved by both the groom and the bride. 
Pick a seat, not a side, either way, it's for a bride. 
Sit wherever your heart desires.
She said yes, now they say "I do", please pick any seat. We're now one family, not two. 
No need to choose a side, just choose a seat. 
Don't pick a side for we're already united, just sit wherever, we'll be delighted.
We're about to be together forever, please feel free to sit wherever.
Directional signs: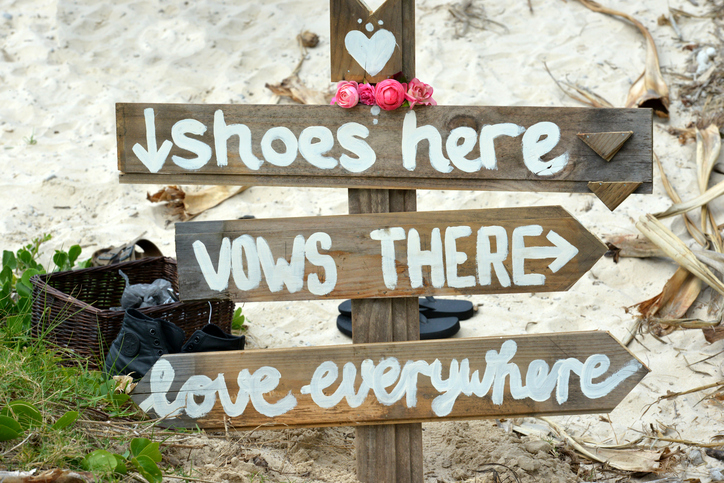 If your venue is a little off the beaten path, or you just want to help guests with finding their way around to the parking, bathrooms, ceremony location, games and reception, then you may want some directional wedding signs. Here are some ideas for those blackboard arrow signs:
The vows are here, the party's there, love is everywhere. 
This way to the "I do's", and the kiss!
This way to happily ever after.
Eat, drink and be married. 
This way to the big day!
Let's do this thing!
Are there any other romantic wedding quotes that you're planning on using for your wedding day signage? Leave a comment.