So you've chosen your venue, set a wedding theme and picked your wedding colour palette. So what's next? Finding which props will bring that style to life!
There is a difference between choosing practical items and finding those items that will also help your wedding shine. You also want to make sure that the vision you have pairs with your budget.
That's where hiring can come in. Hiring items for your big day will be more affordable than buying all of those items yourself. In fact, 55% of all couples will hire furniture and styling props to help their big day stand out, versus just hiring practical elements.
The average couple will spend $1,659 on hiring items for their wedding. And with stunning props, decor and styling pieces like this, we think it's definitely worth it. Here are some of our favourite pieces to inspire your own wedding planning and style.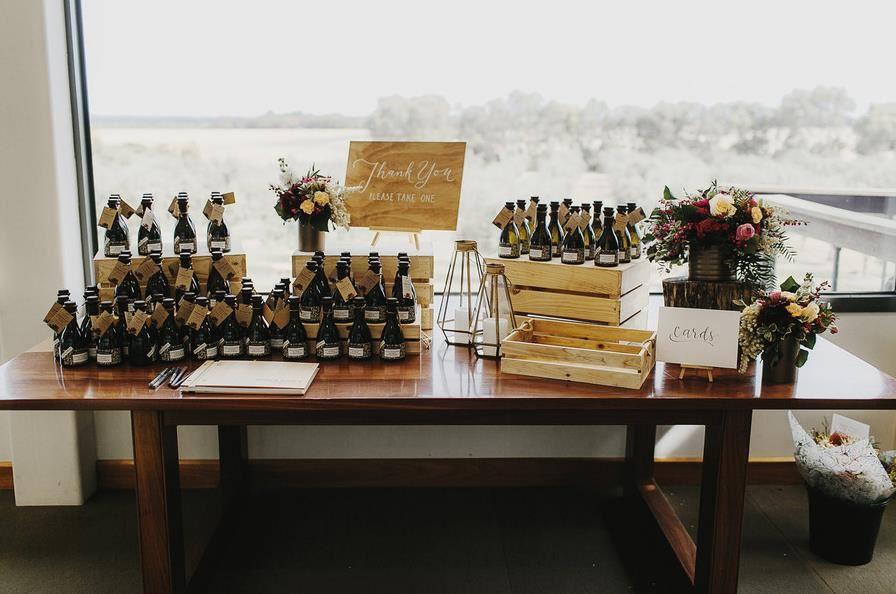 Arbours
Arbours are one of THE most popular styling elements for weddings at the moment. Arches and backdrops have always had their place for wedding ceremonies, but modern arbours are where it's at. A quarter of all couples planning a wedding will have an arbour.
There are also so many different styles to choose from that every single wedding theme will have an arbour to match. Bold floral arbours with lots of colour for your theme are our current favourite. There are also geometric arbours for industrial weddings, macrame for beach or boho, and even balloon or fruit arbours for modern or alternative weddings.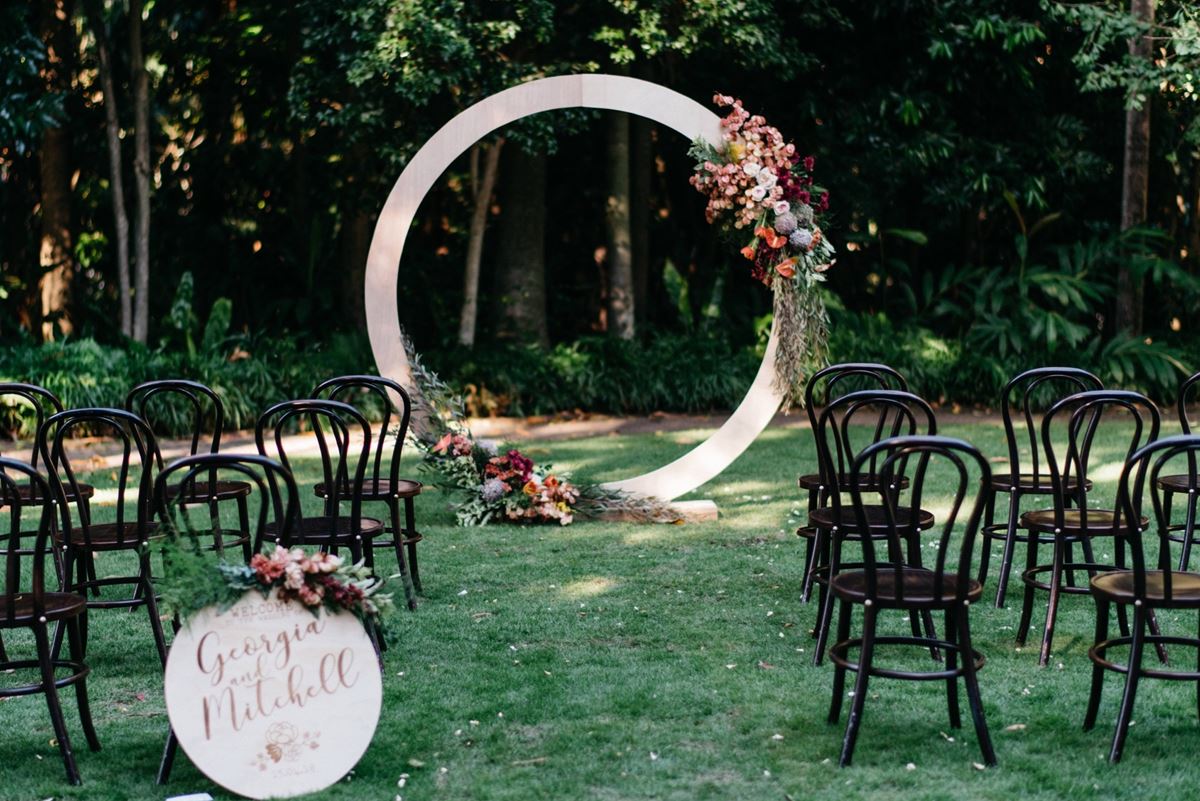 Welcome signs and details
Personalised signs are hugely popular at the moment. But if you don't want to go down the route of purchasing a sign personalised to you and your partner, you can still get signage to suit your big day.
Welcome signs, Mr and Mrs (with Mr and Mr or Mrs and Mrs options) unplugged wedding signs are just some of those that we've seen. We also love a whimsical neon quote surrounded by florals.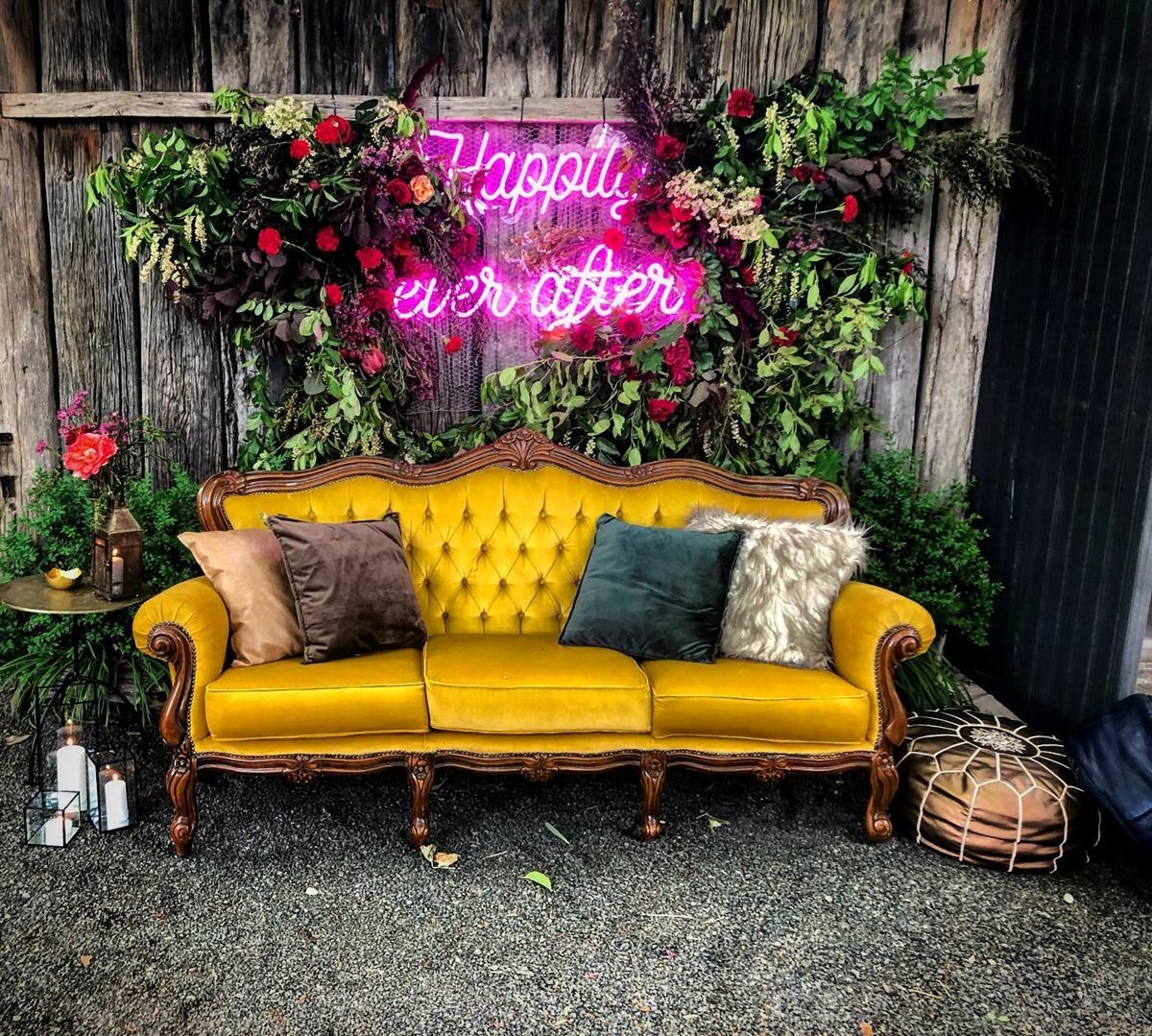 Lighting
Mood lighting is one of those areas that you only ever think about when it's done poorly, or done amazingly. You want to be in the latter category. So if your lighting leaves a little bit to be desired then consider hiring some lighting to set the atmosphere of your big day.
Luxury and elegant couples will be thrilled to hear that you can hire big standout pieces like chandeliers for your wedding. Who hasn't dreamt of having their own chandelier? You can also hire festoon or fairy lighting. These are perfect for an area where the natural or set lighting might be a bit too harsh for your needs and you want a warmer or coloured light.
Just make sure to chat with your venue beforehand about logistical elements such as power sources and hanging installations for chandeliers.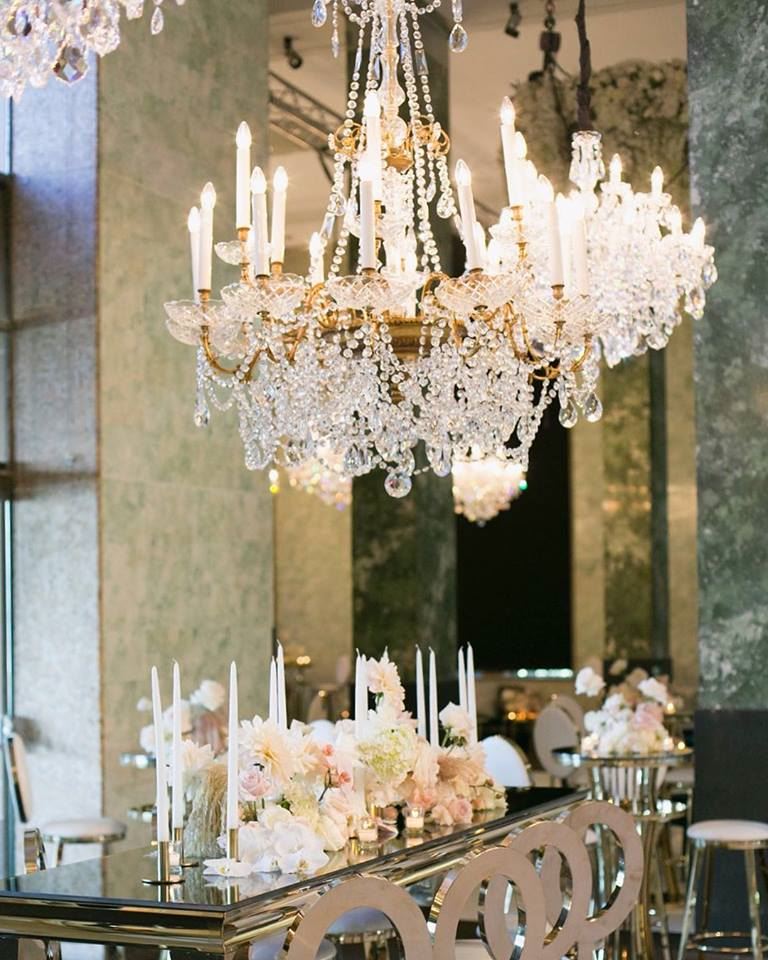 Votives for candles or flowers
On the subject of lighting, you can also hire votives for candles. Particularly popular are cyclical shapes in various sizes that are perfect for pillar candles. You likely won't be able to hire the actual candles themselves, but many hire companies will offer take-home candles that fit with their decor. Make sure you chat with your venue about whether you can have lit candles on the premises.
Love votives but not a fan of candles? You can also hire various vases, jars and vessels to add mini floral arrangements. This means you can bring your florals into other areas of your wedding in smaller snippets. This is also a great way to repurpose flowers from your ceremony to your reception, keeping them in the same vessels to make them easier to transport.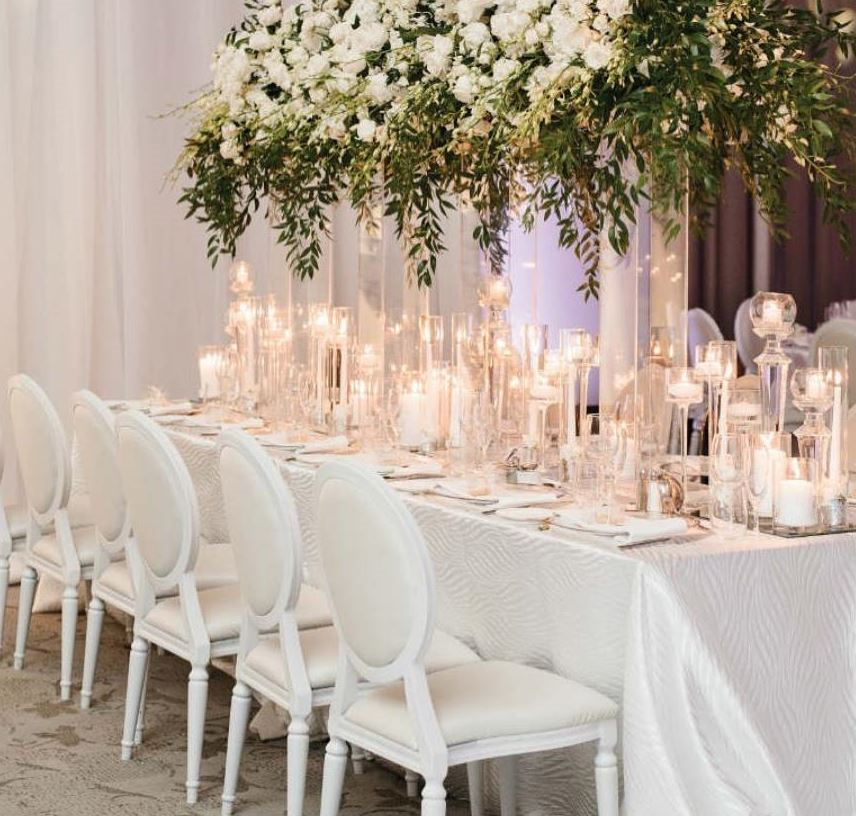 Linen drapings for arbours or ceilings
We are absolutely in love with linen-draped arbours and drapings are making a comeback with weddings. Elegant materials such as satin will leave an impression while also steering away from the 80s horror of stiff tulle.
You can hire draping for arbours, ceiling features, centrepieces and even to help divide rooms in a DIY space.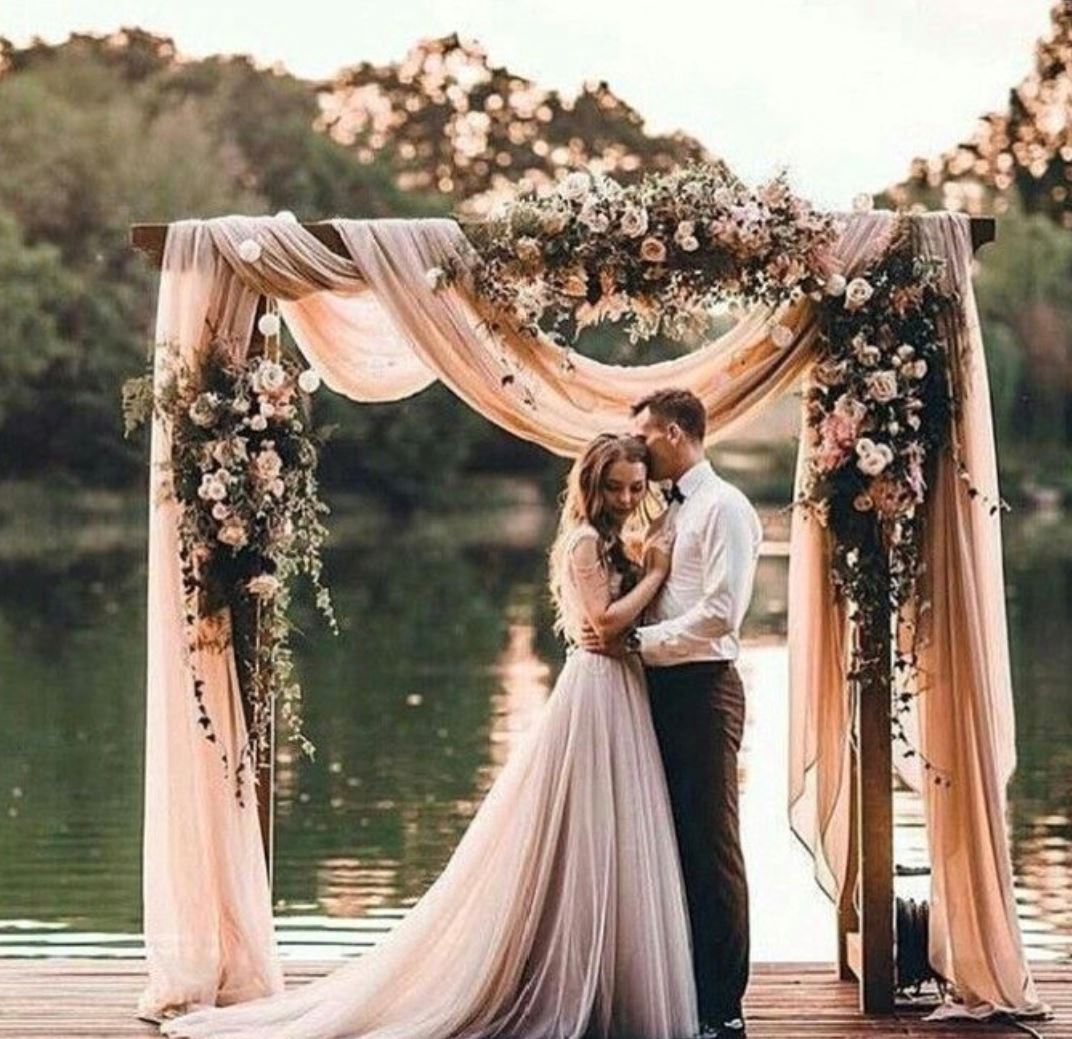 Peacock or feature chairs
While your guests may be seated in a traditional bentwood or tiffany chair, you are the married couple. So treat yourselves! Add a bit of elegance to your wedding table with a feature chair just for yourself and your new spouse.
A set of peacock chairs is just one way to do this and will make you feel like royalty. They can also make a great feature for your signing table during the ceremony before being brought in for your reception.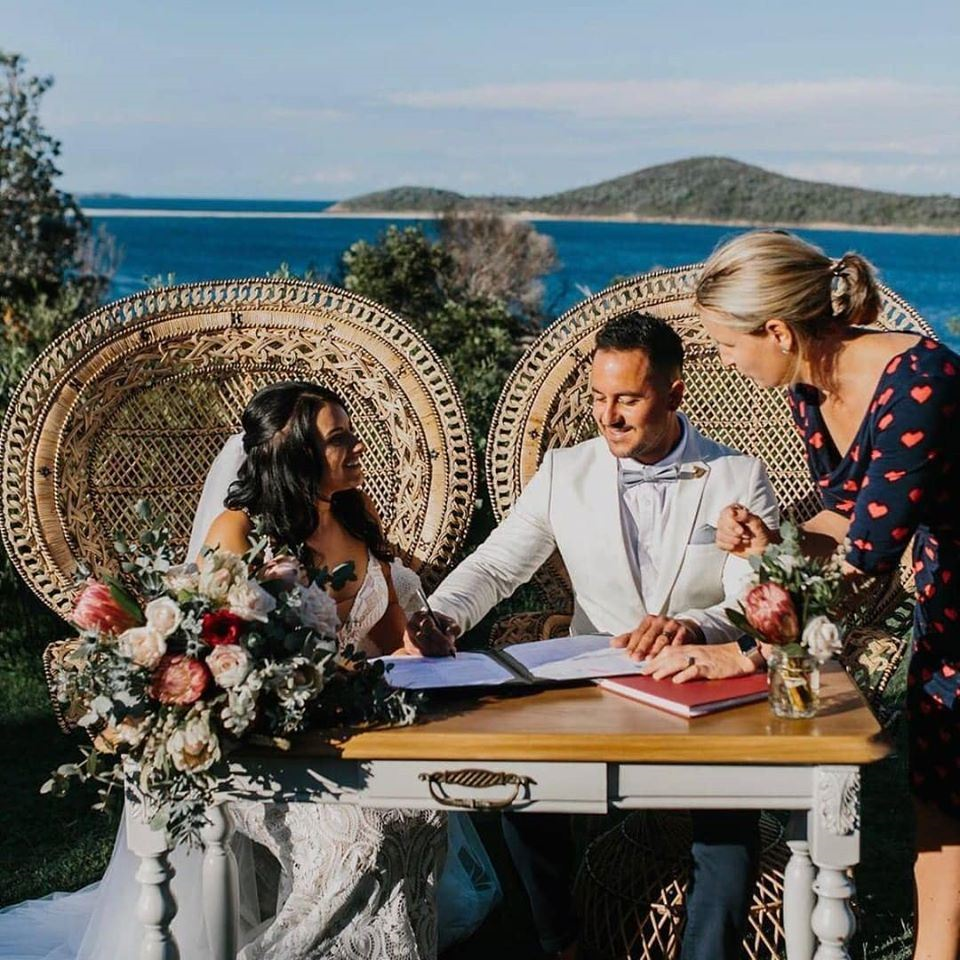 Wishing wells
If you're having a physical wishing well for your guests then opt to hire something for your theme. Wishing wells no longer have to be the physical 'well' shape that gave them their name. White and acrylic wishing wells, feature decals and vintage suitcases can all be hired for your guests.
Make sure that you look at options that are secure if you are collecting monetary gifts from guests on your big day. A wishing well with a lock feature is always a plus.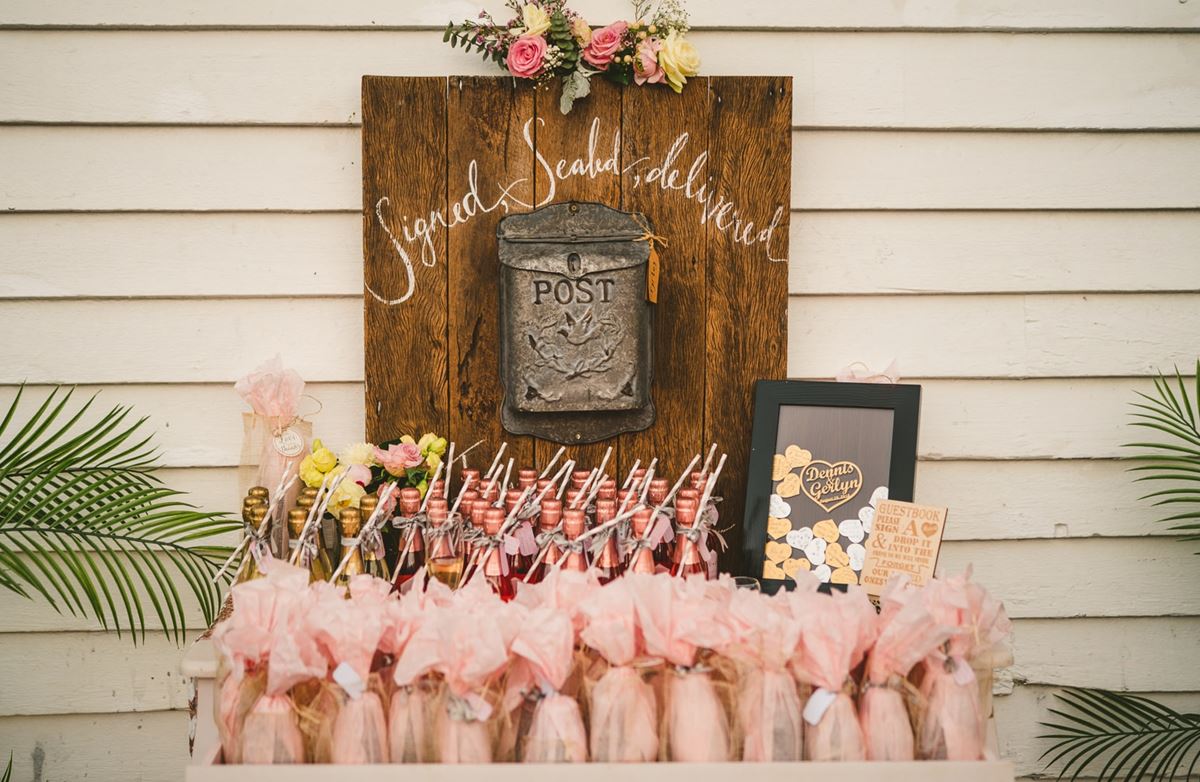 Donut walls or dessert displays
Your cake can standout all on its own. But why not make it look that little bit more spectacular? Feature cake stands and displays are readily available to hire from many decoration and styling businesses. Look at tiered cake stands to add a bit of extra class and decor to your desserts if you're having a dessert-style buffet.
You can also hire donut walls if you want something a bit different to give your guests. As long as you buy donuts with holes, you'll be set!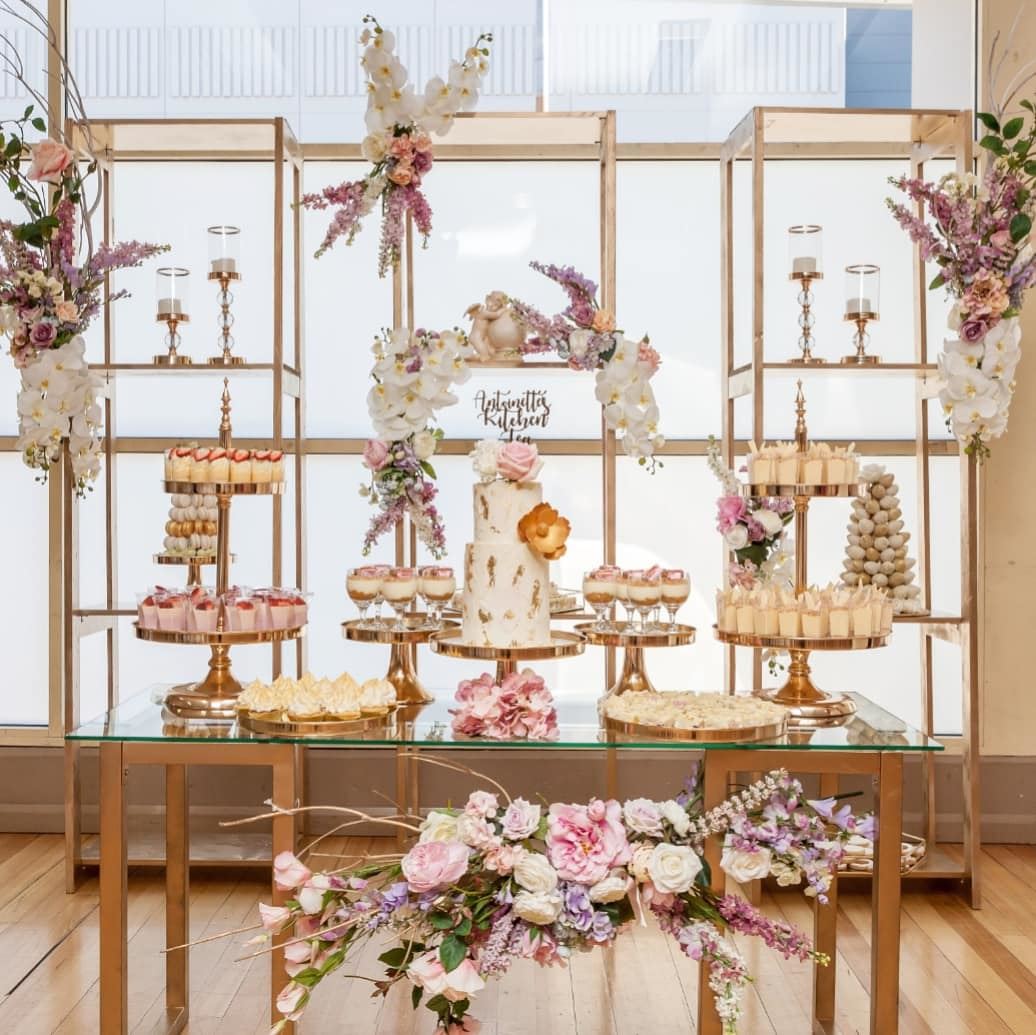 Cutlery and linen for your theme
Your wedding venue might be able to provide details such as cutlery, plates and napkins. But if you have a specific theme in mind don't be afraid to chat to them about bringing something else in. You might be able to hire these from a venue affiliate or through an external hire company.
We love adding your theme into your table settings with features like coloured cutlery, moody plates and cotton, coloured napkins.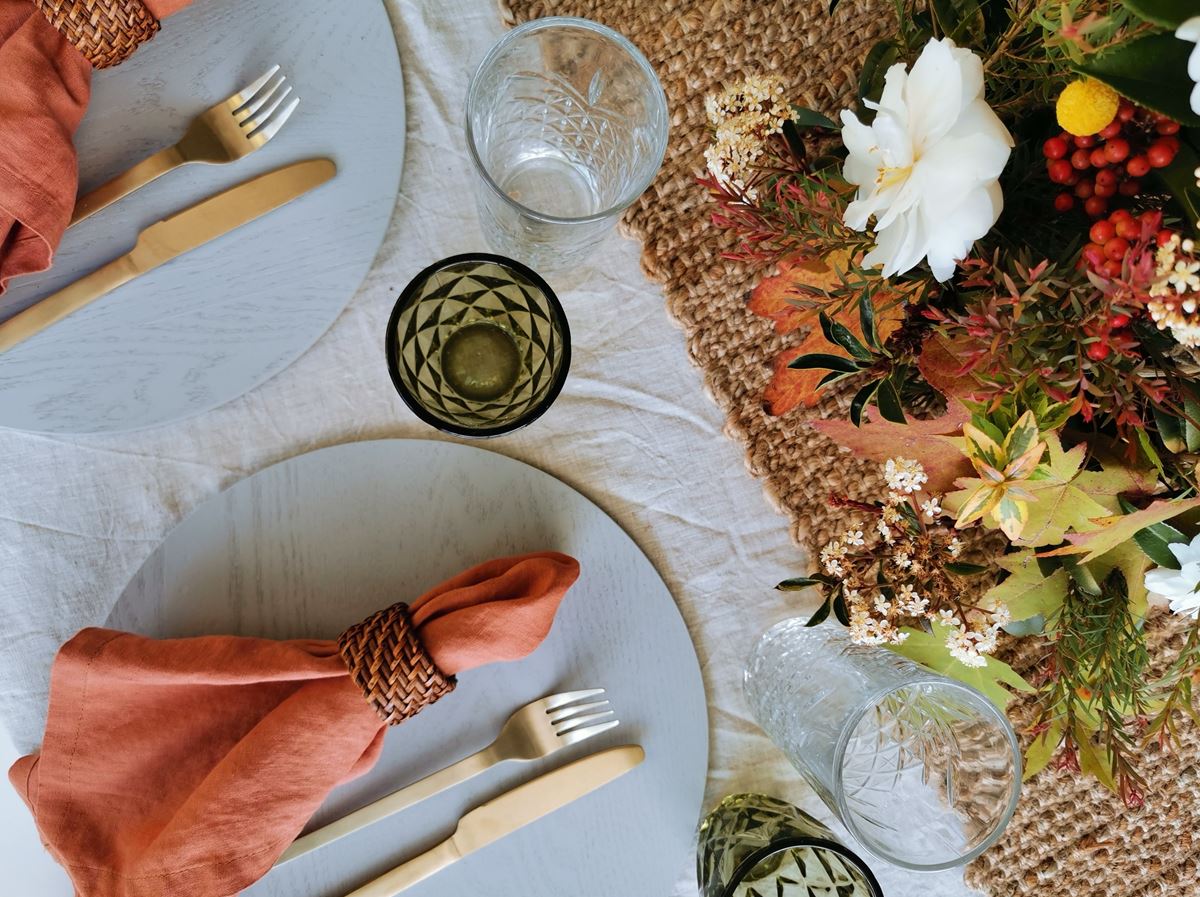 Ready to find that piece to make your wedding extra special? Browse wedding hire and wedding decorations today.