If you're looking to arrive at your wedding in style and comfort in a retro VW Kombi, let us introduce you to Kombi Haus. Their fleet of fabulously restored Kombis is sure to impress, with colour options ranging from dreamy neutrals to pretty pastels.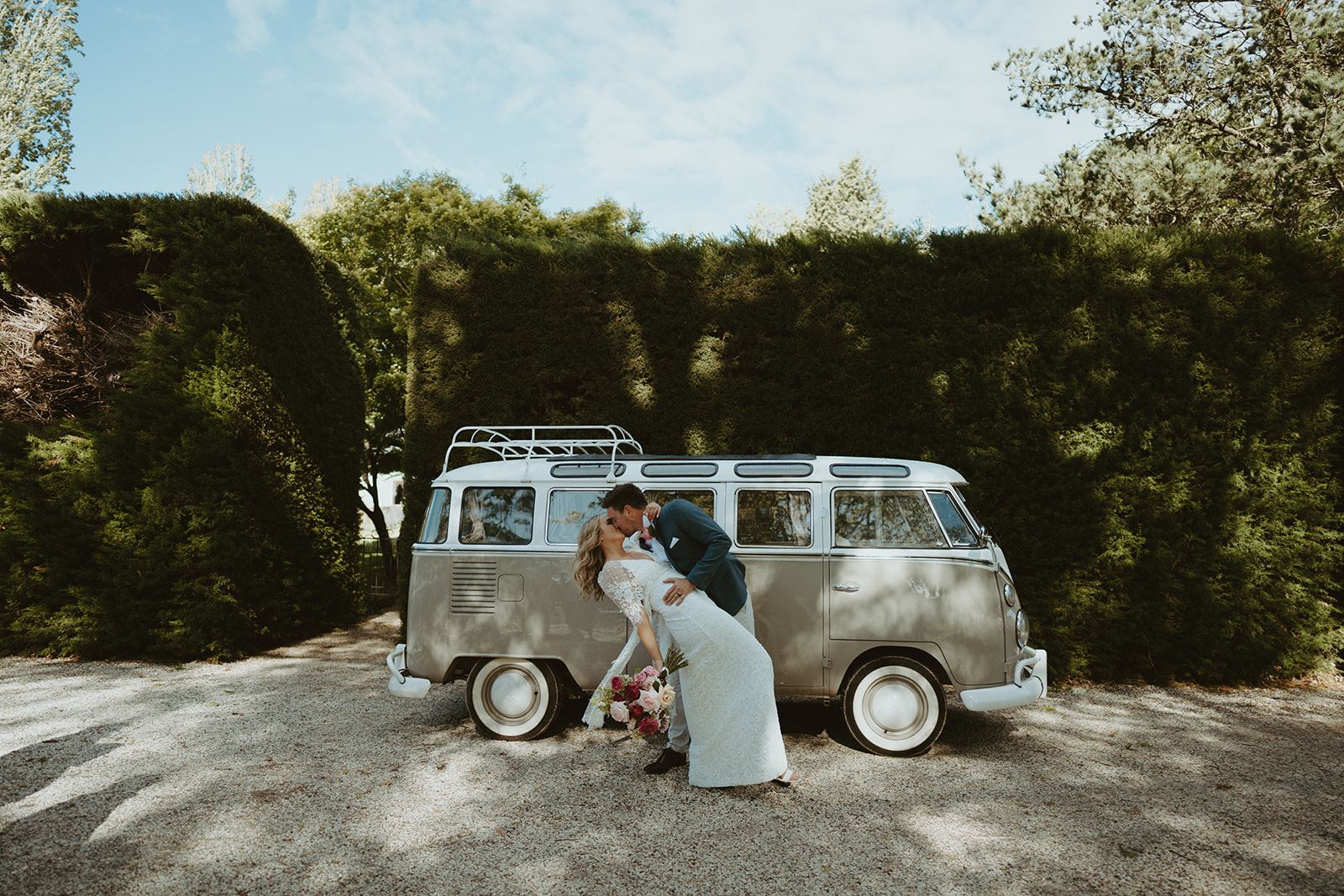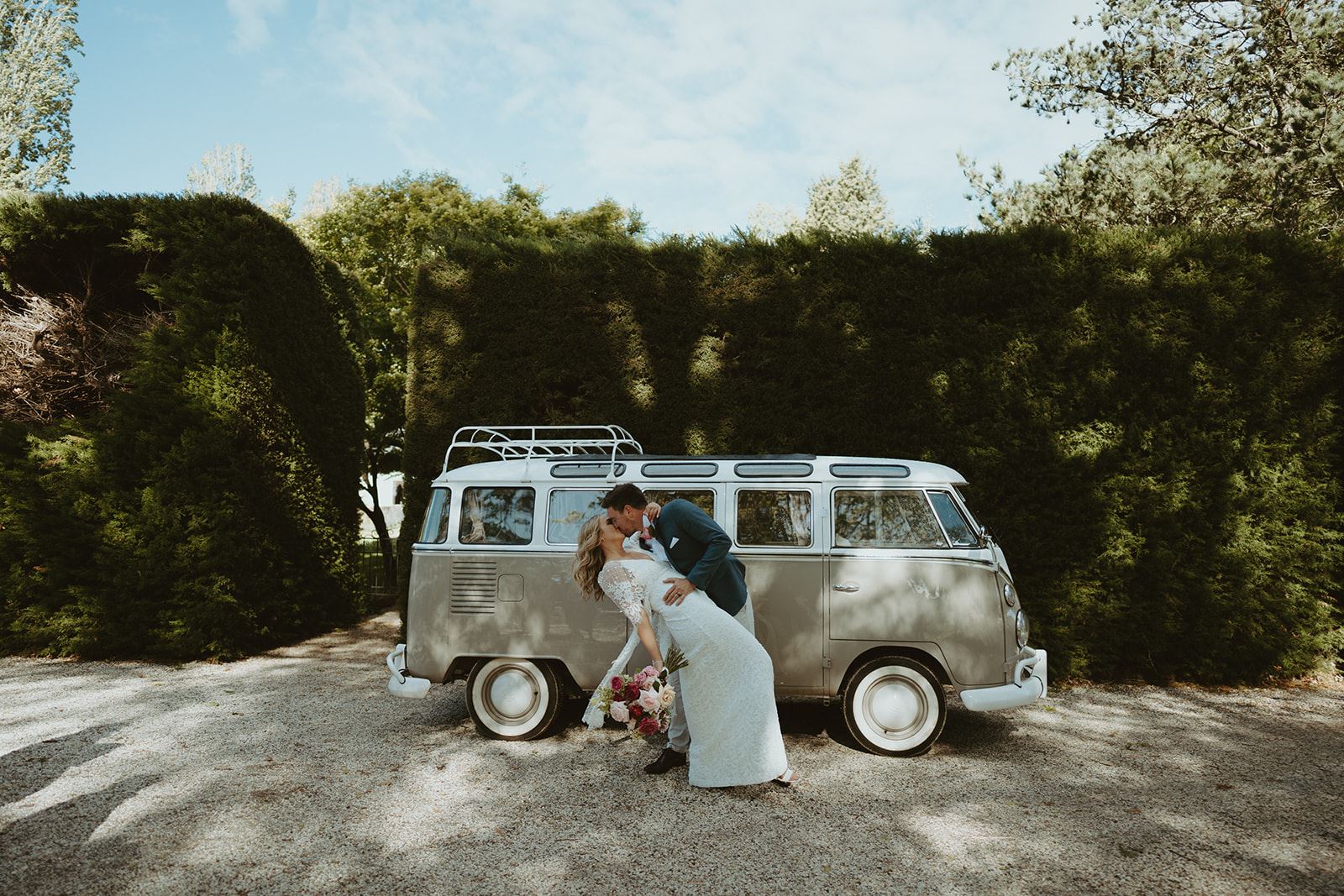 Finding the right style of transport for your wedding day can often be a tricky process, with things like logistics, budget, and style to consider. That's where Kombi Haus comes in. Boasting an extensive fleet of 34 meticulously restored VW Kombi Transporters, this top-notch hire company provides stylish transport options for weddings across Queensland, Victoria, and New South Wales.
To answer any burning questions you may have about hiring a Kombi for your wedding, we caught up with the friendly team at Kombi Haus to get the low down on these retro rides.
Check out Kombi Haus
---
What are the advantages of hiring a VW Kombi Transporter for your wedding day?
Our Kombis are masterfully restored and expertly detailed, so they remain their original retro charm while incorporating stylish modern luxuries that are sure to impress. Whichever vehicle you land on for your wedding, Kombi Haus will supply a friendly, experienced, and professional chauffeur to transport you to your venue and take you home.
Another advantage of hiring a Kombi is that they're incredibly roomy, boasting comfy plush seats and lots of space to pop the Champagne! With plenty of room to seat seven people as well as a driver, you'll be able to get your whole wedding party in the Kombi with you, so there's no need to pick favourites.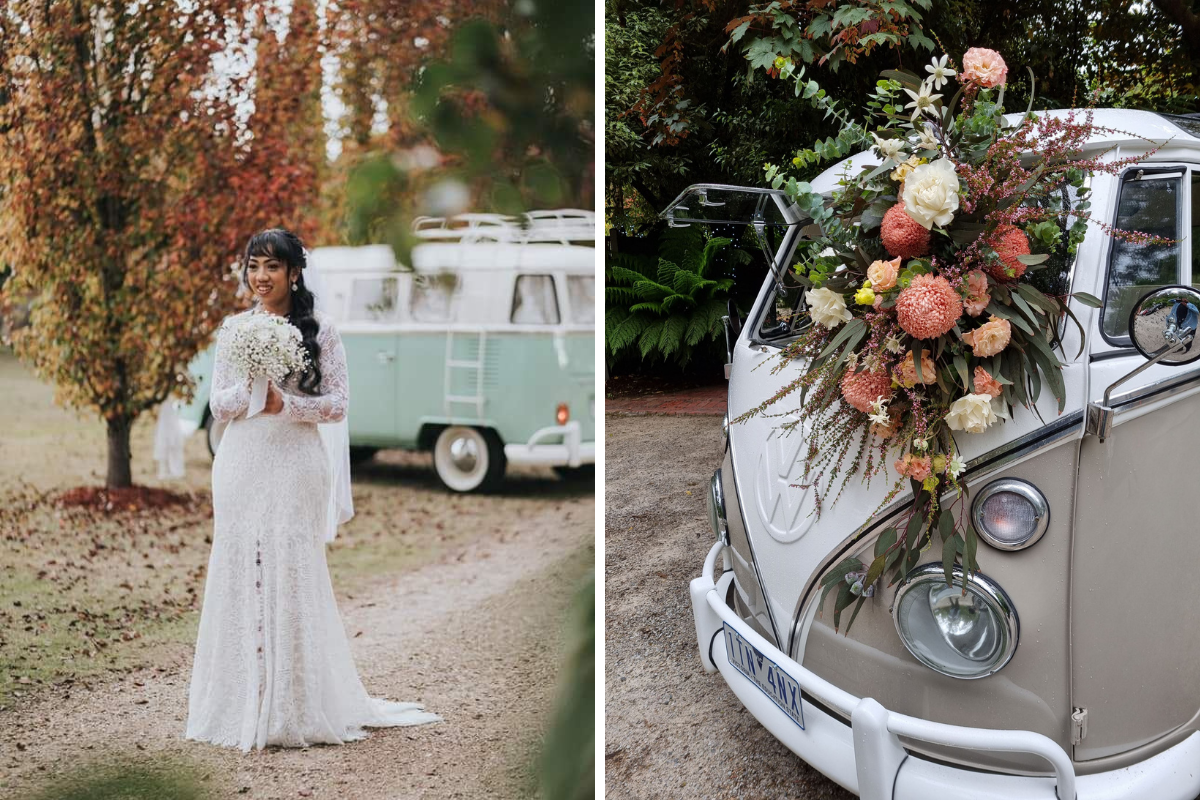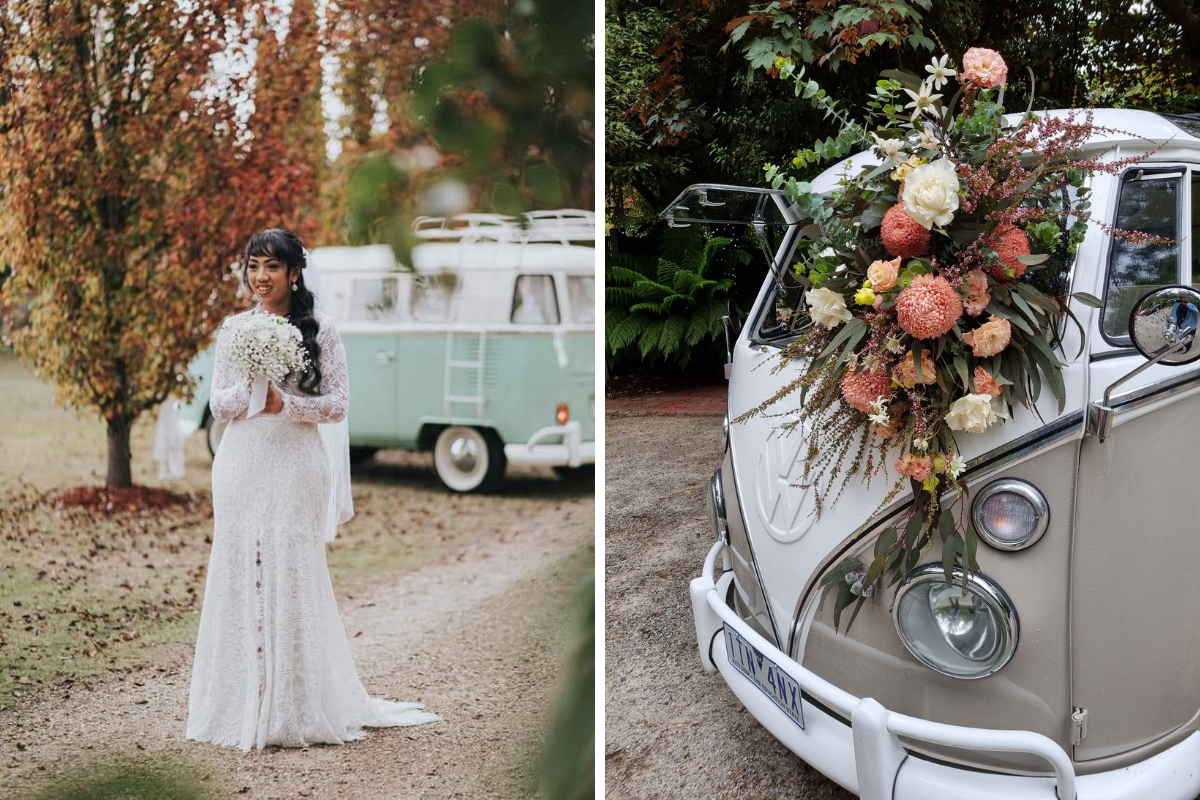 What styles and colours does Kombi Haus have available?
We have 34 Kombis in our fleet in a range of gorgeous colours, including pastel pink, creamy beige, light blue, crisp white, and pastel green. No matter which colours you choose for your wedding day, you'll love the retro feel of the Kombis and their photogenic exterior, forming a fabulous backdrop for your wedding photoshoot!
Does Kombi Haus offer any extras or decorative items for their Kombis?
Yes! We can customise our Kombis for your wedding day, with a range of fun decorative items and luxurious extras to choose from. Extras include traditional white wedding ribbons, beautiful floral arrangements, Champagne, and custom bridal baskets.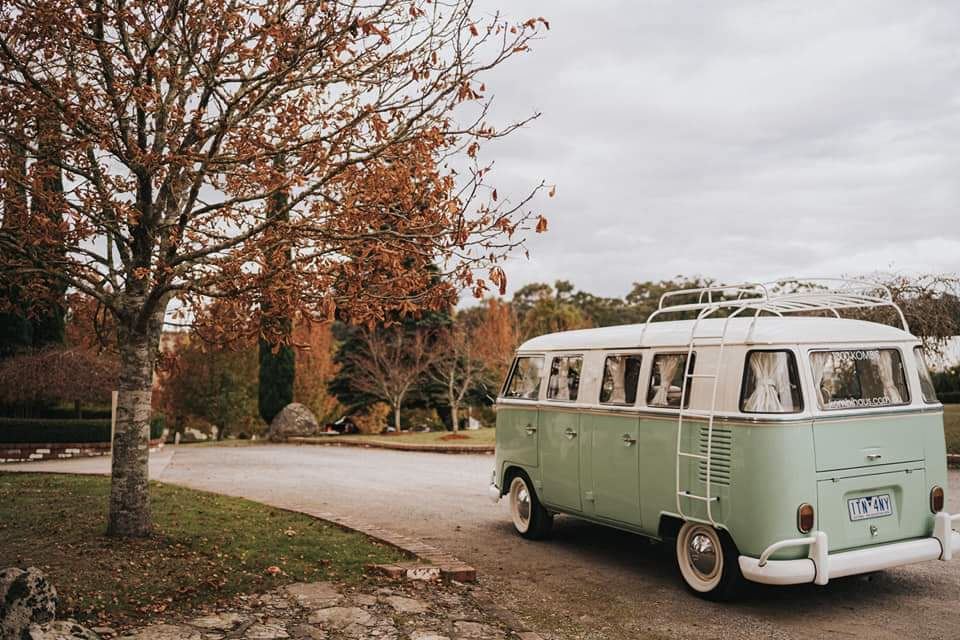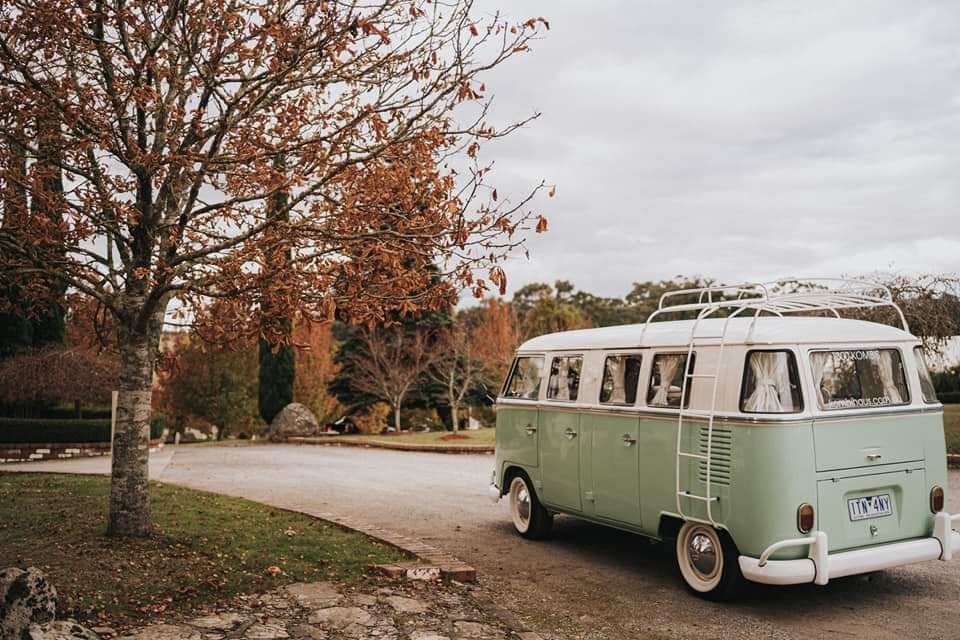 Check out Kombi Haus
What do couples love most about working with Kombi Haus for their wedding?
Our wonderful couples are so kind and often comment on how much they love our friendly service, experienced chauffeurs, and beautiful retro Kombis. Here are a couple of our favourite reviews we've received from previous Kombi Haus customers:
"The service and attention to detail from Mark, Demo and the Kombi Haus team is second to none. Looking for wedding transport led us down a few avenues before a recommendation took us to Kombi Haus. From the moment we walked in, we knew we were in good hands. They take pride in their service and helping to make that big day extra special. When looking back on the wedding photos, it is noticeable how much the vans make the images pop and give the day a unique flavour. Book them, have one less thing to worry about, and thank yourself later." – Keiran B.
"Kombi Haus was a pleasure to deal with. From the moment we decided to look into getting Kombis to actually driving to our wedding, we had no complaints. The staff were extremely friendly and helpful to deal with, and nothing was too hard. Our Kombi was so beautiful — what a trip!" – Paige M.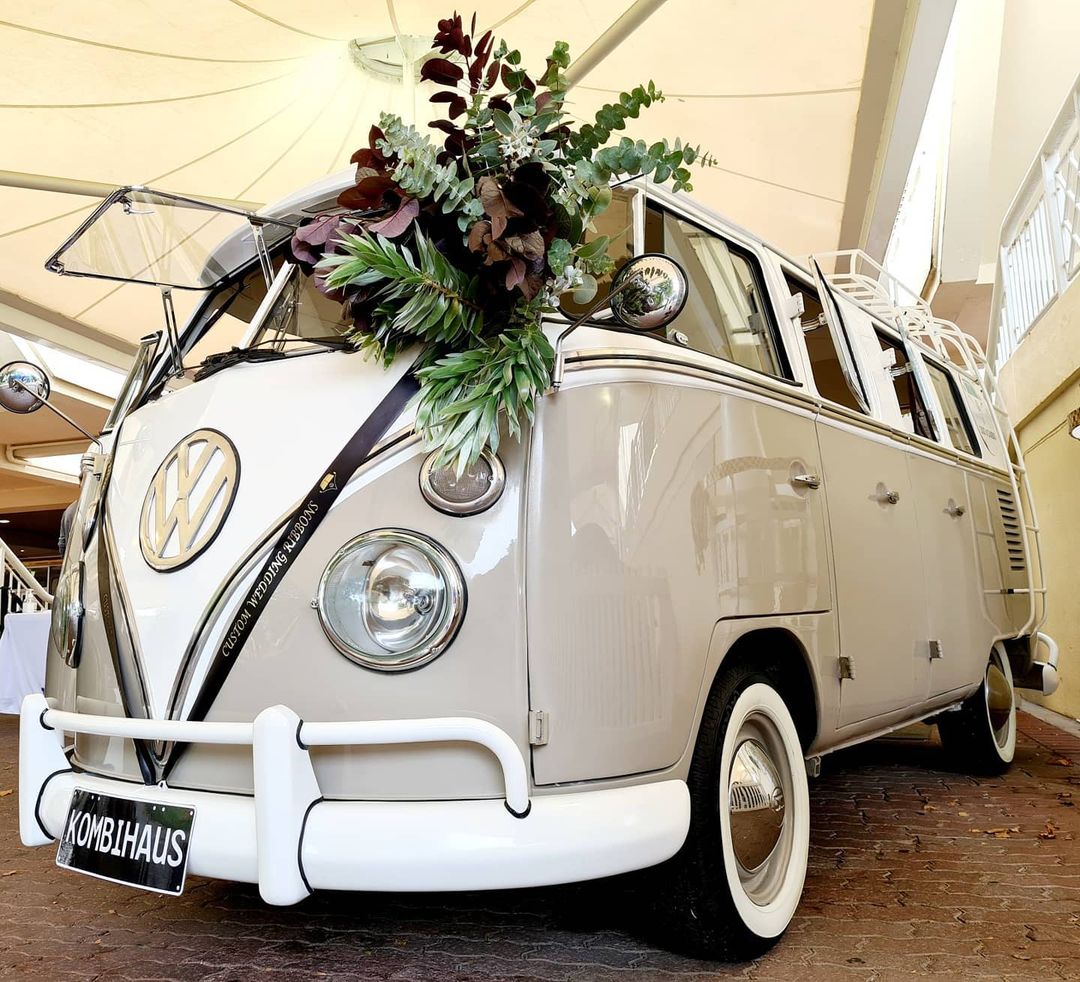 How far in advance do you recommend booking wedding transportation?
We recommend booking your wedding transport at least six months in advance to guarantee availability and preferred colour choice. Shorter notice wedding bookings can also be accommodated, depending on the availability of the Kombis.
---
browse wedding cars