Far from being just a boring piece of stationery, your wedding invitation is the first taste your guests will get of the big event, and so you really want it to make an impact. When your guests receive your invitation it should give them an immediate idea of what the wedding will be like; whether it will have a theme and whether it will be fun and casual, or elegant and formal.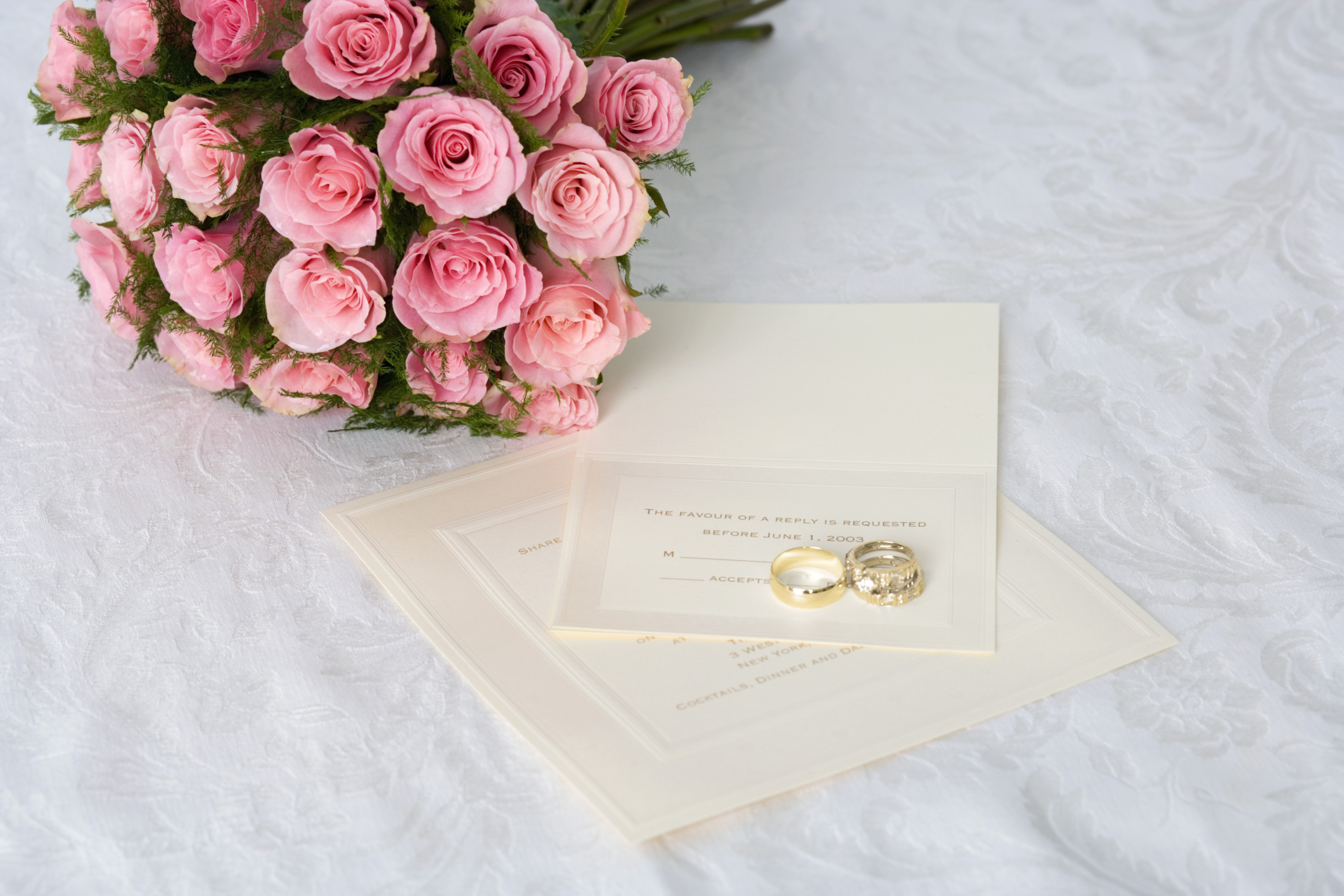 Save the date announcements are becoming more and more popular in a world where people seem to get busier by the minute, and we want to be sure that our loved ones will be available to share our special day with us.
Save the date cards can be a great way to combine announcing your engagement with reserving the wedding date, and are especially useful if you have a lot of guests travelling from abroad or out of town as they will need to make travel arrangements well in advance. They are also essential if you are getting married on a holiday weekend, or at notoriously busy times like Christmas.
If you are sending save the date cards, they can be sent up to twelve months in advance. They can be in an informal format, such as a postcard, or even a fridge magnet and they don't require a reply.
When to send out wedding invitations
Whether or not you are sending save the date cards, you should let out of town guests know your planned wedding date around six to eight months in advance. You should be looking to order your wedding invitations and other stationery, such as place cards, four to five months before the wedding.
Remember to leave yourself plenty of time to write the invitations; if you want to include personal messages this can be a lengthy process. Put the invitations in the mail around eight weeks before the wedding.
Trends in wedding invite design
You will probably want to tie in the design of your wedding invitations with the overall scheme of your wedding, and many couples choose coordinating invitations, place names, and thank you cards. Traditional wedding invitations are often being pushed aside to make way for contemporary designs, and here are a few of the latest trends in wedding invitations:
Many brides are choosing to go green with recycled or handmade paper invitations. The use of natural materials such as pressed leaves or flowers is also becoming increasingly popular.
Fun, bold patterns that include polka dots and stripes are really making wedding invitations stand out this season.
A single flower is proving a popular wedding invitation motif, and this can often inspire the whole theme of the wedding, providing a consistent design element throughout the stationery and decorations.
Pocket style invitations, or seal and send invitations are becoming very popular. With this type of invitation the envelope forms a part of the invitation itself, and wraps around other elements of the invitation such as directions, wedding list details, and reply card.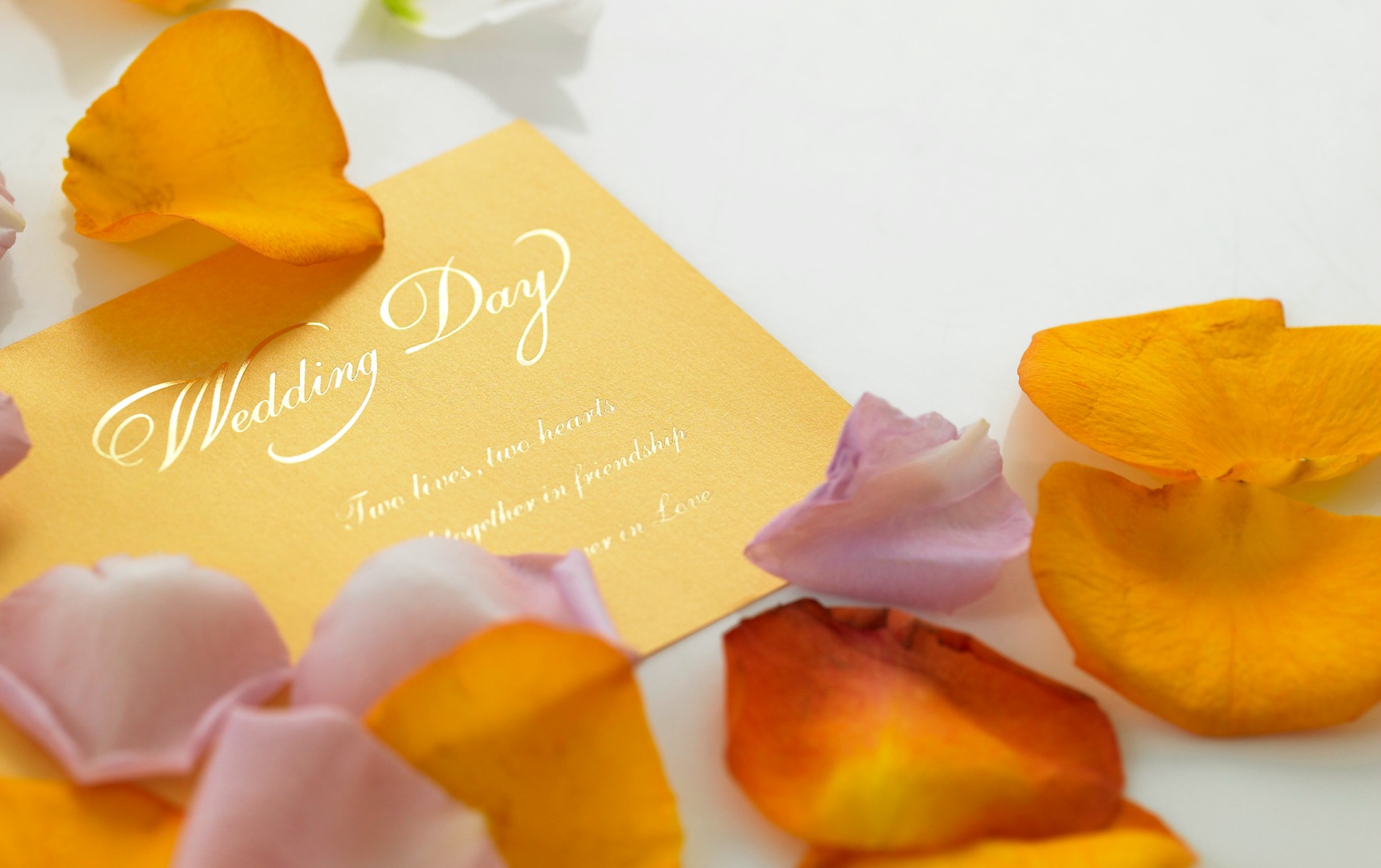 Many couples are rejecting traditional white invitations and using a whole range of other colours. Here are a few of the latest colours, depending on the season of your wedding:
Winter wedding invitations often use a strong colour such as onyx black, forest green or plum, combined with silver and white.
Spring wedding invitations tend to incorporate paler tones such as sky blue, leaf green, or magnolia pink
Summer wedding invitations are available in vivid shades of apple green, aqua blue, bright yellow, and sunset orange
Autumn wedding invitations are more muted using rusted orange, deep scarlet and chocolate brown
If you are choosing traditional white the type of white can make all the difference. Bright white is exactly what it says and is very fresh contemporary look. Ecru is a warmer tone, giving a more traditional and elegant feel to your invitation. White, which is actually usually more of a vanilla colour, is the most popular choice and provides a tasteful middle ground.
How about electronic wedding invitations?
Many couples are looking to deliver their wedding invitations electronically rather than in the mail. This has obvious advantages in that invitations can include multi media, such as a video message from the bride and groom, and most people have access to e-mail.
However, most wedding planners agree that an electronic invitation does not convey the same importance and formality as a paper invitation. There are so few occasions that warrant a written invitation these days, it would be a shame to lose the tradition of formal invitations to weddings. Besides, people are less inclined to reply to an electronic invite, and you run the risk that it will be lost amongst the hundreds of junk e-mails we receive every day.