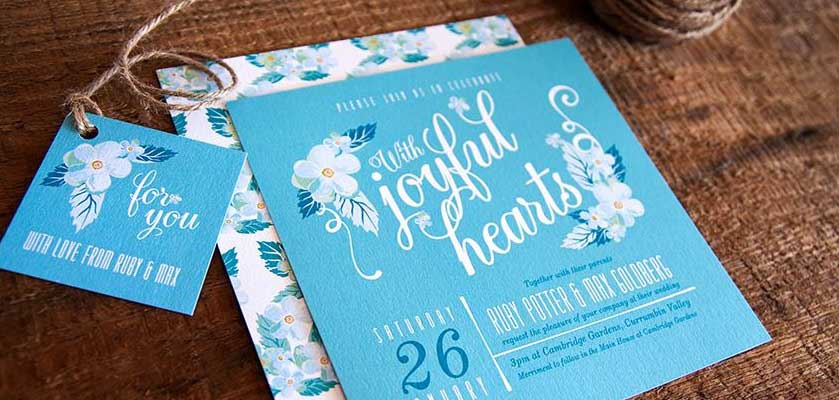 Anyone who's new to the world of wedding invitations knows that it comes with a lingo all its own – and, it seems, there's a lot more to wedding invitations than, well, just the wedding invitation. There is, in fact, an entire wedding suite!
Ok. So what is a wedding suite?
Your wedding suite is the term given to all the correspondence sent out with information relating to your wedding.
Depending on your preferences, you may want to include as many or as few of the following items: save-the-date cards, your wedding invitation, a reception card, RSVP cards, return envelopes, directions and maps, accommodation cards and wedding website information.
When choosing your stationery, set the tone for your wedding. If you are having a casual, outdoors wedding, you might choose a more fun and playful style of stationary to reflect that. If it will be a more formal affair, choosing a more conservative looking wedding suite might be more fitting.
Your wedding suite should be sent out at a minimum of two months prior to the wedding and if you're organised, three months is even better!
The various elements of the wedding suite are detailed below.
Wedding invitation
This is the most important part of the wedding suite and should include information such as the names of the bride and the groom, the date and time of the wedding, the wedding location, the attire and contact details. Here are some local wedding invitation suppliers to begin your search for the perfect designs.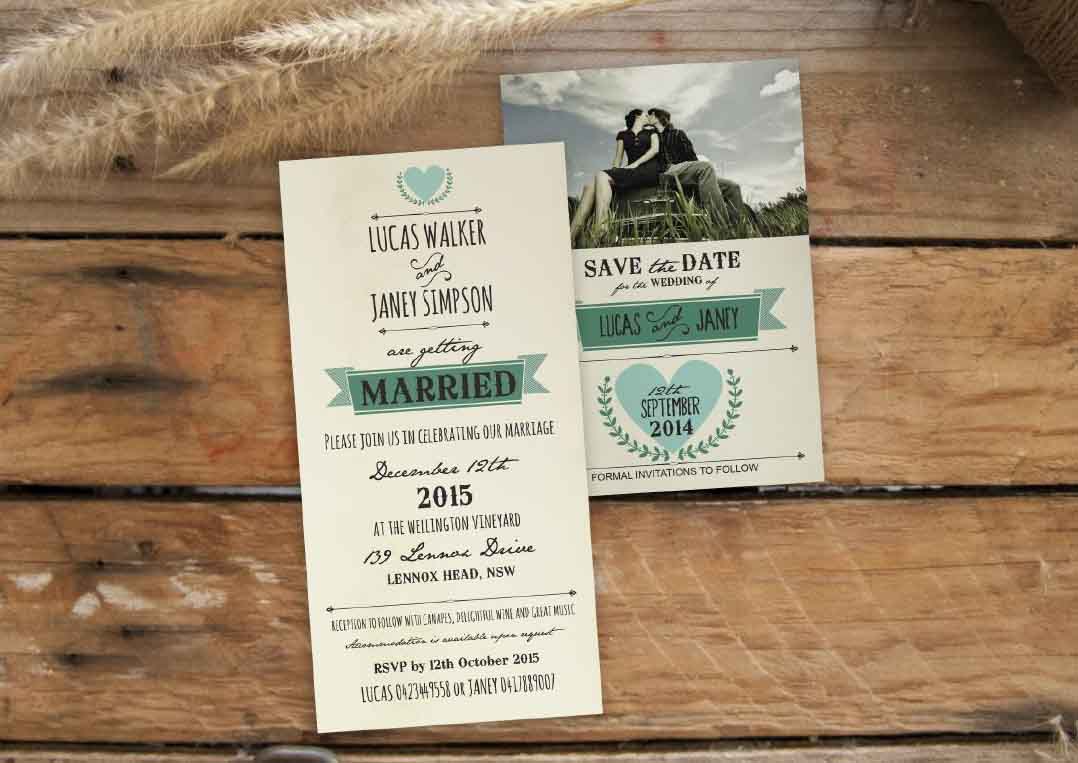 Reception card
It's not uncommon for wedding guests to have different guest lists for their ceremony and reception. If this is true for your wedding, your reception card should include all your reception information and be placed on top of your wedding invitation when arranged in the envelope.
RSVP card
Your guests will communicate with you via the RSVP card so it's important to ask them for all the information you need. Include a space for your guests to let you know how many of their party will be in attendance and if they have any dietary requirements. Include the date that you'd like the card to be returned by, which is usually six weeks prior to the wedding.
Return envelope
This is the envelope that the RSVP card is placed into. Make sure that the return envelope is stamped and addressed to where you'd like to collect your RSVPs.
Directions and maps
Make sure to include directions and maps to your venue and any other important wedding locations. This is especially important for out of town guests.
Gift information card
Include a slip of paper in your wedding suite with information relating to you wedding gift. If your preference is a wishing well, let your guests know before they start shopping for crockery and linen! For some great ideas on how to politely ask your guests to contribute to a wishing well, follow this link.
If you've set up a gift registry, include all the relevant information on the card. Here is an easy way to set up a gift registry for your wedding.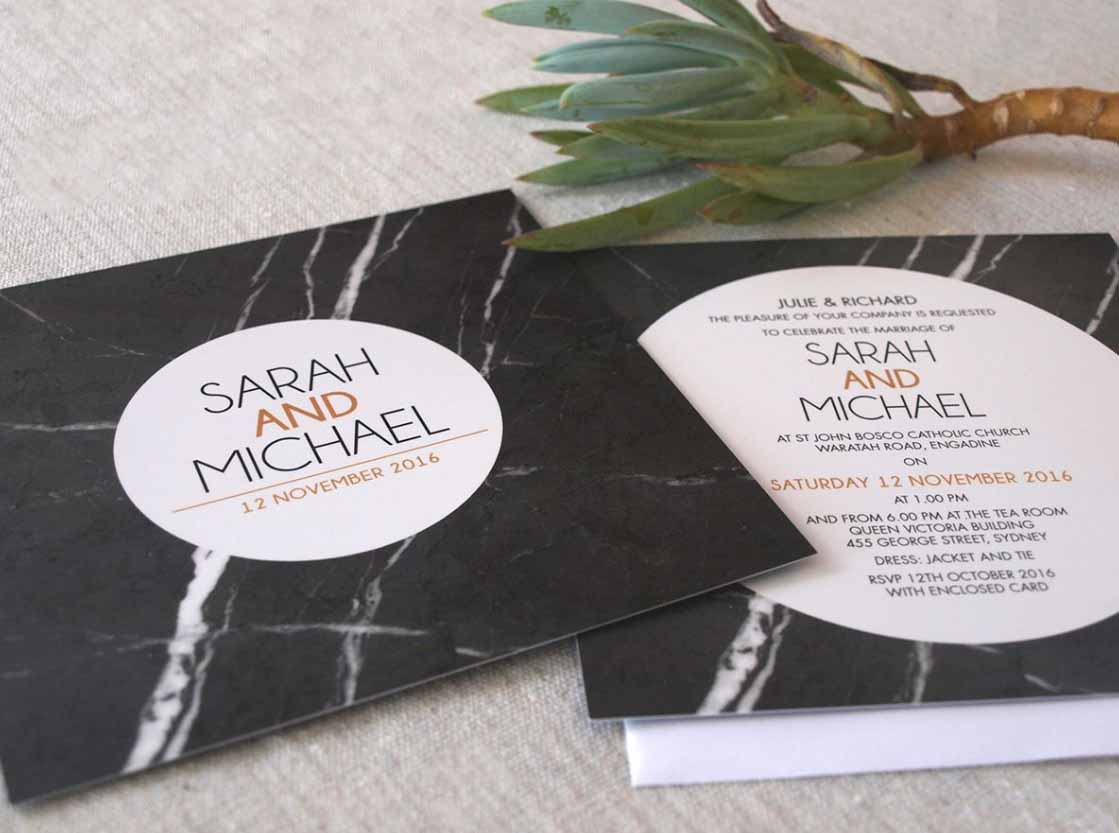 Accommodation card
This card is for guests who will be travelling from out of town and will provide information on nearby hotels, restaurants, airports and rental cars. If you've reserved rooms at a discount at a specific hotel, include that information here.
Website information
If you've decided to create a wedding website, include a card that lists the website URL. Your website can then include all the important details about your wedding, a form for your guests to RSVP and perhaps even a gift registry. You can find an easy way to create a wedding website here.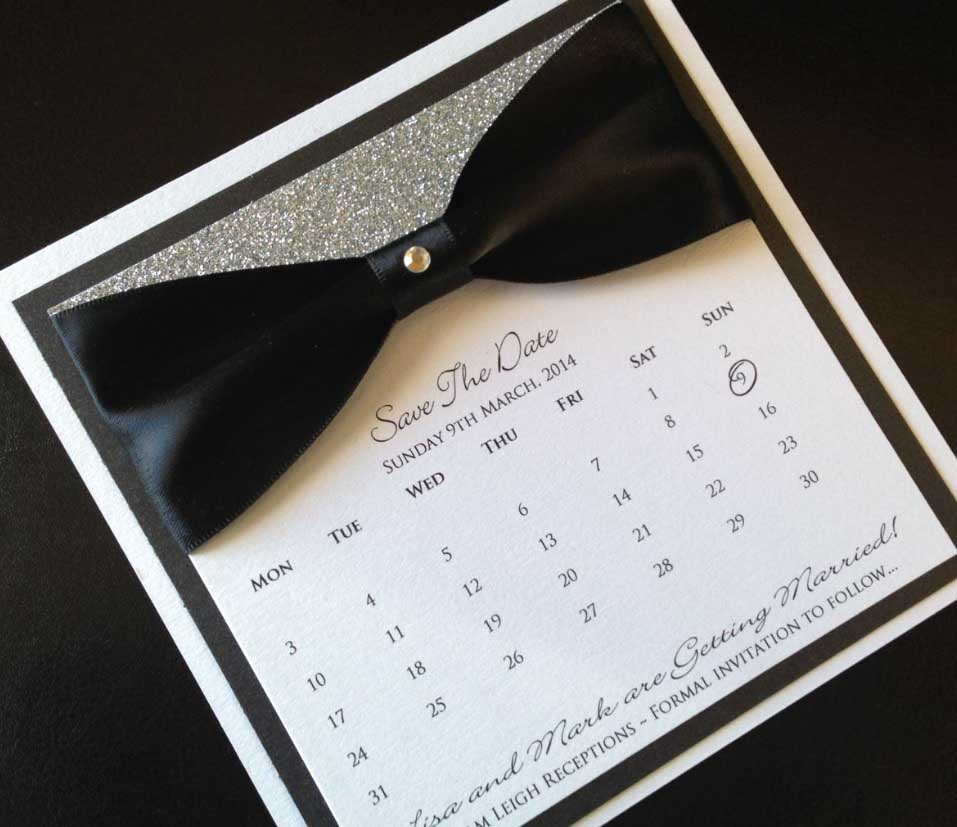 But wait there's more!
The following are also important forms of wedding communication that you may wish to consider.
Save-the-date card
These simple cards should be sent out six to eight months before your wedding and include the names of the bride and groom, the date of the wedding and the location information. If you don't want to reveal the actual wedding venue, you should at least include the city/suburb the venue it is located in to give your guests adequate warning. If you have a wedding website, this is a good opportunity to give guests your URL.
Wedding party invitation
Some brides (and grooms) like to send small gift boxes or a memento along with the wedding invitation when asking their best friend(s) to be a part of their wedding party. Here are some fun ways to ask 'will you be my bridesmaid?' 
[ew-supplier-carousel]
Bridal shower invitation
Paper invitations are sometimes sent out for bridal shower invitations (and also hens' and kitchen tea invitations). If you do plan on having a paper invitation for these events, try matching their theme with that of the wedding suite for a nice touche.
Thank-you card
This is the card you send to all of your guests after your wedding. Remember to thank your guests for being there on your big day and for their thoughtful gifts. Thank-you cards are normally sent out after the honeymoon.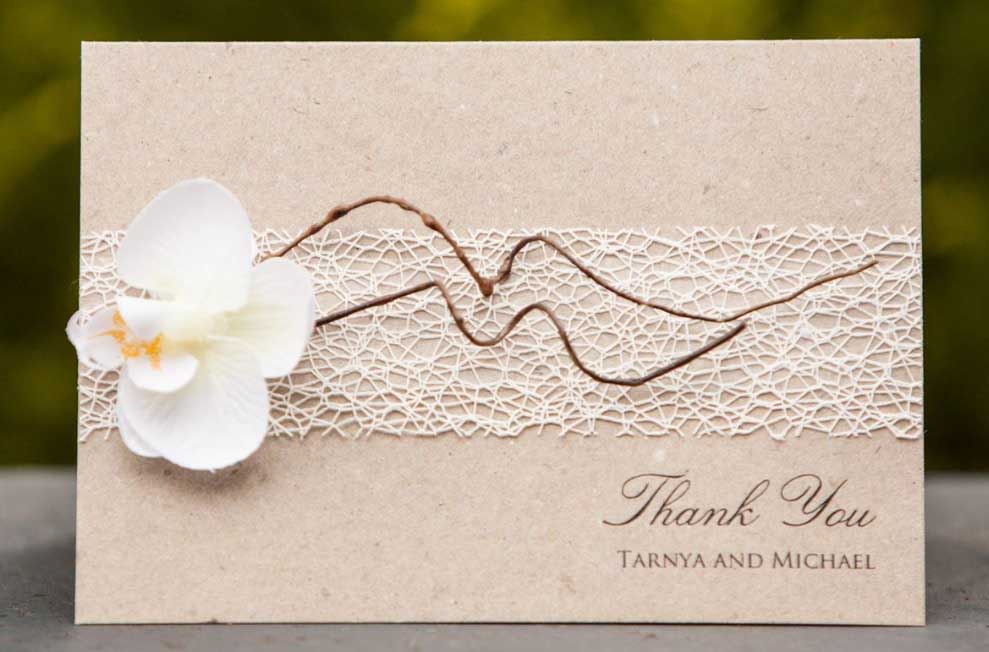 Start looking for gorgeous wedding invitations and stationary here here.