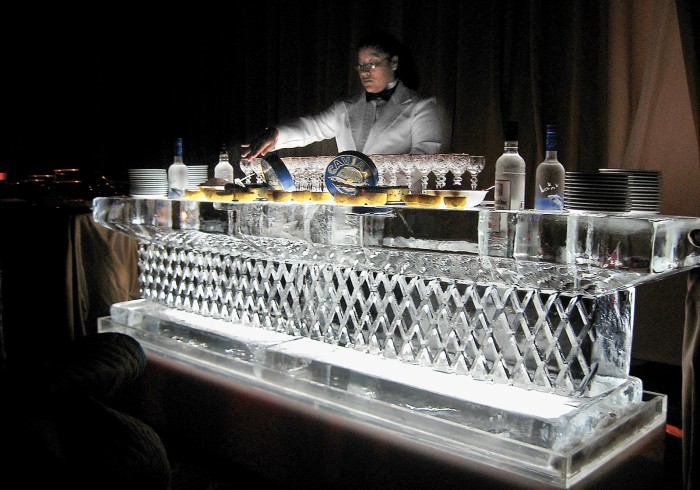 So, you've decided on your wedding venue, theme, and decorations, but somehow you think your reception might be missing a little pizazz! Ice sculptures add an element of drama – and fun – to your wedding reception, and here are some great reasons to consider one:
They create a talking point
Wedding ice sculptures are special and intriguing and, as such, they can create a real talking point at your reception. Guests are always curious about ice sculptures and, generally, want to know everything about them, from how they were made to how long they might last.
Ice sculptures are guaranteed to be a big topic of conversation on your big day!
A wedding cake sculpted out of ice. Image: IceWork.co.uk
They make for stunning centrepieces
Ice sculptures are superb focal points at receptions and, for that reason, are perfect for couples choosing not to have a traditional wedding cake. They make for perfect features on a buffet table or you could consider mini ice sculptures, one in the centre of each table. Ice sculptures can be made with clear or coloured ice to match your wedding theme and can even be specially lit to create extra impact.
They can provide entertainment
If you want to keep your guests amused while you are having your photos taken, see if you can have your ice sculpture carved on site while they sip their champagne. While this can be fun, bear in mind that sculptures will last longer if they are made in advance and hardened in the freezer but you'd be surprised at how mesmerising watching a block of ice turned into wedding rings or swans or an ice wedding cake can me.
They look expensive but they don't have to be…
Because so few people opt for ice sculptures at their weddings, they have the aura of something rare and exclusive and can be seen as an expensive luxury item. This isn't a bad thing, but it doesn't mean they come with the expensive price tag. Actually, when you start to look into the costs of ice sculptures, you'll likely find they aren't nearly as expensive as you first imagined.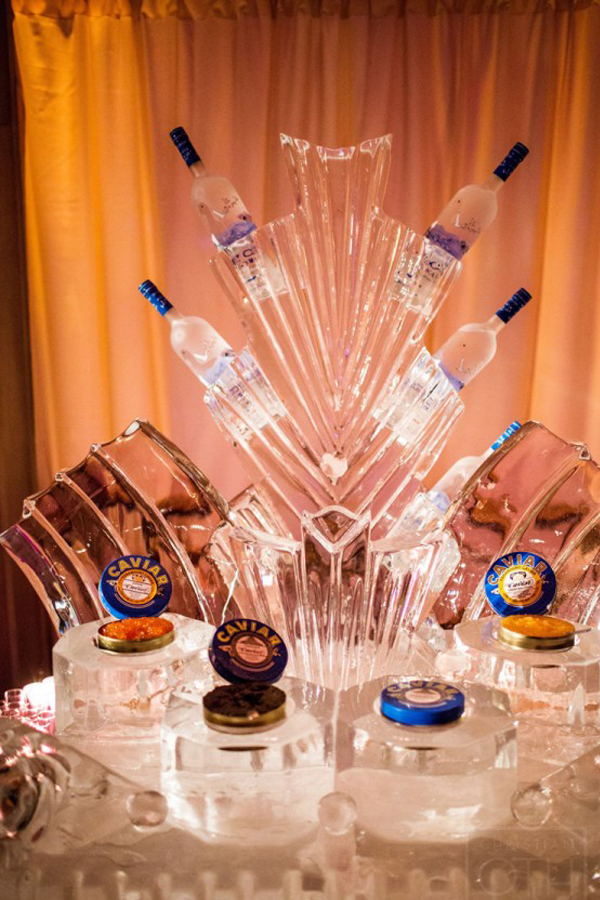 They will last longer than you think
Many couples rule out ice sculptures because they are worried they will melt after an hour or two and they will be left with a pricey wet floor. Actually, most ice sculptures will last for around eight hours if they are placed indoors, although they are likely to melt after three hours if they are displayed outside. All sculptures should have a built in drip tray and drainage system so you won't get puddles on the floor.

They can be personalised for your wedding
Popular shapes for wedding ice sculptures include a pair of kissing doves, a cupid, and a bride and groom figure, but you can have any shape you like and the possibilities are only limited by your imagination – and your sculptor's skill!
They can incorporate significant objects
If you think an ice sculpture would be too stark and cold, don't forget that the sculptor can incorporate other objects and decorations such as your wedding flowers, balloons, a cupids bow and arrow, some antique jewellery, or other objects with special significance to your wedding.