One of the big decisions to make when you're choosing your wedding dress is the type of skirt to go for. Dress designers make a wide range of skirt styles to suit all types of wedding and body shapes. Here are some common wedding gown skirt styles: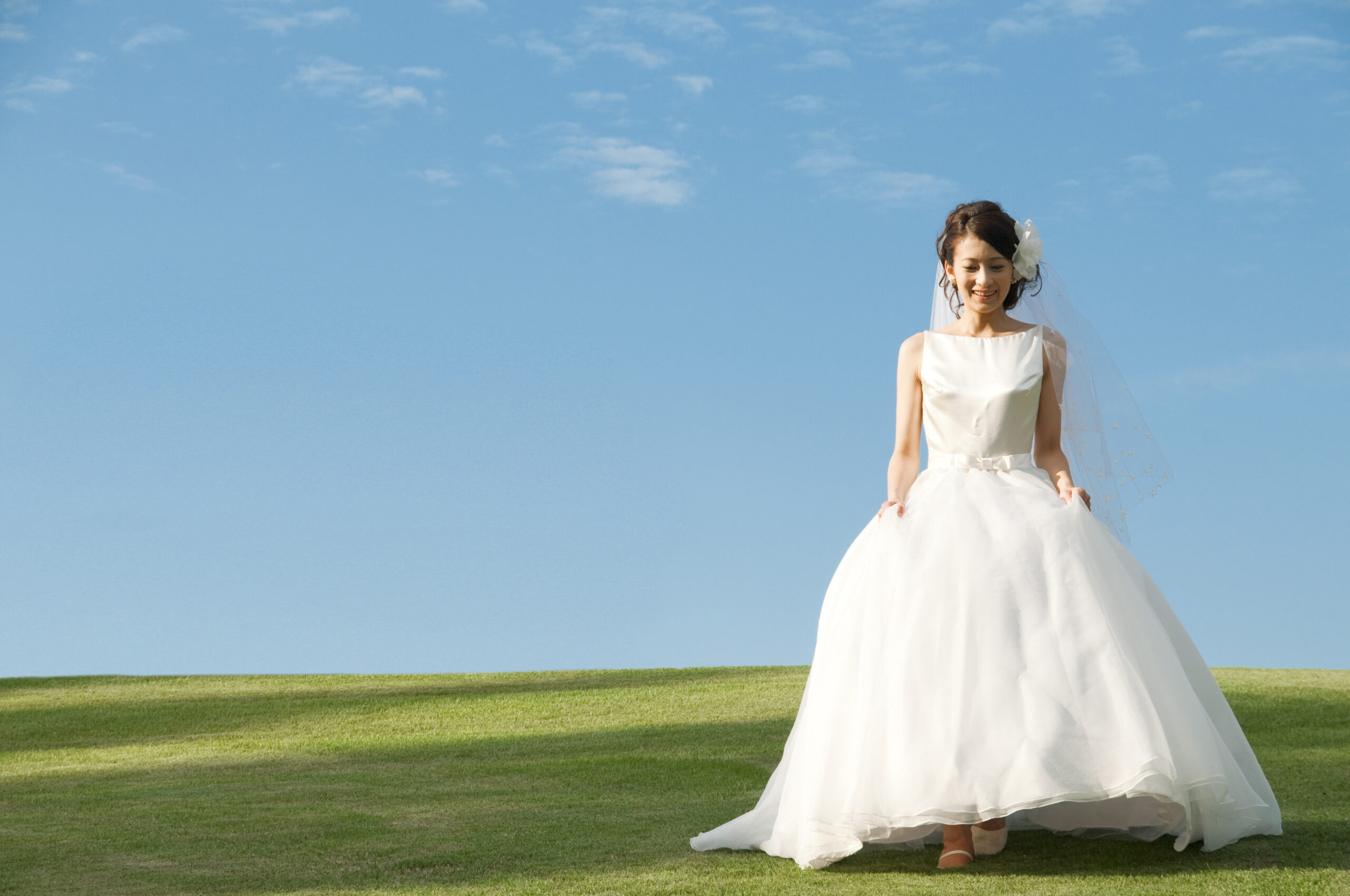 Ball Gown
This style suits all brides as it disguises the body from the waist and hips down. No matter who you are, it is VERY flattering, when worn with the right style bodice.
These skirts are worn with tulle and/or a hoop underneath. They can also be very heavily gathered or pleated at the waistline. This gives them the poof.
This style of skirt can be made entirely of tulle, with no other fabric. This gives the very soft romantic look. The bottom of each layer of tulle can also be fluted which gives that curly effect, which is really sweet when it matches the fluting on the veil.
This is somewhat a young style, but very pretty and classic nonetheless.
A-Line
This style is very simple and elegant. It too suits brides of all shapes and sizes. The A-Line can be slender and narrow or it can be quite wide, requiring a hoop. You do need to bear in mind, however, the larger your hips, the wider the base of the skirt will be. Remember, you want to create an illusion of being tall and slim. If the skirt is too narrow, and your hips too wide, it will simply draw unnecessary attention to that part of your body.
Princess
The traditional version of this gown is a strapless A-Line. There are now many variations whereby you can have pleats, shoulder straps, and the like. The distinct feature of the princess style gown is the fitted bodice and waist which continue on to the A-Line Skirt.
This style is very flattering for overweight brides as it is simple and elegant, and this creates the illusion of height. However, to make it work, you need to have some bust. Likewise, going strapless is not the most appropriate option if you are big busted. And, surprisingly, if you are very petite and slim with little or no bust, it most likely will not be suitable as it simply emphasises the fact that there is nothing to you.
Fish Tail or Mermaid
The mermaid style is quite fitted both at the waist and the hips; it then flairs out delicately at the base of the skirt below the knee. This skirt will hug very tightly at the waist and hips, flaring out from knee downward.
The fish tail is the mermaid style skirt with an extension of fabric at the bottom of the skirt at the back, effectively a small train. Both styles suit the bride that has a slim to medium build and bust. You can not get away with this style successfully if you are large busted with small hips and delicate backside. You will appear top heavy.
This style is extremely elegant with a low cut back. This emphasises the figure and accentuates the curvature of the back and hips.
Sheath
This skirt was extremely popular in the 1980's and early 1990's. It is very classy and elegant; however, the skirt is simply fitted at the hips and falls straight down to the floor.
You can have an attachment that ties around the waist like a wrap around skirt and this can be your train. This attachment can also be quite puffy so you have the effect of a princess style skirt that is straight at the front. This is very pretty. You can then chose to take the attachment off when ever you chose, and this does add variety to your professional photographs!
Naturally, this style will only suit the bride that has a healthy curvaceous figure. You do not necessarily need to be slim and petite, but you do need a reasonably flat stomach and backside. You will also need a reasonably slim waist as you may find you hang over the edge at the waist, and this will not be attractive.
Soft and Subtle
You may find that you don't really want any particular 'style'; you just want a dress that falls softly without having defined structure. This gown would not have any waistline, and would need to be either empire line or seamless, entirely. Whilst being seamless it would still be fitted at the bodice, and would just flow naturally and softly from the waist or hips downward.
This style is very flattering for the bride who is curvaceous but not necessarily slim. This design highlights the curves, and as long as you elect a suitable bodice, this style will be most flattering.
Likewise, the more delicate bride does not need internal support (boning). The gown be incredibly elegant, in fact, this would have to be the most feminine of all the styles of gowns available.
This article was provided by: Sweet Petites