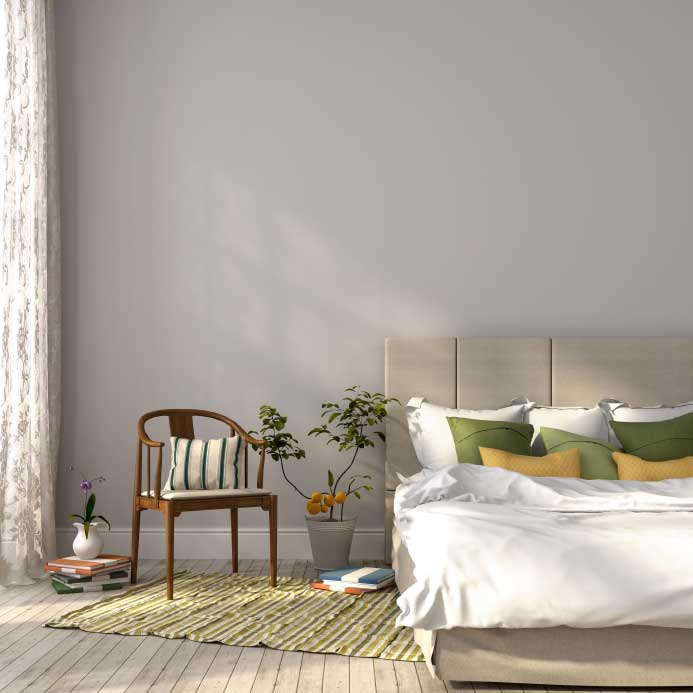 Whether you're buying linen as a wedding gift for someone else – or choosing it for your own gift registry, there's lots to know that goes beyond thread count. And, since we spend about a third of our lives in bed, choosing the right bed linen is an important task.
But what is linen?
Traditionally, bed linen, as well as other core household items such as cutlery, crockery and small appliances such as toasters, were given to couples as wedding gifts because, in years gone by, the wedding marked the start of a couple's life – and new home together.
Of course, these days, most couples live together – or have their own individual homes – before marrying and tend to have most household basics by the time they make it down the aisle.
However, unlike crockery, cutlery and toasters, you probably can't have too much bed linen. After all, is there such a thing as too many bedsheets, quilt/duvet covers or pillowcases?
How do I know which linen to buy?
Obviously, this isn't an issue if you're choosing linen for your own gift registry to be given to you as a wedding gift, however, if you're buying linen as a wedding present, you want to ensure that you buy the right size linen for the couple's bed and the best way to find out what that size is, is to ask them – or someone close to them.
Linen, especially good linen can be expensive, so don't ever purchase linen as a wedding gift without finding out what size bed your newlyweds will or do sleep on.
[ew-supplier-carousel]
Thread count
First things first. Let's talk about thread count.
For most of us, the higher the thread count, the more appealing the linen we're looking to purchase is. However, while a high thread count is definitely desirable, a really high thread count may not be. Why? Thread count refers to the number of thread, both vertical and horizontal, per square inch of fabric. And, let's be honest, there's a maximum number of threads that can fit into one square inch of cotton: about 400 threads per square inch, actually.
So, how then do we all get a little too excited about thread counts of 1000 or, perhaps, even 2000? A number of linen manufacturers make sheets using multi-ply threads, which are each counted as two or three threads, increasing the thread count significantly.
To get multi-ply thread, some companies will use lower grade cotton that becomes thin when spun. It's then twisted around itself and, by counting each thread in the multi-ply sheet, the thread count can legitimately be labeled as double or triple what it would be if each strand was considered a single thread.
Thankfully, many countries now require that the ply be listed on linen packaging.
Thread count was started as an advertising technique that was designed to denote high quality fabric with a tight weave that would be soft and durable for many years – and, in many cases it is, after all, with a higher thread count, the weave is going to be denser. Density will add softness and durability to the material, however, as stated above, this higher thread count doesn't always mean it's the best sheet available.
A way to check the quality of the linen you're considering purchasing – and actual thread count – is to hold the fabric up to the light. If the light comes right through, the weave of the fabric is not very tight, leading you to know the fabric has a low thread count and quality.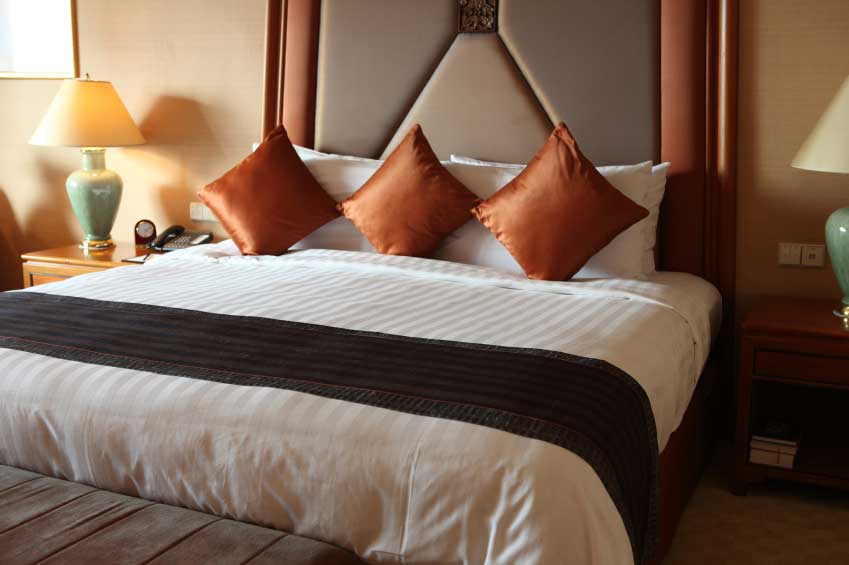 Weave
The weave that you choose for your sheets has a lot to do with thread count, but can also affect the overall price, feel, look and longevity of any linen you're buying.
A basic weave has the same amount of fibers vertically as horizontally. A percale weave has 180 thread count or more and is known for its soft feel and long-lasting quality. A sateen weave has more vertical than horizontal threads which results in extremely soft sheets that are more likely to pill.
If you're willing to pay a higher price point, you can look at jacquard or damask sheets which are woven on special looms to create a textured weave that might feel nubby under your fingertips. These will be as durable as a basic weave.
Material or Fibre
The type of material you choose for your linens is important, you want to feel good in your sheets. One factor to consider when choosing sheets is if you're a warm sleeper or cool sleeper.
Cotton
You can't beat cotton when it comes to linen. It's the world's favourite natural fibre and there are several types: American Upland, Pima and Egyptian cotton
Egyptian cotton
Sheets made of true long-staple Egyptian cotton will make luxuriously soft sheets that will last many years without piling. Strictly speaking, Egyptian cotton should be made from a plant called Gossypium barbadense grown along the Nile River in Egypt. Many sheets now label less nice types of cotton as Egyptian cotton. If the fine print is unclear, you can assume the cotton is not Egyptian but American or a lesser type of short fiber cotton which can have threads popping out of the weave creating a coarser fabric.
Cotton/polyester blend
These types of sheets make for a more affordable, bargain cotton. The sheets are made of a combination of synthetic and natural fibers that make a wrinkle resistant, soft fabric which is not as breathable or cool as 100 per cent cotton. If you're considering a blend, choose between 10 and 30 per cent polyester.
Muslin
Muslin is a gentle and lightweight, finely-woven cotton that is very 'breathable.'
Percale
These sheets will be considered great to mid-range as percale sheets have a thread count higher than 180. Percale sheets are great for warm sleepers as they're breathable and soft.
Sateen
Sateen sheets will be slightly heavier than percale and are therefore great for cool sleepers. These sheets also have a lustrous finish making them feel satiny.
Pima cotton
Pima is also known by its brand name, Supima cotton. This cotton will make sheets that are almost as soft and durable as Egyptian cotton. The fabric is made from a type of long fiber that is less likely to pill.
Flannel
Sheets made of flannel are brushed cotton for use in colder climates and for cold sleepers.
Tip: If you're having a hard time deciding which sheets are best for you, try buying a set of pillowcases and trying them out for a few weeks.
Finish
To make the crisp, easily washed sheets that you commonly see at the store, companies often treat them with chemicals such as chlorine, formaldehyde and silicon. These chemicals may also prevent shrinking and maintain size.
If you want chemical-free sheets, look for sheets advertised as pure finish or organic sheets. The pure finish sheets may need ironing to keep away the wrinkles, but if you suffer from allergies, these could help. Organic sheets are made from cotton that is not treated with pesticides.
Dye
After the weaving process, the colours and patterns are added to sheets, giving them their unique character. Make sure to wash your sheets before use, they'll get softer each time they're washed. The most expensive sheets are made from dyed yarn, meaning there is no dying process after weaving.
Size
Choosing the correct size of sheets for your mattress is pertinent to getting the right set and it's not as simple as picking out the queen set from the twin anymore. With mattresses ranging in height because of pillow tops and memory foam, so be sure to ask the couple you're purchasing for before handing over your cash. Yes, it may alert them as to what you're giving them as a wedding gift, but it's better than disappointing them by giving them something they may not be able to use.