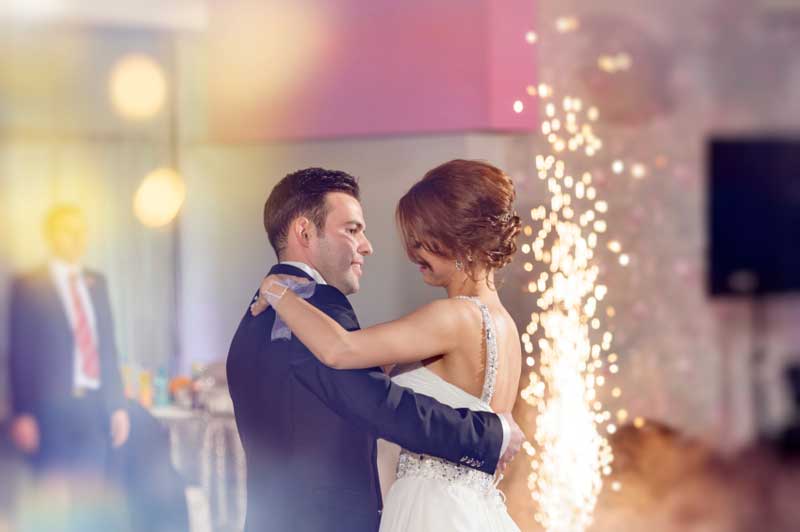 Want to add a little wow-factor to your wedding? You can't go past fireworks. Yes, fireworks! Depending on the time of day and the season, a fireworks display can be incorporated into your celebrations for some serious pizzazz.
Here are your most popular wedding fireworks questions answered:
Are wedding fireworks expensive?
Although the old saying 'you get what you pay for' does ring true when it comes to fireworks, professional wedding firework displays are more affordable today than every before.
There are, however, various factors that will affect the price of your firework display:
The length of the display
The longer the firework display the more expensive it will be.
Remember also that, though guests will enjoy watching a firework display, it will lose its impact after a short period and, no matter how spectacular your display, guests will want to return to eating, drinking, dancing or chatting.
A display of five to 10 minutes will be enough to delight your guests without costing a fortune. It's better to have a short, high-quality display, than a longer one with fewer simultaneous sequences.
[ew-supplier-carousel]
The variety of effects and sequences
The more complex and spectacular the firework display, the more expensive it will be and, if you've got the budget to afford them, great! However, if you're on a limited budget, ask your pyrotechnics team to see what they can give you for your allocated budget and, if need be, re-jig the proposed show. A shorter show with better effects will always be better than a longer one that may not be quite so entertaining.
The degree of customisation
Most suppliers of wedding fireworks have standard displays that come at a fixed price. Having a customised display, such as one that only uses the colours of your wedding theme, may be beautiful but it will generally be pricier. Again, if you've got the budget, we say go for it! Who doesn't want a fireworks display, let alone one using your wedding colours?
Whether the display is set to music
Music can add a whole lot of drama to your firework display and having a professional fireworks display choreographed to 'your song' can be incredibly romantic. It's also pretty darn impressive. However, having a new display set to music you've chosen could be a lot more expensive because your fireworks company will need to create a whole new show based on its tone and tempo. Using a song that the supplier has already produced a firework display for will greatly reduce your final cost.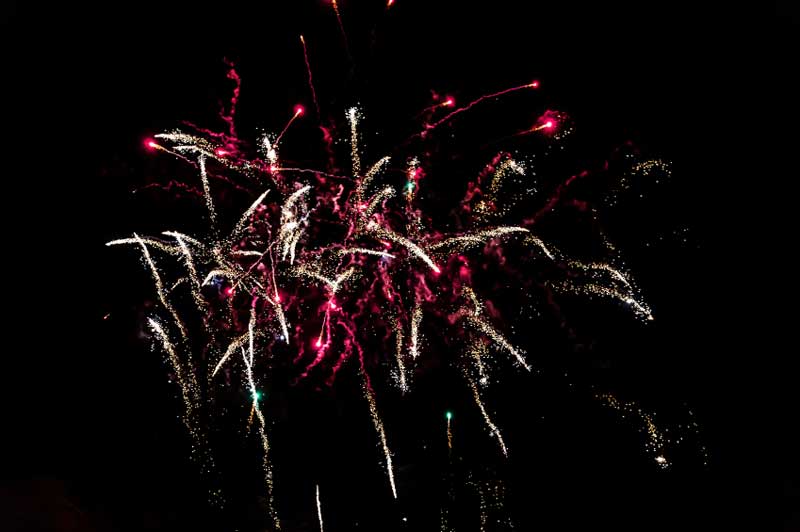 Wedding fireworks: alternatives and extra surprises
Indoor fireworks
You may think that you need an outdoor venue and a dark night sky to include fireworks in your wedding, but it is possible to have limited indoor fireworks, such as silver fountains in the centre of the tables. Always check with the venue before you book these.
Low-noise fireworks
If your venue has noise restrictions, or you just don't like the noise associated with fireworks, it is possible to create 'quiet' fireworks displays designed. Again, check with your fireworks supplier whether they are able to do this, but many will be able to accommodate.
Fire writing
If you're looking for something a little different, but still in the fireworks arena – or as a highlight during your fireworks display – a fun alternative is fire writing. It can be a lovely touch to have you and your spouse's names or initials written in jets of fire, either side of a flaming heart, in the sky!
Surprise fireworks
Wedding firework displays are often booked as a surprise for the couple, perhaps by a close friend or relative. Most pyrotechnic companies will work with the venue to stage a surprise display, and will use unmarked vehicles when setting up, so if you've got surprise fireworks in mind, either for a couple or for your new spouse, be sure to mention this to your supplier – so they don't blow the surprise.
Do I need a permit?
Some states do require a permit if you're intending to hold a fireworks show, so be sure to ask your intended supplier if you need one and whose responsibility it will be go obtain it, as well as how much it will cost.