A wedding finger food buffet is a fun way to feed your guests and it is perfect for an informal reception or a backyard wedding. Wedding finger food can be eaten on the move so you don't need overly formal seating and table arrangements. Some of your guests will be happy to stand up and chat as they eat.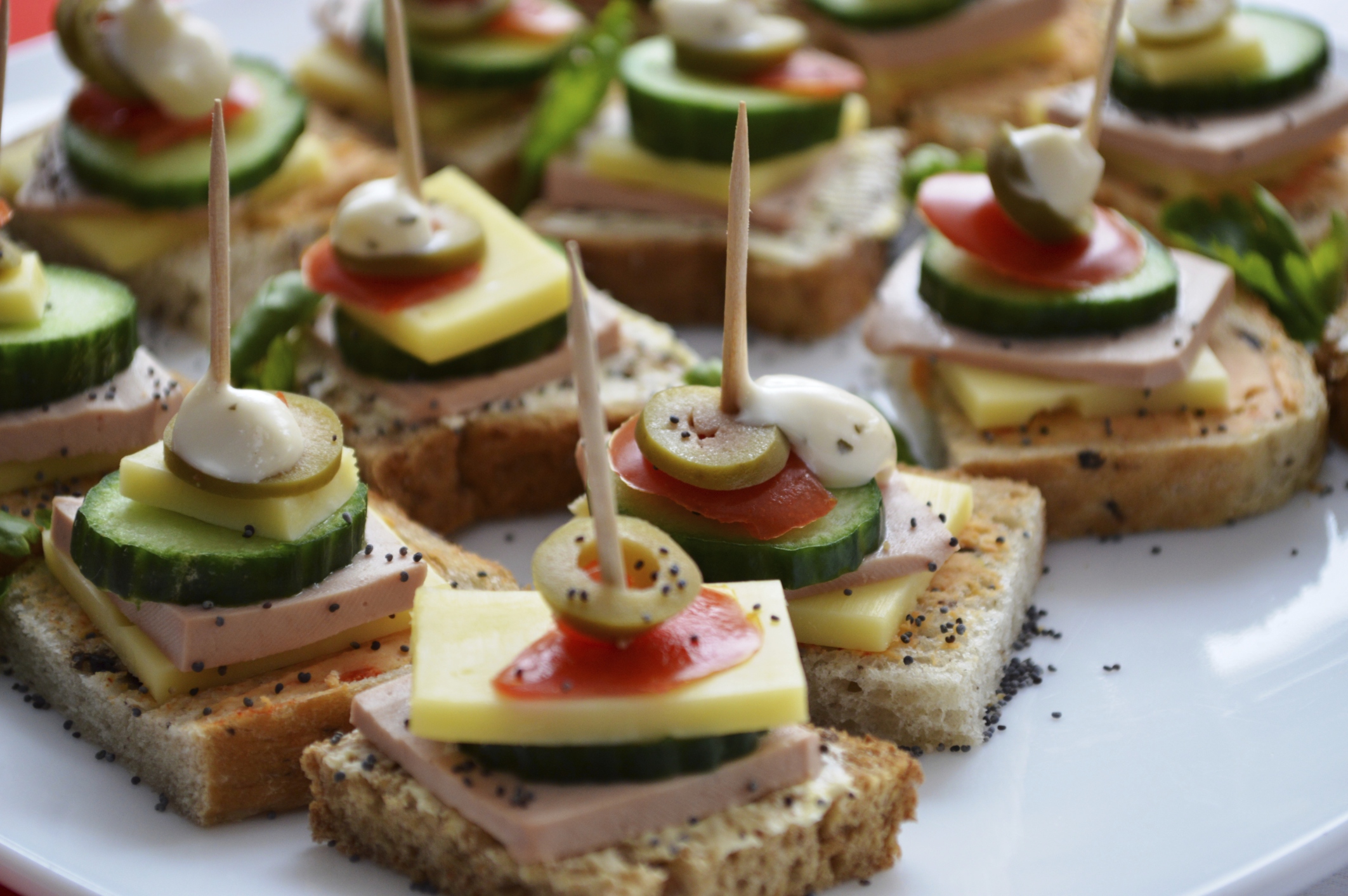 If you are wondering what to serve as part of your buffet, these wedding finger food suggestions are guaranteed to give you a few ideas:
Sandwiches are the staple of any finger food buffet, but they can be given a modern twist by using miniature tortilla wraps, bagels cut in half, or cubes of focaccia bread with olives or sun dried tomatoes.
Bite size tartlets or mini quiches are ideal wedding finger food, and caramelised red onion with goat's cheese, or roasted peppers with mozzarella are popular choices.
Chinese nibbles add flavour to your buffet, and spring rolls, prawn wantons, and crispy duck pancakes will all work beautifully with other styles of cuisine. Fortune cookies are also a fun addition.
Indian bites will inject some spice into your wedding food. You could serve samosas, onion bhajis, or pieces of tandoori chicken, all with mint yoghurt dip or mango chutney.
Individual kebabs on decorative wooden skewers are easy to eat on the move. Try minted lamb, curried chicken, Thai prawns, or vegetables with halloumi to provide something for every taste.
Japanese style finger foods include small sushi rolls, teriyaki chicken pieces, baked kabocha, and tempura.
Potato skins are perfect wedding finger foods and work well with either hot salsa and sour cream or melted cheese and crispy bacon.
Toasted bruschettas are easy to hold as well as being tasty, and they can be loaded with smoked salmon or cherry tomatoes, olives and garlic.
New York themed finger foods include miniature hamburgers and hot dogs with gourmet toppings and sauces.
Chinese spoons are a practical and fashionable way to serve something hot or messy as part of a finger buffet. They work especially well with a single meatball in tomato sauce or a piece of tortellini in a soup.
Breadcrumbs or batter can be used to make meat easier to pick up, and chicken goujons, battered king prawns, and sweet and sour pork balls are all tasty possibilities.
Vegetable dips can give a healthy dimension to your finger food buffet, and carrots, celery, cucumber, baby corn and spring onions can all be eaten with a blue cheese dip or a crunchy salsa.
Bread is essential for any food finger food buffet, but the type you choose depends on the style and theme of your buffet. You could choose crusty white or French bread, dark German bread, ciabatta, naan bread or pitta bread.
Cupcakes are an ever growing trend and a decorative cake stand filled with colourful cupcakes will make a great feature on any buffet table.
Miniature desserts are another sweet treat that can be eaten standing up. Bite sized cheesecakes, and chocolate brownies are ideal and you can always provide individual scoops or spoons for shot glass mousses or sundaes.