How do you know when you've found "The One"? We are, of course, not referring to the person at the end of the aisle, but to the dream wedding dress you're wearing for the occasion. If you have wedding dress shopping questions, we have your go-to guide.
For many nearlyweds, wedding dress shopping is a time-honoured, sacred tradition filled with excitement and anticipation. "I loved the way trying on all the dresses made me feel: sexy, beautiful, and A BRIDE!" says one dress shopper of her experience.
It's not all complimentary champagne and saying a resounding "yes" to the dress, though. Those spools of luxury lace can come with an eye-watering price tag… and what on earth is up with wedding sizing? Our recent poll showed that over 90% of brides feel nervous, excited, or both about wedding dress shopping— talk about a perfect storm of emotion!
Never fear. In this article, we'll impart not only our wisdom but the tips, tricks, and must-have advice real brides wish they had when wedding dress shopping.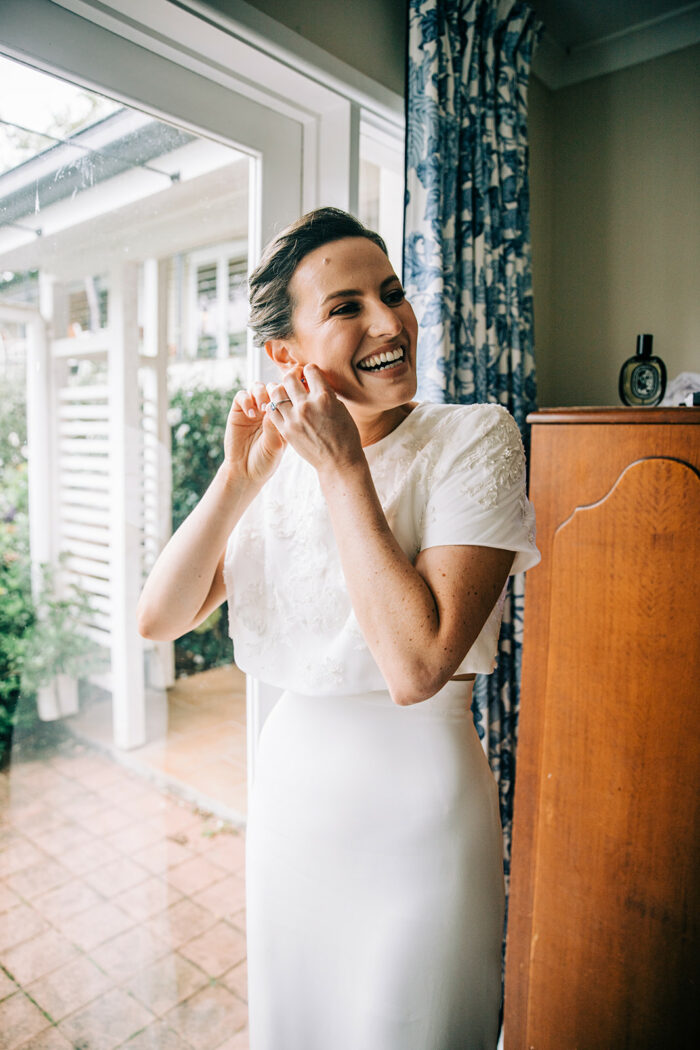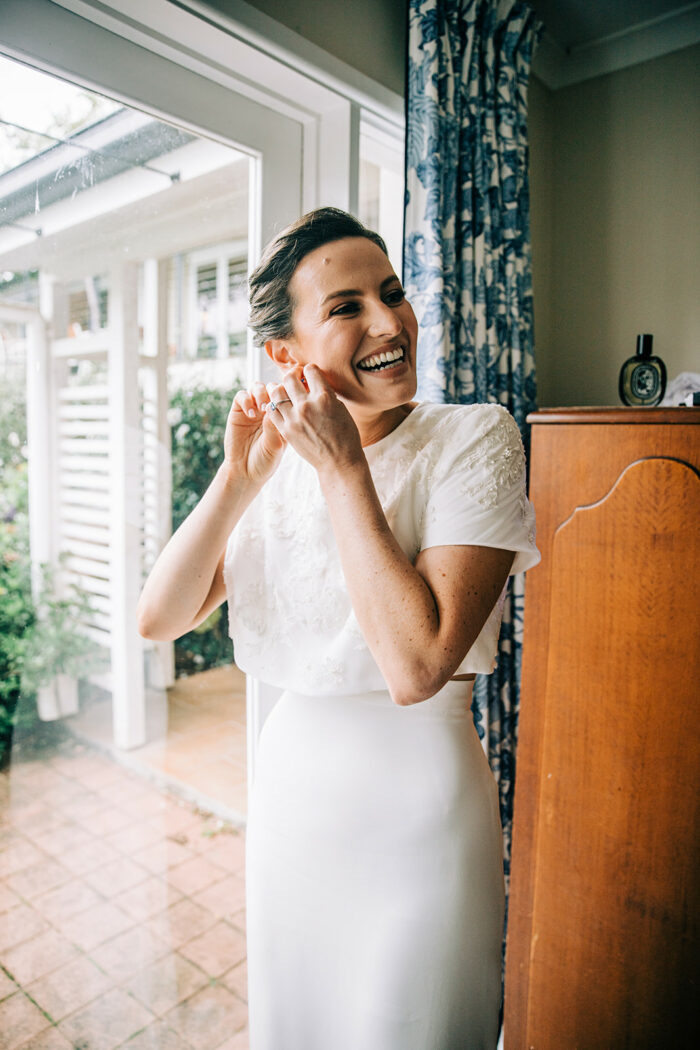 browse wedding dress suppliers
What can I expect from my wedding dress appointment?
Let's start here: expect the unexpected! 55% of brides polled needed to visit two to five wedding dress boutiques before finding their perfect gown, with a further 8% of brides shopping in six to ten stores! Furthermore, almost 40% of wedding dress wearers needed to try five to ten dresses before making their selection… but that's all part of the fun.
"Be open to trying styles you think you'll hate. You might be surprised!"
Most brick and mortar wedding dress boutiques work by appointment. You will book an hour slot, during which time a consultant will help you select and try on dresses. The gowns available to try on are sample sizes that can be pinned to replicate what a made-to-order dress will look like. A selection of these sample items may also be for sale "off the rack" at a discounted price. Once you decide on a gown, if it's a made-to-order design, your measurements will be taken, and the garment is created.
"Having to shop so far in advance gave me anxiety! What if I lost or gained weight in that time?"
It can take up to six months to make a wedding dress, with some retailers also offering "rush orders" for those fighting the clock. Ideally, you should start looking a year out from your wedding date, which can be difficult for some. If you're worried about your body changing dramatically in that time, the store's consultant can help you select a fabric and style that provides a wider scope for alterations close to the date.
"No one told me that wedding dress sizing is two sizes above your normal dress size! That was just depressing."
Be prepared for wedding dress sizing, and remember that the fit is by far more important than the number on the tag. If the sizing aspect is reducing your enjoyment of the experience for you, why not find a wedding boutique or designer you love, and ask them not to discuss sizing with you at all? Focus on how the dress feels and if it complements the unique architecture of your body.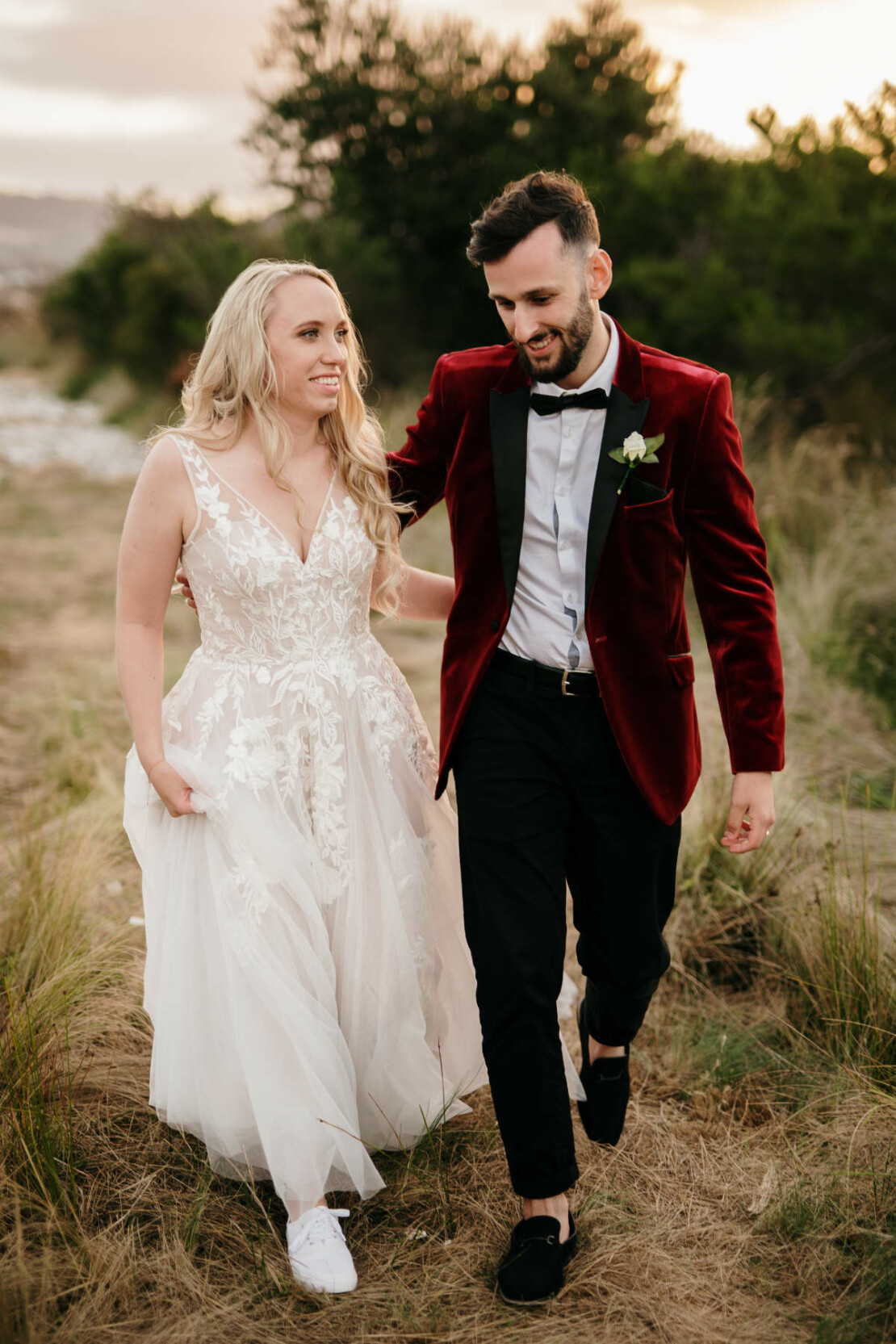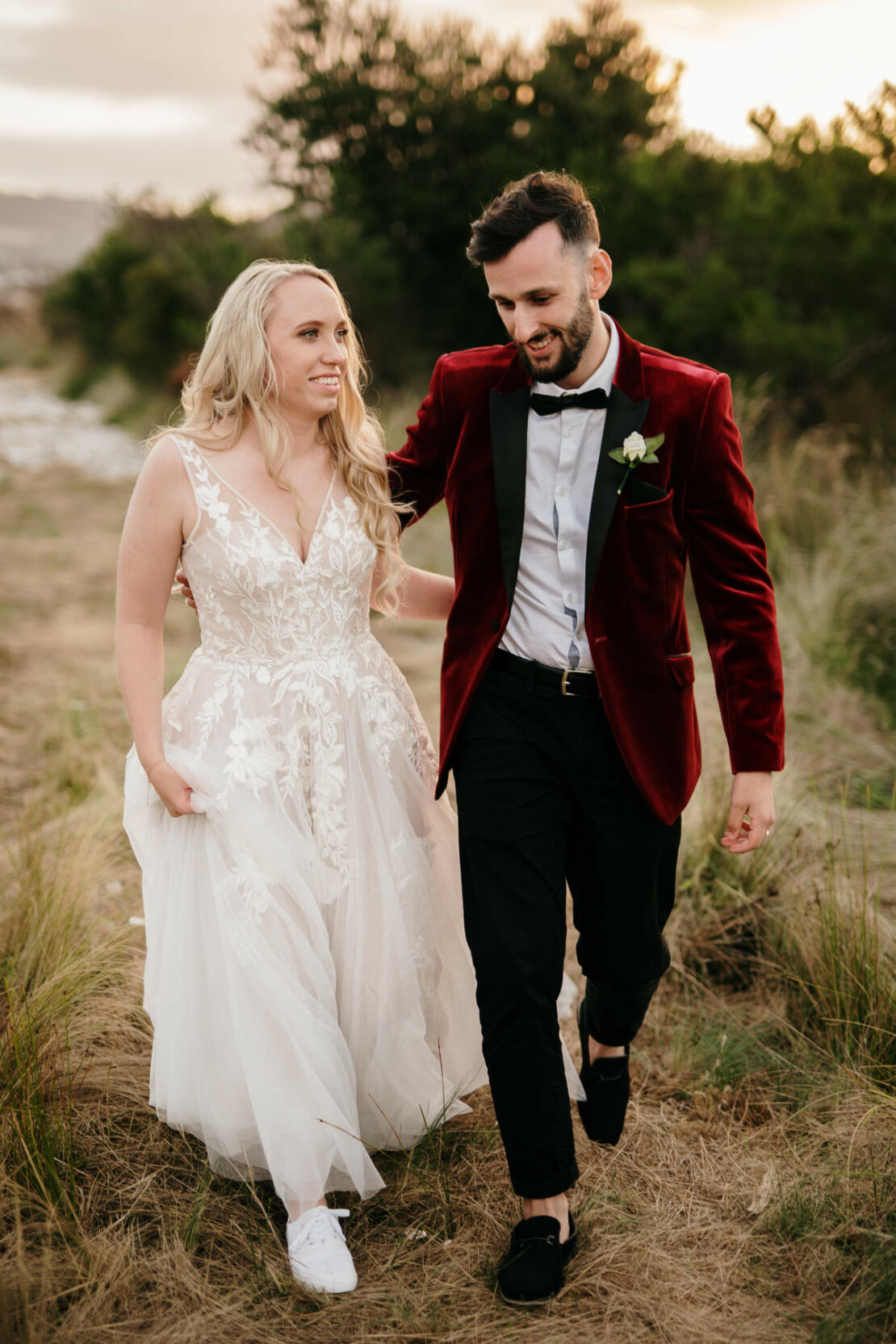 What do I need to bring to my wedding dress appointment?
The most important thing to bring to your wedding dress appointment is a budget. Knowing how much you want to spend and how much wiggle room you have is ideal. An excellent idea is to book wedding dress boutiques based on your budget. If you're unsure, there is no shame in asking what the range of dress prices is.
"Wear an invisible bra and underwear you are comfortable being seen in. You'll definitely need help changing in and out of dresses."
It's definitely advisable to wear nude, seamless underwear, lest you be battling a VPL in a fitted dress or a neon shadow under your fine silks! If you're trying on fitted dresses and shape-wear is your style, it could be worth wearing a pair of Spanx to best showcase the dresses' silhouettes.
"Bring a comfortable pair of shoes. The bridal boutique I went to had a pair of heels for me to use, but they were way higher and about four sizes too big for me!"
Many shoppers like to bring a shoe in their size, and of the same heel height they think they'll want to pair their dress with. This will also help with alterations and the hemming of the dress.
"Do your hair and makeup the way you envision it on the day to get an idea!"
Having your hair, make-up, and any other beauty rituals you enjoy done on the day of your appointment can help you feel like more of a bride. Steer clear of any body make-up on your neck and décolletage, though. Although the dresses you're trying on are likely to be samples, you'll want to avoid any smears of foundation on the fabric.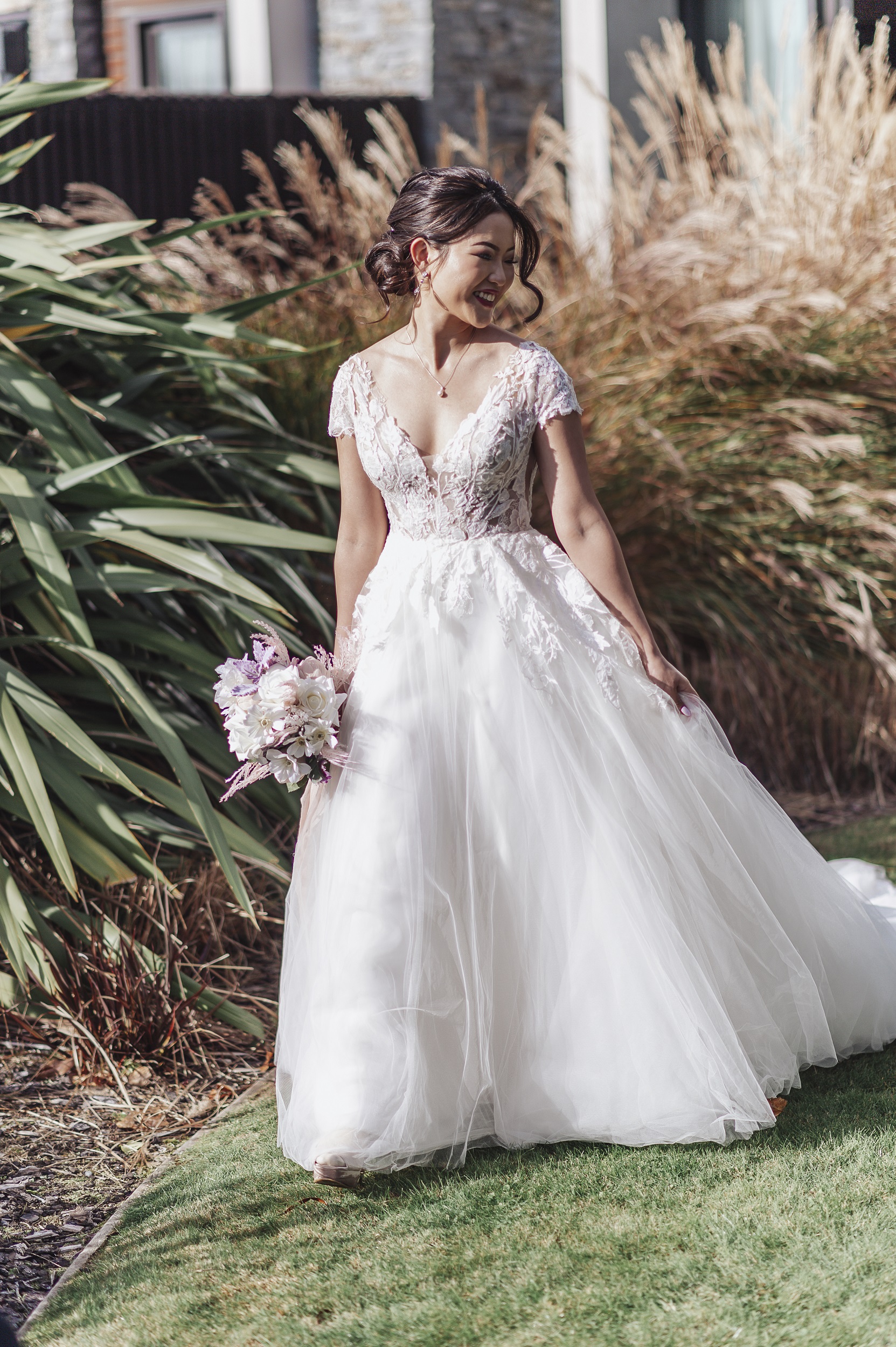 Who should I bring to my wedding dress appointment?
There are no hard and fast rules on who, if anyone, you should bring to your wedding dress appointment. With more bridal ateliers going virtual, your appointment could even be at your home, flicking through designers with some close friends, and making an order online!
"The best part of my dress shopping experience was seeing the tears on my nan's face at every dress I came out in. They were moments I will remember for the rest of my life."
Still, dress shopping can be a beautiful, intimate moment to share with your closest confidants. It's less about bringing your most fashionable, style-guru friends (although, by all means, go ahead and invite them!) and more about allowing a select few loved ones to enjoy this exciting pre-wedding experience with you.
"Don't take your mum if she's not on the same page as you. Unless she's buying, of course!"
Brides and consultants agree, your wedding dress appointment companions should be trusted advisors. We've all seen the trope of the meddling mother-in-law or negative bridesmaid who finds a flaw in every frock. Choose people to accompany you based on who makes you feel like your most confident, fabulous, comfortable self.
"I honestly wish I'd gone on my own. That way you don't have to worry about anyone's opinion but your own!" 
There is always an option to go solo if you want to avoid confusion or unwanted opinions. If you still want to involve your loved ones in the wedding dress shopping experience, an excellent option is to select a dress on your own, and then invite them to the final fitting. "I've purchased a wedding dress I love, and I want you to be the first ones to see it!" should be your go-to line here.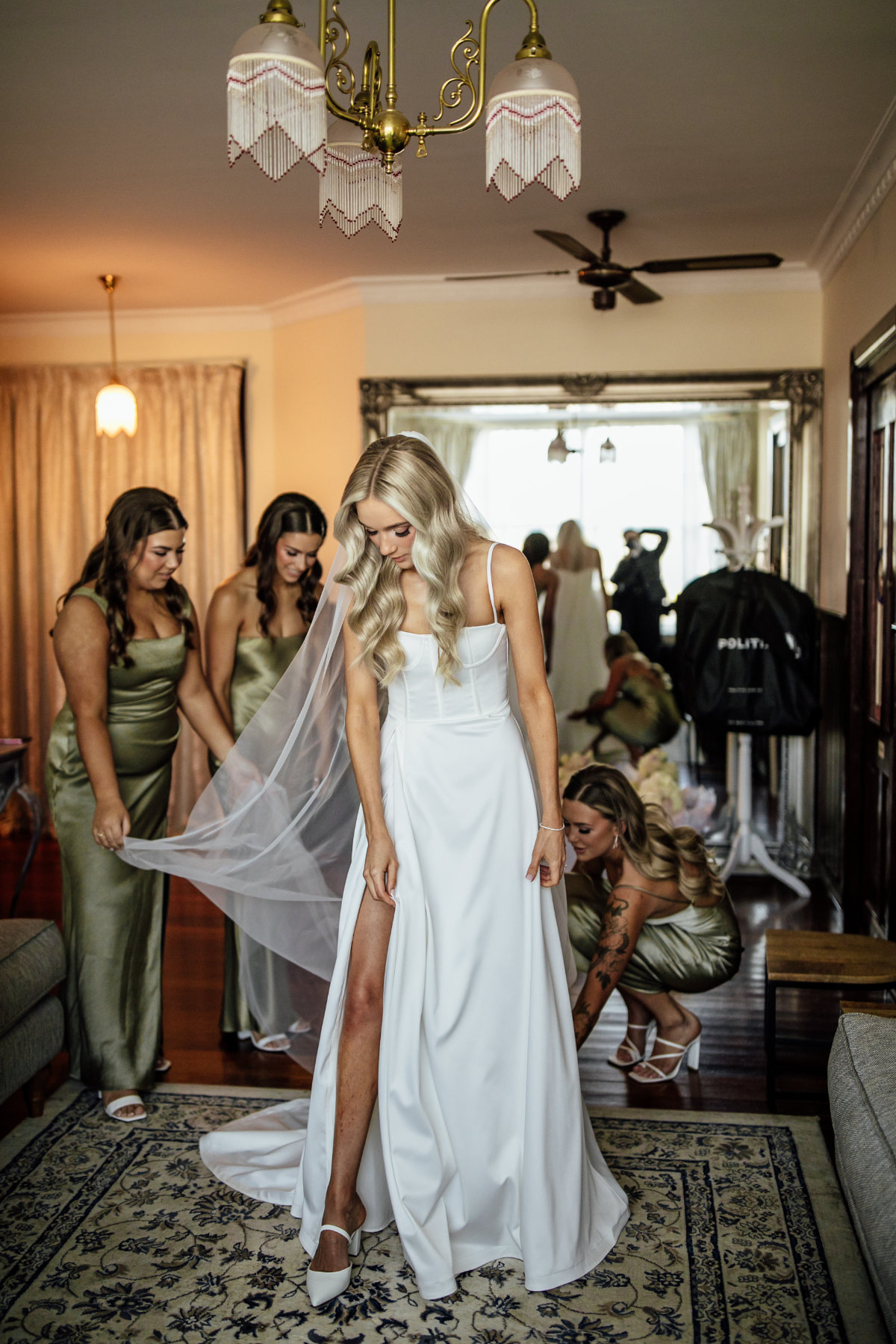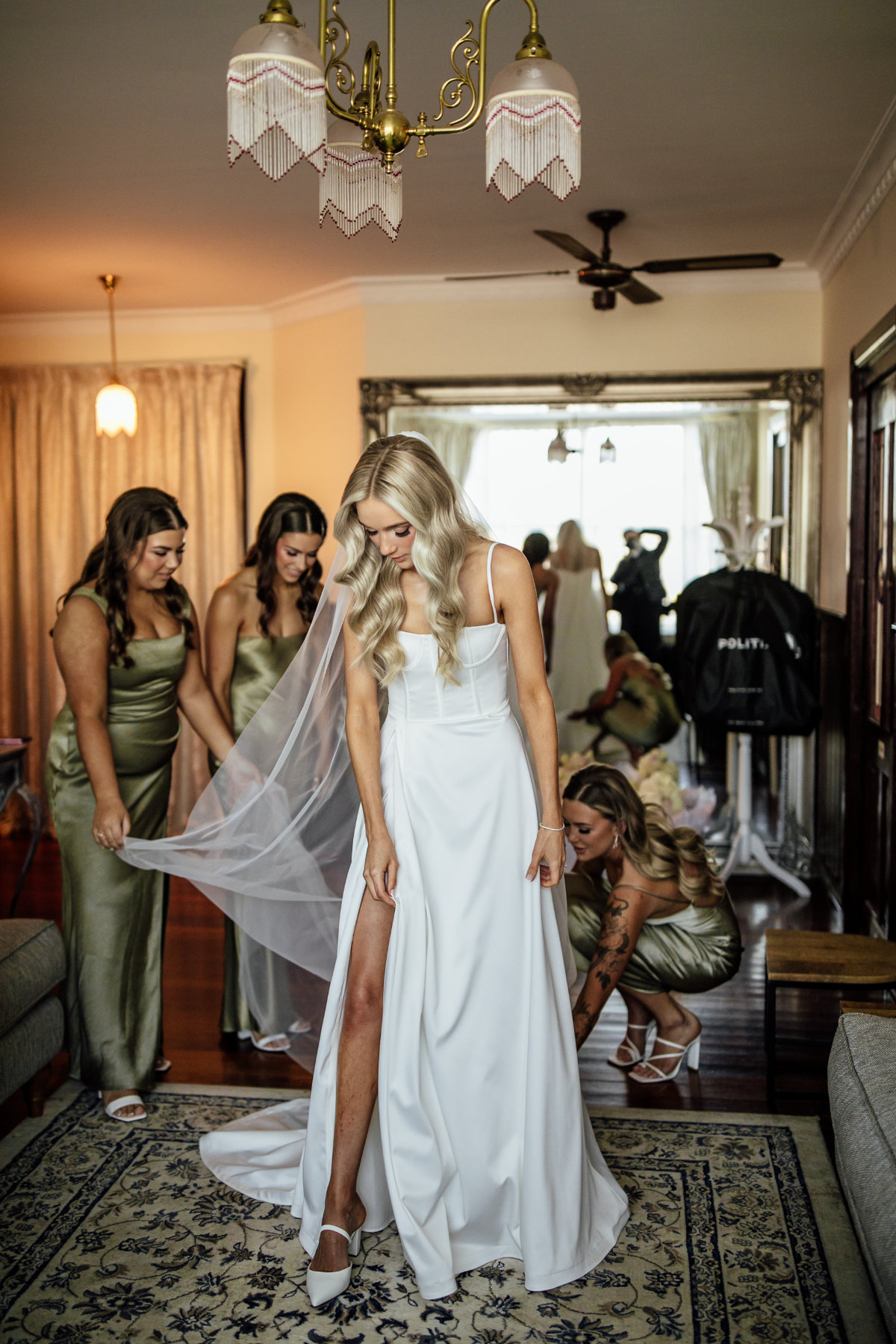 I've heard some horror stories about wedding dress shopping. How can I prepare to ensure it's a great experience?
A lot of the stress and difficulty of wedding dress shopping can be alleviated with the right boutiques. Finding a retailer and a consultant you feel comfortable with is vital. Rushing you to make a decision, making comments about your body, and not listening to your budget are all glaring red flags.
The right wedding dress consultant will make you feel at ease and unhurried throughout the process. They'll make your budget work for you and be transparent around pricing. Take your time with decision-making and assess your options before committing.
"Be strong against pushy sales girls. Don't let them bully you into buying a dress you don't love." 
A good rule of thumb is to take a moment in the dressing room alone with your dress and listen to your instincts. Don't be afraid to be polite, but firm, with needing more time to make a decision. This will also help you to separate your opinion from the opinions of the friends and family you have brought with you.
"Remember your body does not fit the dress; the dress fits your body!"
Even the most confident people can feel niggling insecurities creep in during wedding dress shopping. The above real bride advice is an excellent mantra to keep in mind. After all, you're wearing the dress, not the other way around! Finding a bridal supplier who is size inclusive can also be important. Don't be afraid to ask this question before making your appointment.  If you're looking for more wedding dress body positivity tips, we have the perfect article for you.
"Make a day of it! Do lunch, dinner or drinks afterwards to thank your people for coming along." 
Making your wedding dress appointment a full-day outing can make it an upbeat bonding experience. Discussing your options over a meal gives you pause to solidify your feelings towards the dresses you've tried and acts as a cooling-off period to avoid any rash decisions in the fitting room. That said…
"We had lunch in between appointments, and so I felt bloated and gross at the afternoon shop!" 
If you know you tend to get sluggish and lethargic after a big meal, perhaps leave the pasta and wines until after your last appointment for the day. Again, listen to your body and your instincts, and base the experience around what makes you feel your best.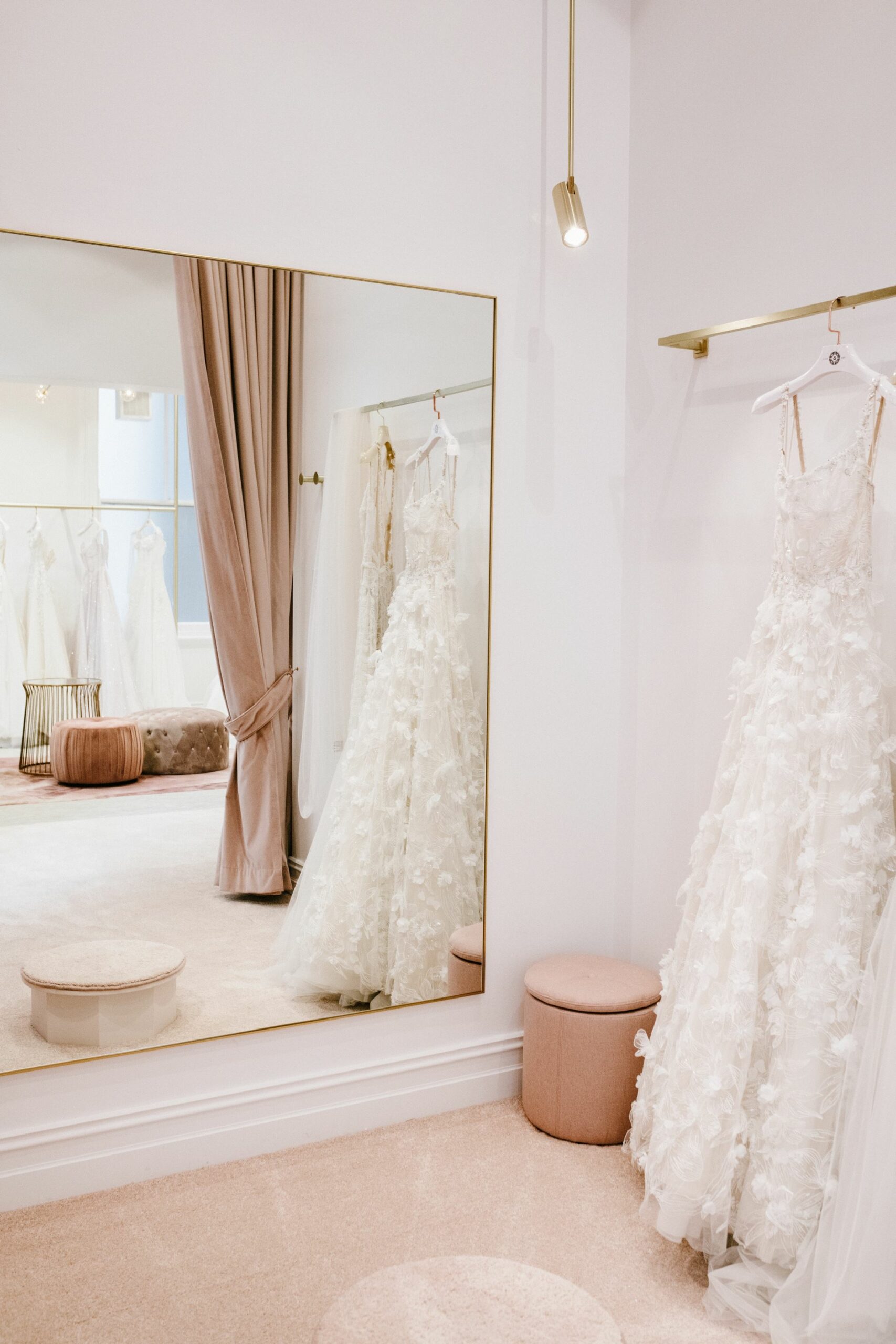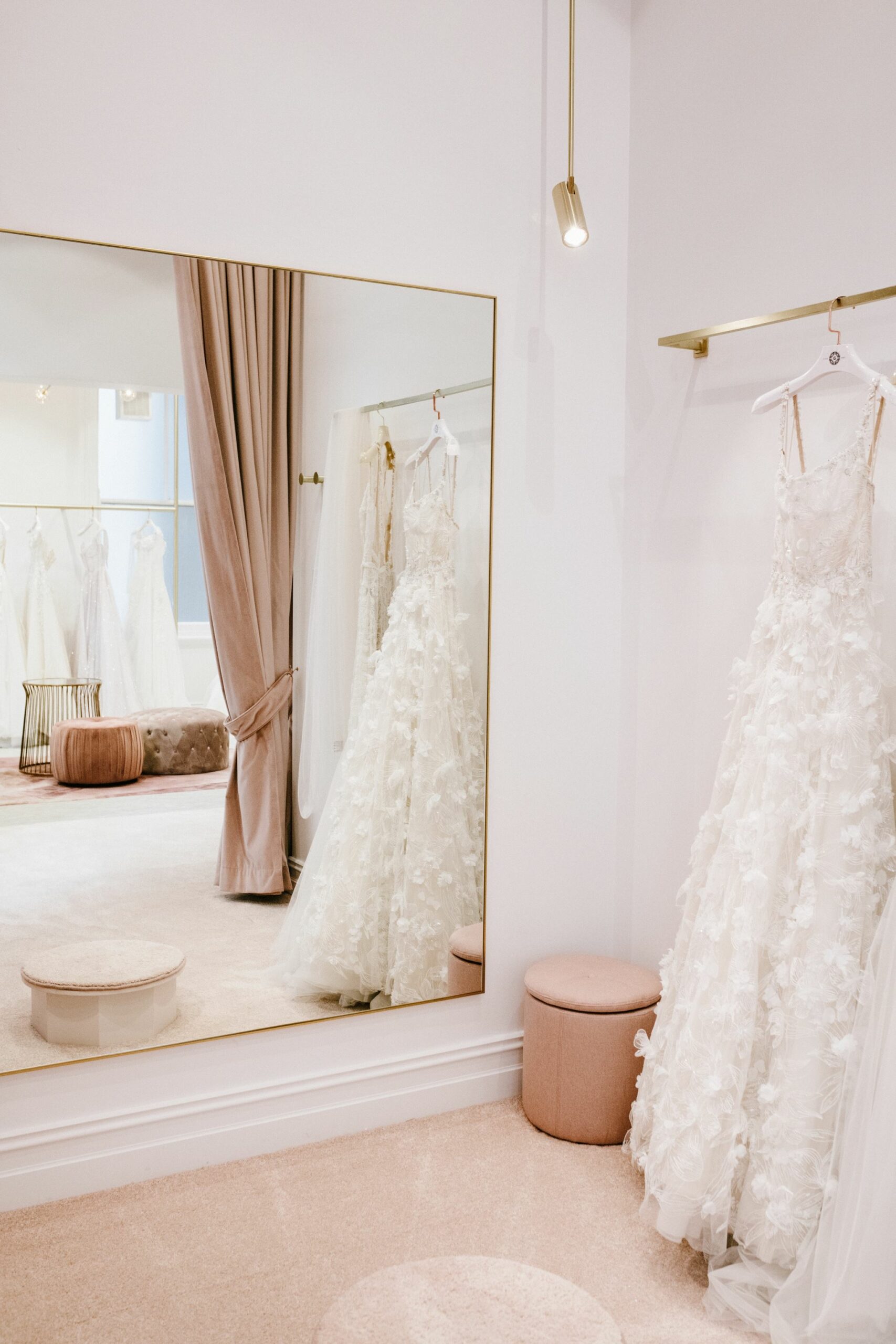 Hmm, that doesn't sound like me. Do I have other options?
In the words of Lesley Gore, it's your party! With more options than ever before, you can approach your wedding dress shopping in your own style. Check out these amazing suggestions from real brides who did it their way:
"Go pre-loved! So much cheaper, better for the environment, and easier".
"I got my wedding dress from the op shop. I wasn't looking, but it popped out. I tried it on, and it was perfect!"
"I worked with a dressmaker who incorporated lace from my mother's wedding dress into the design."
"I knew I didn't want a formal gown, so I chose a beautiful tea-length cream dress and then had a local artist paint a design that I loved on it!"
Wedding dress shopping should be an exciting, empowering, and fun process. Armed with plenty of inspiration, a firm budget, and the tips from this article, you can't really go wrong. We love this final piece of advice from a real bride: "Try not to stress too much. Your fiancé will find you stunning… even if you rock up in a rubbish bag!"  Now, that's a wedding dress shopping motto we wholeheartedly support.
---
Peruse our wedding dress suppliers