Calling all (soon-to-be) wedding dress wearers! Trust us; your dream gown will likely be one of the most exciting parts of your celebration. When it comes to showstopping white dresses, our team at Easy Weddings loves them all, from fun and frothy tulle to sleek satin and intricate beading. But as gorgeous as these creations are, wedding dresses are delicate. So, what happens if something goes wrong with yours on your wedding day?
Splatterings of mud, a slosh of red wine, an errant heel on a fine silk train… wedding dresses aren't short of natural predators. A wardrobe malfunction can quickly turn a perfect day into a nightmare.
But fear not, as there are steps you can take to avoid these mishaps. In this article, we'll discuss some of the most common wedding dress mishaps and offer tips and tricks to help you prevent them. Whether it's an issue with the fit of the dress, tears or breaks, spills, or even your bustle breaking, we've got you covered. Keep reading to learn how to avoid some of the most common wedding dress mishaps and ensure your wedding day is a success.
Browse Wedding Dresses
---
"Eek! My dress feels too big or too small!"
If Cinderella and that pesky shoe predicament taught us anything, it's that fit is everything.
The way your wedding dress fits is crucial to the final look. It can make or break your confidence and comfort on your big day. As the bride, you want to look and feel your best. But what happens when you put on your dress and it's too tight or loose? Panic can set in, and you start to worry if there's anything you can do to fix it. Fortunately, there are ways to avoid this situation and ensure your dress fits like a glove.
First and foremost, you need to order your dress well in advance. Most wedding dresses require alterations, and this process can take time. Ordering early will give you ample time for alterations and fittings so your dress fits perfectly on the big day. Rushing the process can lead to mistakes and mishaps, leaving you with a dress that doesn't fit how you want it to.
Secondly, it's essential to communicate with your tailor. Be specific about what you want and don't want. If you have a particular vision for your dress, make sure your tailor knows about it. They can help you achieve the look you want and ensure that the dress fits you perfectly. Be open to their suggestions and advice; they have the experience and expertise to help you achieve your desired outcome.
Lastly, don't forget about your undergarments. The right bra and underwear can make all the difference in how your dress fits. Be sure to wear the undergarments you plan on wearing on your wedding day to your fitting. This will help you see how they look with the dress and make any necessary adjustments. If you're unsure about what undergarments to wear, don't be afraid to ask your tailor for advice.
"My strap or zipper broke!"
We can't stress this enough: inspect your dress before the wedding day. Check the zipper, buttons, straps, and hemlines to ensure everything is in good condition. You don't want to find out something is broken or torn on your wedding day. If you find any issues, fix them as soon as possible to avoid any last-minute stress. Most tailors will be able to rush small jobs like this to ensure a perfect dress come aisle time.
Secondly, be prepared for any potential mishaps. Bring a small sewing kit with you to the wedding. This kit should include a needle, thread, scissors, safety pins, and any other essential tools. Having a sewing kit on hand can be a lifesaver in the event of a minor wardrobe malfunction.
Lastly, if your dress is particularly delicate, consider having a backup plan in place. If something does happen to your dress, it's essential to have a backup plan. This could mean bringing a second dress or having a seamstress on standby to make any necessary repairs. You don't want to be caught off guard if something unexpected happens to your dress.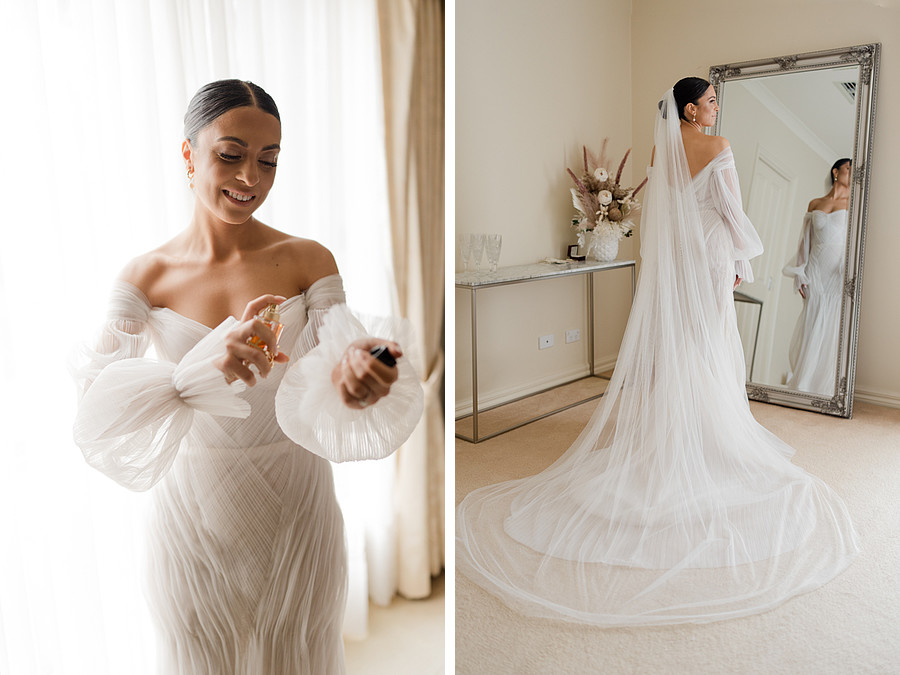 ---
"Something spilled on my wedding dress…"
Despite our best efforts to avoid stains and spills, accidents can still happen on our wedding day. It's a celebration at the end of the day — and the best celebrations can be messy.
Firstly, we're not going to tell you not to reach for the pinot noir and spaghetti bolognese, but be mindful of what you eat and drink on your wedding day. If you're prone to clumsiness and the thought of chocolate ganache marking your pristine gown makes you lightheaded with horror, consider choosing lighter-coloured foods and drinks.
Preparation is key. Be prepared for any potential stains or spills by bringing a small stain-removal kit to the wedding. This kit should include a stain-removal pen, a small bottle of club soda, and some baby wipes. Having these items on hand can help you to act quickly in the event of a spill or stain.
Act quickly if something does happen to your dress. The longer a stain sits on your dress, the more challenging it can be to remove. Blot the stain with a baby wipe or a cloth dampened with club soda to prevent it from setting in. Then, use the stain-removal pen to remove any remaining residue.
Consider purchasing a cheaper reception dress if you're still worried about potential stains and spills. Reception dresses tend to be less expensive than wedding dresses and are often made from more forgiving fabrics. This way, you can let loose and enjoy your reception without worrying about ruining your expensive wedding dress. Plus, if you're planning to resell your wedding dress after the big day, having a backup reception dress can help preserve the quality and value of your wedding dress.
---
"Oops. My bustle wasn't as strong as I thought."
The bustle is a magical invention that transforms a long, flowing train into a practical and manageable length for dancing and mingling at the reception. But what happens when it breaks? The last thing you want is to be tripping over your own dress all night long. So, how can you avoid this situation?
First and foremost, make sure you have a strong bustle. When you're shopping for your dress, ask your bridal consultant about the type of bustle that will work best with your dress. You'll want to make sure that it's sturdy and can handle the weight of your dress.
Second, practice bustling your dress before the big day. This will give you an idea of how it should look and feel when it's properly bustled. You can also have a friend or family member help you practice so that you can get the hang of it.
Lastly, have a backup plan. If your bustle does break, have someone on standby who can fix it for you. This could be a seamstress, a bridesmaid, or a trusted friend. Make sure they have the necessary tools and materials to make any necessary repairs.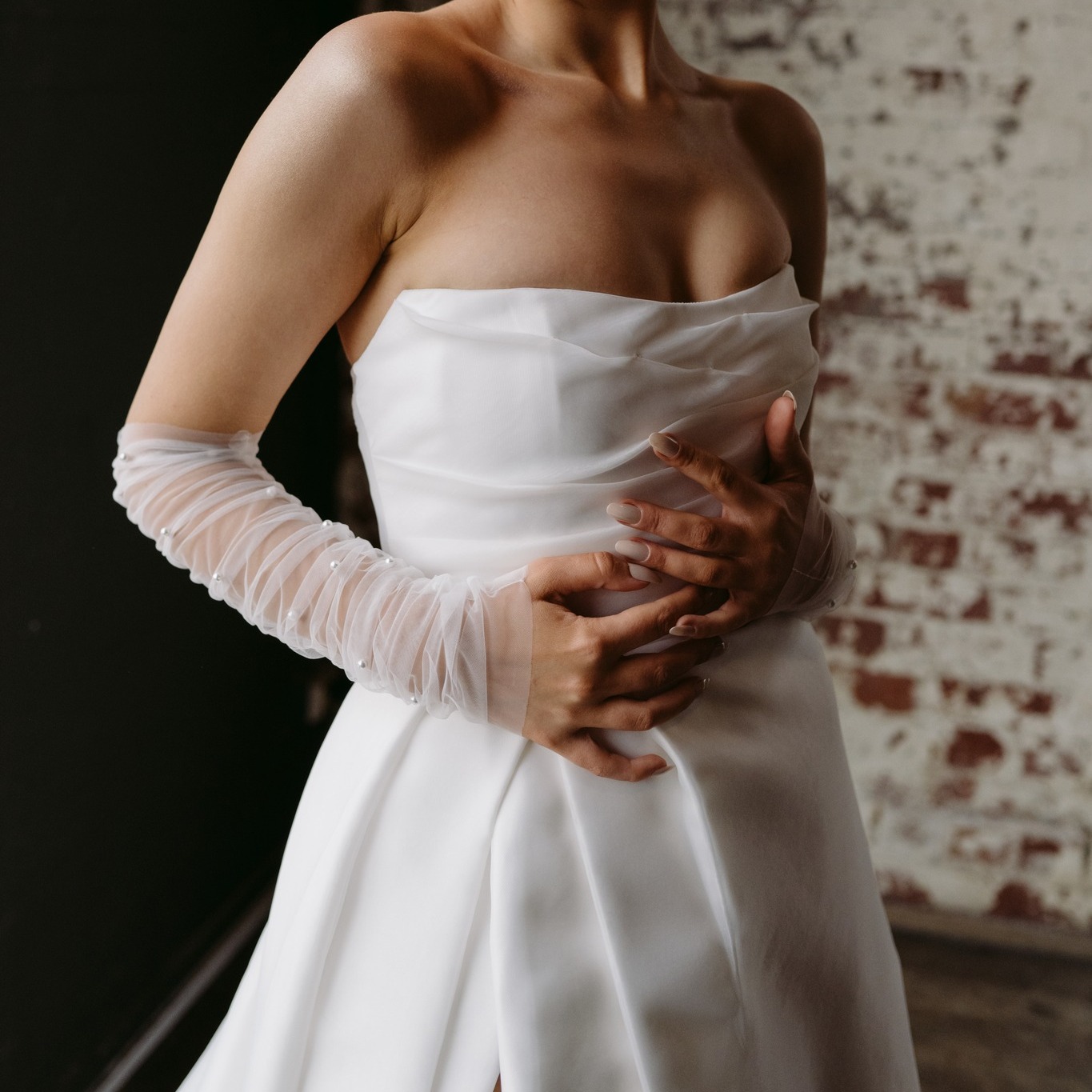 ---
"My undergarments won't stay, um, under."
There's nothing more awkward than having your bra peek out from underneath your dress. It's distracting and takes away from the beauty of your gown. Fear not, there are a few things you can do to avoid this situation.
First, consider getting a bra that's specifically designed for your dress. Many bridal shops offer bras that are specifically designed to work with different styles of wedding dresses. These bras are often strapless and have a lower back to avoid any unsightly bulges or straps peeking out. Second, try different undergarments during your dress fittings. Bring a few different styles of bras and underwear to your fittings so you can see how they look with your dress. This will help you find the best possible undergarments to wear on your big day.
Additionally, you can also consider using fashion tape or adhesive bras. Fashion tape is a double-sided tape that can hold your dress and undergarments in place. You can place it on the sides of your bra cups or the edges of your dress to prevent slipping or sliding. Adhesive bras, on the other hand, are bras without straps or bands that stick directly to your skin. They provide ample support while staying hidden under your dress.
Another option is to have your dress altered to include built-in support. Your seamstress can add cups or a corset to your dress to eliminate the need for a bra altogether. This is a great option if your dress has a low back or a unique neckline that doesn't work well with traditional bras.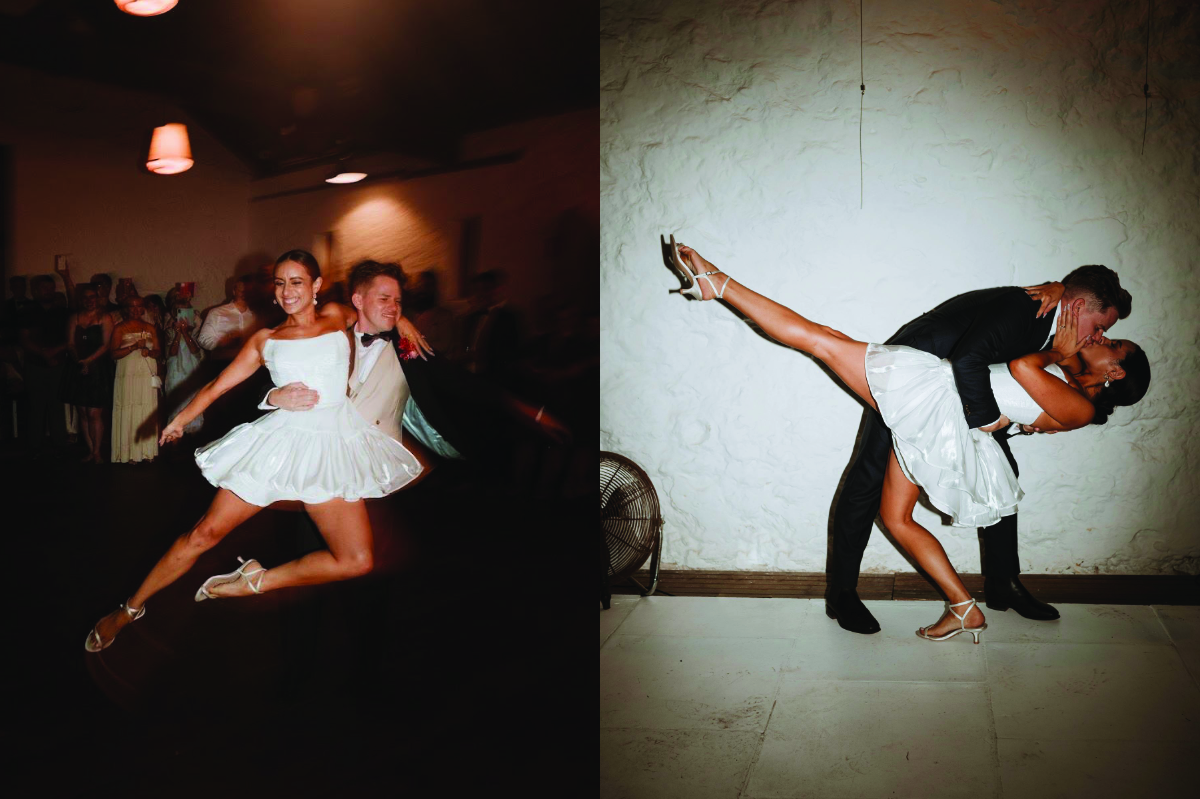 ---
If all else fails…
In the end, don't forget that your wedding day is about celebrating your love with your partner and creating memories that will last a lifetime. Mishaps may happen, but they don't define your day. So, if something does go wrong with your dress, take a deep breath and remember that it's just a small hiccup in the grand scheme of things.
Embrace the unexpected and enjoy every moment of your wedding day. And who knows, maybe you'll even have a funny story to tell for years to come about how you overcame a wedding dress mishap. Just remember, the most important thing is the love between you and your partner, and everything else will fall into place. Congratulations, and happy wedding planning!
---
Still searching for your dream wedding dress? Our wedding directory is filled with talented wedding dress designers and amazing bridal boutiques — you can check them out here!
Browse Wedding Dresses