There are so many options when it comes to wedding decorations that it is often hard to know where to begin. You want your wedding venue to bring a tear to your eye when you arrive, and to really make a statement about your taste and style as a couple.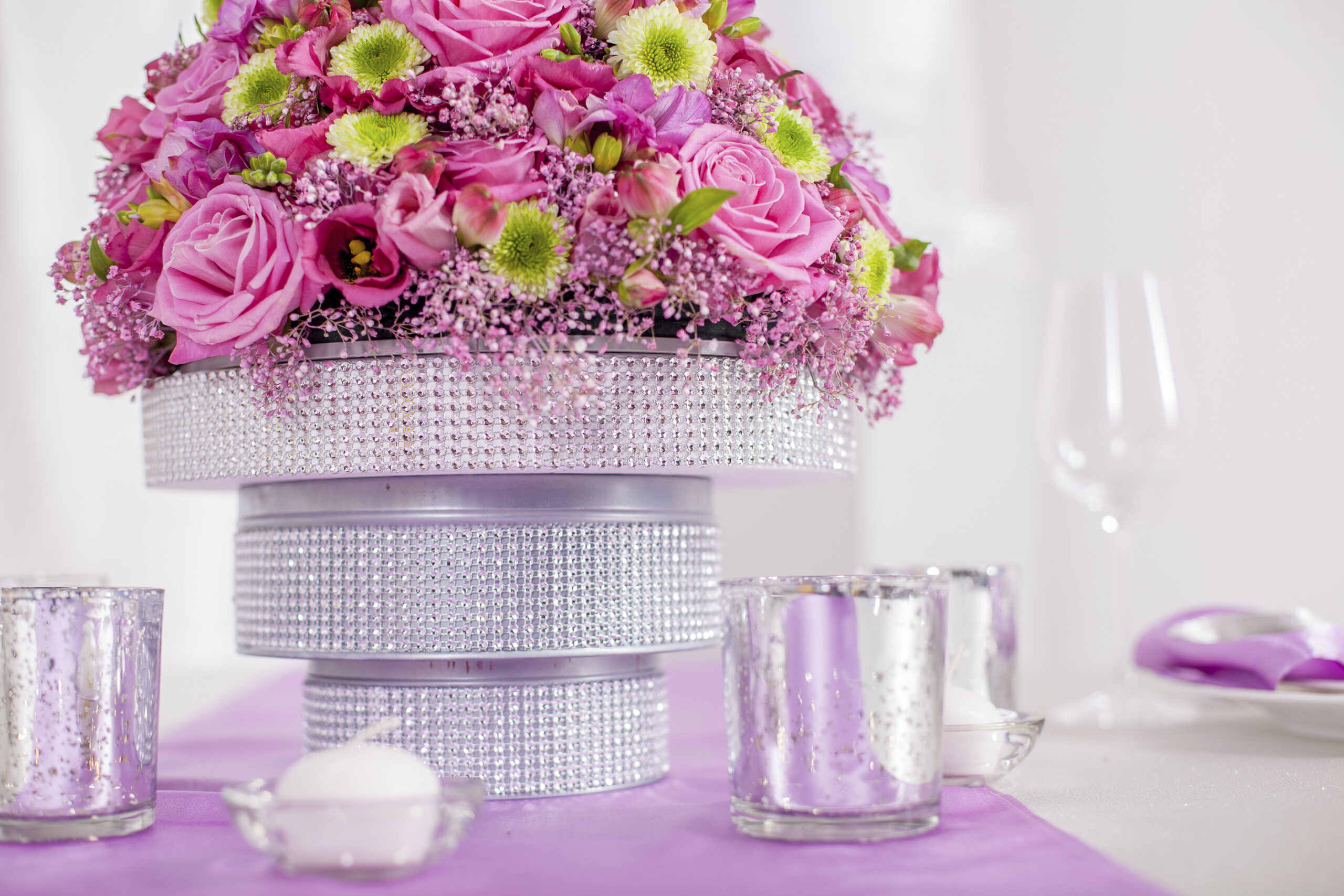 To a certain extent, the possibilities for wedding decorations will be determined by your choice of venue, the number of guests and the space available, and whether you are having a lunchtime or evening wedding.
It may be that you want to employ a wedding decorator who will be able to provide all the decorations you need from the table linen to the centrepieces. On the other hand, you may want to work with the venue on the basic layout and table dressing, and then add personal touches of your own, working with your florist.
However you choose to arrange your wedding decorations, there are a number of trends you should be aware of if you want to keep your reception up to date and contemporary.
What colour schemes are currently in style for wedding decorations?
Whilst the traditional white has been noticeably absent for the last few years, it is now making a comeback as the perfect colour for your wedding decorations. Imagine tall gleaming vases of fresh white orchids, and you should be on the right track. White is being teamed with earthy tones such as metallic rose to provide depth and texture.
If you prefer the traditional wedding colours of cream and pale pink, these are still popular, but are often combined with silver grey or sage green for a more contemporary look.
Bold patterns and textures are currently very fashionable, especially when it comes to wedding table linen. Layering table cloths of different fabrics and using bright runners to add a splash of colour can be very effective.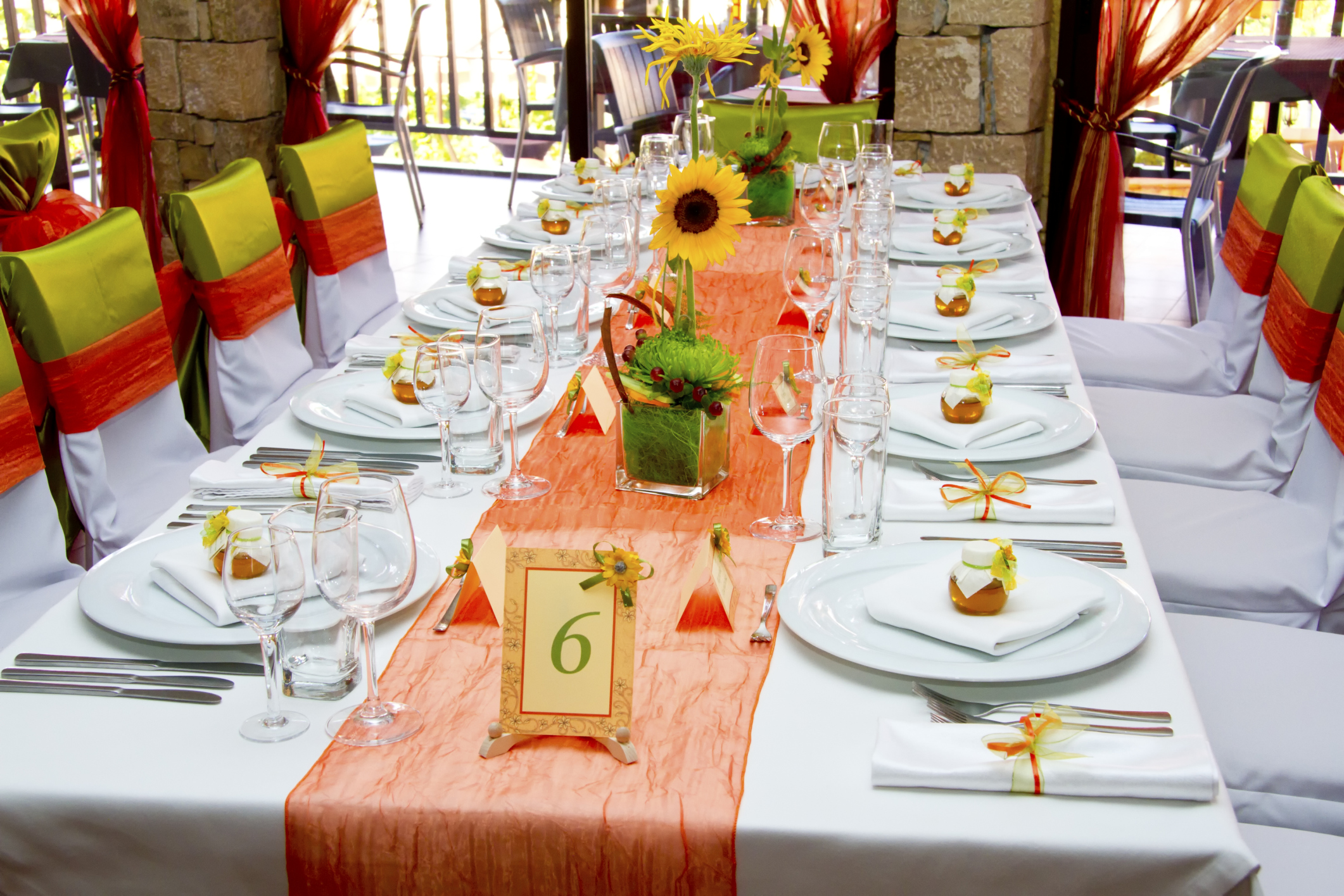 Trends in wedding centrepieces
There are two popular trends in wedding centre pieces at the moment. One is to keep it simple, with tall stemmed single flowers arranged in groups, or across the length of the table. As well as a recent design trend, this is also a cost effective alternative to large arrangements.
The other trend is for large, lavish centrepieces, incorporating flowers, candles, and even feathers. Many wedding decorators are taking the philosophy 'the bigger the better' when it comes to table arrangements. Because of this trend, some wedding designers are looking to suspend centrepieces from the ceiling rather than place them on the table as this allows guests to talk to each other across the table without towering flower arrangements getting in the way.
Decorating the ceiling as well as the table doesn't just stop at flowers. Many decorators are becoming creative with the use of coloured paper lanterns, pearlescent balloon canopies, delicate chandeliers, and natural touches such as trailing ivy.
Lighting can make or break your design
Whilst lighting may have little impact at a lunchtime wedding, it can completely alter the ambience of an evening occasion. Make sure you set aside some of your wedding decorations budget for professional lighting to really make the most of your flowers and other decorations. Lighting can be as simple as candles or lanterns, and as complex as professional light boxes, spotlights or fairly lights.
Plan ahead and confirm your arrangements
Meeting with your wedding decorators or florist to discuss your ideas should take place six to eight months before your wedding date to allow time to coordinate all aspects of your design. Call both the venue and decorators to confirm details the week before your wedding; you don't want your dream venue to be ruined by a little misunderstanding.