If you're trying to conjure up some original wedding decorating ideas but are stuck for inspiration, these contemporary wedding decoration tips should get the ideas flowing: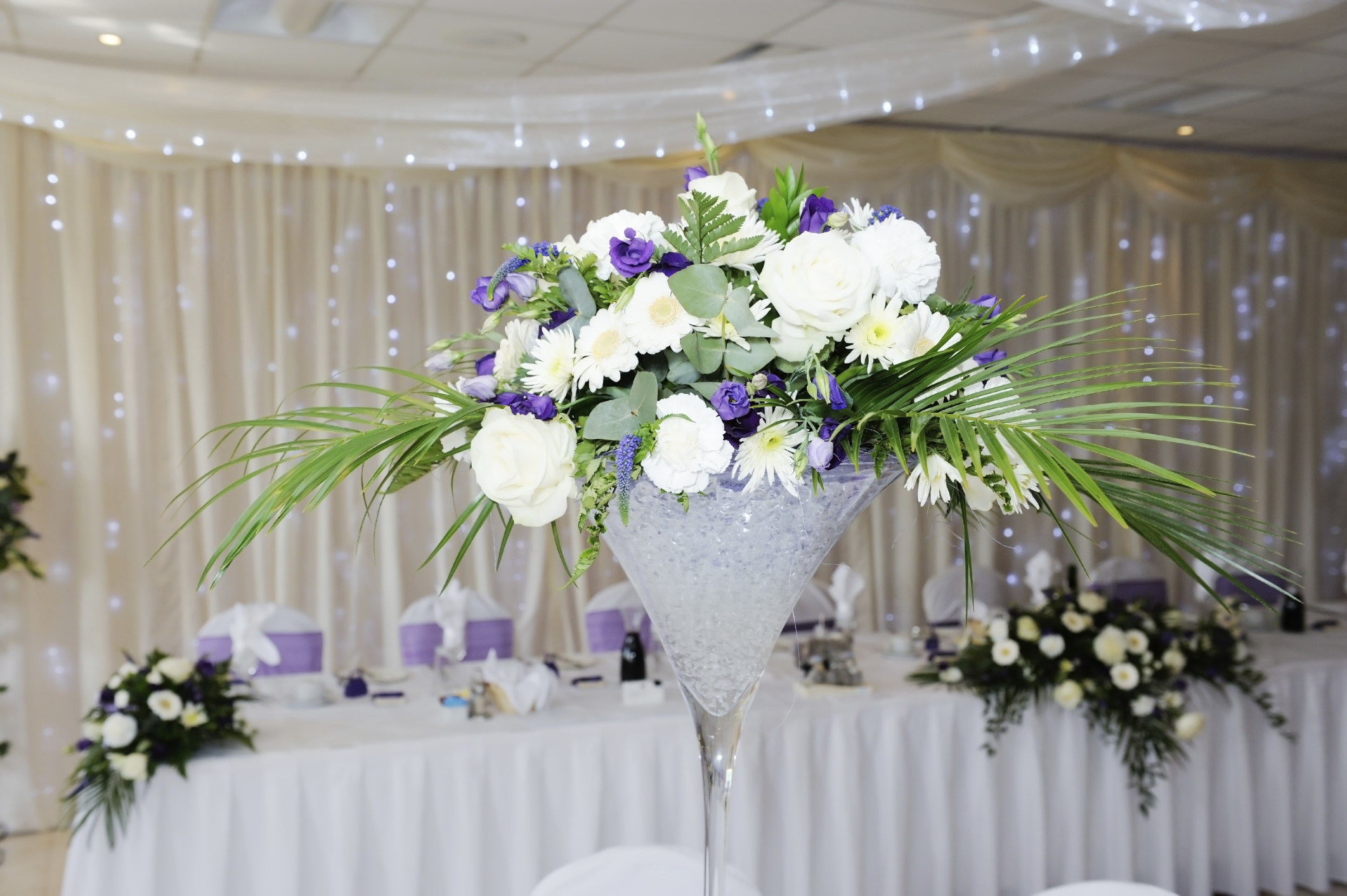 If you want tall dramatic centrepieces, but still want your guests to be able to see each other, look for tall candelabras and just have a single flowered garland twisted around the stem. Alternatively have flowers arranged in giant martini glasses so guests can chat underneath them. Finally you could choose low arrangements for the tables and just have a couple of towering arrangements in the corners of the room, or either side of the top table.
Place mirrors strategically around your reception venue to maximize your decorations and make your venue appear larger. This works especially well if you have a lot of colour and are using lights, candles, or sparkly accessories such as crystals.
Make a decorative feature of the food you serve by paying attention to what it looks like and what it is served on. Choose colour co-ordinated canap?s and have them stacked on cakes stand style plates, or served on glass boxes full of rose petals or coloured pebbles. Combine large platters with tall food stands to create an impressive display.
To take your wedding colour scheme to extremes you could stipulate a coloured dress code for your guests. Black and white is a popular choice as you can guarantee your guests won't clash with whatever colours you have chosen. You could also try dress codes such as 'something blue' or 'autumn leaves'.
For simple yet effective floral centrepieces, place a bunch of roses in a vase and scatter similar coloured rose petals on the table beneath. Use low square arrangements for the dining tables and taller vases for other areas such as the bar.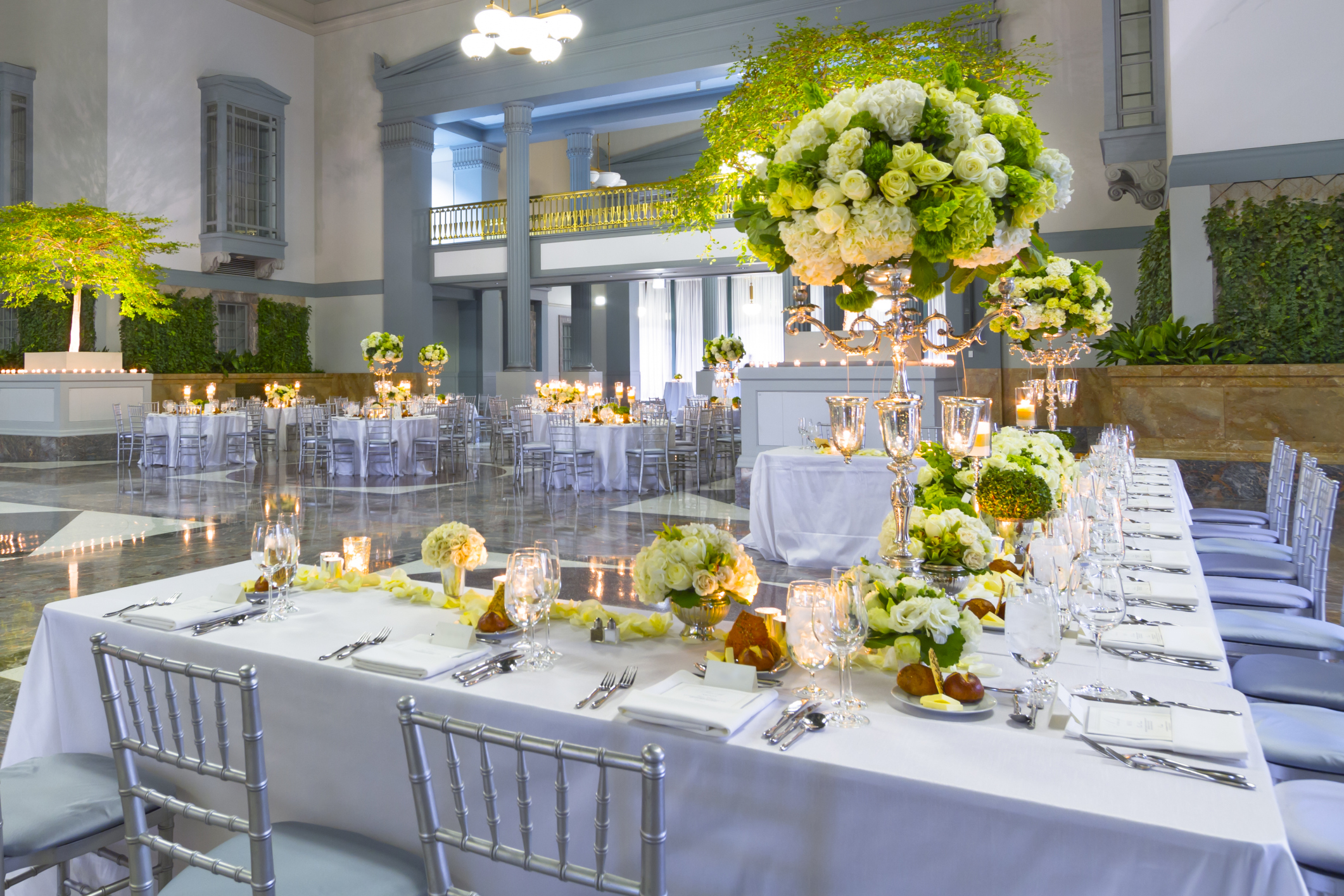 Feathers are becoming a popular alternative to flowers in wedding decorations as they are soft and feminine, yet more modern and edgy than flowers. Feathers can be incorporated into your bouquet, table arrangements, and hair accessories, and can also be attached to place names or escort cards. Hang a feathered circle from the ceiling instead of a chandelier.
Coloured glass is rarely used in wedding decorations, but it can create a stunning effect whist serving a practical purpose at the same time. Look out for coloured champagne and wine glasses, and coloured vases for your flower arrangements. Place a small coloured glass with a tea light inside in each place setting for a romantic glow.
If you want to add character to your wedding venue, consider hiring or borrowing a few pieces of furniture that reflect your wedding decoration theme. These could be a few vintage tables for the bar area, or a couple of modern sofas for the lounge. You don't have to change all of the furniture at the venue; just a few well placed pieces will give the right impression.
Accessorising your chairs is often seen as too fussy, but unless you have chair covers, the backs of chairs are crying out to be decorated. Simply attaching an ornament such as a fabric flower or butterfly on wire can be effective, or you could add ribbons in your wedding colours.
Wedding trees are an unusual choice for wedding decorations, and are made by bundling together a number of thin branches or twigs and placing them in a decorative vase. These trees can be used on the floor or as table centres and can be decorated with fairly lights, sparkling ornaments, baubles, or tiny framed photos.