Once upon a time a couple could get up and do a lovely first wedding dance, and everyone thought it was romantic and heartfelt. Then YouTube came along, and bridal parties all over the globe are now starting to compete as to who can create the most epic surprise wedding dance ever.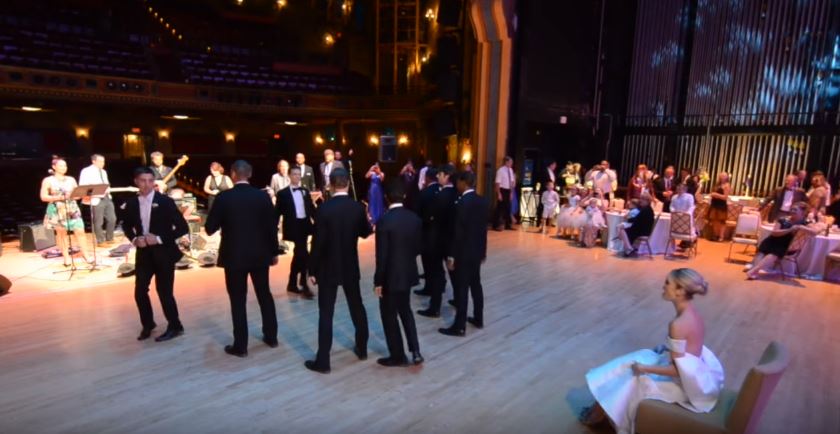 We have compiled some of the best here for your inspiration today, just in case you feel like taking on the challenge and doing something a little zany too. It goes beyond the bride and groom now, with many family members getting in on the action, from older parents to teenagers, to children, and everyone in between.
These dances include a couple's first dance, some very inspired numbers from the bride and her father, and some great dance-offs, mash-ups and flash mobs. One group of groomsmen confessed to what their Monday night kickboxing classes had really been all about!
Settle in, have a laugh and get some ideas for your own wedding dance.
The best old and new wedding dance inspiration from YouTube
I Like Big Butts
This is an oldie, but a goodie, and quite frankly the one that started the whole craze. A romantic wedding dance that appeared to go awry when the music changed, but the bride and groom embrace the moment and just go with it. Everybody loved this duo so much, the surprise wedding dance became a thing, and just getting up and swaying was no longer going to cut it.

Thriller
This video is an old classic and one of the first wedding dance flash mobs to be shown on YouTube, but the Thriller dance is one that everyone can do, even the kids. And this dance song from Michael Jackson is always great to get up and boogie to. One for all ages and for all time.
Beyoncé
Starting off with Crazy In Love and rolling through many of Queen B's greatest dance songs, this mashup is a gift from the bride and her ladies (luckily, she has a lot of them) to her groom. It is hard to tell who is having more fun, the groom or the girls themselves.

You Don't Know You're Beautiful
This groom gets supercute points for his dance to his wife, because he ropes in his little nephew for help. And you have never seen this many grown men enjoying One Direction. You just know this groom is going to be a wonderful father one day!

I've Had The Time of My Life
This couple couldn't choose just one famous movie dance, so they went for a whole bunch of them, mixing music genres and dance styles across the years and finishing with the Dirty Dancing classic. Very big points for doing the lift!

Mother and her teenage sons
This video starts off slow but gets into business around four minutes in with a stunning mother bride dancing with her teenage sons. The boys are very talented and obviously love their mum. We love her special foot attire as well; these cherry red sneakers are something every bride should end her day in!
Father and daughter dance
We love this one because of the goofy enthusiastic dad dancing from the father of the bride, as well as the appearance of Gangnam Style. Ellen went on her show saying how much she loved this dance, and it is so much fun!

Another father and daughter
You may have seen this bride and her very groovy father do their surprise dance as it has made the rounds of news outlets and social media before, but it is always worth another watch. The natural dance moves and relaxed laidback style are infectious, and enough to make every bride wish her dad was up for this sort of thing!

Mother and Son
We had to even things out a bit and popped in a groom and his mother dancing as well. Many of the same songs and dances do show up, but they are easy, enjoyable and so very entertaining. We love the gumption this mother of the groom has in spades.

Groom and his men
This groom really sets the standard for a great looking choreographed dance, but if you watch, you will see some very simple moves that anyone could pull off. These are made to look incredible with a bit of practice and great timing. It is really funny how many groups of men love the chance to get up and show off their impressive skills!

Don't Stop Believing
This classic from Journey never fails to put people into a happy frame of mind, and this sweet couple's first dance to it gets everybody going.

Game of Thrones
When bingeing on television's most violent show, you probably didn't stop to think what a beautiful piece of music the theme song is. This couple do their first dance to the famous tune, complete with swirling smoke surrounding them, and it is a haunting delight.

Happy
This bride and groom turn their romantic first dance into a very fun boppy mash-up. We are just in love with her above the knee wedding dress worn specifically for the dance as well.

Disney Men
Not just happy with dancing, these groomsmen do a fantastic and very funny lip-sync performance of some Disney romantic classics. We particularly love the bit where they all start doing unison push-ups. Some things about Disney and love will always go hand in hand.

Pitch Perfect
The bride and her gorgeous girls in navy do a lip-sync and dance to one of the more memorable numbers from the Pitch Perfect movie series. It is so complex, you can just appreciate the amount of rehearsal and fun times that went on while they were preparing.

Uptown Funk
This bride and groom are professional dancers, but you don't have to be to make this kind of surprise dance happen. This one is the groom and all of his men doing a choreographed dance crossing a number of different song and dance styles as a treat for his lucky new wife.

Hopefully, we've brought you some inspiration in this collection, and you and your family might just be on your way to creating the next viral YouTube sensation. It is really all about love, family and fun, and there is no wedding that doesn't come complete with these ingredients, so get up and dance!