A pair of wedding cufflinks is a perfect present for a bride to give the groom on their wedding day. It is a personal gift and is something that can last a lifetime. However many brides struggle to know what to buy. Are novelty cufflinks too cheesy? Are silver cufflinks too boring? What kind of shape cufflink will work with the wedding outfit?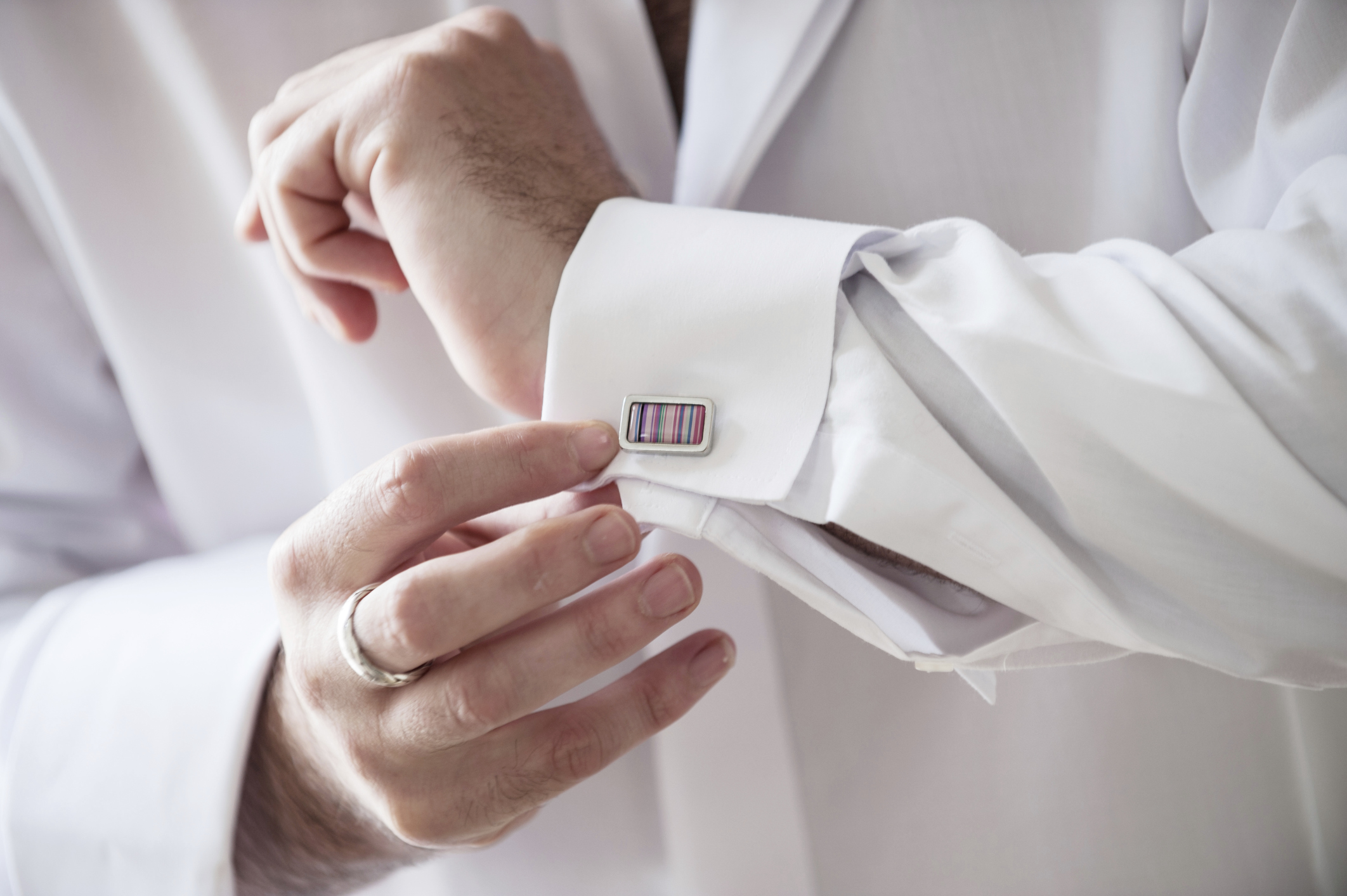 Here are a few pointers on finding the perfect cufflink, starting with the four styles available:
Double-faced cufflinks are the most formal option and work well with a tuxedo or morning suit. They have two similar sized faces that are connected with a metal bar or a short chain.
Snap on cufflinks consist of two separate faces that click together when inserted in either side of the cuff. They aren't ideal for thick cuffs as they can easily come apart and get lost.
Push through cufflinks are the easiest to put on as they have a small rounded end that is pushed through the cuff, connected to the main cufflink face by a curved metal bar. However, they are also the easiest to lose as they slide back though the cuff very easily.
Hinged cufflinks are generally considered the most secure type of cufflink. They have a bar attached to the hidden part of the cufflink which can be swiveled to be in line with the post as it is pushed through the cuff, and then can be locked at an angle, preventing the cufflink from falling out.
Can I buy coloured cufflinks?
Cufflinks are an excellent way to add the wedding colour to the groom's outfits, and you are sure to be able to find a pair of enamel cufflinks in your chosen wedding colour scheme. Unless your groom is used to wearing bright colours and patterns, don't overdo the design if you want him to wear them again.
Can I buy novelty cufflinks?
Whether or not novelty cufflinks are a suitable for your groom depends on his tastes, the type of wedding you are having, and the budget you have for a gift. If you have agreed just to buy silly presents, novelty cufflinks are perfect. Likewise if you are having a very casual reception or a themed wedding novelty cufflinks can work well.
Some good examples would be buying golf ball shaped cuff links if your groom is a keen golfer and you are getting married at a golf club venue, or some cufflinks with the word groom on them along with a novelty cartoon. You can also get matching novelty cufflinks for the rest of the wedding party with captions such as 'best man' and 'father of the bride' on them.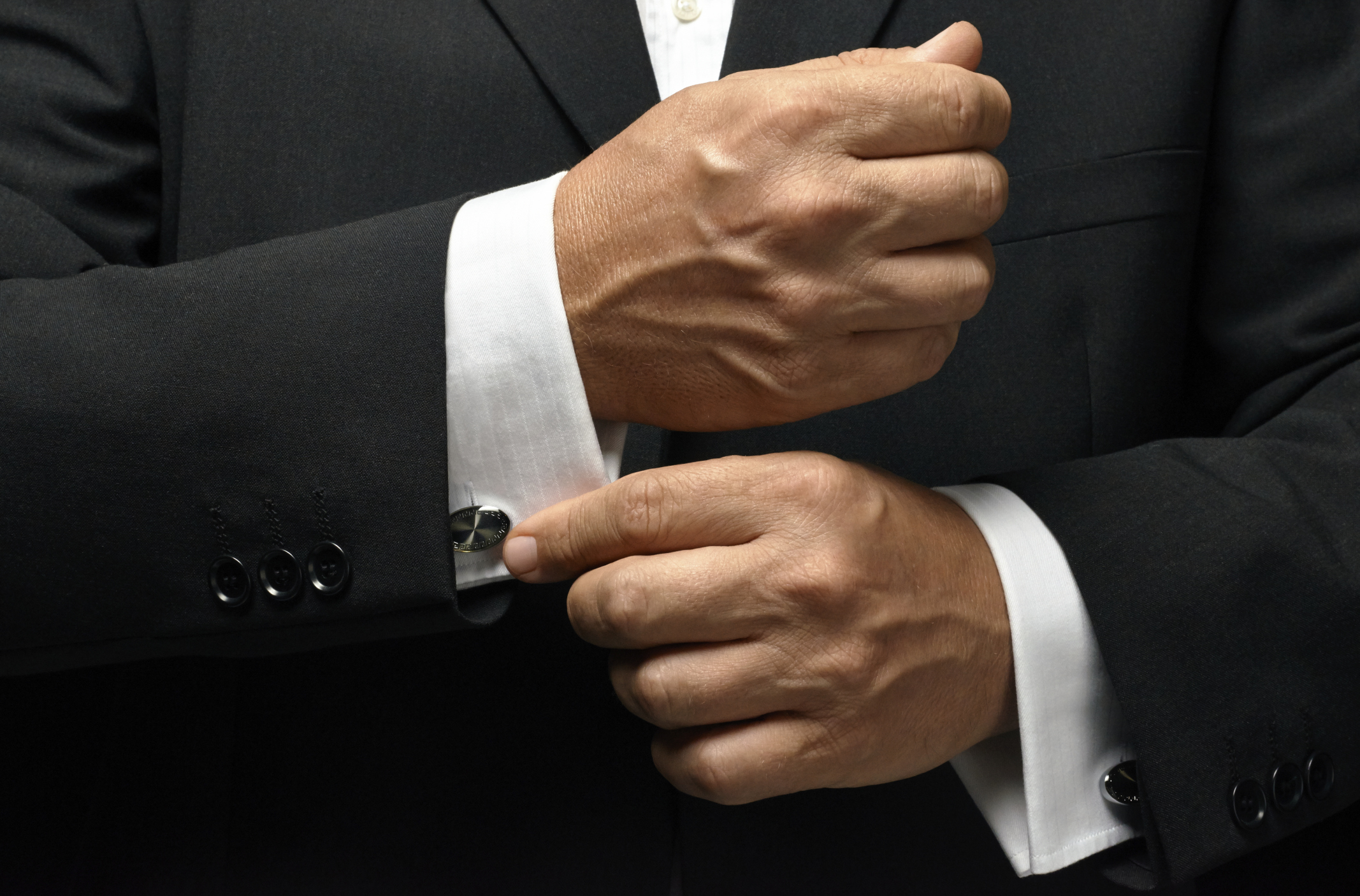 Simple gold and silver cufflinks will always be a classic choice, and your groom is more likely to keep them forever and wear them over and over again, than if you buy something colourful. Make sure they are the same metal, or at least the same colour metal as his wedding ring, and consider the following shapes:
T-back cufflinks actually look like a simple bar once they are inserted into the cuff despite the name. They are quite a formal choice and are best worn with a spread collar shirt and a tuxedo.
Round cufflinks look like solid metal balls resting on the cuff and are a very versatile choice as they can be worn with a formal or causal outfit.
Knot cufflinks may sound very appropriate for a wedding, but they are generally a less formal choice and work best with a navy suit or a blazer and dress pants, rather than with a formal wedding outfit.
Geometric cufflinks come in a range of designs, possibly including gemstones and other materials, and are a great chance to express personal tastes. Don't get anything too trendy, however, unless you want them to date very quickly.