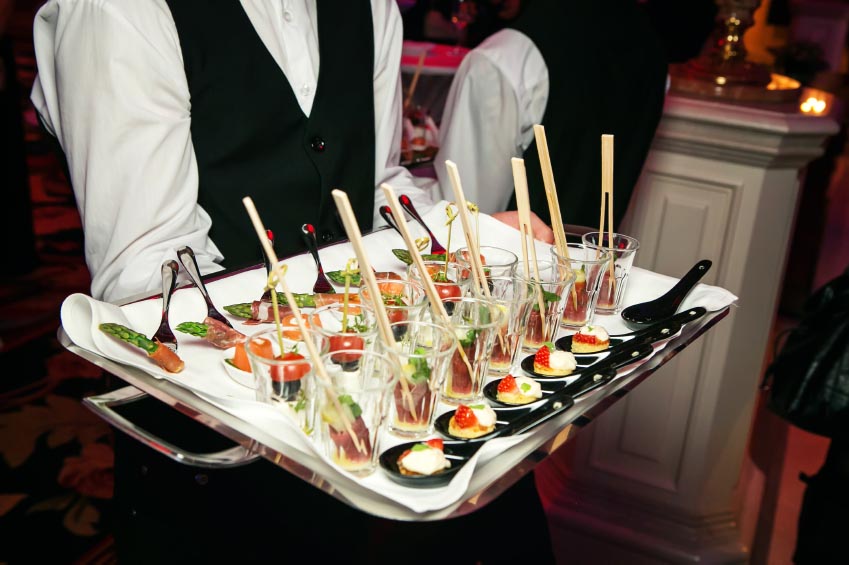 Perhaps you have decided against a traditional sit-down dinner and would prefer the relaxed feel of cocktail reception – or maybe you're seeking some extra special nibbles for to serve during cocktail hour? These tips will help you make your wedding cocktail food stand out from the crowd.
What is cocktail food?
Cocktail food is essentially small portions of food that can be eaten without cutlery, and due to this is it is often referred to as 'finger food'. Cocktail food is generally served at parties, functions and weddings, and is usually brought to guests via waiters and waitresses on large trays. Whilst most portion sizes are usually bite sized, larger portions of cocktail food such as salads or seafood can be served in small containers with a fork. Cocktail food should be easy to eat in the absence of a table and easy to hold in one hand if need be, allowing guests to hold a drink in the other.
What are the different types of cocktail food?
Canapes
Canapes are traditionally small pieces of bread or pastry with a topping and garnish, however people sometimes use the word canapes as a blanket term to refer to all cocktail food. Canapes can be served hot or cold and are generally savoury.
Hors d'oeuvres
Hors d'oeuvres (pronounced or-derves), translates to 'outside the meal', which suggests they should be served prior to a main course. Hors d'oeuvres are typically savoury and can be eaten in two bites, making them perfect for cocktail parties, as guests can eat them easily whilst talking and mingling.
Appetizers
Appetizers are essentially cocktail food that is served prior to a main course, therefore cocktail food served at a cocktail reception would not be referred to as appetizers, whereas cocktail food served during cocktail hour prior to a sit-down meal would be referred to as appetizers. Appetizers tend be larger in portion size than hors d'oeuvres, and may be served in small containers with a fork.
Amuse-bouche
An amuse-bouche is a single, bite-sized hors d'oeuvre, and is usually complimentary. A chef may choose to serve amuse-bouche to complement drinks prior to a sit-down meal, or to simply to provide guests with a taste of what's to come.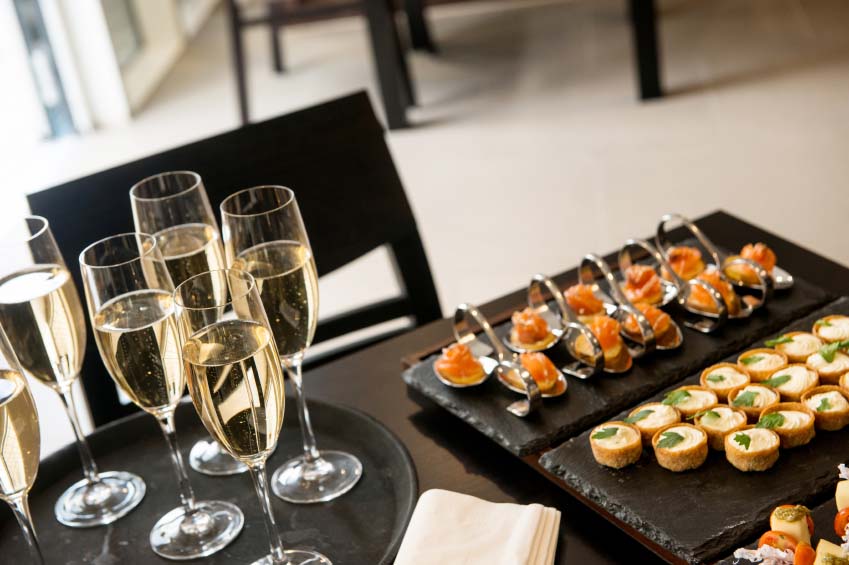 Avoid messy foods
Your guests will undoubtedly have spent some time and money getting dressed for your wedding, so you don't want them to be covered in spaghetti sauce half way through cocktail hour. Find foods that are easy to pick up and eat with the fingers, and try to stick to bite sized morsels to save crumbs and mess. If you want to serve something with a sauce, try using Chinese spoons or another type of small bowl with a co-coordinating fork or spoon.

[ew-supplier-carousel]
Complement your drinks
A great cocktail food menu will complement the drink menu. It's best to discuss with the venue's staff what food and drink combinations work best. They will be able to guide in your terms of what items on the menu are popular and recommend any great pairings.
Mix hot and cold
Mixing hot and cold items allows for a wide range of variety, tastes and textures. If you are having a cocktail reception, generally cold canapes are brought out to begin with and as the evening progresses hot food is brought out. However, it's really up to you and depending on your location and the climate you may want to stick with predominately one or the other. For example, in a very hot, tropical climate you may want to serve more cold food as opposed to hot, however providing a mixture is always best.
Serve the right amount
If you are hosting a cocktail reception in lieu of a sit-down dinner you may want to ensure that the amount of cocktail food per person is sufficient. The staff at your chosen venue will direct you and help you decide how many cocktail items to serve per person if you are unsure. If you are planning the cocktail hour prior to a sit-down reception then you would not require a large amount per person.
Cater for all tastes
Providing a wide range of dishes is a good way to make sure everyone can find something they like. Some of your guests may have a food intolerance or not be able to eat certain foods so it may be wise to include vegetarian, vegan, dairy free or gluten free options in your menu. Also, some guests may not be able to tolerate spicy food so try to have some lighter options for the palette too.
Consider your presentation
The way wedding cocktail food looks is almost as important as how it tastes, and presentation is the key to creating a great selection. Assess the colours and aesthetics of your chosen cocktail dishes; are they appealing, do they work together, and do they tie in with the style of your wedding? What will the food be presented on? Could you think of something more creative to better suit your wedding? These are good points to consider particularly if you are hosting a themed wedding.