We've all seen that look on our fiance's face when we're discussing the wedding budget and we mention wedding chair covers. They're not totally sure if we're serious or not, and they can't possibly understand that an item such as a chair cover will really make a difference to the big day.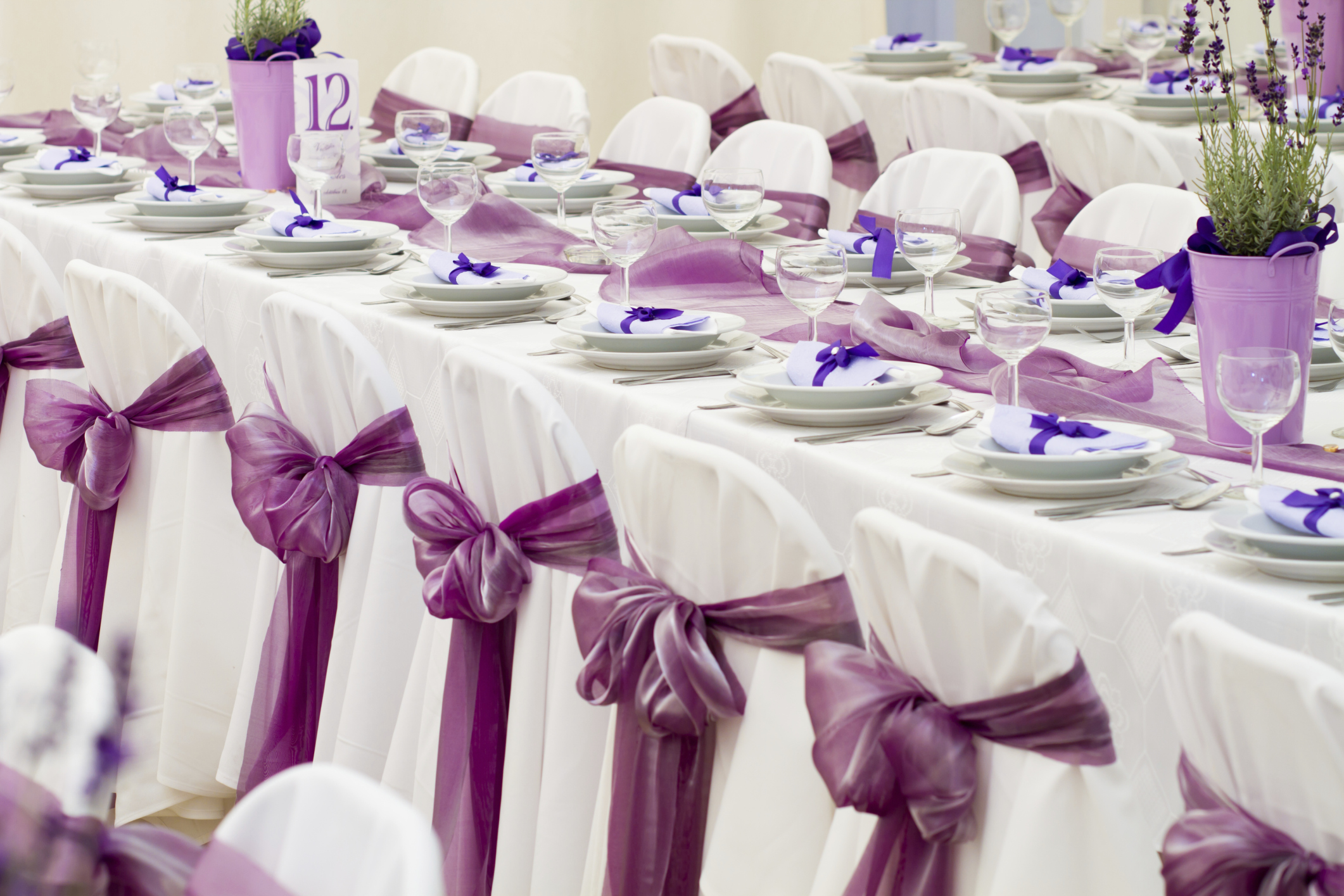 Well it's time for them to realise that wedding chair covers are becoming essential to many wedding receptions for two very important reasons.
They allow you to cover rental chairs that may be in poor condition, may not all match, or may simply not be in keeping with the look you are trying to achieve with your wedding decorations.
They allow you to make your wedding chairs a design feature rather than simply a functional piece of furniture. You can achieve a seamless theme throughout your wedding linen and you can add chair sashes or other colourful touches that co-ordinate with your flowers and table accessories.
Do I need to hire wedding chair covers?
Whether or not you have to hire wedding chair covers depends on the venue you are using, and whether you are using a wedding decorator. If your venue is frequently used for weddings or other high class functions, they may well have a selection of simple wedding chair covers, probably in plain white, which you can use as part of their overall service. Check the quality and condition of these, and if you are happy, you may only need to hire accessories such as wedding chair sashes to complement your colour scheme.
If you are employing a wedding decorator to arrange your linen and reception decorations, they should offer wedding chair covers and sashes as part of their package. If you are hiring chair covers yourself be sure to get the exact measurements of the wedding chairs from your venue; you don't want your design vision to be spoilt by poorly fitting covers.
When you hire wedding chair covers independently, you will be charged an extra fee per cover if you want someone to come and actually fit them on the chairs. If you have someone to do this for you, or the venue is willing to do it, the rental cost can be significantly reduced, but you may not get such a professional end result.
When you get a quote for wedding chair cover rental, check whether fitting is included or not. Some companies ask you to hire a minimum number of chair covers before they will agree to have someone fit them for you.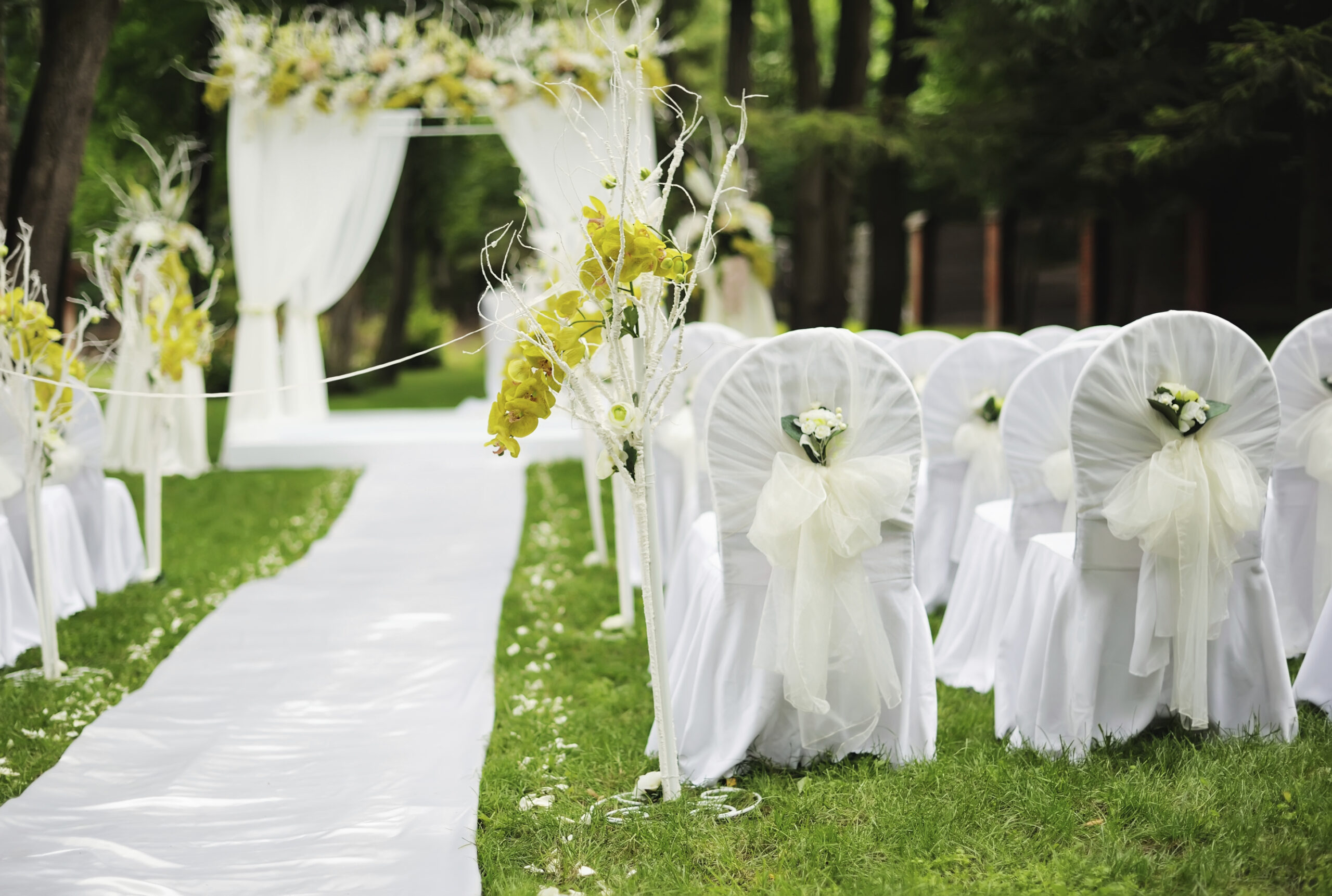 Types of wedding chair covers
Most companies that hire out wedding chair covers will have a basic white cover that fits most standard stacking chairs. This is usually the most cost effective option, and chairs can be dressed up with coloured sashes in organza or taffeta to co-ordinate with your chosen colour scheme.
A more professional look can be achieved by upgrading to a heavier, patterned or textured material such as damask. This will hang better over the chair, but be careful with this type of fabric as it is less likely to stretch and so it may not fit over the particular chairs at your venue. It is usually more expensive to hire than a basic cover, but if it fits properly, it makes up for the expense in style.
For a really luxurious look to your reception, satin wrap chair covers offer the ultimate in elegance and sophistication. Although they are the most expensive option, they are more versatile as they will fit almost any chair, including high backed chairs. They tend to come in a wider range of colours, so there may be a wrap to complement your colour scheme without the need to hire separate chair sashes.