In Nigeria, a wedding is much more than the celebration of joining the lives of two people into one. It is when two entire families join together as one and a Nigerian wedding is an all-out affair that is full of bright colours, toe-tapping music, and ancient traditions. Because we love wedding traditions from all around the world, here is what we discovered about Nigerian weddings:
There are more than 300 tribes in Nigeria, each with their own variations on the prominent wedding traditions, but the most well-known tribes are Yoruba, Hausa, and Igbo, so we'll focus on their unique wedding traditions here.
As with many cultures, couples observe tradition long before the wedding day arrives. When it comes to Nigerian wedding traditions, this kicks off with the Introduction Ceremony, where both families come together for perhaps the first time. They exchange gifts with one another and the bride's family will present the potential groom with a list for what he will need to give to the family in order for them to accept an engagement.
Here are some more unique Nigerian wedding traditions…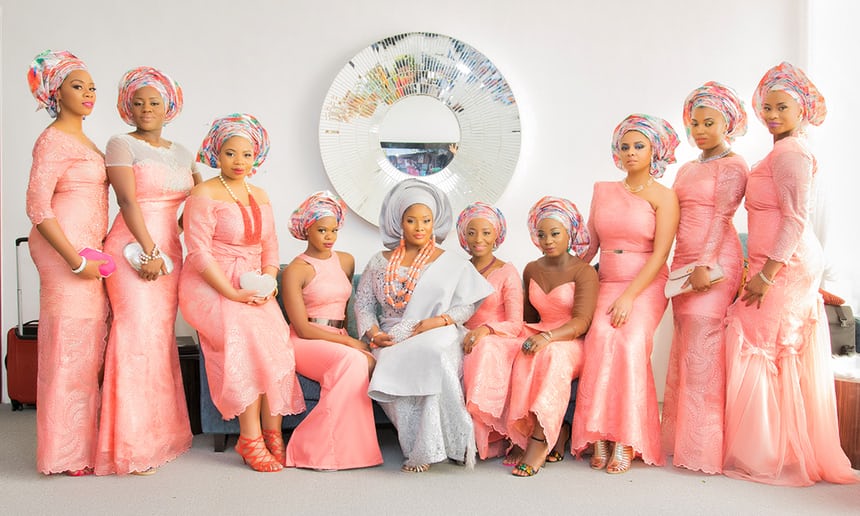 Time to go shopping
In Igbo tribes, the bride's family present the potential groom with a dowry list that he must fulfill in order to get their blessing to marry. The list often includes, but is not limited to, clothes, food, white goods, and huge items like a new car. Some families also require hard-to-find items like an alligator tooth.
A bride's dowry will become more expensive if she has gone to university and holds a degree or doctorate. This has resulted in many potential marriages failing at the first hurdle as the groom was unable to afford the family's requirements.
Women from the bride's family will assess the items presented by the groom to ensure they exactly match the list he was given, or that he has provided monetary compensation for the items he hasn't included. Only when the women are satisfied will the engagement be allowed to proceed.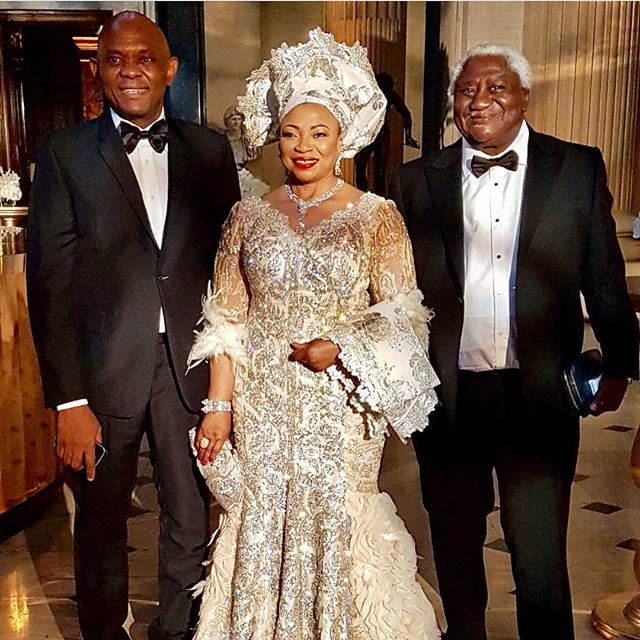 Seniority matters
If you have an older sibling, you have to cross your fingers that your brother or sister doesn't want to live the life of a bachelor indefinitely.
Nigerian wedding tradition says that men, in particular, are not allowed to be married until their older brothers are.
In Igbo families, all marriages should follow in order of seniority. Younger siblings have to postpone their weddings with the one they love until their older siblings have married, or choose to proceed without the blessing of their family.
If it is a woman who has to wait for an older sister to marry, a potential groom could simply choose to move on rather than wait.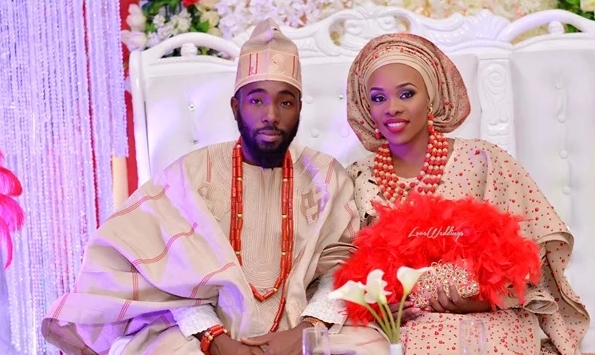 Twice the fun
Nigerian couples often have two weddings, with a cultural wedding followed by a religious ceremony that is often more western in nature. These ceremonies are held days and sometimes weeks apart.
While some brides opt to wear a white wedding dress for their religious ceremony, couples are increasingly returning to their cultural roots and wearing stunning, bright outfits in their tribal colours, the colours of their soon-to-be spouse, or creating a mixture of the two.
Traditional Igbo wedding attire includes a lace blouse, a bright kaftan-like skirt, matching or contrasting coral beads and head tie.
When brides wear their traditional attire, their makeup and accessories are equally as bright and bold. Couples who attempt a more western-style wedding ceremony will often ditch the white wedding gown after the ceremony and get glammed-up in their traditional dress for the reception.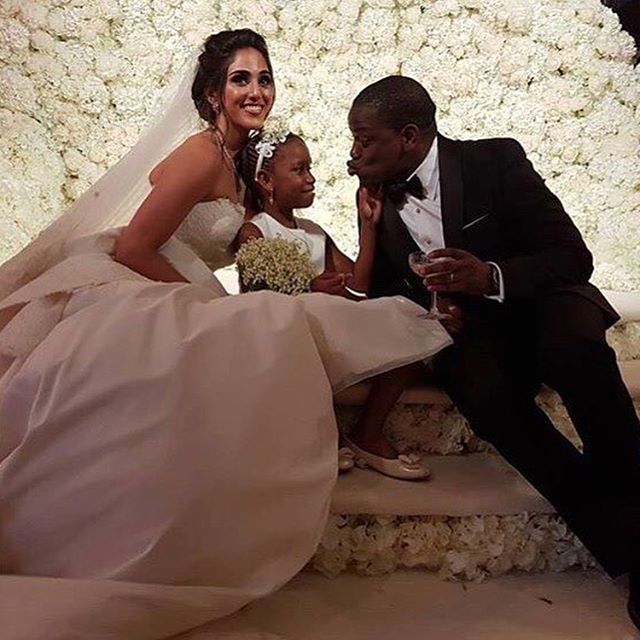 No guest list headaches
When it comes to Nigerian weddings, everyone is invited, so trying to regulate the guest list is a headache Nigerian couples won't have to endure.
Wedding hosts simply prepare for the largest number of guests possible when it comes to catering, seating, food, and bonbonniere as an intended guest list of 250 could easily double or triple as the word gets out. After all, who wants to miss out on the opportunity to celebrate?
Matchy-matchy
"Aso-Ebi" translates to "Family Clothes" in the language of Yoruba and this is exactly what you will find when attending a Nigerian wedding.
The couple will decide which colours and fabrics they would like their guests to wear on their wedding day and the respective families will go all out to create outfits that meet the requirements.
This makes it easy to distinguish who belongs to the each of the couple's families at a glance, and long-time friends who are not on the bridal party often choose to join in with the aso-ebi as well.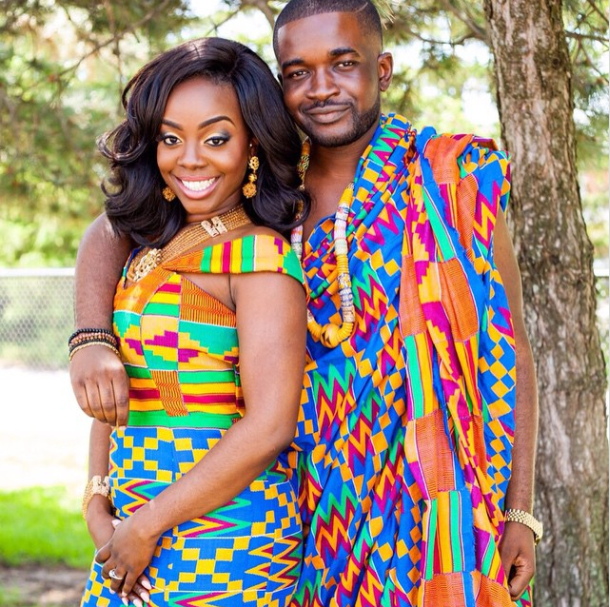 Paying respects
No matter how expensive or elegant your wedding outfit is, or how filthy the ground is, if you are a friend of the groom at a traditional Yoruba wedding, you will be required to lie prostrate (think planking but on solid ground) in front of the bride's parents as a show of respect.
The lift test
It is by no means a serious part of Yoruba marriage tradition, but similar to the western tradition of carrying a bride over a threshold, a groom is expected to be able to carry his new bride to show that he has the strength to take care of her during their marriage.
It's raining money
A long-standing Nigerian wedding tradition is to spray money on the bride. This can be done at any time, although when the newlyweds step onto the dance floor is a popular moment. Money is usually thrown by older guests.
The bridesmaids are tasked with collecting all of the thrown money.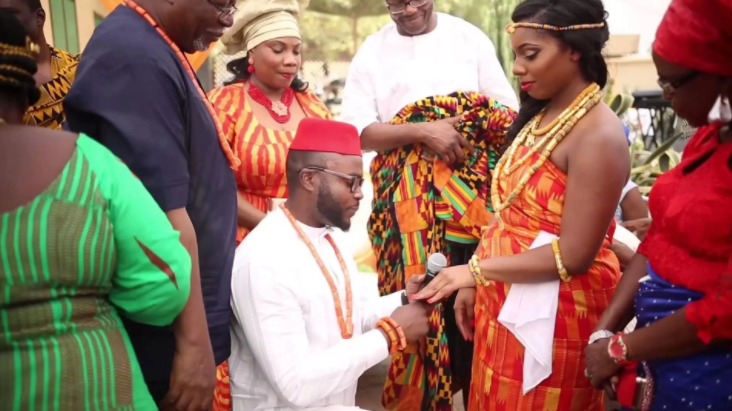 Caterers
The bride's mother traditionally caters for Nigerian weddings with the assistance of extended family and friends. Food also plays a big role throughout the wedding ceremony, with both sides of the family giving one another trays of food and other gifts to symbolise their connection to one another.
Boogie on down
Music and dance feature heavily in Nigerian weddings and many of the popular wedding songs, including Azonto, Chop My Money, Kukere and Skelewu, have their own dances a la the Macarena or the Nutbush.
When the DJ drops one of these babies, the dance floor is set to fill up with guests of all ages busting out the dance moves. Not to worry if you're unfamiliar with any or all of them, a quick search on YouTube will give you everything you need to know so you can get amongst it.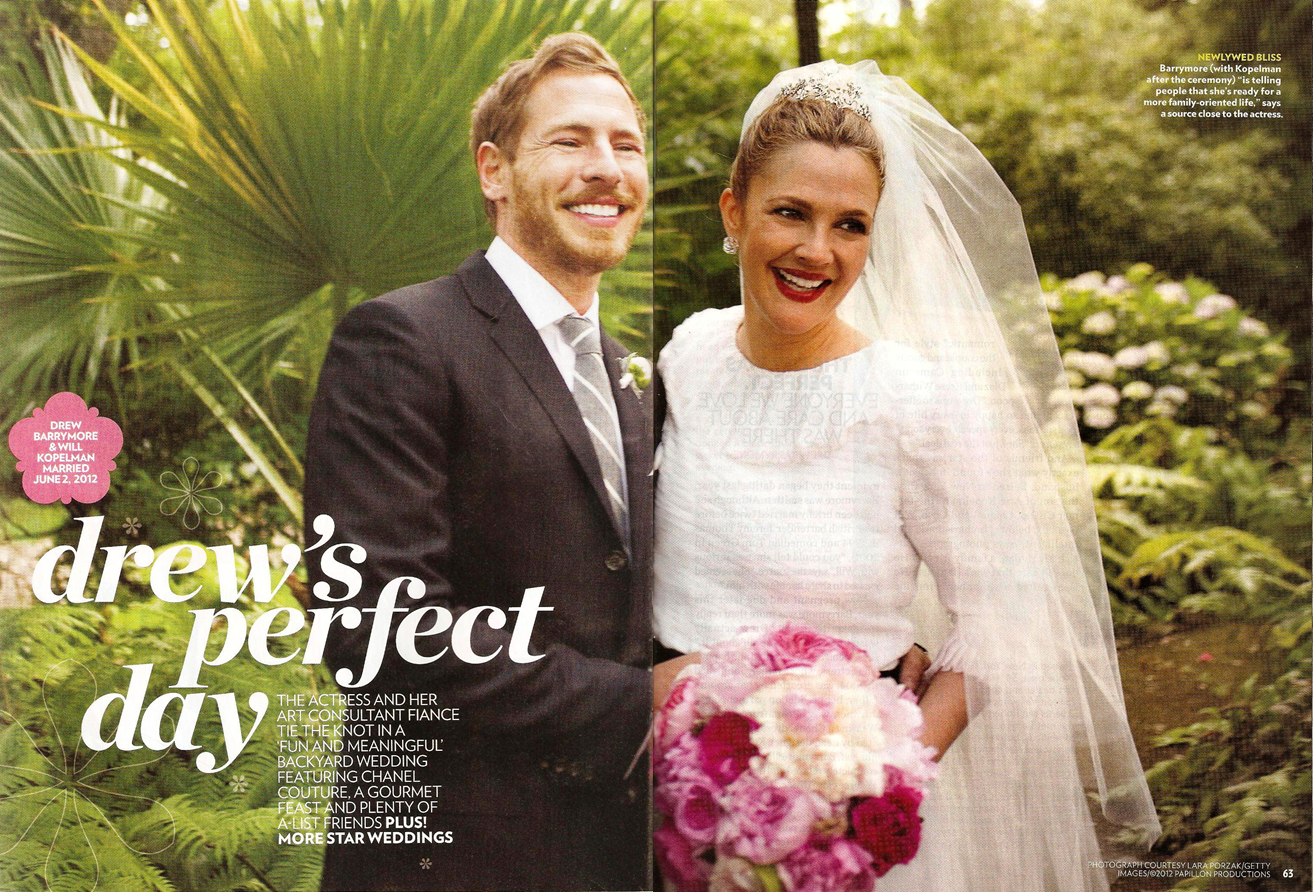 Read related: You won't believe this 6 million dollar Nigerian wedding.