Your invitation is your guests' introduction to your wedding, so it should set the mood for the big day and create a sense of anticipation. Spend some time looking for a wedding invitation that really reflects the wedding you are planning, and suits your theme or wedding style. If you are stuck for inspiration, here are ten of the latest wedding invitation trends to give you some ideas: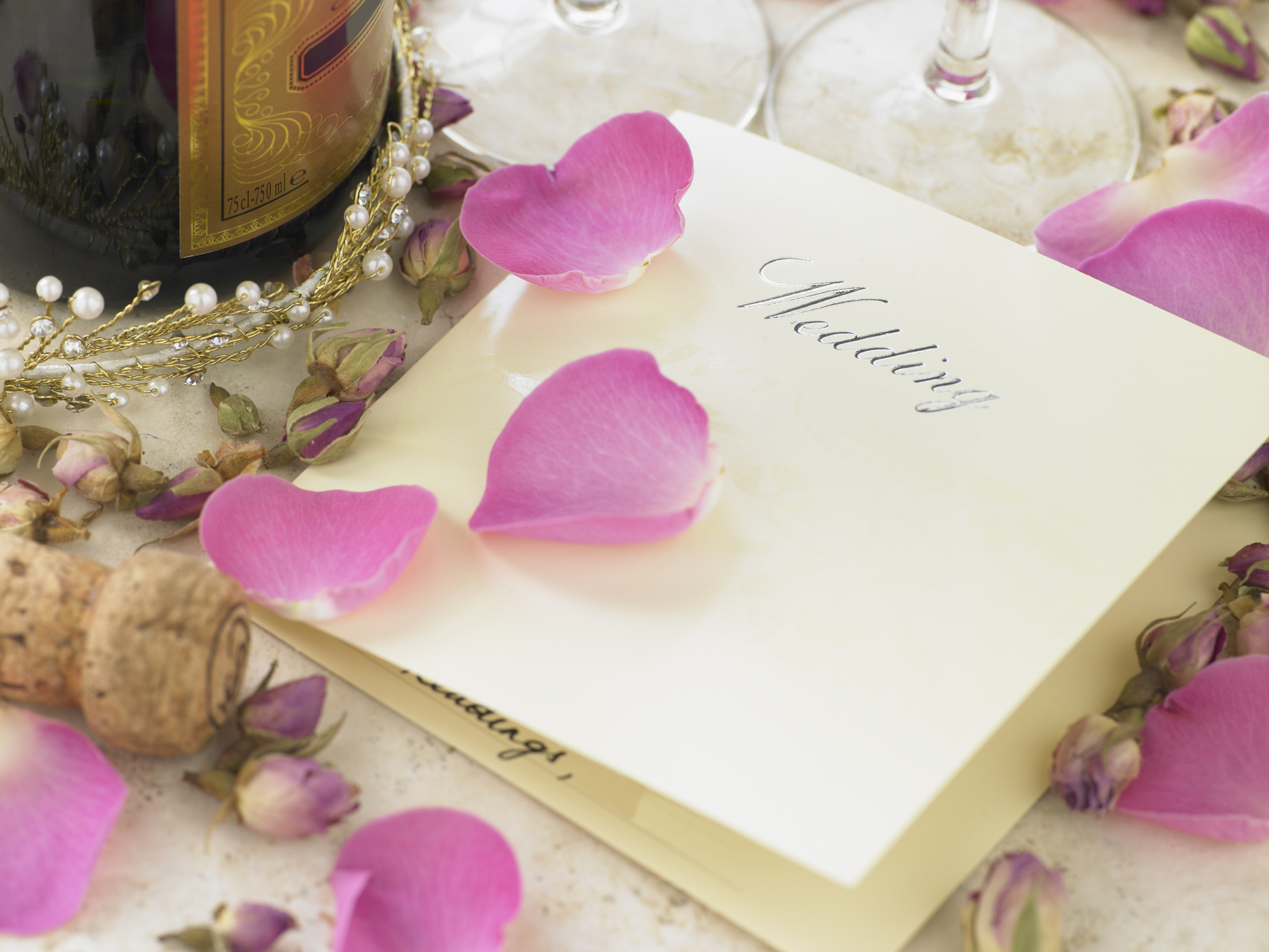 Mixing patterns
Bold patterns such as stripes, polka dots, oriental flower prints and paisley have been big news in wedding invitations for some time, but the latest trend is to mix two or three of these patterns, in the same colour scheme, for a really eye catching invite.
3D texture
Adding texture to your invites with fabrics, pressed flowers, twisted wire, or layered card is a fashionable way to create a unique design that will stand out from traditional flat printed cards.
Injecting personality
Handmade cards are increasing in popularity, and couples are using family photos, caricatures, and images of places they have visited to create bespoke designs. As well as cutting costs, handmade cards are more personal and can be tailored slightly for each guest.
Sparkle
Crystals and gemstones are finding their way into every element of wedding design, and wedding invites are no different. A couple of small stick on crystals can lift the design on any printed card, and a popular option is to have a clean and simple white card with an added ribbon belt and rhinestone buckle.
Relaxed wording
Modern couples are moving away from traditional invitation wording, and creating less formal invitations. While it used to be customary for invitations to be issued by the couple's parents, many couples are choosing to send the invites directly from themselves. Formal phrases such as 'we request the honour of your presence' are also being replaced with simpler sentences such as 'we'd love you to come and celebrate with us'.

Modern monograms
A monogram of the bride's initials has been a wedding invite staple for many years, but a new trend for sleek logo style monograms, incorporating both sets of initials or even the couple's names, has created invitations that are cheeky but still formal.
Going green
Eco friendly invitations are gathering popularity as going green becomes the theme for many weddings. Recycled and handmade paper make beautiful bases for invitations, and natural materials such as leaves, twigs and pressed flowers can add colour and texture. You can even e-mail your invites to save paper.
Bold colours
Traditional white may still be used for very formal weddings, but many couples are opting for bold shades to suit their wedding theme or season. Select up to three complementary colours from your wedding palette to make your invite stand out from the crowd. While hot pink and aqua were popular invitation colours until recently, this season sees a shift towards muted shades such as plum or deep red.
Pocket it
The standard envelope has had its day with wedding invitations; these days as much thought goes into the design of the invitation's wrapping as the card itself. From fabric pouches to coloured clear plastic pockets, these are designed to hold the invitation, a reply card, directions and accommodation details, and gift list information.
E-invites
Tech Savvy couples might prefer to issue a multi-media electronic invite complete with soundtrack, animation, and video, rather than a traditional printed card delivered by post. Others are using social networks to spread the word about their wedding, and provide links to their wedding website.