In this curated honeymoon guide, we share the top honeymoon destinations according to Aussie couples, as well as the best sights, eats, and stays in each stunning location. From secluded beaches to buzzing cities, these much-loved spots will surely get you dreaming about your relaxing post-wedding getaway.
Planning a wedding is a wild ride, and once the day itself has been and gone, you'll be ready for some time away to wind down as newlyweds. Whether you're planning to jet off on your wedding night or see yourselves enjoying a belated getaway a few months later, planning your honeymoon will feel like a breeze after poring over every intricate detail of the big day.
That said, if you're unsure where to head for your honeymoon getaway or need some serious itinerary inspo, this one's for you! Read on as we reveal the ten most popular honeymoon destinations for 2023 and beyond, along with the best hotels to book in each place.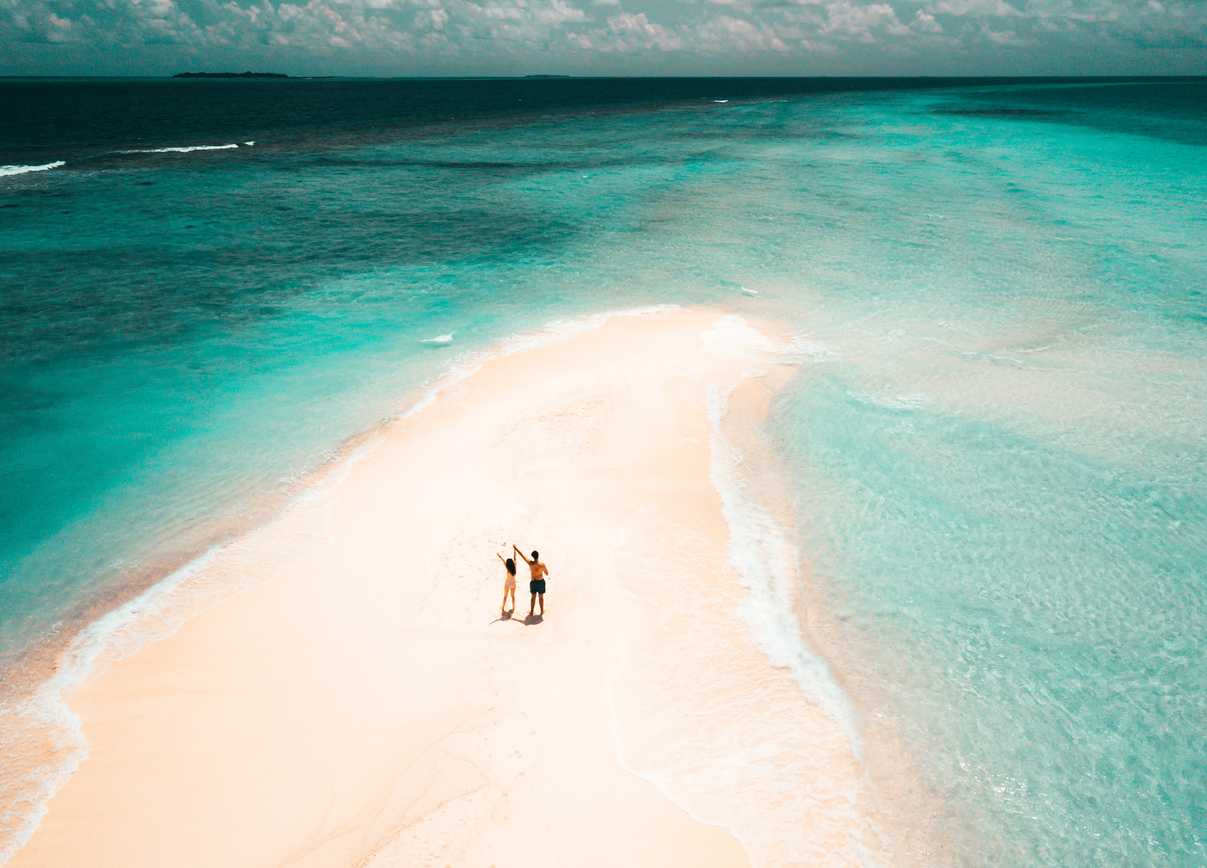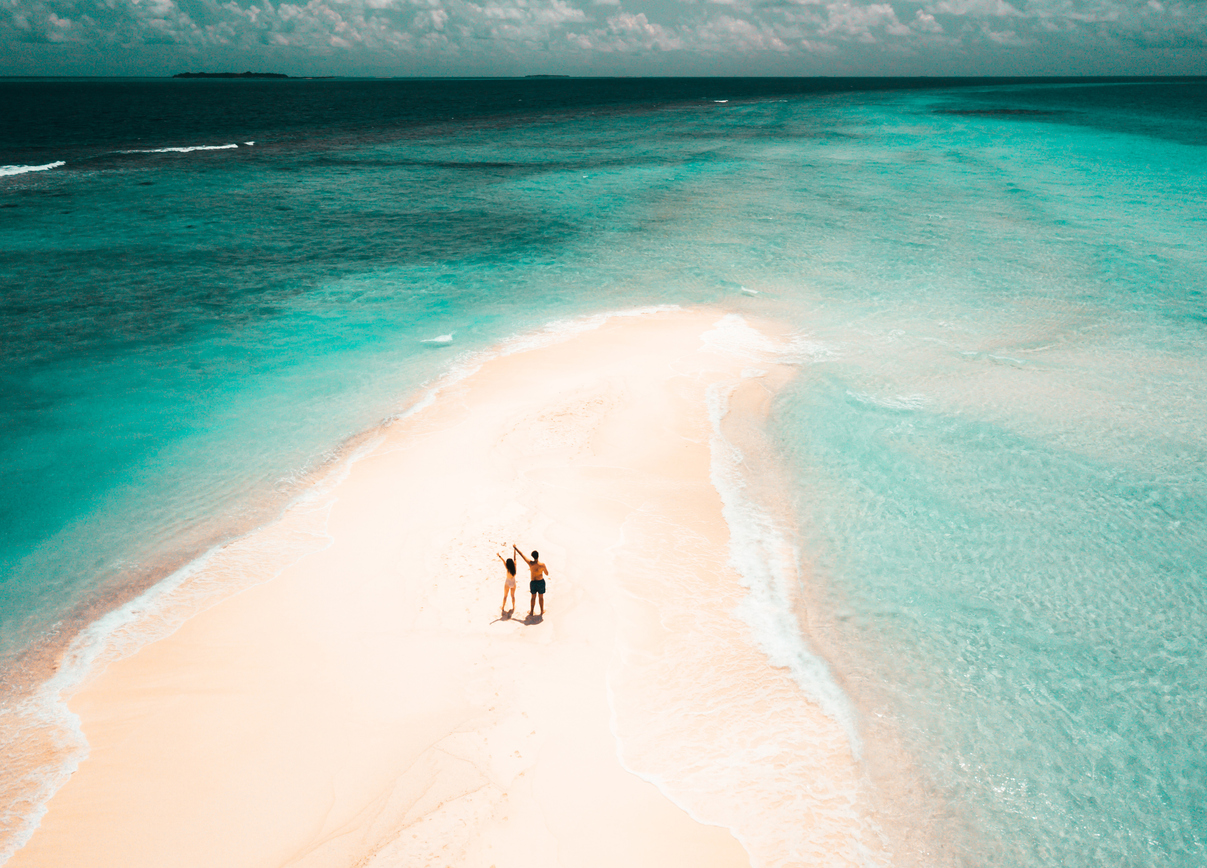 ---
Our trusted travel partner Hotel Planner makes booking your honeymoon accommodation a super simple and stress-free experience with their exclusive discounts, easy-to-use platform, and incredible client care. Discover top hotels across the world and secure your honeymoon stays with ease today.
Book Honeymoon Accommodation
---
Queensland
According to our most recent annual survey of more than 3,500 couples, the number one honeymoon destination for Aussies remains homegrown — with 18% heading to sun-drenched Queensland as newlyweds. From the pristine white sands of The Whitsundays to the lush rainforests of the Daintree, this vast state has something to offer adventure seekers and beachgoers alike. If you're planning a blissful post-wedding getaway to the Sunshine State, here are our top recommendations for your Queensland honeymoon itinerary:
Where To Stay
For an indulgent honeymoon experience in Queensland's beautiful Whitsundays, the five-star InterContinental Hayman Island Resort is the perfect place to stay. Nestled on a private island in the heart of the Great Barrier Reef, this elegant and sprawling resort provides an oasis of calm for you to unwind and enjoy quality time together as newlyweds. Enjoy luxury accommodations and world-class amenities ranging from snorkelling and sea kayaking to fine dining restaurants and sustainable spa treatments.
What To Do
With 74 beautiful islands to explore, the Whitsundays offer an abundance of things to do. Set sail on a catamaran cruise through sparkling turquoise waters to discover secluded beaches and castaway islands, or take to the skies on a private helicopter ride to see the spectacular Great Barrier Reef from above. Other honeymoon activities include stand-up paddle boarding, spa treatments, snorkelling, swimming, scuba diving, sunset dinners, and private picnics.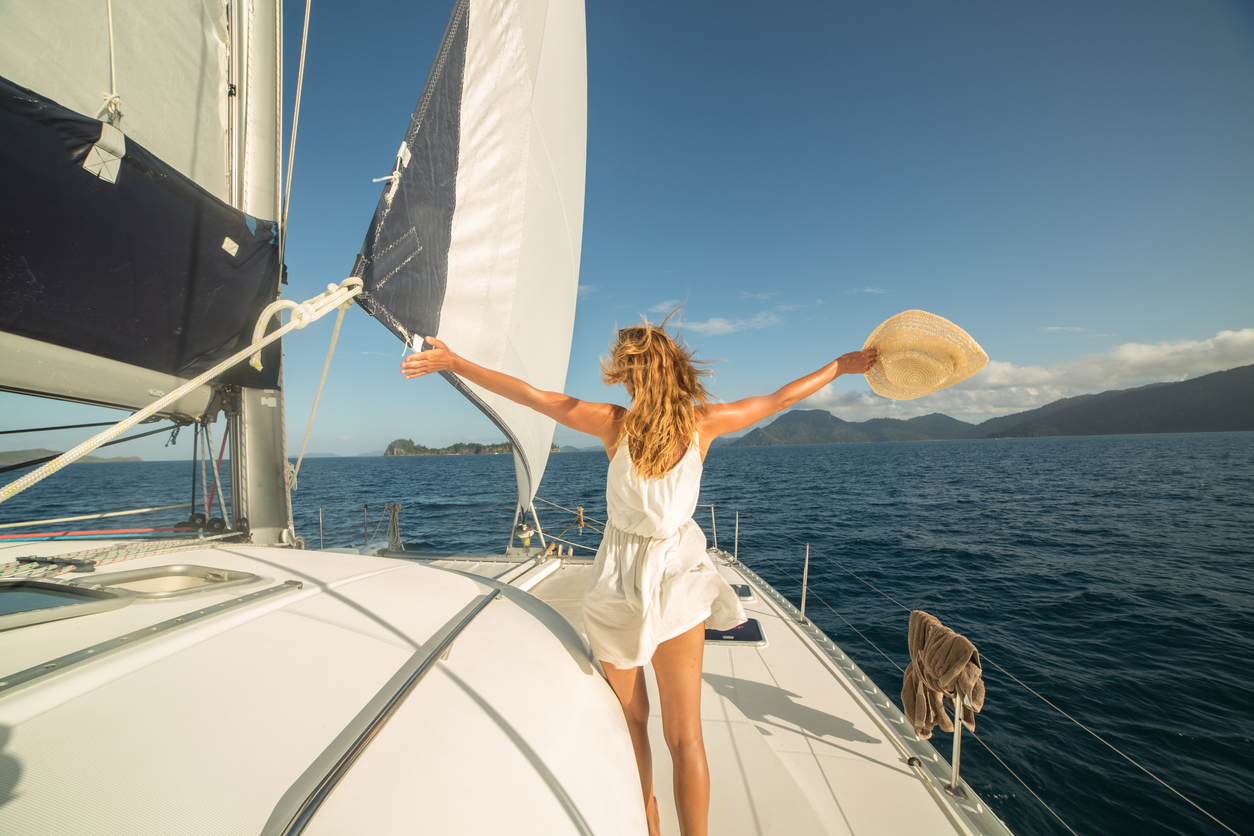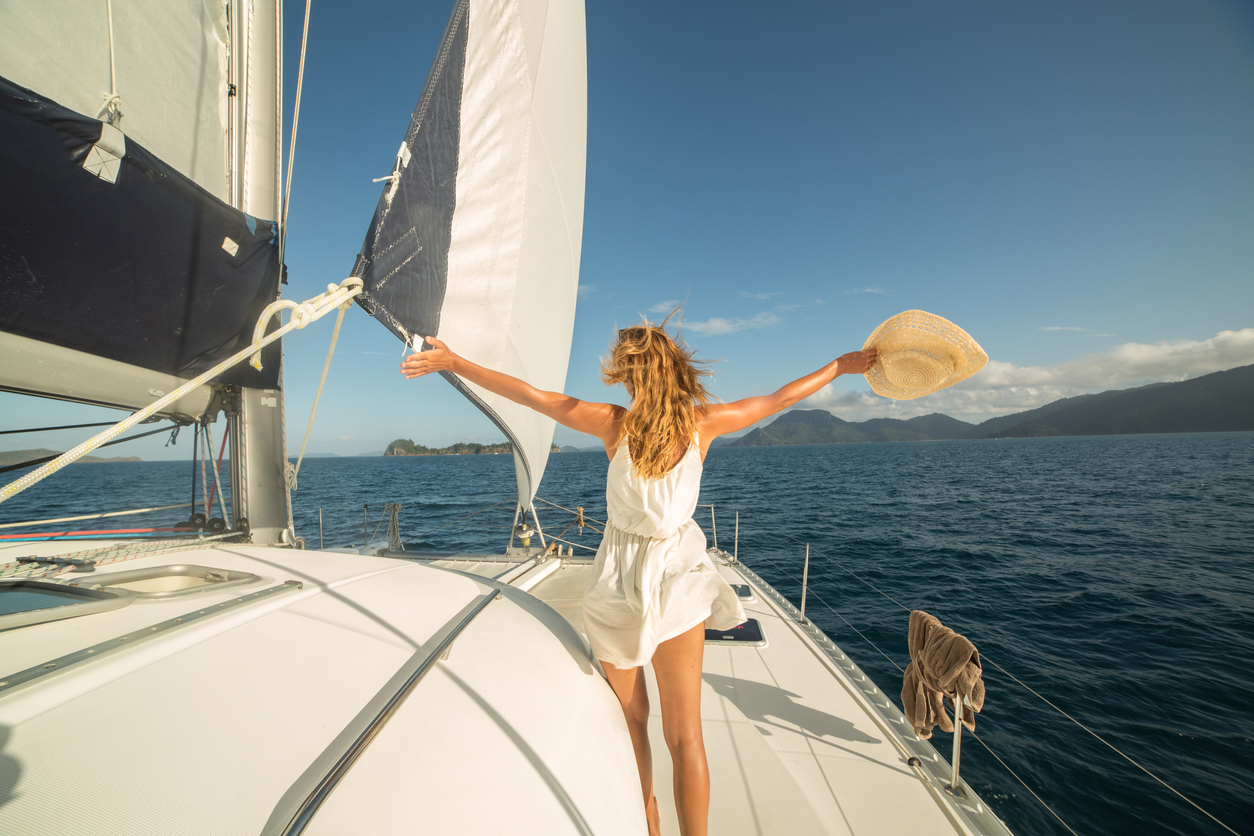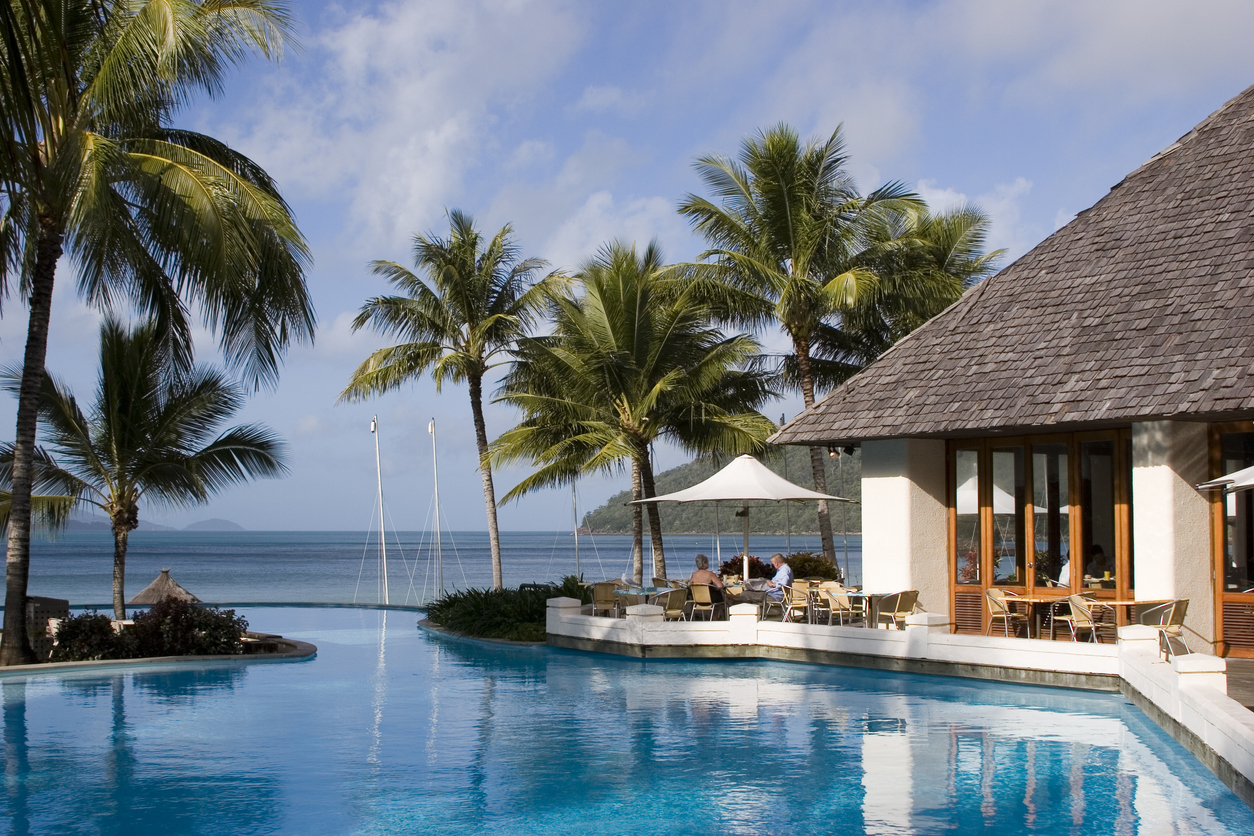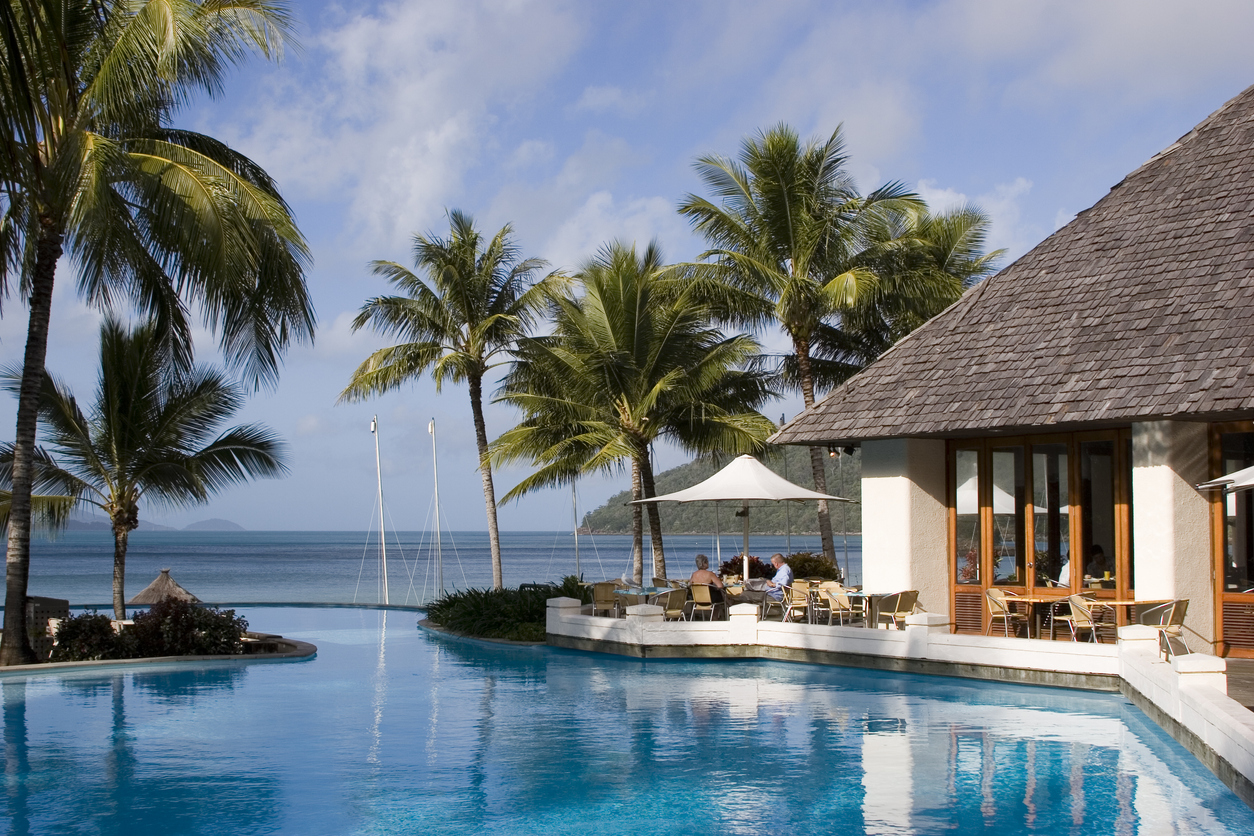 ---
Europe
Newlyweds have long flocked to Europe for their honeymoons, and we've seen a rise in popularity among Australian couples for this dreamy destination post-covid. With a plethora of captivating cities across the continent, the options are seemingly endless when choosing European honeymoon locations.
Some of our favourite romantic locales include Lake Como, Paris, Santorini, Tuscany, Provence, Madeira, Venice, Lucerne, and the French Riviera. But if we had to pick just one, the Amalfi Coast would be a no-brainer, with its breathtaking coastline, boujee beach clubs, charming towns, and postcard-perfect scenery. Fuel up on pizza, pasta, gelato, and Aperol Spritz as you explore places like Sorrento, Positano, Capri, Ravello, Praiano, and Atrani.
Where To Stay
Our top pick for an unforgettable honeymoon stay on the Amalfi Coast would be the iconic Le Sirenuse Hotel in Positano. Instantly recognisable on the Positano cliffside thanks to its striking red and white façade, this ultra-luxurious boutique hotel is known for its impeccable service and unrivalled charm. Le Sirenuse is home to a chic rooftop oyster bar, a sparkling outdoor pool, a Michelin-starred restaurant, and elegant guest rooms with private ocean-facing balconies.
Where To Eat
From fabulous Michelin-starred restaurants to cosy trattorias and beachside seafood spots, the Amalfi Coast is jam-packed with incredible places to eat. For an authentic Italian dining experience with breathtaking views, you can't go wrong with La Tagliata Positano — a homey farmhouse restaurant serving flavour-filled dishes made with produce grown on-site. And for something a little fancier, we'd recommend checking out Ristorante Lorelei in Sorrento, La Fontelina in Capri, and La Sponda in Positano.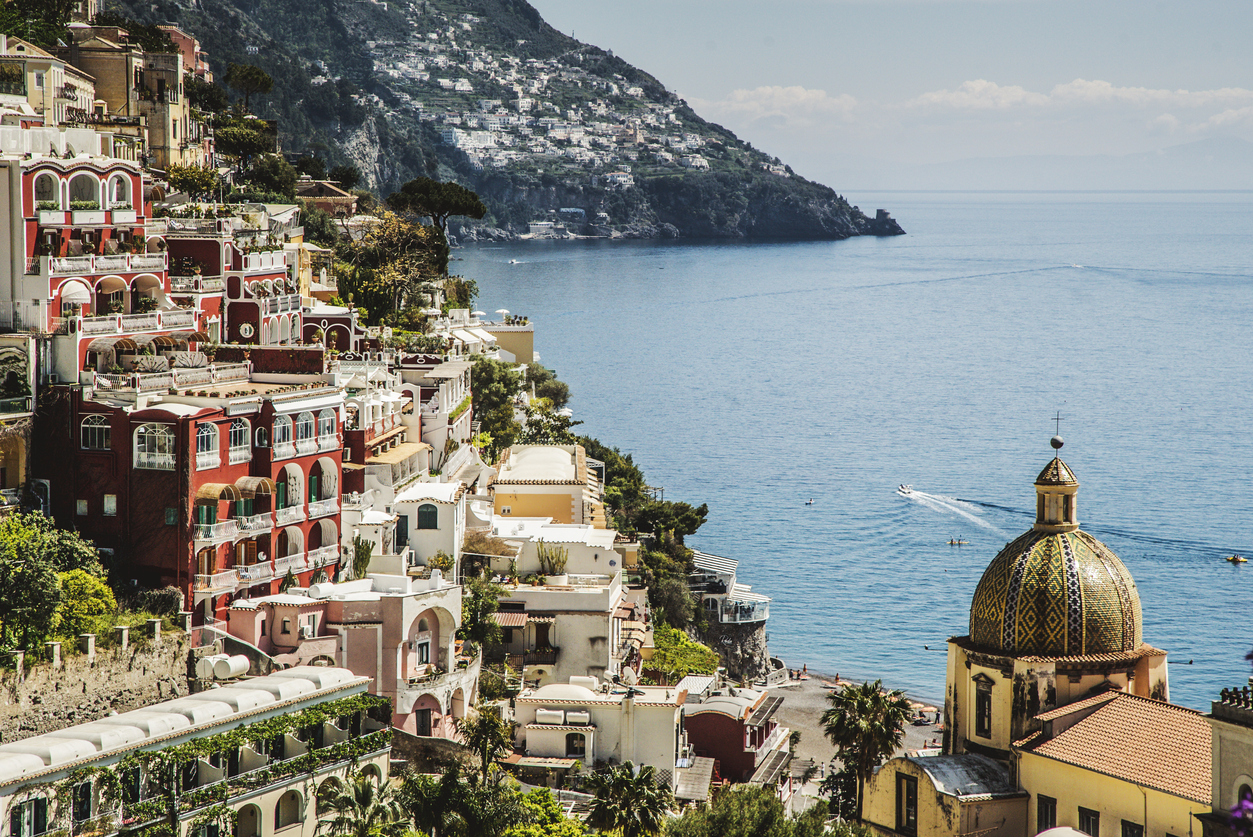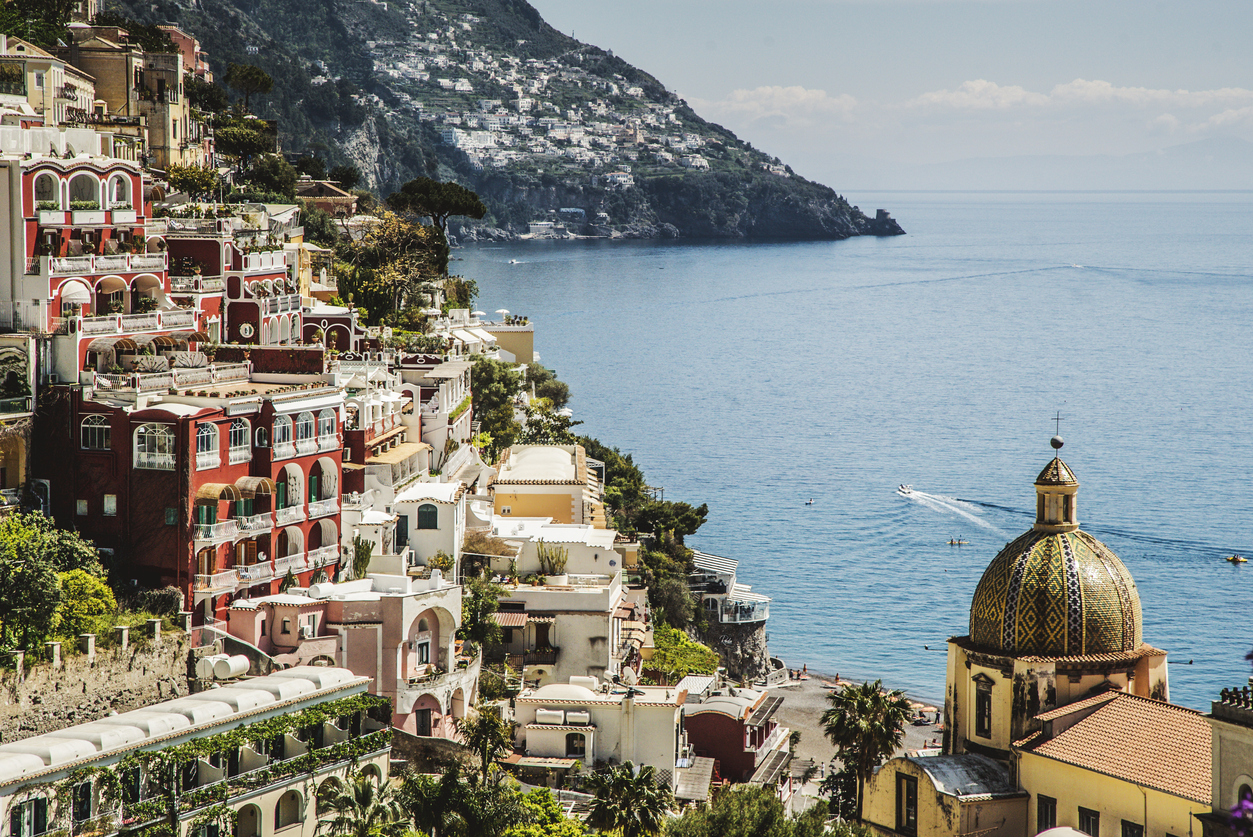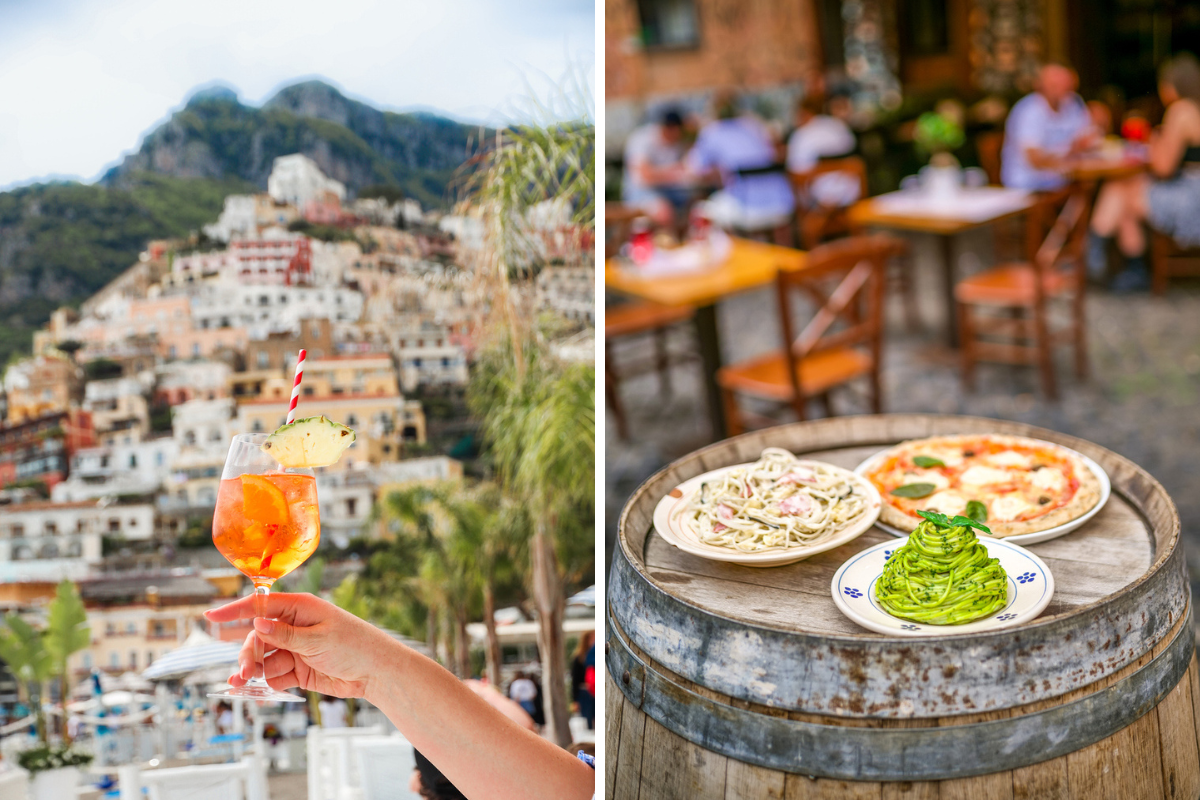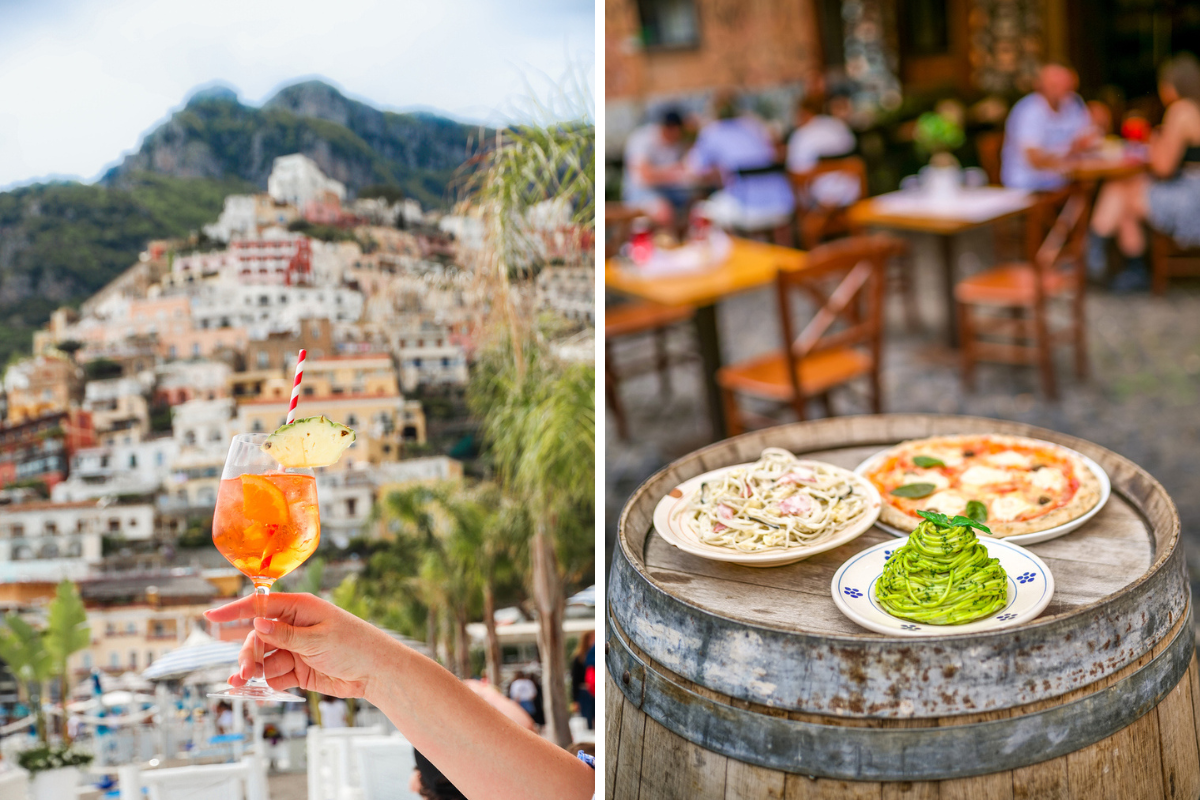 ---
Bali
A magical place teeming with lush jungle landscapes, heavenly hotels, unspoilt beaches, and captivating temples, Bali continues to be a hot contender among the top honeymoon destinations for Australian couples. Whether you're looking to bask in the post-wedding bliss with a relaxing stay in a luxury resort or put your new marriage to the test with some adrenaline-pumping activities, there's something for everyone on this incredible island. Our top spots for Bali honeymoons include Ubud, Uluwatu, and Canggu.
Where To Stay
The incredible Four Seasons Resort at Sayan is the ideal location for a relaxing honeymoon in beautiful Ubud, Bali's cultural heart. Set against the serene Ayung River Valley, the resort boasts an array of stunning villas with private pools overlooking the valley's lush greenery. Four Seasons Resort at Sayan has a range of activities perfect for a post-wedding wind-down, including yoga, meditation, cooking classes, rice field bike tours, a tranquil day spa, and private dining at the breathtaking rooftop lotus pond.
What To Eat
The food is a highlight of any Bali trip, with lots of flavourful local dishes to try. From the hip dining scene of Canggu to the traditional eateries of Ubud, there's something to suit every palate. Must-try dishes include Sate Lilit (delicious satay skewers cooked over charcoal), Nasi Goreng (a flavour-packed fried rice dish), Pepes Ikan (fresh fish steamed in a banana leaf), and Babi Guling (whole suckling pig cooked over an open fire).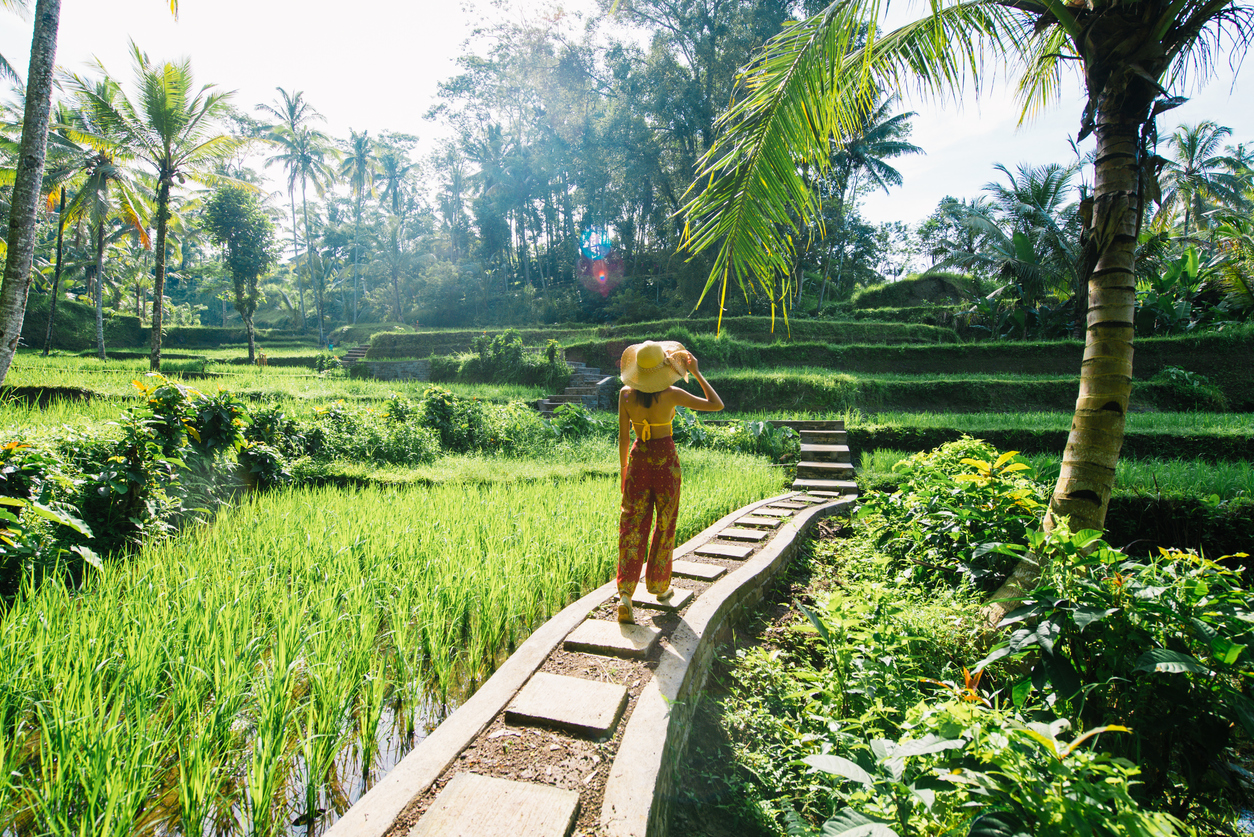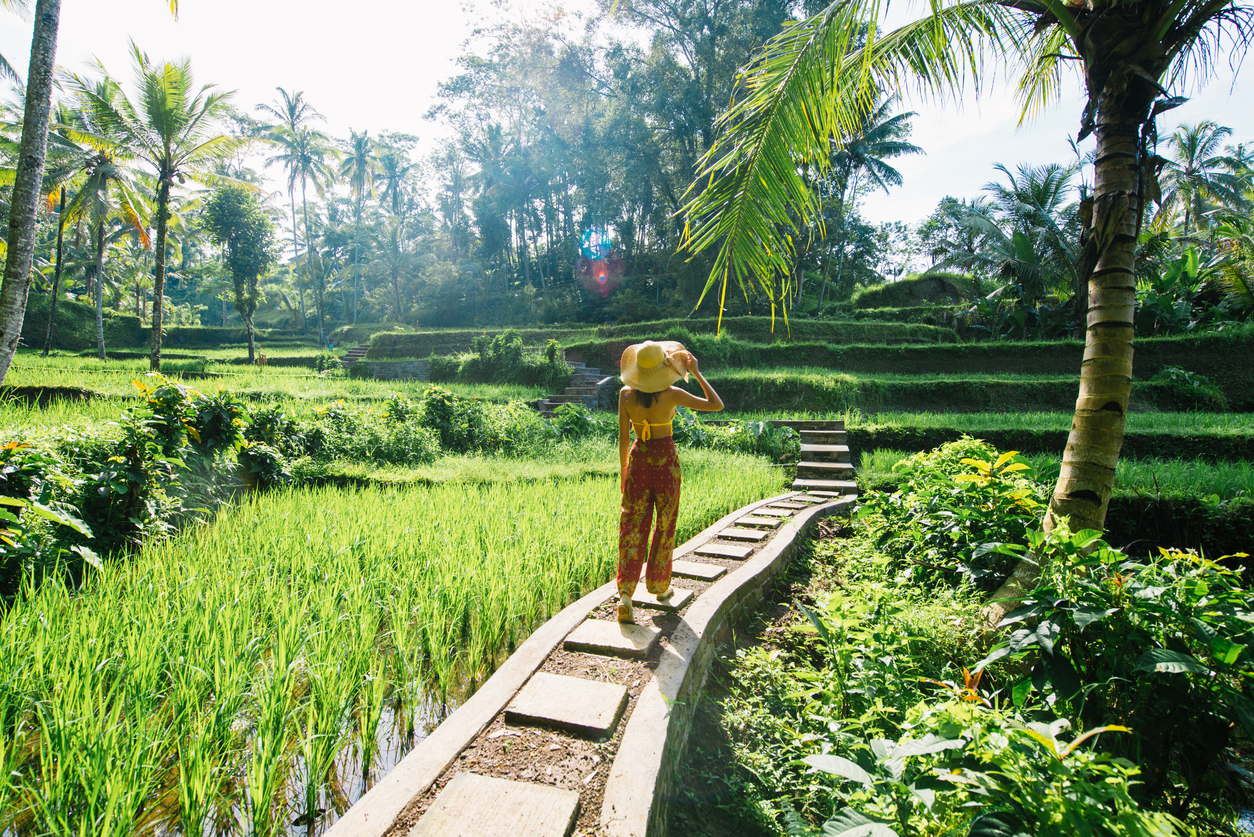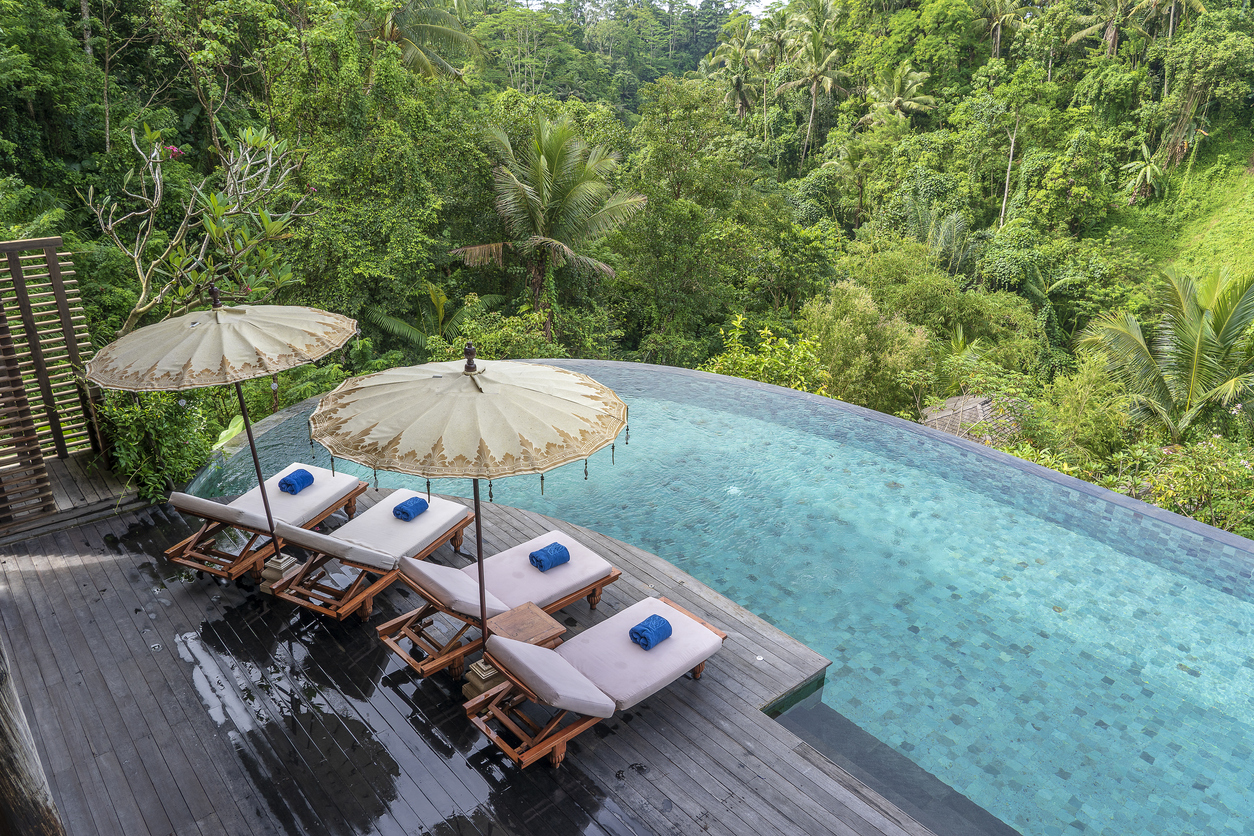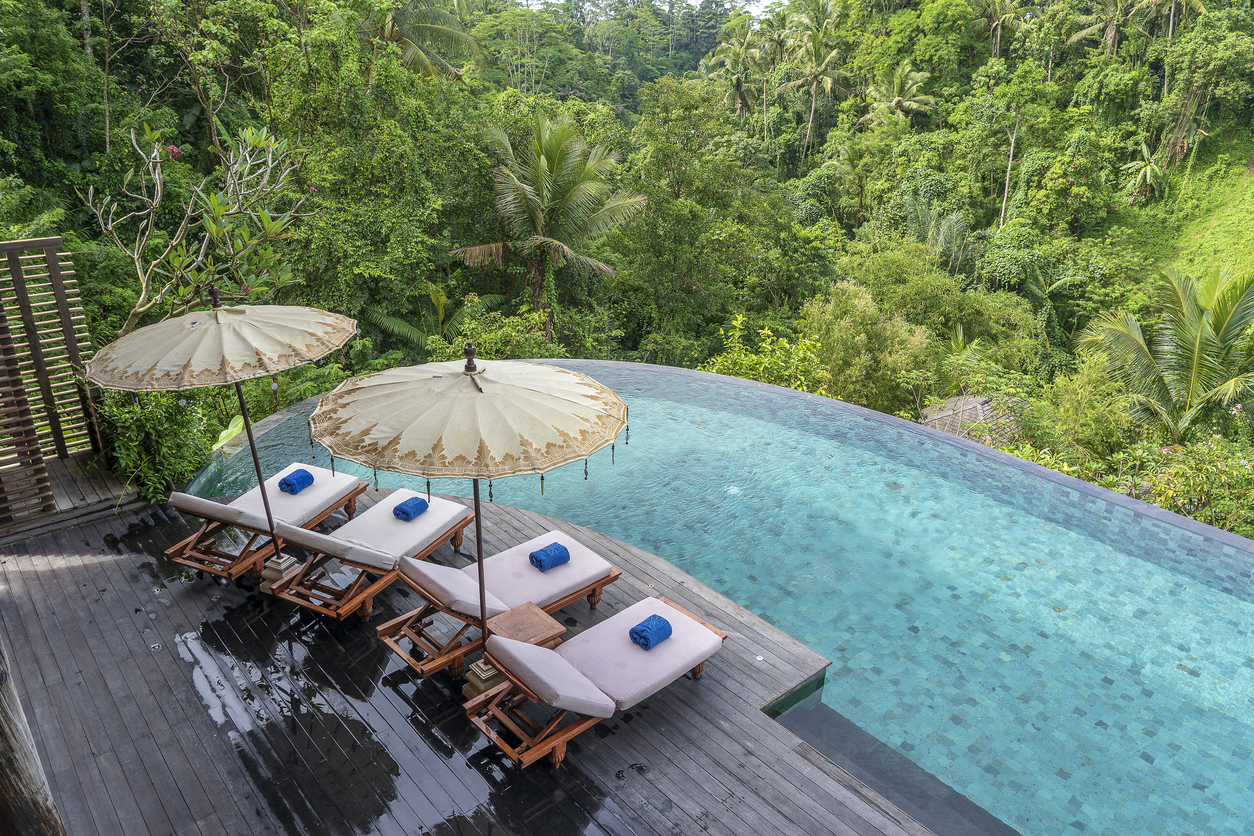 Book Honeymoon Accommodation
---
Fiji
If you have visions of lounging in hammocks in your private overwater villa as turquoise waters sparkle in the distance, then Fiji is the honeymoon destination for you. From the moment you step off the plane and feel the warm breeze, you'll be in ultimate relaxation mode as you soak up all that this tropical paradise has to offer. As one of the top honeymoon destinations for 2023, Fiji is a must-do for a relaxing getaway with friendly locals, rich culture, delicious food, and pristine secluded beaches!
Where To Stay
Comprising hundreds of islands, the options are vast and varied when picking a place to stay in Fiji, with stylish eco-lodges and luxurious private-island resorts galore. If you're struggling to find your dream honeymoon accommodation in Fiji, we suggest checking out the five-star Nanuku Resort — a true tropical oasis situated on a private 500-acre coastal estate. The resort is home to a collection of spectacular villas and suites, so you can relax by your private pool before heading out to explore all that the island has to offer.
What To Do
If you're staying at Nanuku, the resort offers an array of activities both on the water and on land, with something to suit every kind of couple. Dine amidst the treetops, snorkel the stunning Beqa Lagoon, enjoy a Fijian food safari, relax with a traditional massage, set sail on a sunset cruise, or enjoy a romantic private island picnic for two.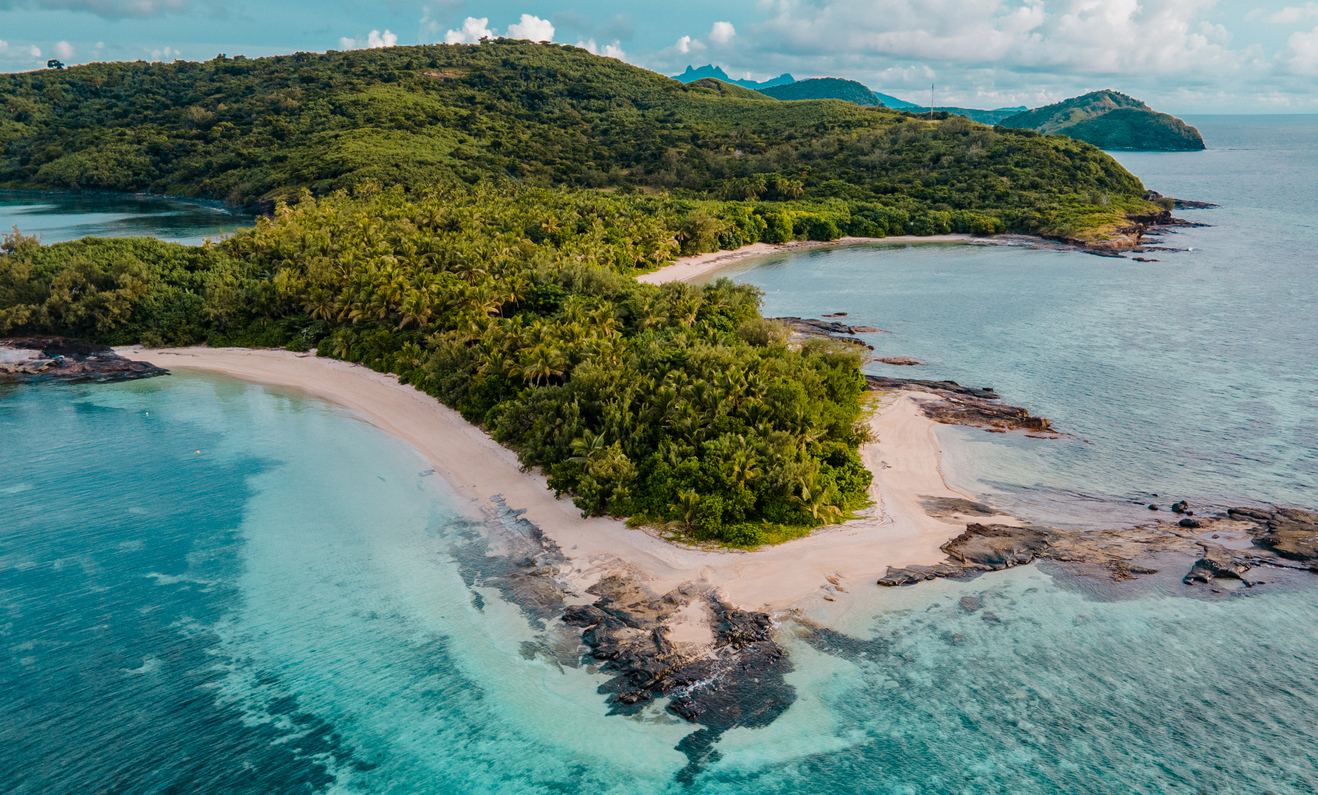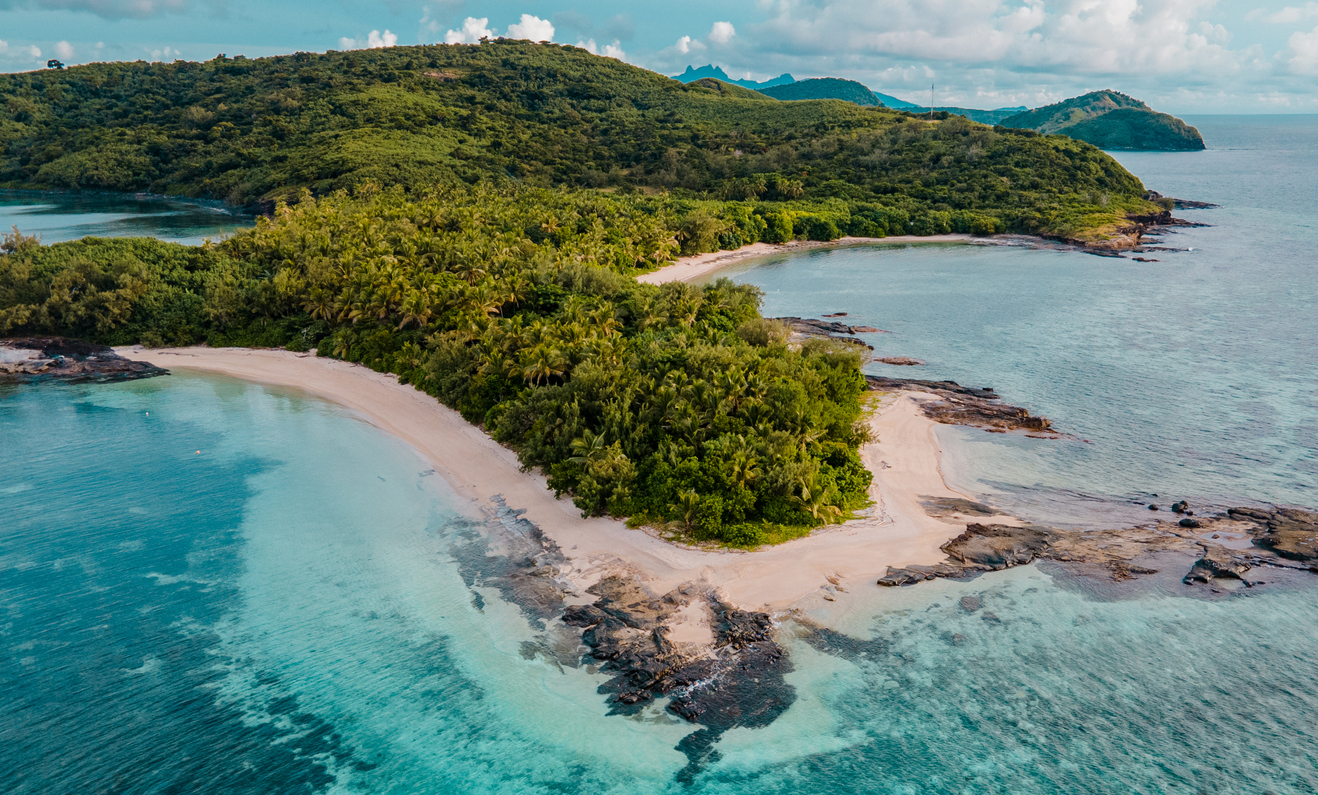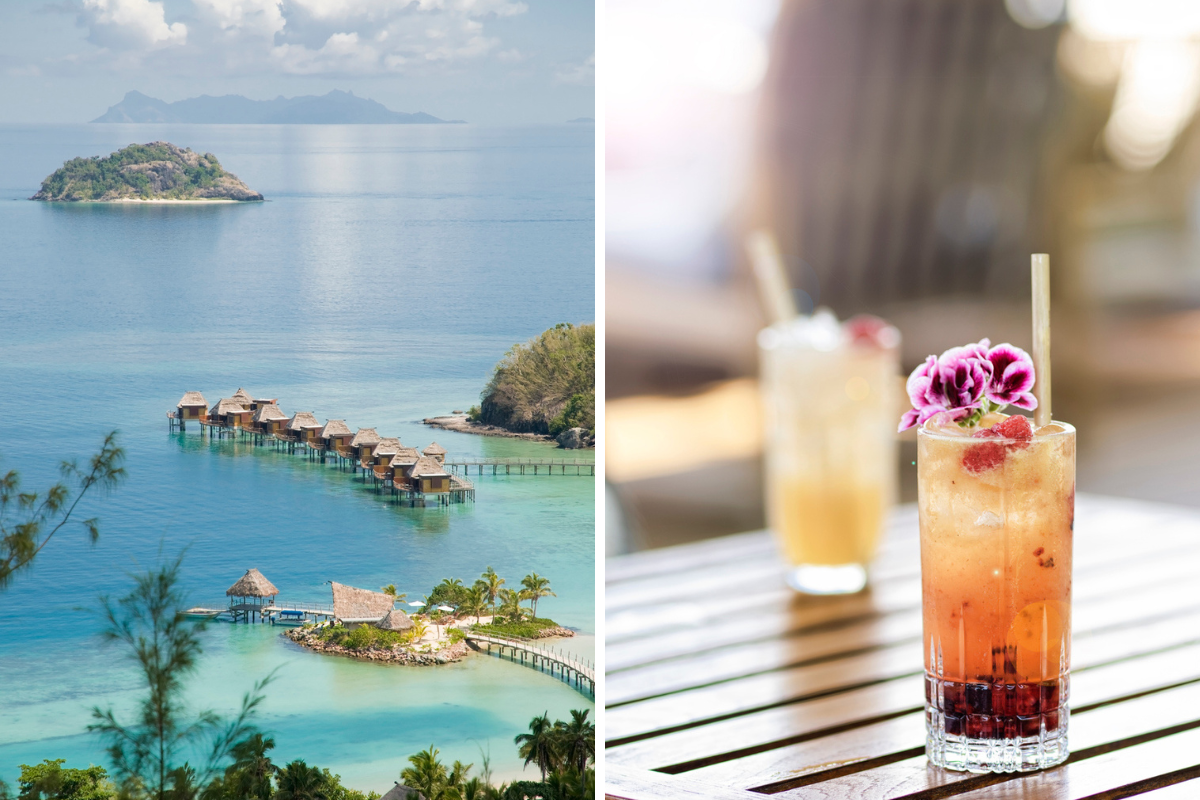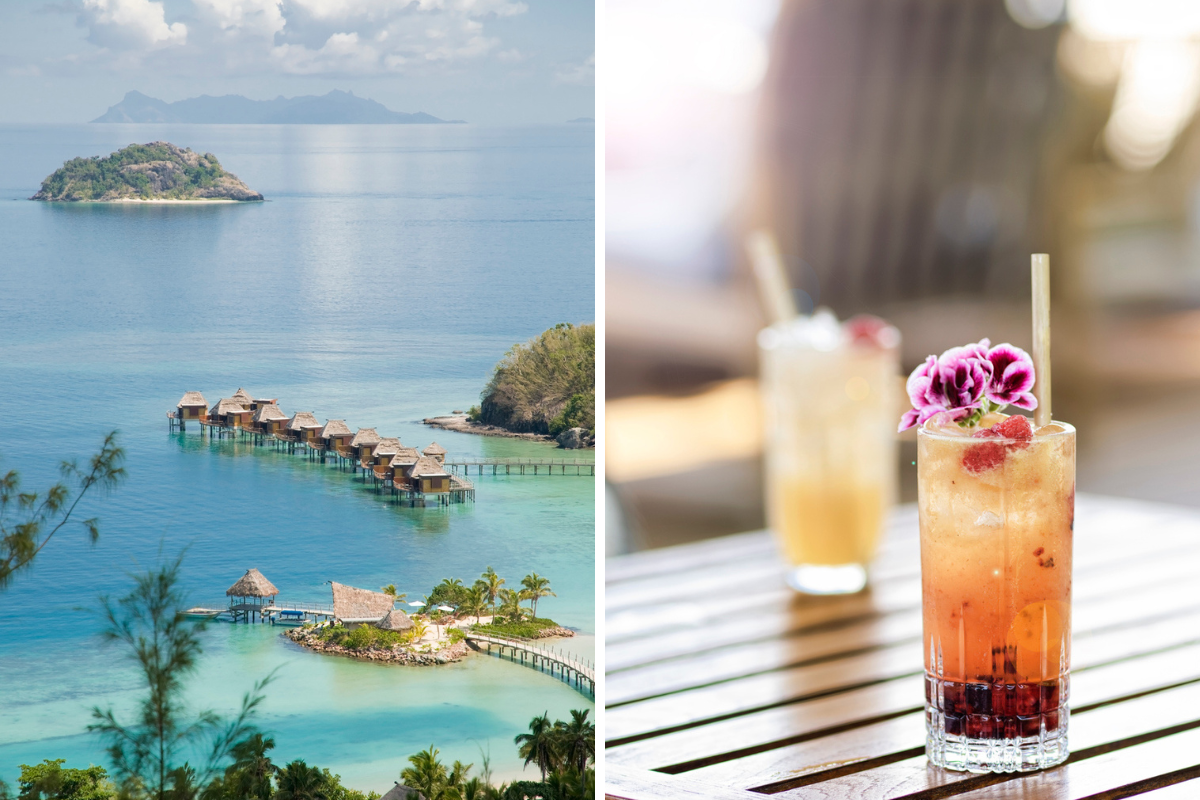 ---
Japan
From the buzzing streets of Tokyo to the atmospheric temples of Kyoto, Japan offers an intoxicating mix of fascinating and culturally diverse destinations for honeymooners. Thanks to its seamless bullet train system, you'll be able to hop from city to city for an unforgettable honeymoon experience. Head to the mountains for a serene hot springs stay or soak up the vibrant atmosphere of Japan's major cities, where shopping and foodie hotspots await your discovery around every corner.
Where To Stay
No trip to Japan is complete without visiting the beautiful city of Kyoto, with its picturesque gardens, traditional teahouses, historic temples, and charming streets. If you're on the hunt for Kyoto accommodation, Marriott's luxurious Suiran Hotel boasts a serene location by the Hozu River in the scenic Arashiyama Hills. This elegant five-star hotel draws inspiration from Japanese traditions and houses an intimate collection of just 39 boutique guest rooms.
What To Do
Some unmissable sights for your Kyoto honeymoon itinerary include the bustling Nishiki food market, the tranquil Arashiyama Bamboo Grove, the famed red Fushimi Inari shrine, and the atmospheric Gion district in Southern Higashiyama. Be sure to set your alarms and get up early to beat the crowds and experience the true serenity of Kyoto's beautiful temples and shrines!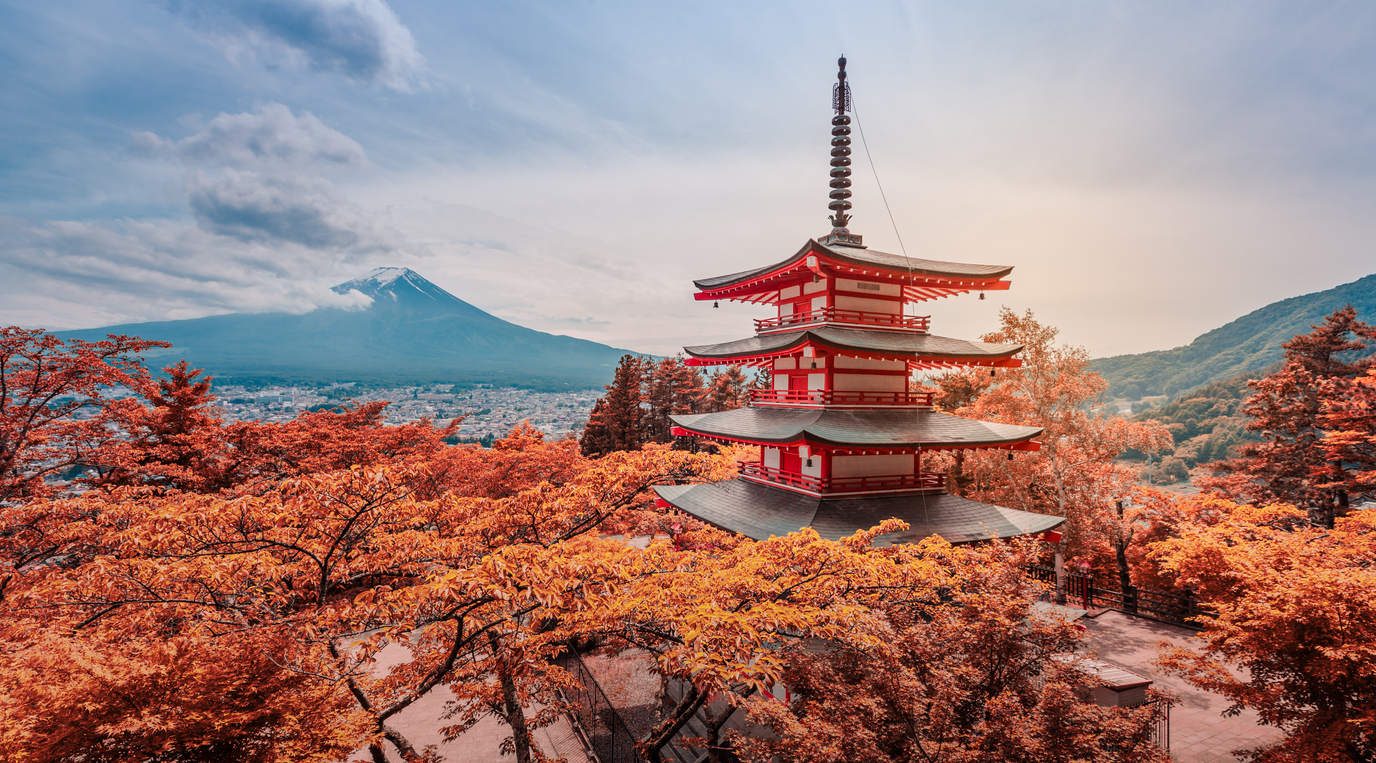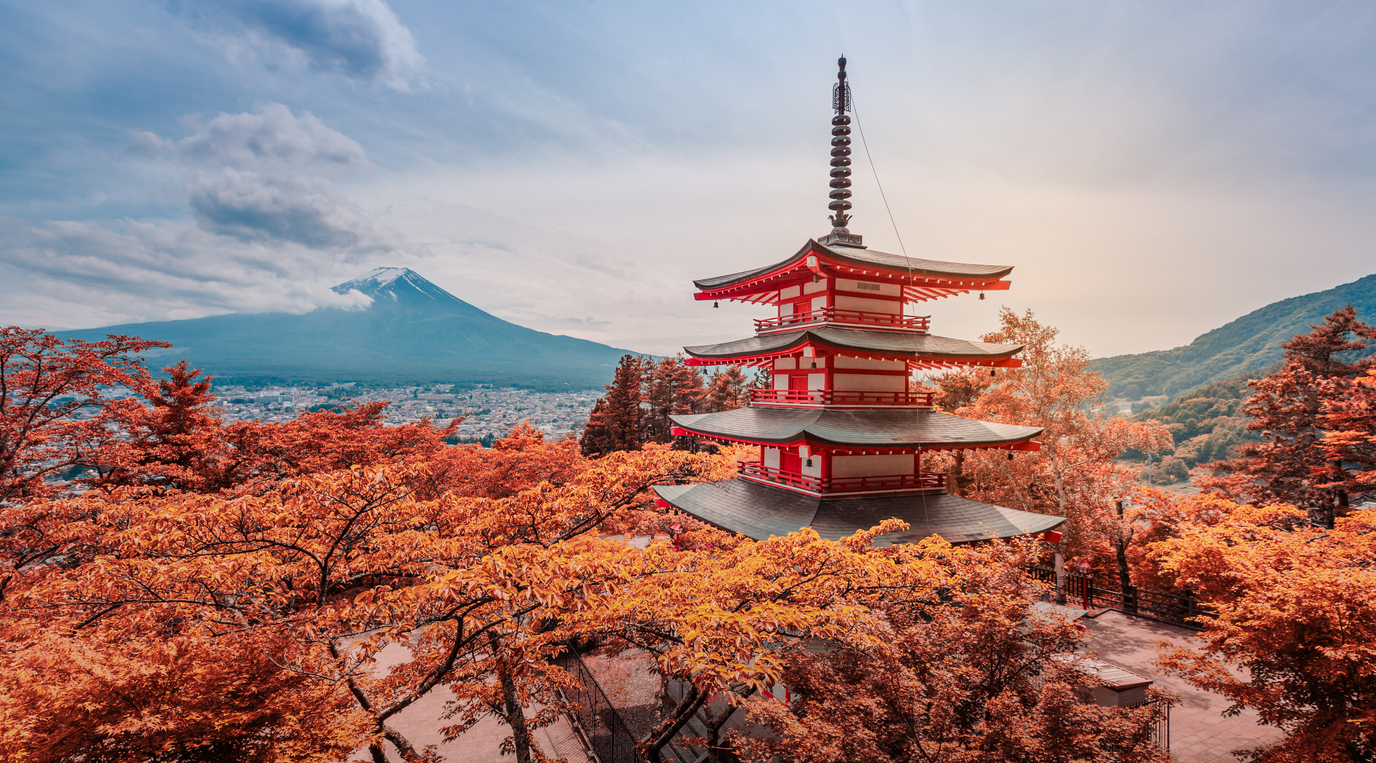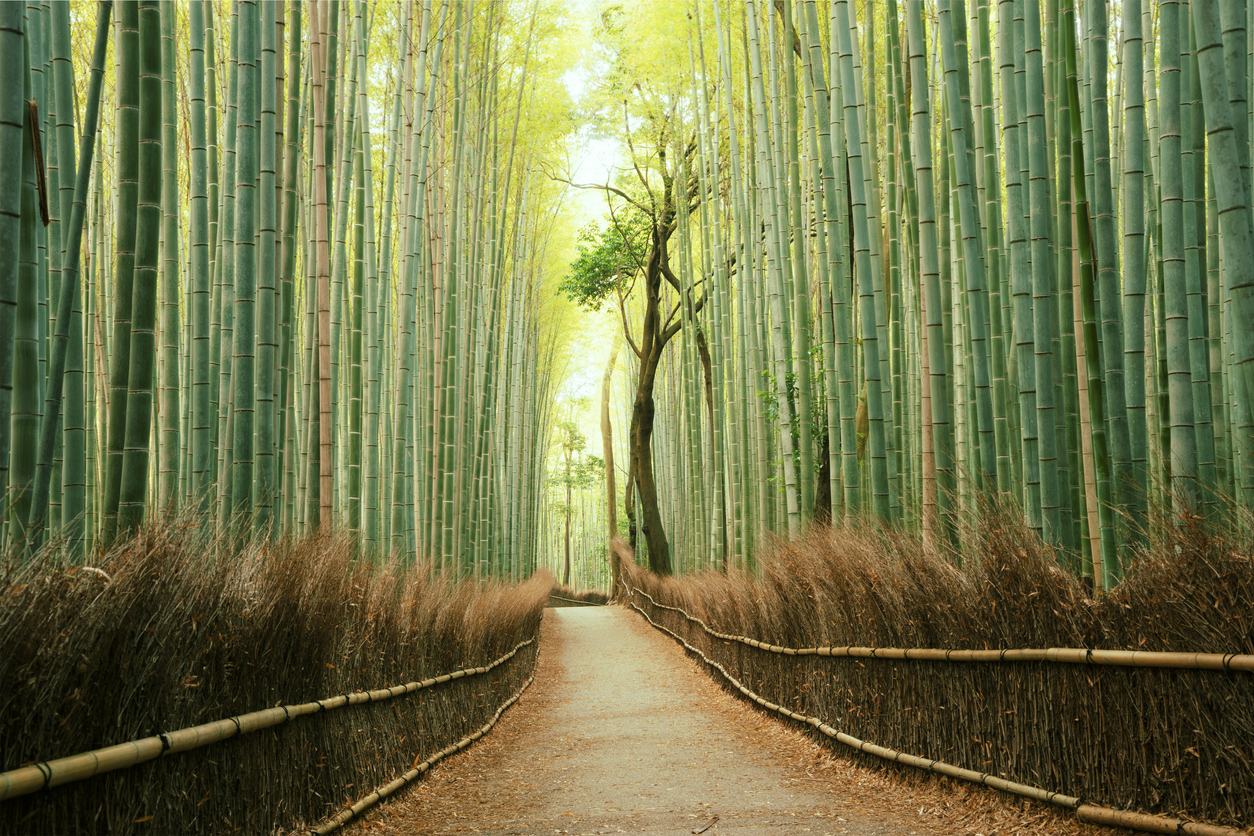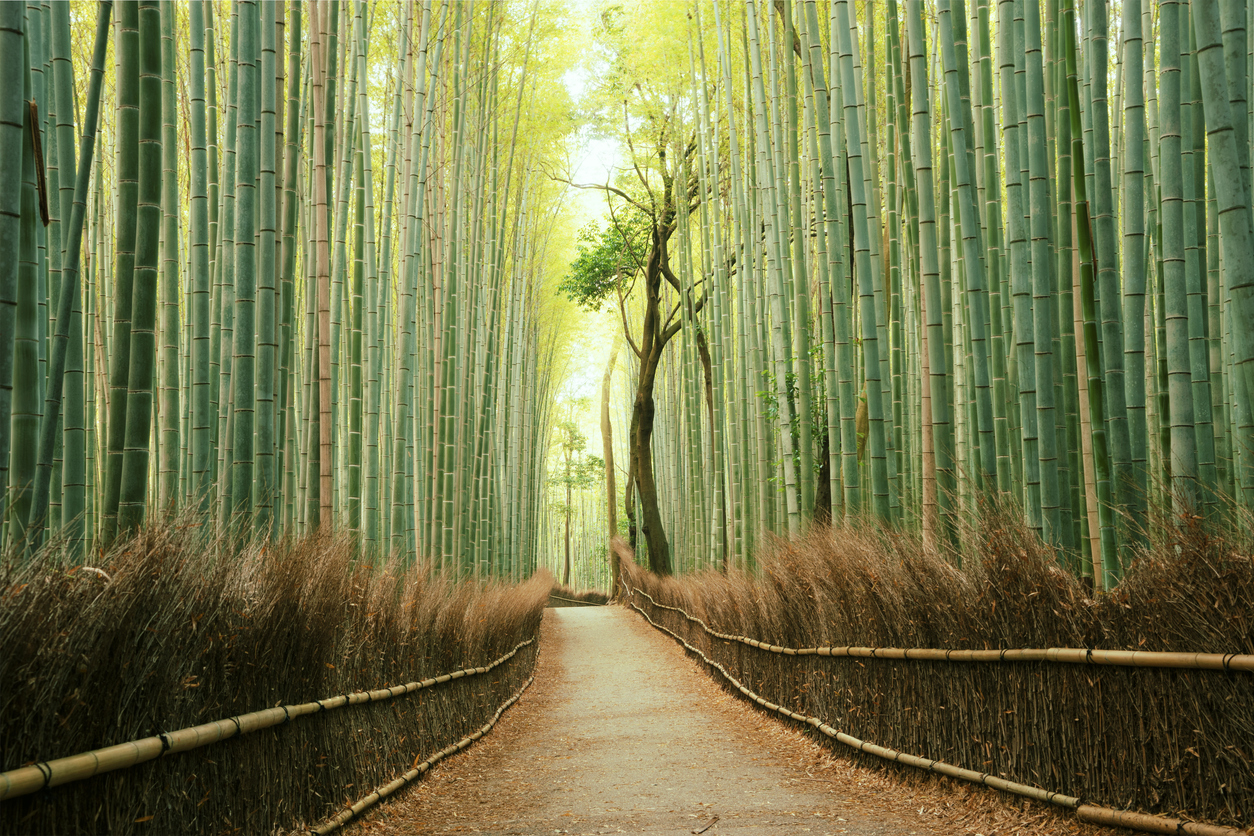 ---
So there you have it, the top picks for honeymoon destinations as revealed by our annual survey of more than 3,500 couples. Other hot contenders for the top honeymoon destinations in 2023 and beyond, according to Aussie couples, included New Zealand, the Maldives, Tasmania, Western Australia, and New South Wales. Where will you be jetting off to after tying the knot? ✈️
Book Honeymoon Accommodation
---