Tips, trends, and high tea – why you need to grab your bridesmaids and take a walk down Brunswick's Sydney Road Bridal Precinct.
Fellow bride Lucy and I took a roller coaster trip down Brunswick's famous Bridal Precinct located on Sydney Road. And by roller coaster, I mean incredibly fun, insightful, and filled with cake. First stop…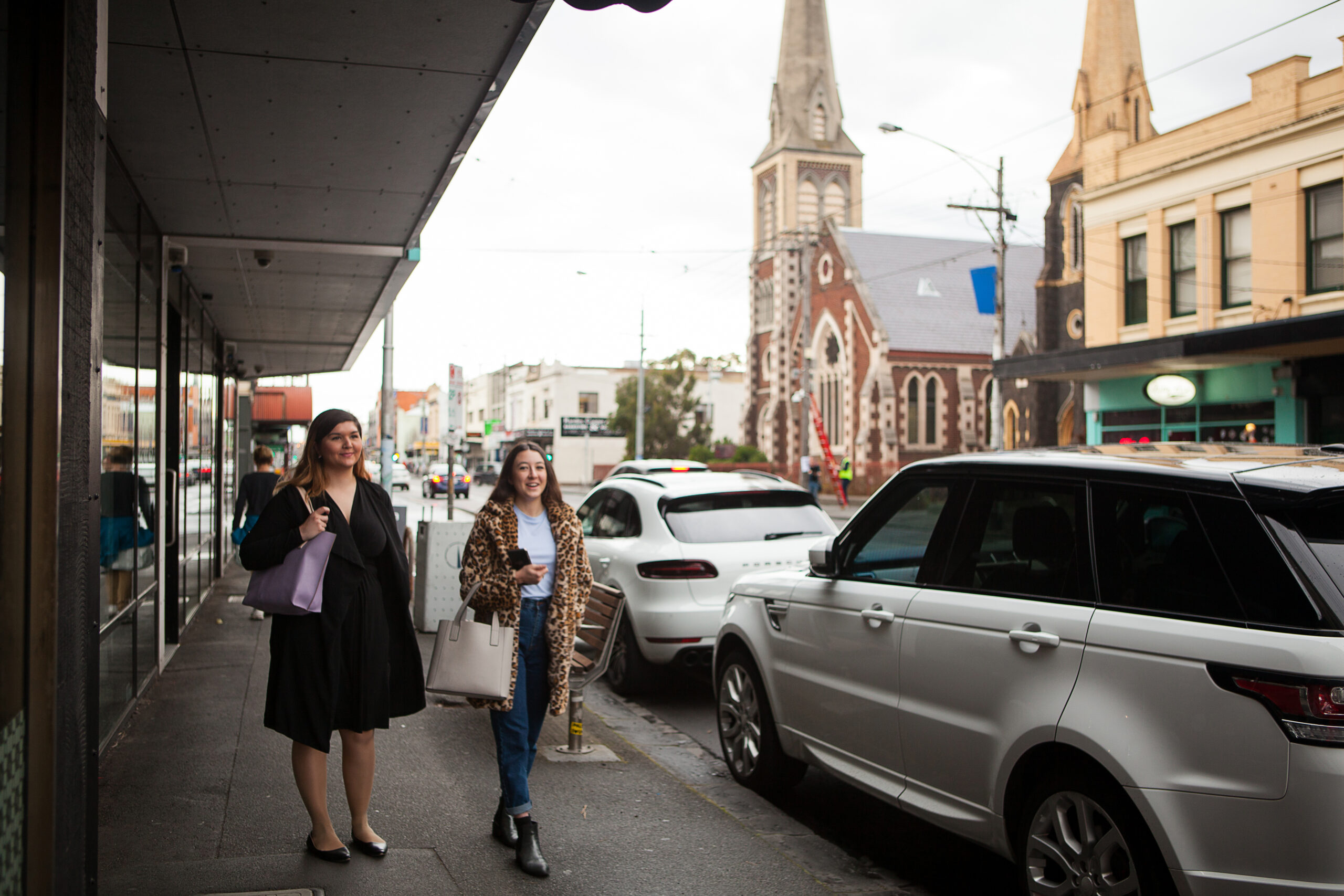 Where: 238 Sydney Road, Brunswick 3056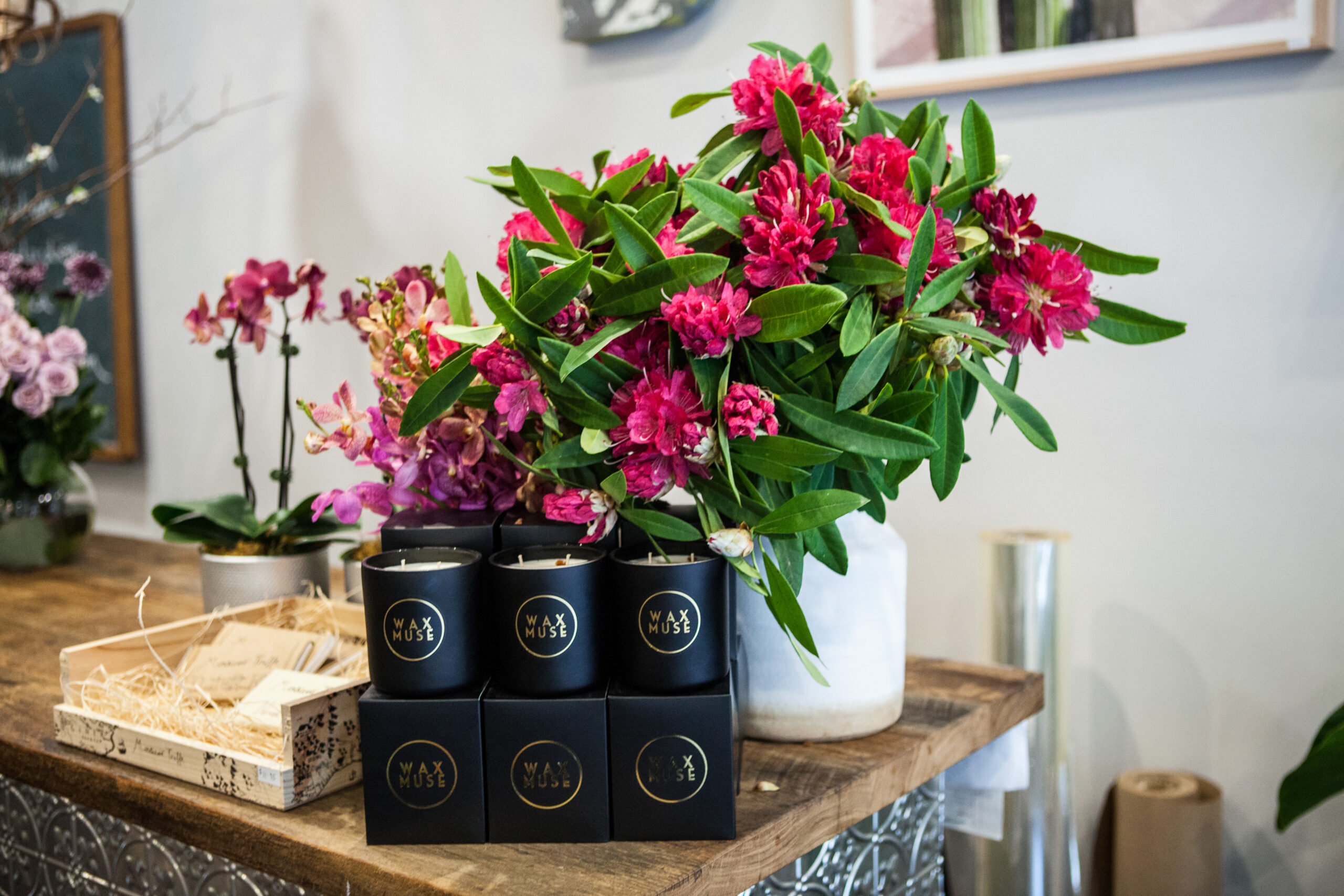 By the time we'd even thought about getting out of bed, Sarah from Babylon Flowers travelled to and from the flower market in Epping to pick up fresh blooms for the store. A self-confessed "sucker for romance," Sarah originally studied Horticulture, eventually making the move to floristry.
While located on Brunswick's famous Sydney Road, Babylon Flowers actually sits just outside the official Sydney Road Bridal Precinct. Having once operated inside the precinct, however, Babylon Flowers is still very much considered part of the one-stop bridal destination, and in retrospect, is only a stone's throw away from the rest of the stores.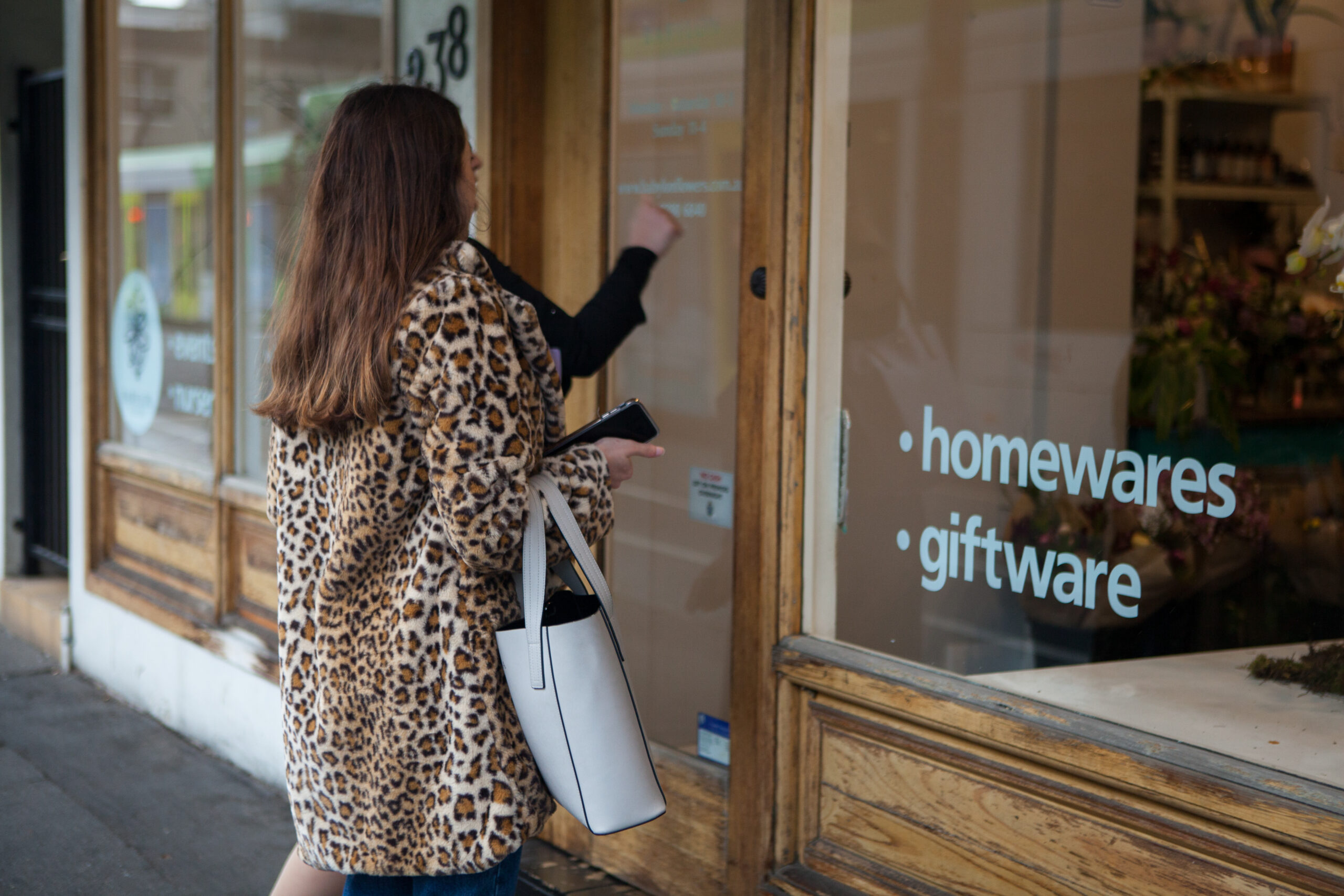 Once you step foot inside the store, there's no question Babylon Flowers deals only with fresh flowers. Sarah explains, "If I touched beautiful flowers and found they were fake – I would feel gypped!"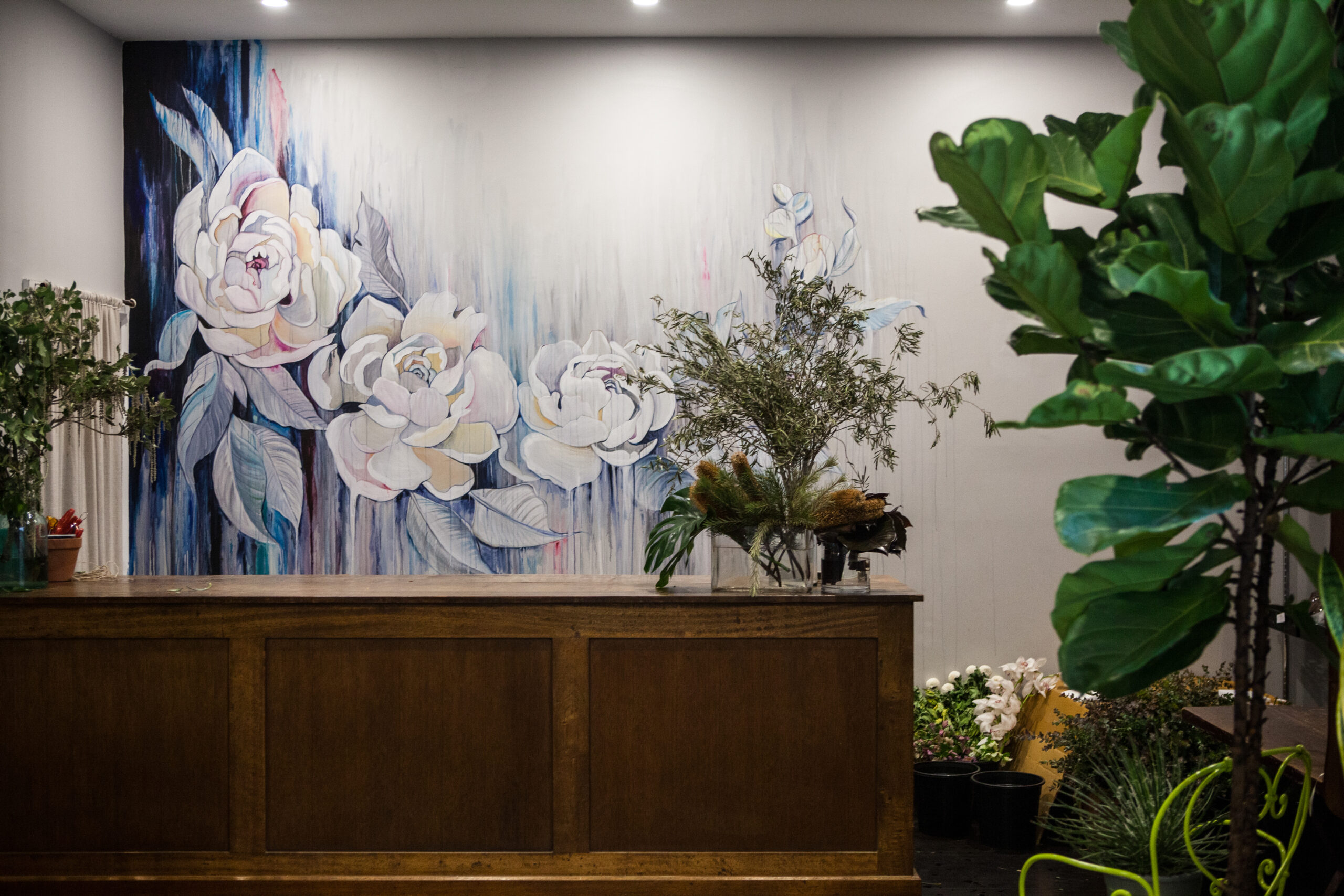 Almost everything you see in Babylon Flowers can be bought on the spot and taken home with you. However, as we weren't there for miniature ecosystems growing in glass terrariums, instead we took a seat in Sarah's consultation corner.
Babylon Flowers doesn't have a particular style they adhere to. Their aim is to get to know their clients personally, and really get a feel for what the couple envisions for their day. A consultation with Sarah from Babylon Flowers is simply a stepping stone to achieving your dream wedding flowers.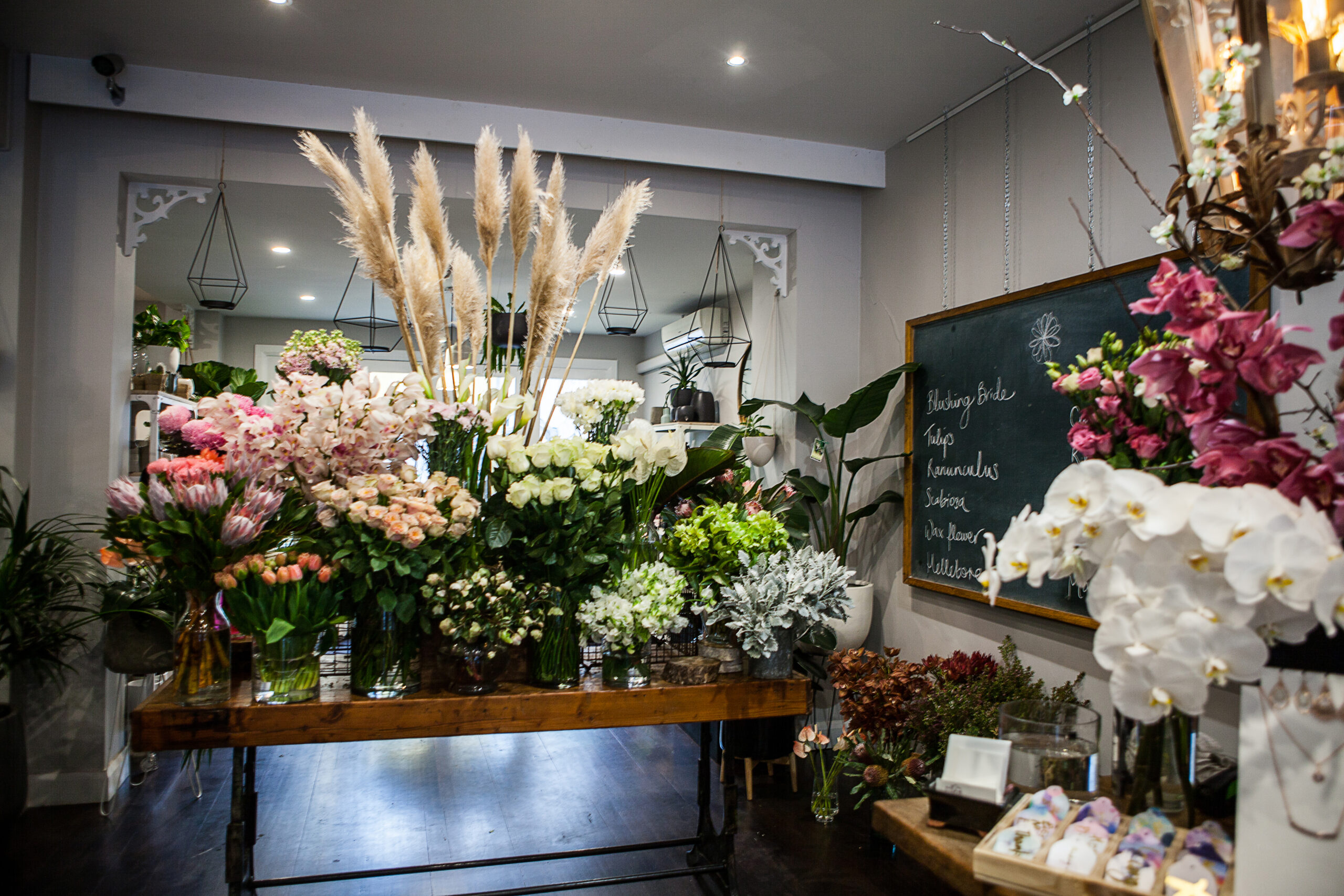 The 45-minute consultation is also great for couples to understand how far their flower budget can stretch, and what's hot in current wedding trends.
For 2017, Sarah believes the wedding trend of super-rustic is on the out. "It's all about modern, clean, blush, and minimal foliage," she explains. "Brides are choosing open roses, intricacy, and open full flowers. It's all about the little details." As for flower crowns, they have also seen their day according to Sarah.
We walked out of Babylon Flowers revitalised and content – if there's anyone you can trust to create floral art for your wedding, it's Sarah. The in-store experience is so reassuring – if Sarah can create this magnificence for her Sydney Road store, we can only imagine what she's capable of creating for our weddings.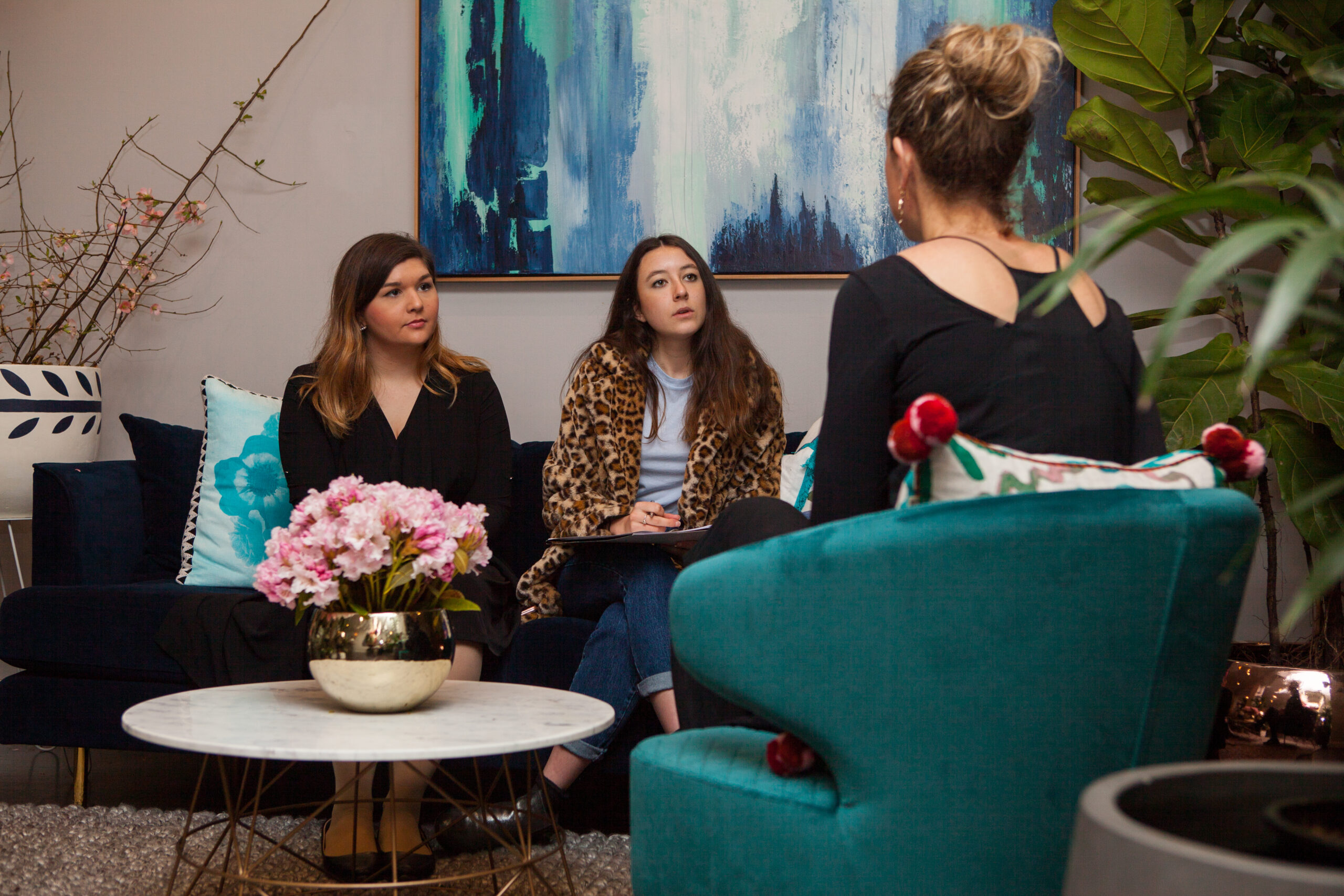 Kylie J Bridal
Where: 489 Sydney Road, Brunswick 3056
Our next stop was Kylie J Bridal – the go-to boutique for brides AND bridesmaids. The great thing about Kylie J Bridal isn't just the affordability of the gowns, but the down-to-earth and personable service provided by their team. We had the pleasure of speaking to Rabab Tarssissi – the designer at Kylie J Bridal.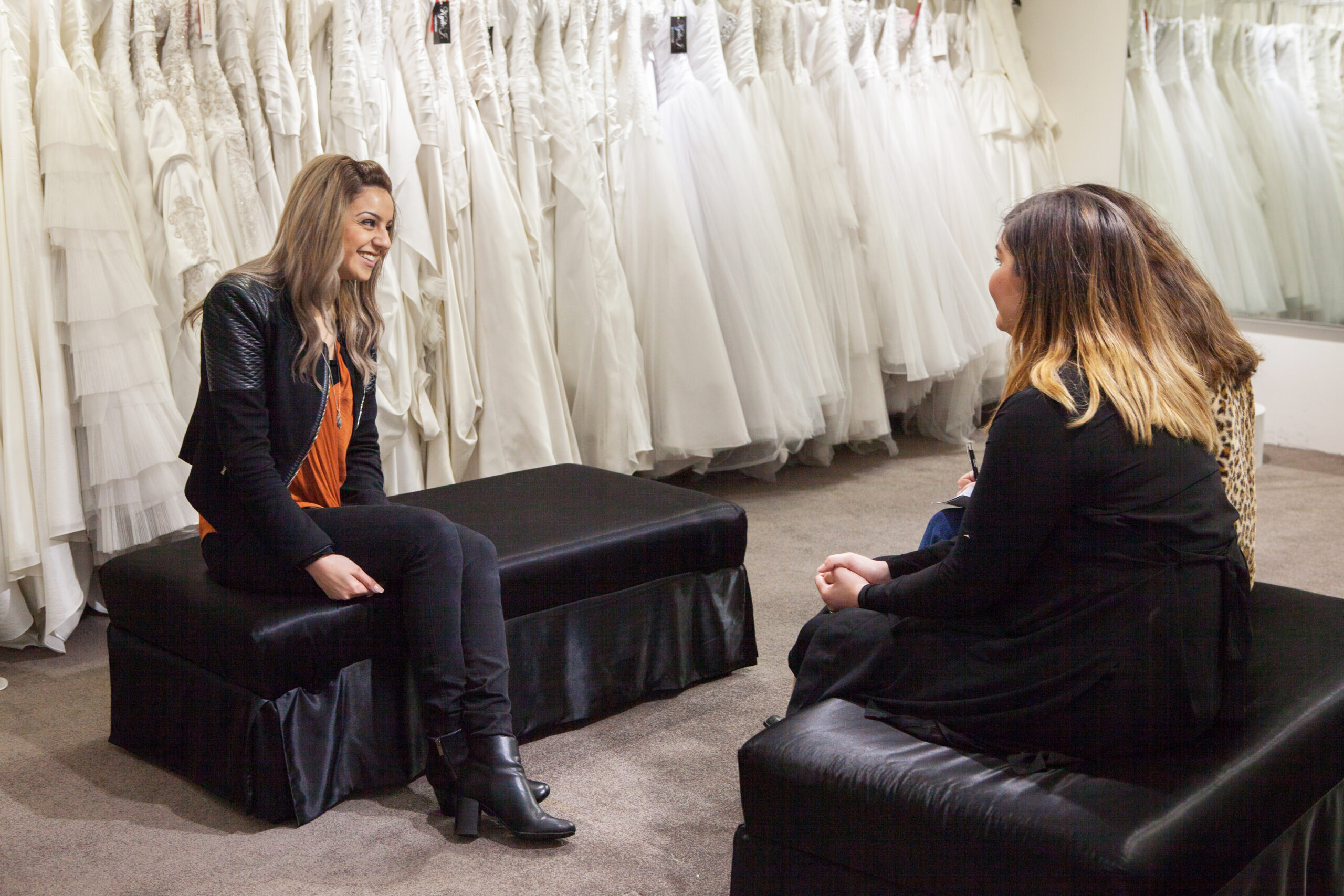 We walked in right off the street and can imagine hoards of brides and their bridesmaids doing the same while visiting Brunswick's iconic Sydney Road.
Though Rabab has 10 years of experience with Kylie J Bridal, she designed and made her very first wedding dress at the age of 16! Several years later, her neighbour wore that dress down the aisle.
Despite what the above and below photos may elude, Rabab believes Kylie J Bridal only has one white wedding dress in the store.
"It's in the back – we just bring it out to show brides the difference between white and ivory." According to Rabab, white is very draining on certain skin tones and can appear almost blue in photos.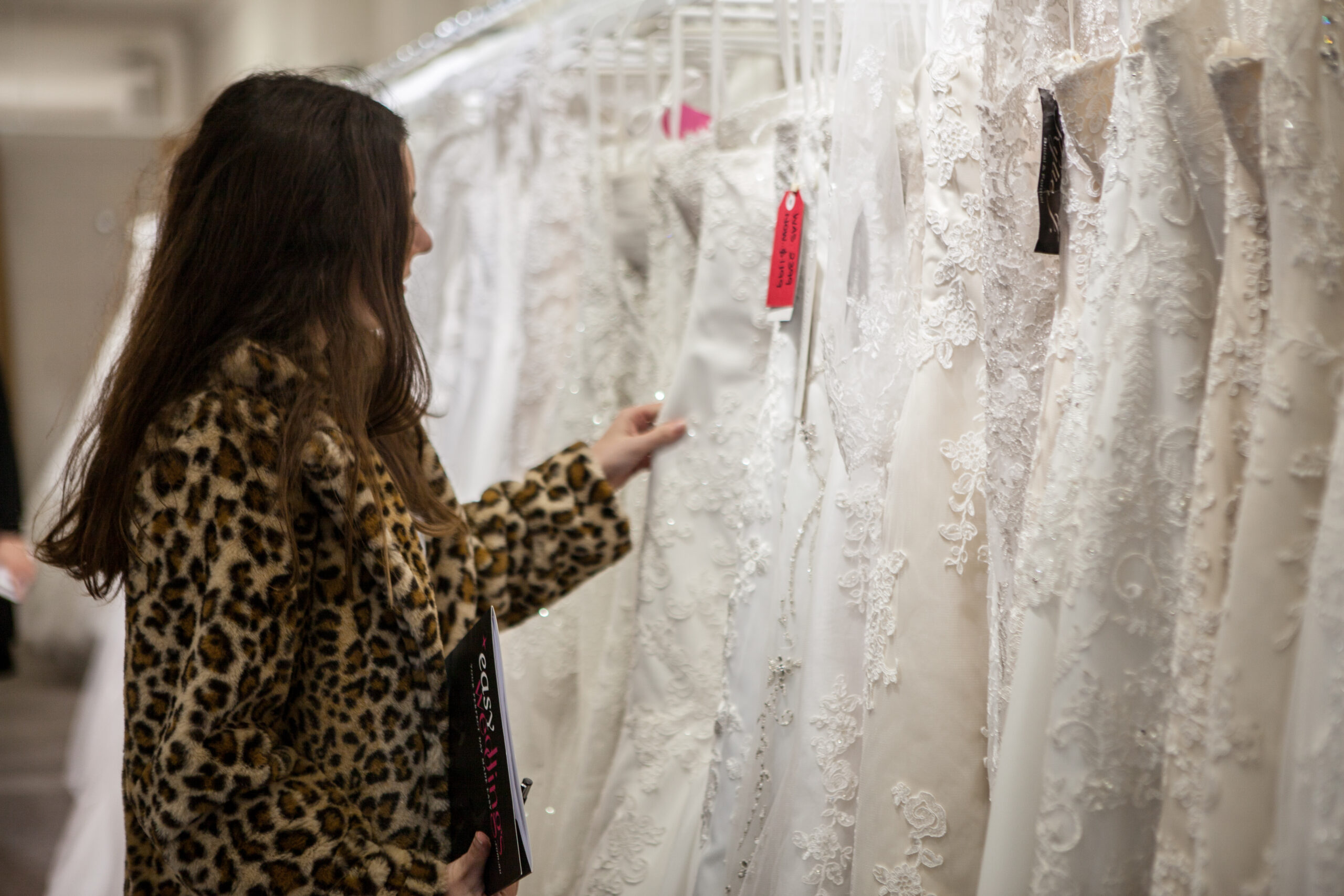 Ranging from $499 to $7,000 in price and from size 2 to 30, the majority of the store is made up of ivory and champagne gowns. The naked eye perhaps wouldn't pick the colour difference – however, pair that champagne gown with a crisp white shirt on the groom, and according to Rabab you have yourself a disaster.
"Brides just don't know – the groom should never wear white if you aren't. It'll make your dress look dirty!"
At Kylie J Bridal, the bridesmaids' dresses on offer seem to come in every shade of the rainbow – with dusty pink by far the crowd favourite. "It just works well on every skin tone," Rabab says. Pricing ranges from $99 to $299 – so there's something to suit every budget no matter who's paying!
When it comes bridesmaids, Rabab stresses that brides must order their girls' dresses at least three to four months prior to their wedding. This is to allow for alteration and any last-minute changes.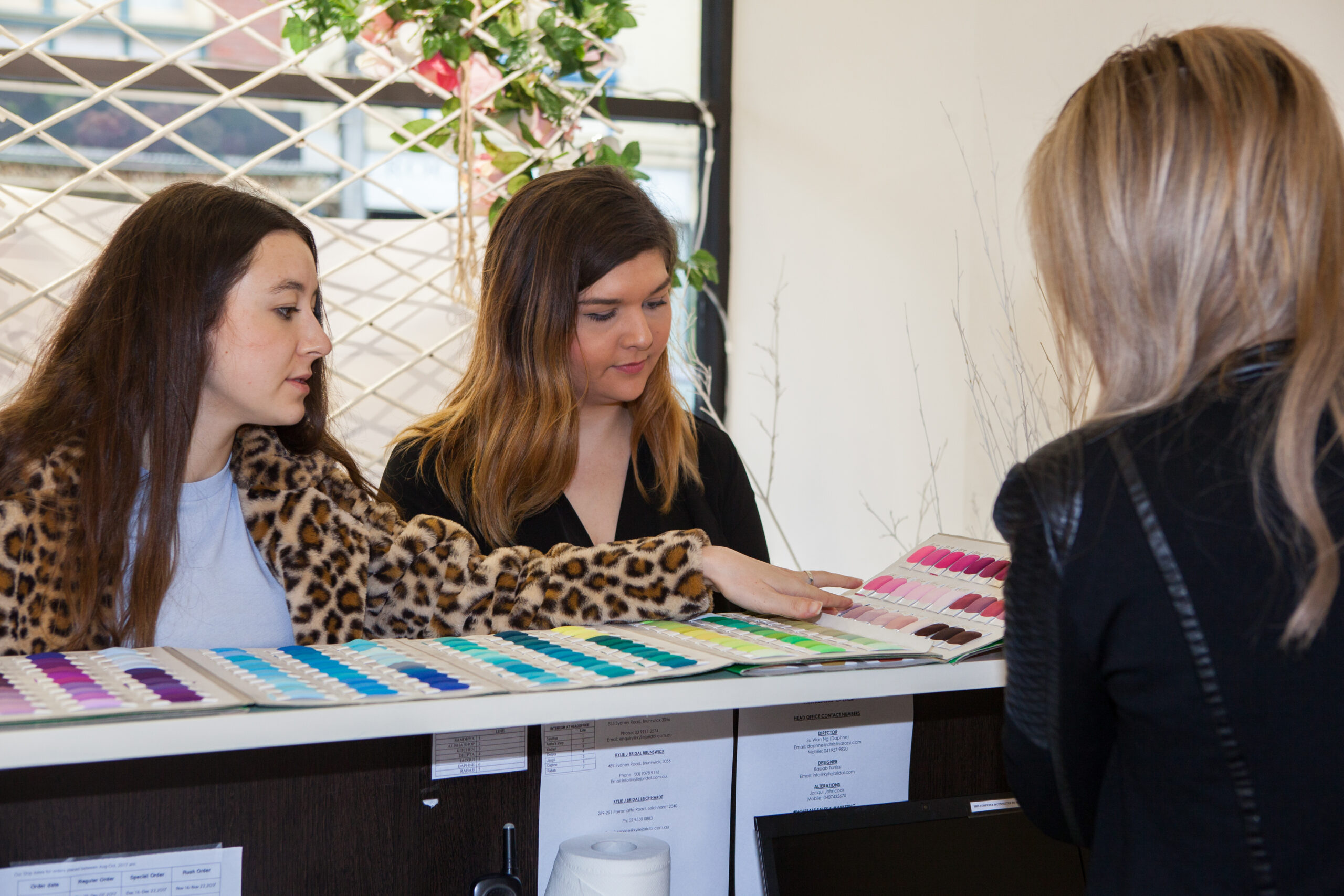 There's something truly special about Kylie J Bridal. Not only does the store shine (literally), its sales associates leave you feeling excited and confident about what's meant to be an extremely important – and likely stressful – day in your life. And we left feeling as though we'd made a friend.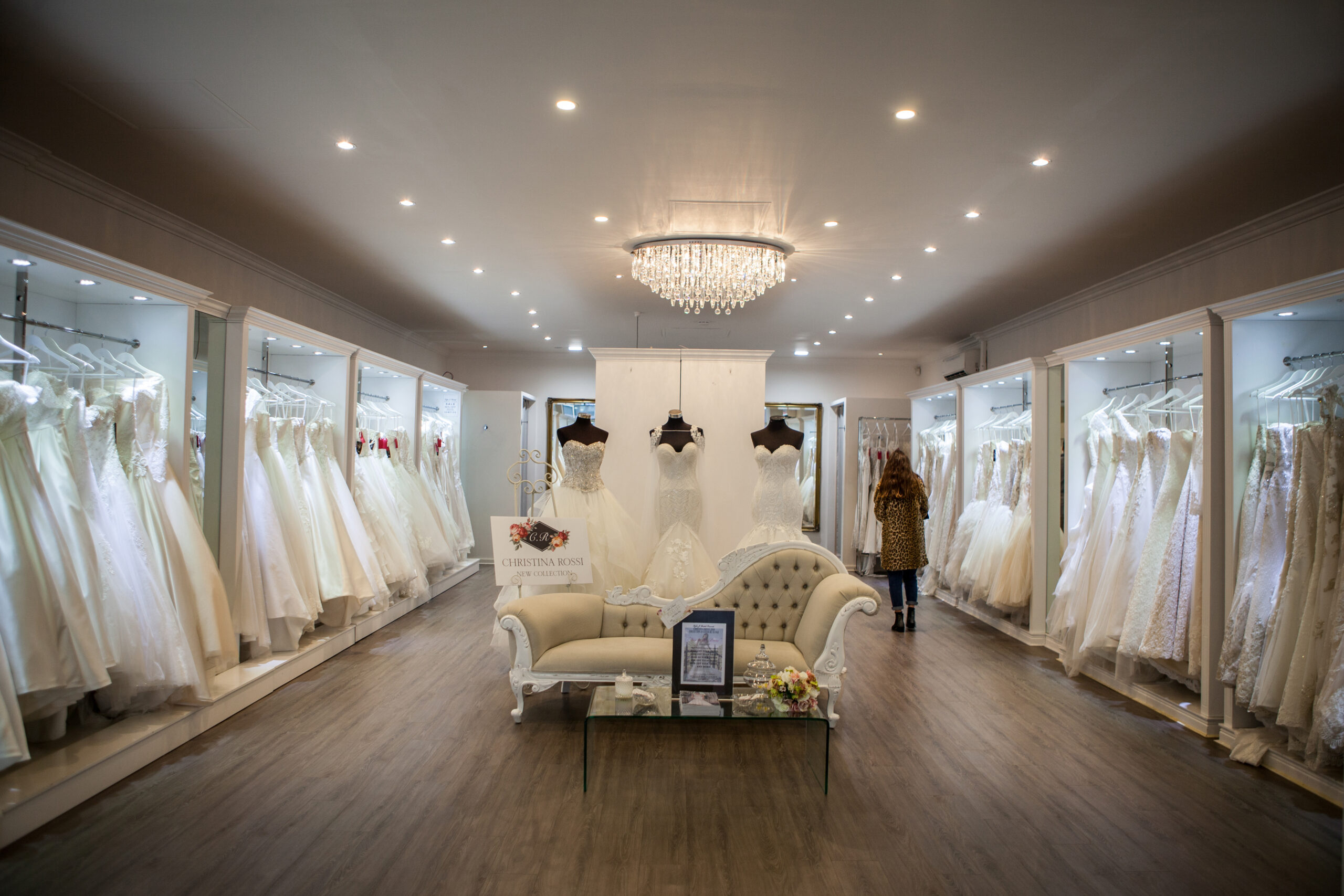 Where: 480 Sydney Road, Brunswick 3056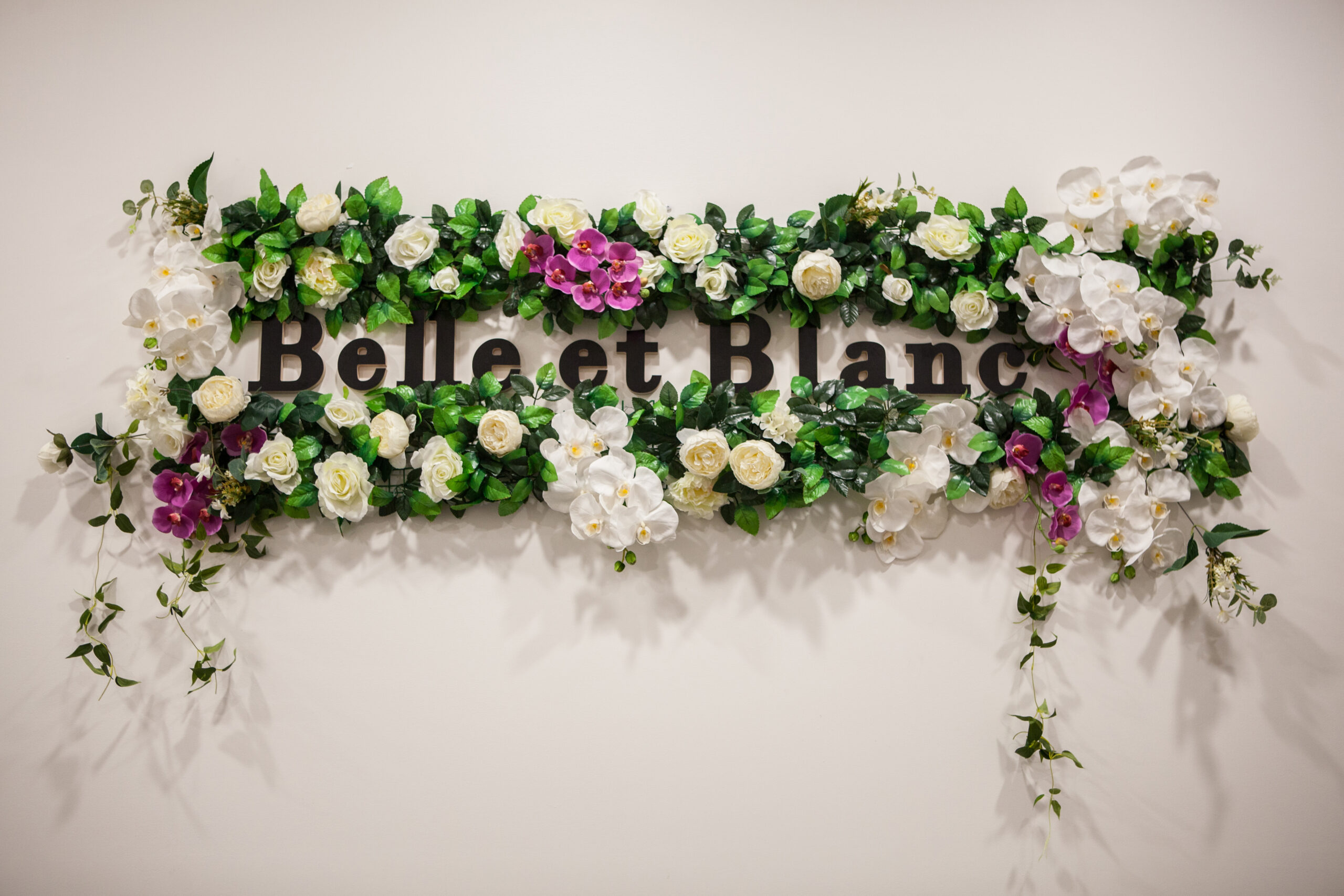 While quite a small boutique, Belle et Blanc is lined with exquisite gowns and you can just imagine how many dreams have come true within its walls.
The sales associates at Belle et Blanc exist to help you find your dream gown – not to force you into a dress. Prices here range between $2,000 and $5,000, and sizing ranges from AU size 6 to 16.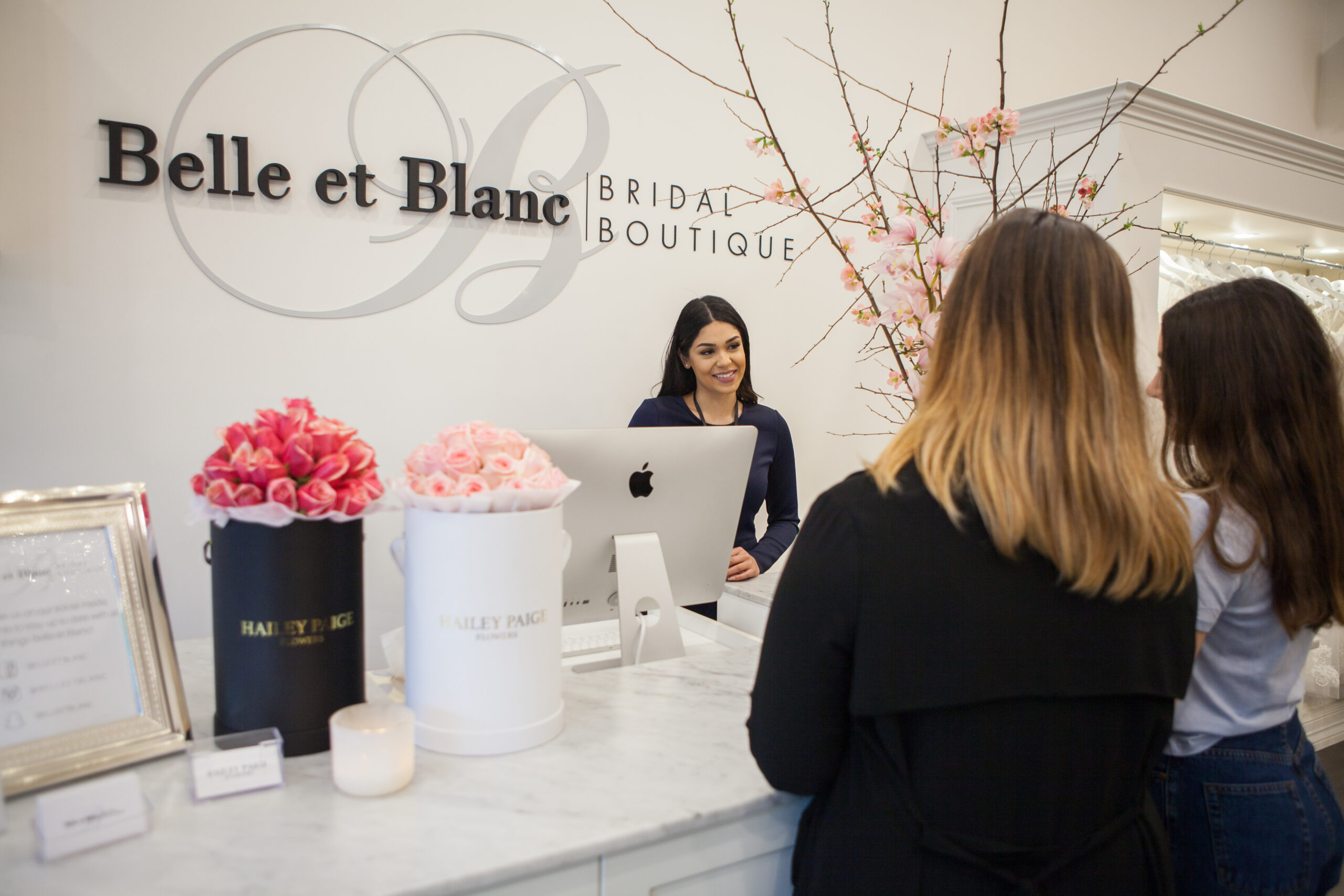 Stemming from humble beginnings with family in the alterations business, Rose from Belle et Blanc is now backed by many years of experience in the industry.
The girls here understand the trawling through social media the majority of brides do before setting foot in a boutique and so expect us to have some kind of style already in mind.
"We help by listening to the bride," says Rose. "At their one-hour appointment, we'll start with the styles she has in mind, and then move onto the ones that we recommend suit her figure better."
Like Rabab from Kylie J Bridal, Rose says they only have one or two white dresses in the store. She points to a move from white wedding dresses to those of blush, peach, ivory, and champagne. As for veils, they're still very much on-trend, though most brides lately go for a one-tiered veil rather than the two-tiered alternative that traditionally covers your face.
"The veil just perfectly complements the gown," Rose explains. "It serves no real purpose."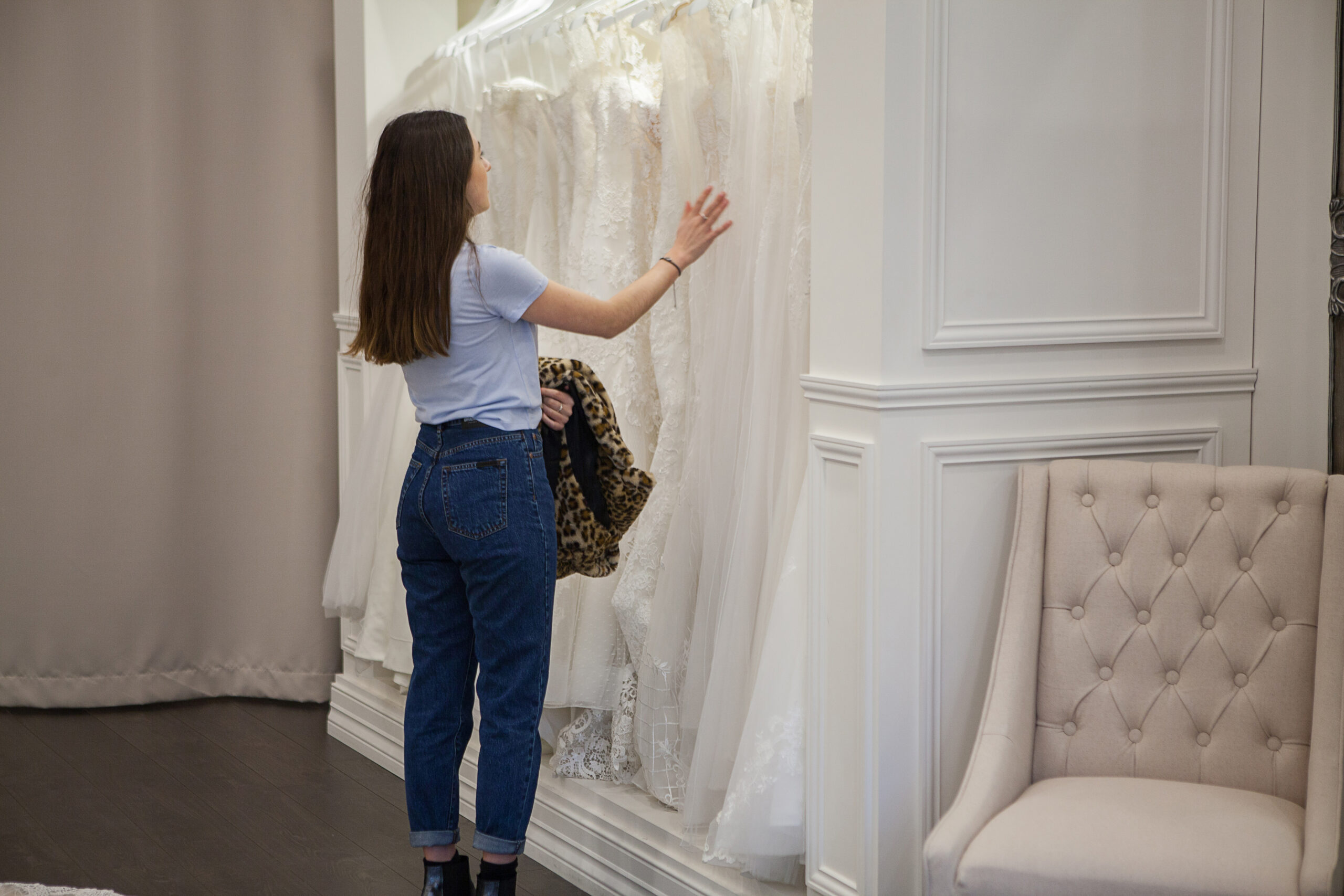 While the majority of gowns found in Belle et Blanc are highly embellished and detailed, the bespoke service allows brides to fully customise their dress. A longer train here and a shorter sleeve there, and you've got yourself your dream dress.
Rose recommends "the earlier the better" when it comes to searching for your dream wedding dress. "The minimum is six months," says Rose. "The more time you give us, the better."
The girls at Belle et Blanc are incredibly helpful and down to earth. There's no "Don't touch this" "Keep your hands away from that" vibe that sometimes comes with wedding dress shopping – the girls really do just want to help you into an amazing gown.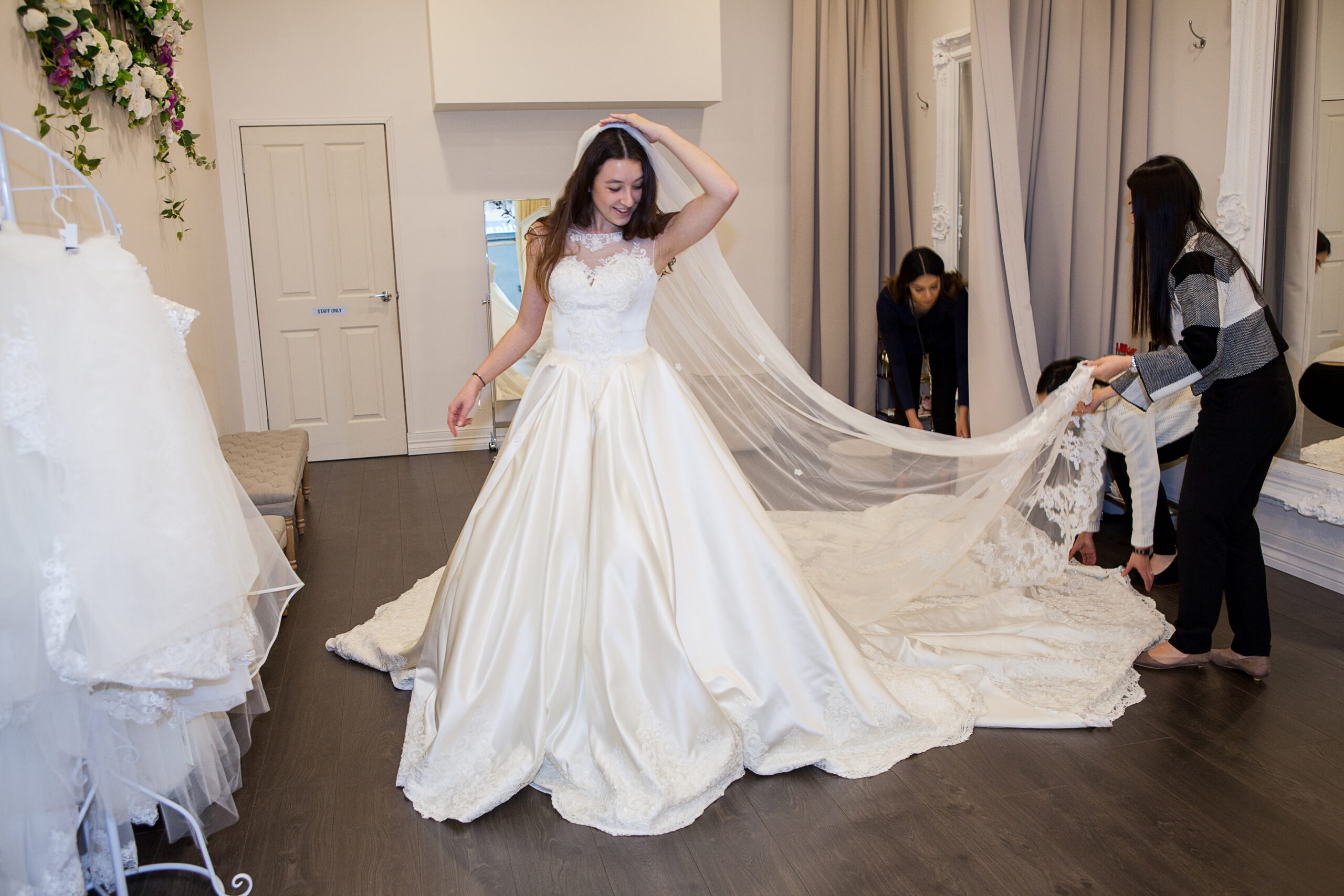 Jessicakes
Where: 18/459 Sydney Road, Brunswick 3056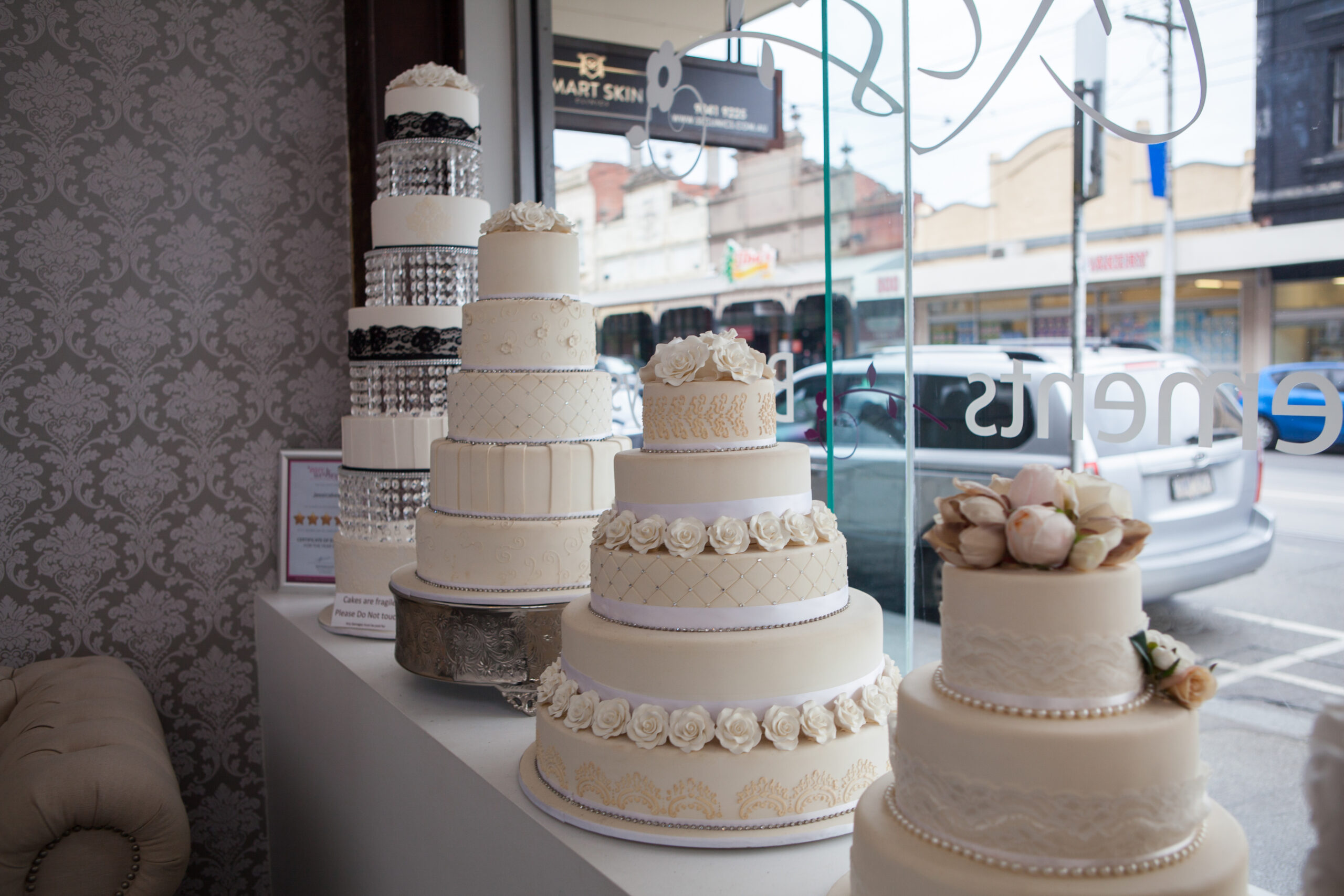 Jessica from Jessicakes (who would've known?!) says she'd stand on a podium and "bang on about cakes all day" if she could.
While originally studying a health science degree, and being a self-confessed savoury person by heart, Jessica fell into the cake business when a friend needed help at her own store. From there, Jessica learned on the job and even worked as a home economics teacher before finally opening her own store – Jessicakes.
From the outset, it's obvious Jessica knows her cakes. "Bride and groom cake toppers are dead. Cupcake towers – dead. Fruit cake – dead." According to her, 2017 is all about marble and metallics – a step toward the modern and clean look with sharp edges and tall narrow cakes. Naked cakes, Jessica says, is so 2016.
She's on point with the latest wedding trends, and Jessicakes even stocks same-sex cake toppers!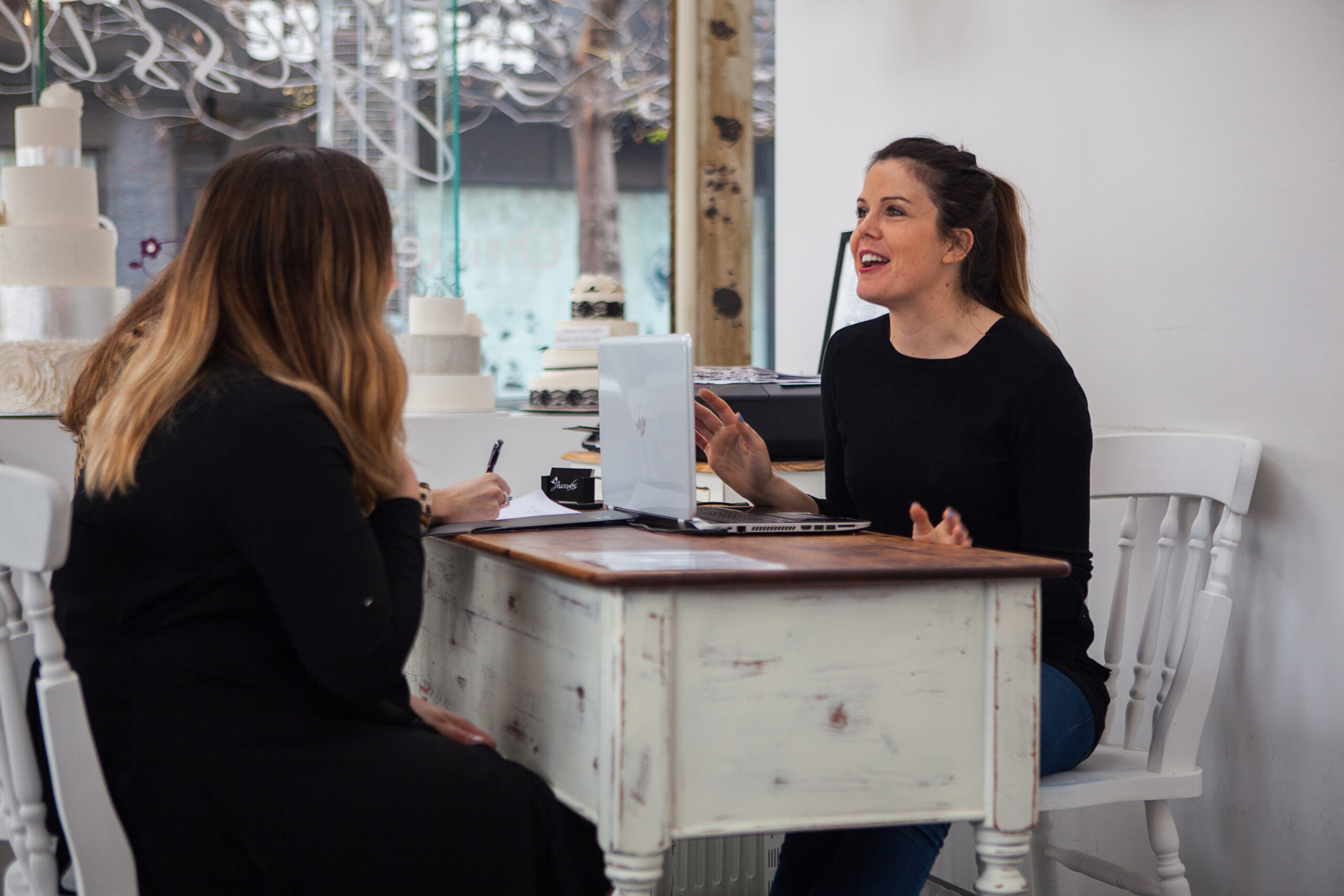 While hilarious and incredibly personable, you can tell Jessica runs a highly professional wedding cake business. Creating masterpieces in line with the client's expectations, Jessicakes strives to begin baking and have made your wedding cake by the Friday before your event.
"I don't bake and freeze," Jessica says. "I won't give away my secrets, but I bake at a low temperature for a very long time. Sometimes as long as six hours!" This gave us the impression Jessica always puts her all into her cakes, creating something absolutely fresh and special for your wedding.
And when it comes to flavours, Jessica's favourite is strawberry with white chocolate ganache. When we asked what couples typically choose for their wedding dessert, Jessica points to a variety of different cake, icing, and sauce flavours. However, according to her, "You wouldn't put strawberry coulis with caramel cake – we're not savages!"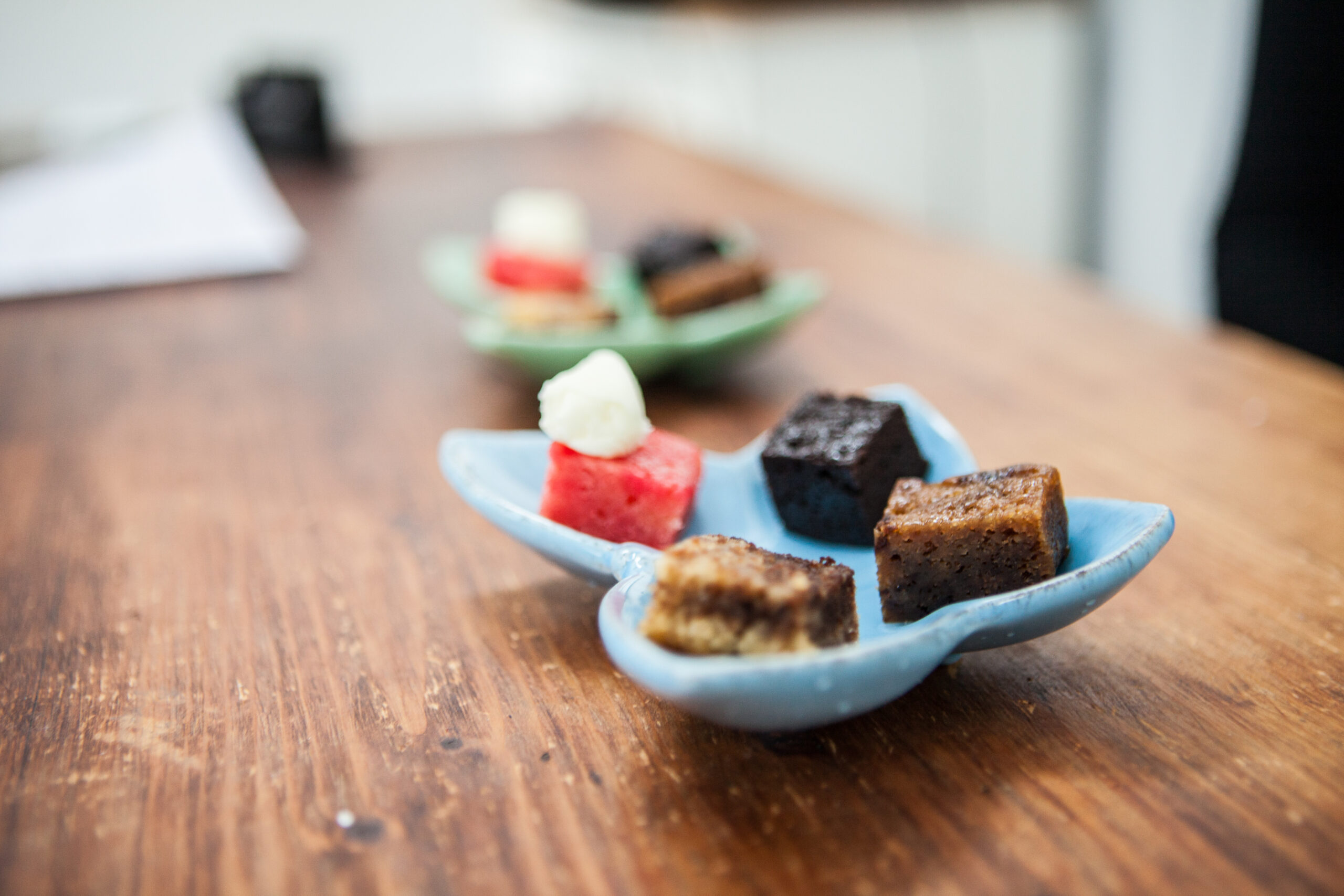 We practically rolled out of Jessicakes with the amount of cake we consumed. The in-store tasting experience is crucial when purchasing a wedding cake, because how else will you know the inside of your cake tastes just as good as the outside looks? That's why Brunswick's Sydney Road Bridal Precinct is the whole package – one minute you're trying on tiny corseted dresses and the next you're stuffing your face with wedding cake. It just works.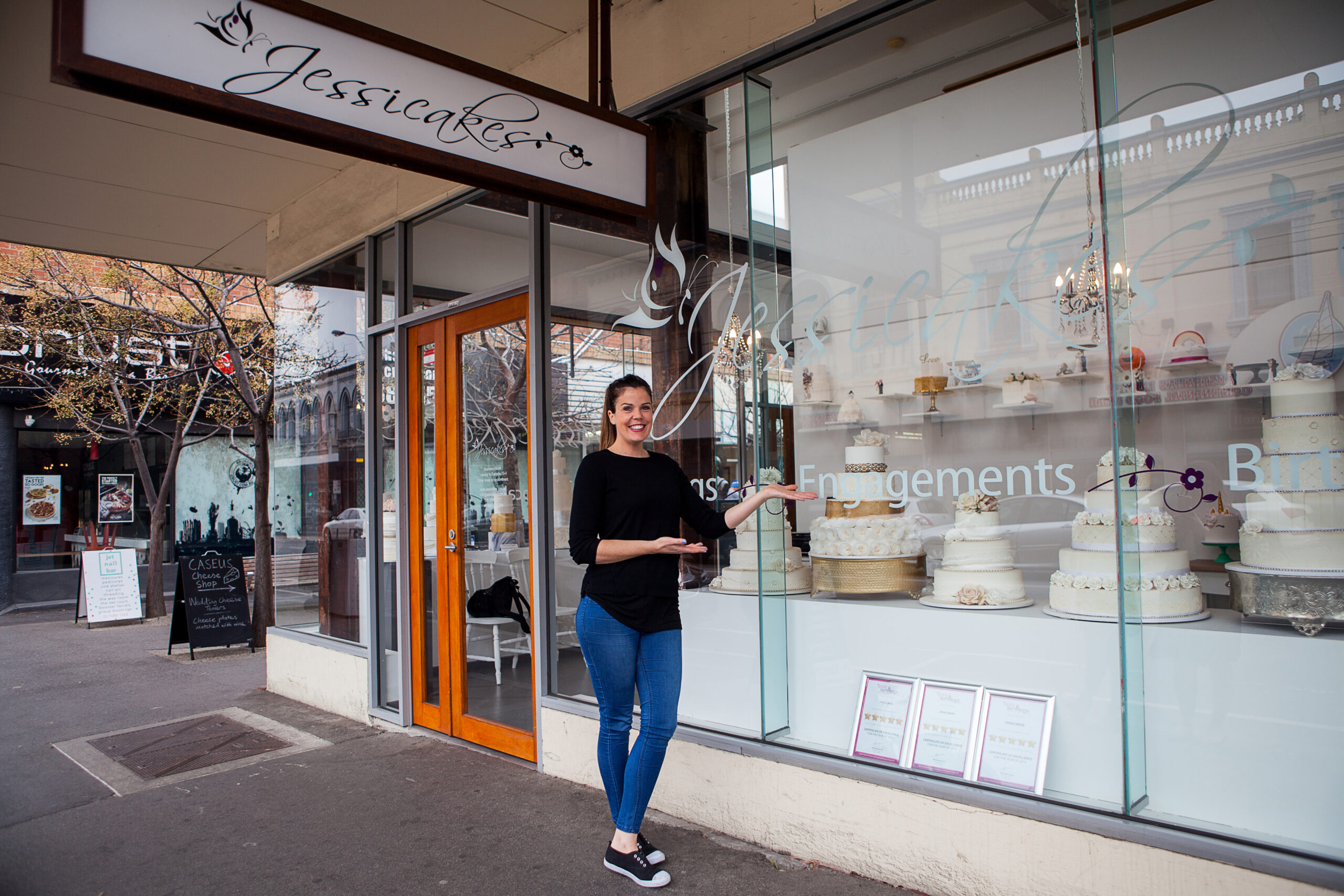 Where: 606 Sydney Road, Brunswick 3056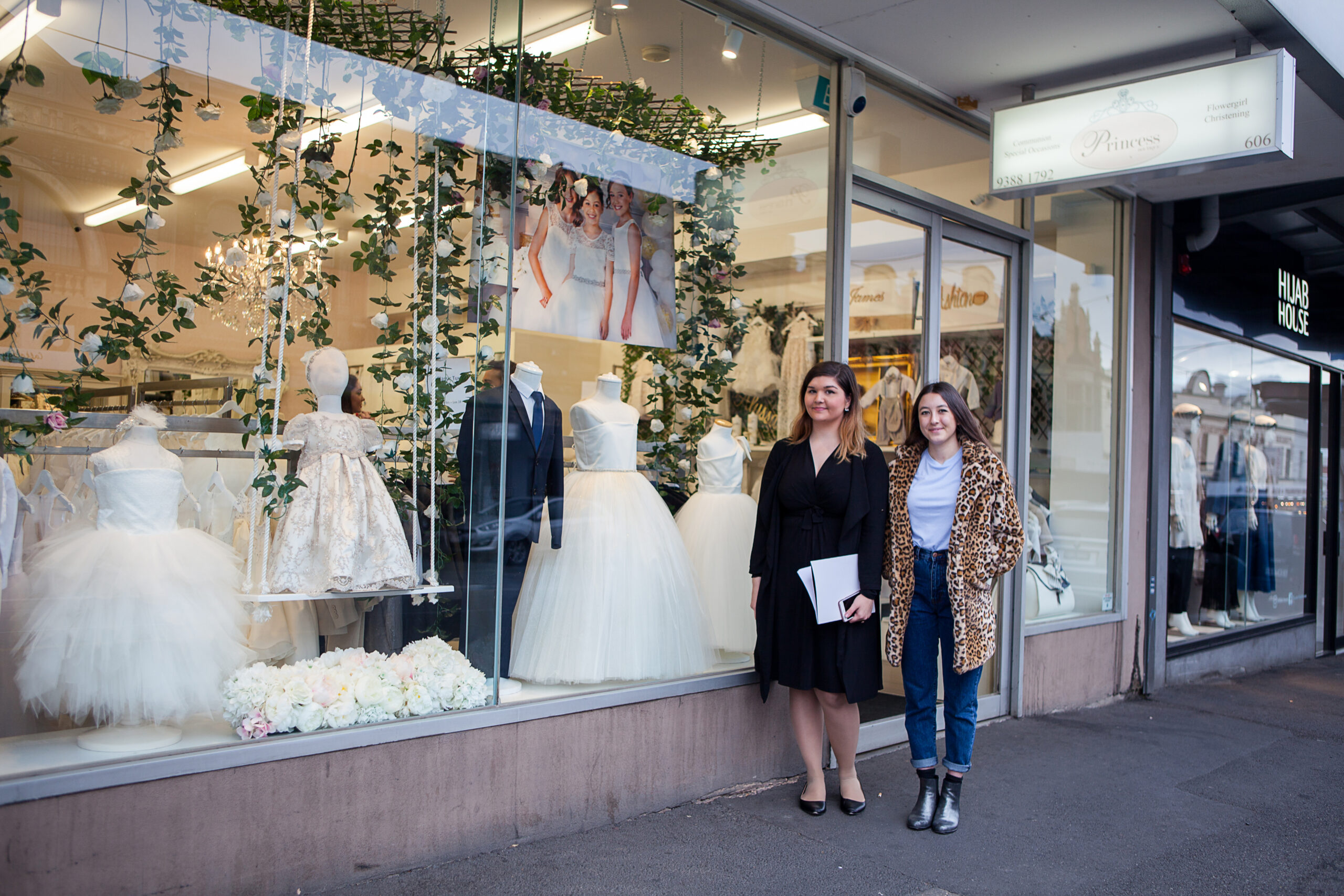 Though neither of us has children, it's incredibly difficult to walk past Princess Boutique without 'awww'ing until you somehow find yourself with a reason to enter the store.
Vicki, the proud owner of Princess Boutique, has experience in the wedding industry quite literally running through her veins. As her sister owns another of the Sydney Road Bridal Precinct stores, Vicki created Princess Boutique when she saw a demand in the market for flower girl and page boy outfits.
Princess Boutique can only be described as a little girl's dream. It's not difficult to imagine how many children delighted in 'playing dress ups' within their store, and how many brides left happy with their flower girl outfits.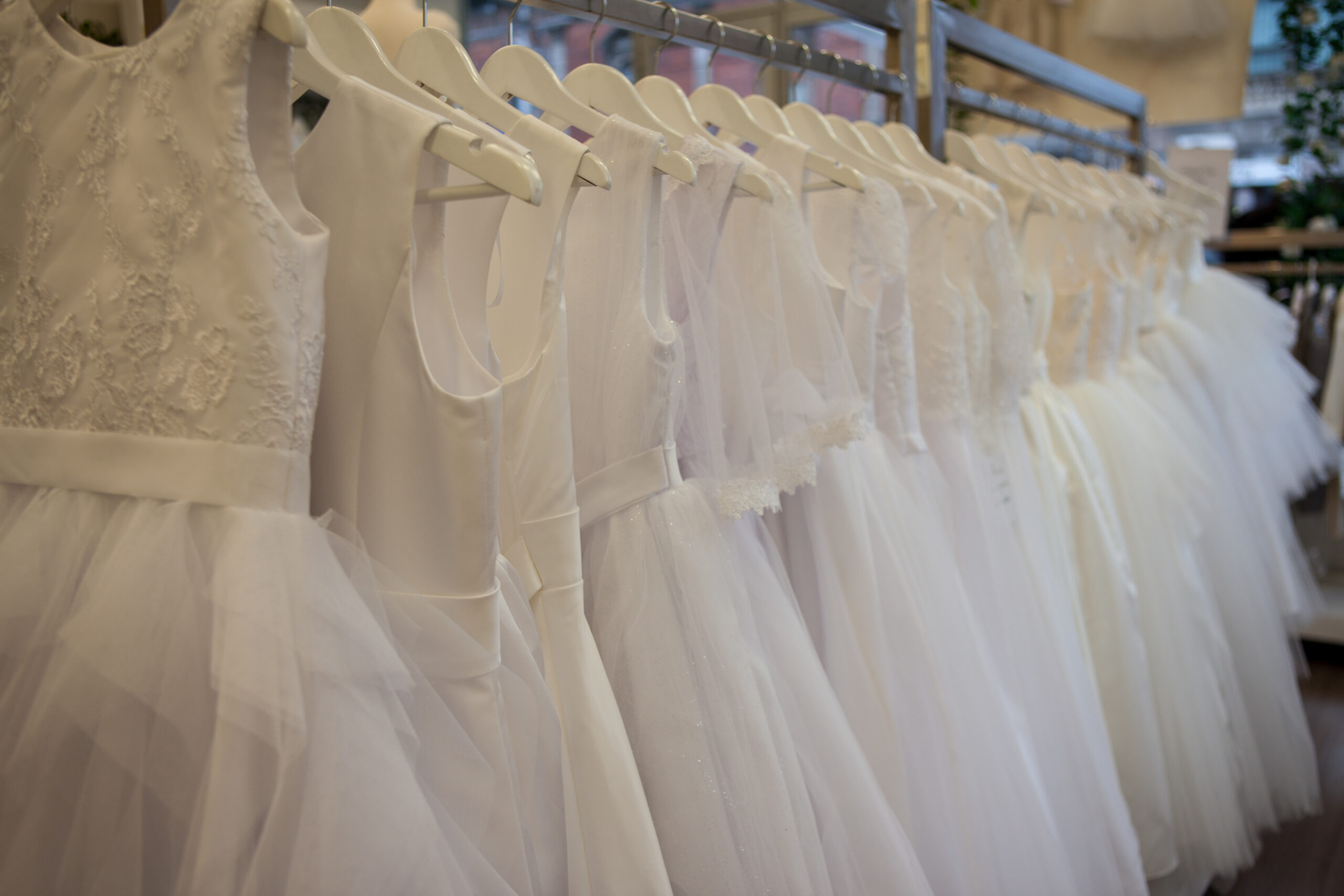 The incredibly helpful sales assistant, Evie, showed us her favourite flower girl dresses. "The big tulle skirts are the most popular," she explained while showing us the 'Princess Lucy' design. "The idea is to mirror the bride's outfit."
When it comes to page boy suits, navy and charcoal are the colours to go for.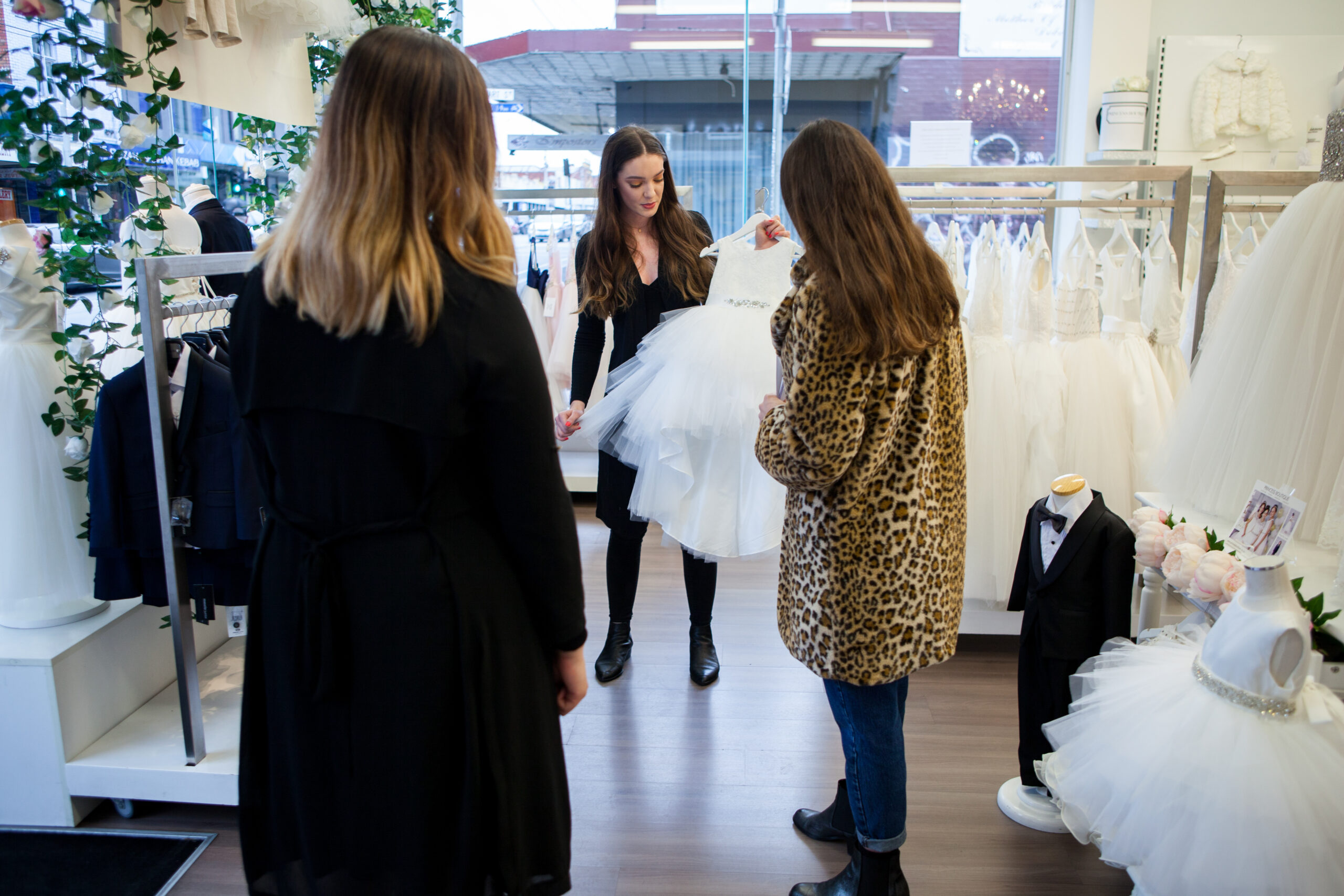 The great thing about Princess Boutique is their ability to tailor children of all sizes, and brides of all budgets! Sizes range from 00 to children's size 16 to 18.
And, with the convenience of their location within the Sydney Road Bridal Precinct, it's best to just walk on in to fulfil your flower girl and page boy needs (and who can resist the adorable little outfits!)
Where: 558 Sydney Road, Brunswick 3056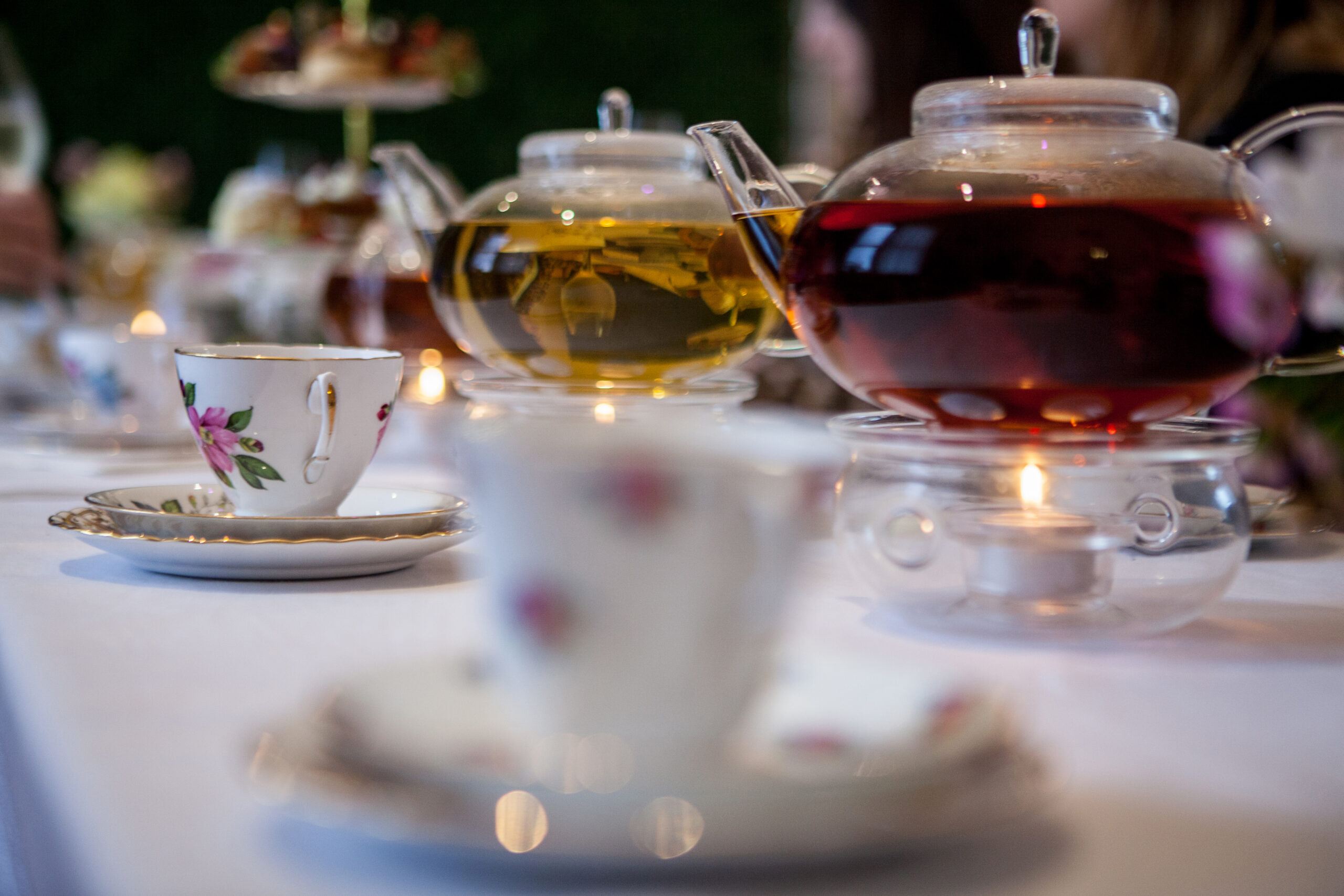 To wrap up an incredibly gruelling day of bridal shopping down Sydney Road (I'm joking – it was great), we rejuvenated the way any self-respecting bridal party should – with high tea and champagne at Mary Eats Cake!
Sarah, the co-owner and tea sommelier of Mary Eats Cake, joined us for an afternoon of indulgence in one of three exclusive tea rooms. You can't help but feel any stresses within simply disappear with the first bite of their famous jam and cream scones and, our personal favourite, their seasonal-special chocolate teacup filled with a delectable orange nougat mousse.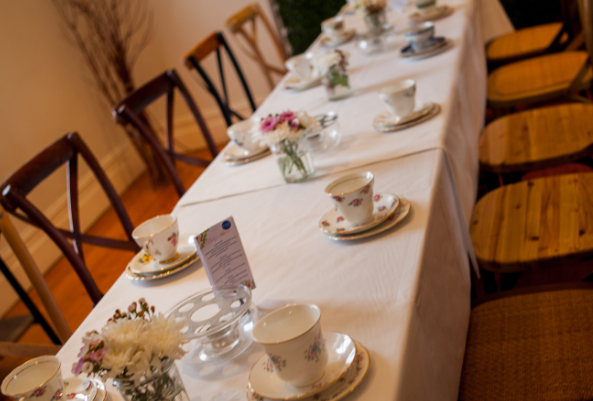 There's something sophisticated and classy about spending a lavish afternoon indulging in champagne and fresh delicacies with your favourite girlfriends – even if you do plan to hit the town for a trashy night out afterwards. That's why Mary Eats Cake is the perfect place to begin your hens night!
"The experience of high tea lends itself to celebration," Sarah explains. According to Sarah, the modern bride loves to customise and personalise everything, and Mary Eats Cake allows them to do just that! In this exclusive tea house, brides can bring their own decorations and create a space that goes with their wedding theme and personality. It's all about celebrating your way.
Sarah points to a move from trashy hens nights to the more classy alternative. "You can have your mum and your grandma here. It's something you (and they) will always remember and cherish."
Groups can book the tea rooms from Mary Eats Cake for a minimum of two hours. If you are thinking of booking with Mary Eats Cake, get in quick! Bookings must be made three months in advance as high tea this immaculate can't simply be whipped up.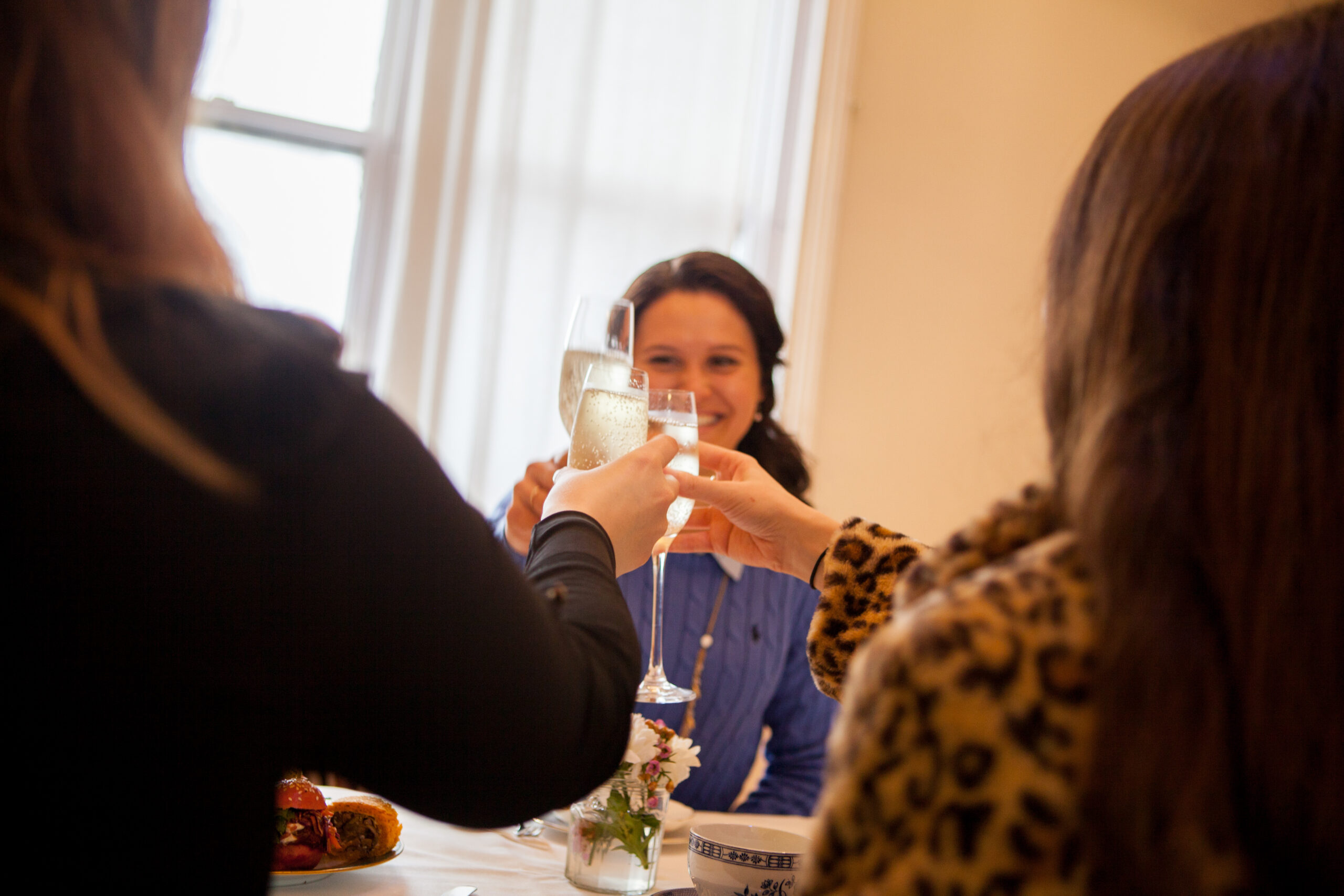 "Sydney Road tailors the entire wedding journey. It's more fun. Everything's in one location."