We couldn't let October go without some Halloween inspiration. If you are all over Day of the Dead and trick or treating, you came to the right place! If you don't like scary things, don't worry, this is a safe space and the only sorcery and spells here are love-related! So keep on scrolling to find some spooky wedding ideas for Halloween lovers and alternative couples.
Themed weddings are the way to go for many couples looking to express themselves and do things differently. And just because you're having a themed wedding means that it can't be your version of elegant and romantic! It's all about the choices you make and for that inspiration is the key!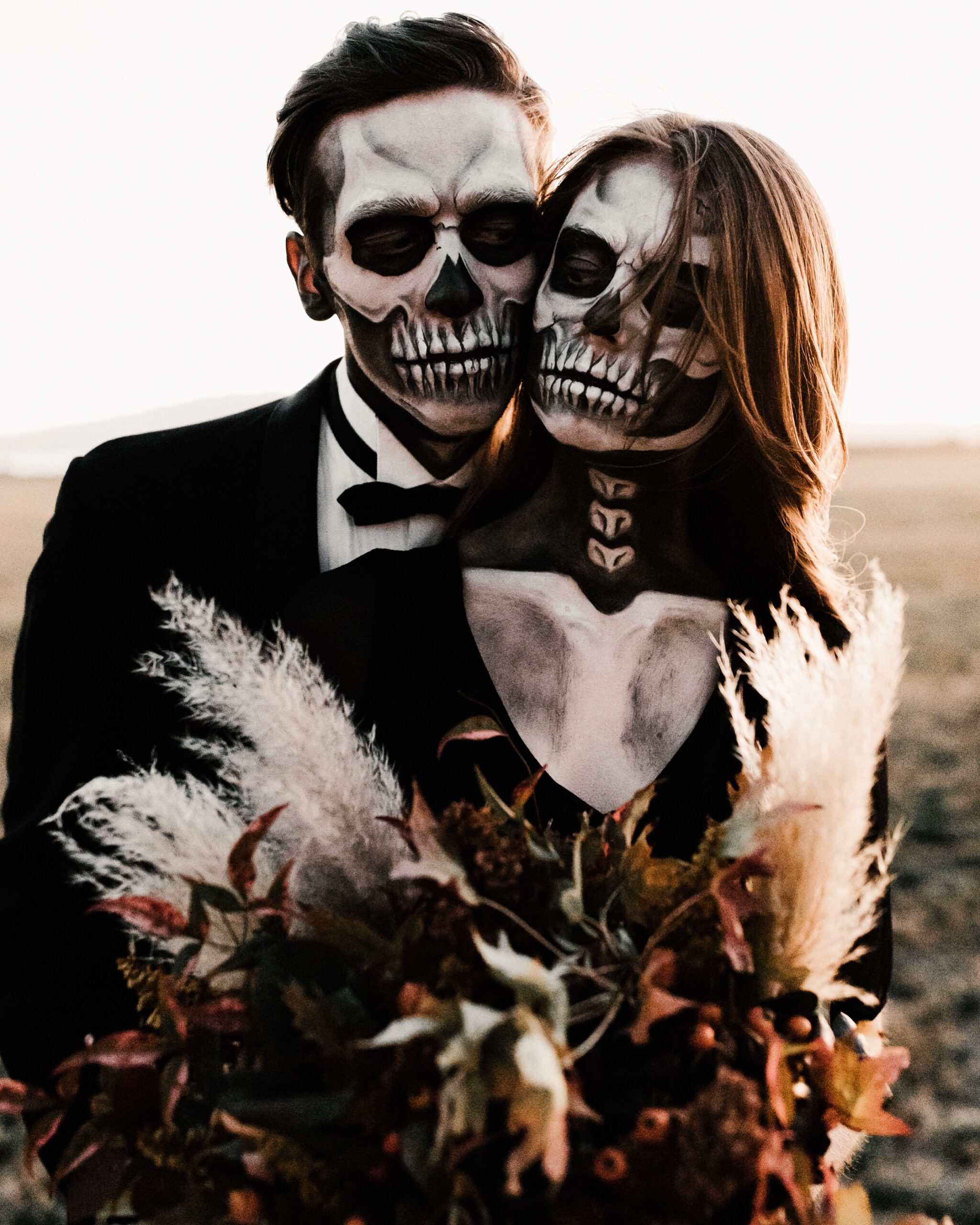 The look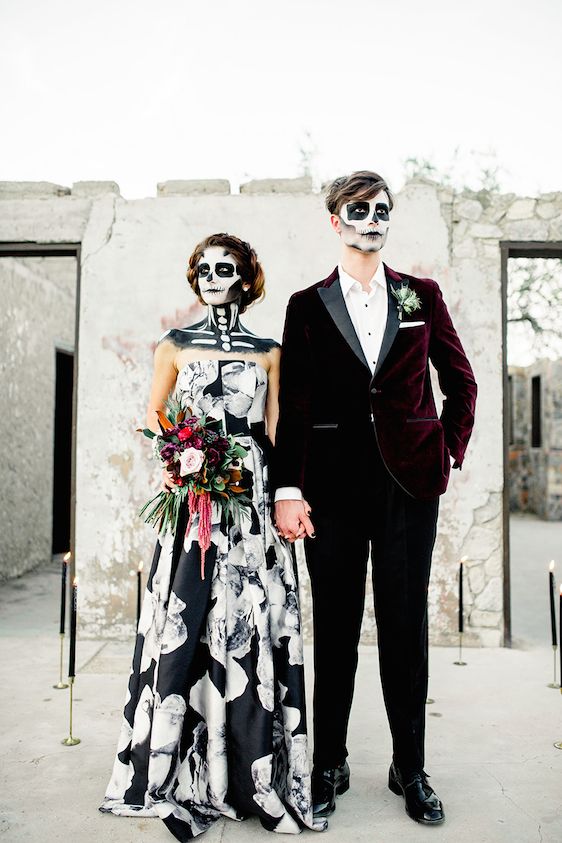 For this gorgeous editorial, the groom wore a deep purple jacket with an unbuttoned shirt that complemented the bride's black and white Monique Lhuillier gown.
The rings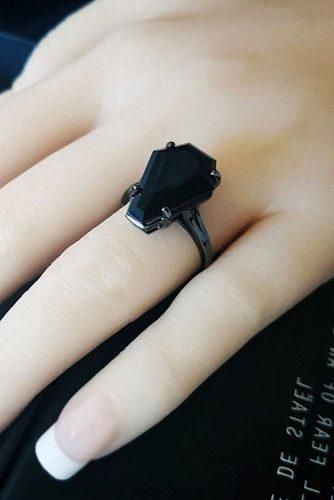 If your soon-to-be bride is a total spooky babe, this 'Winter' natural black onyx in 14k black gold coffin cut twist ring by Sapphire Studios Design could be her dream (or nightmare?) ring!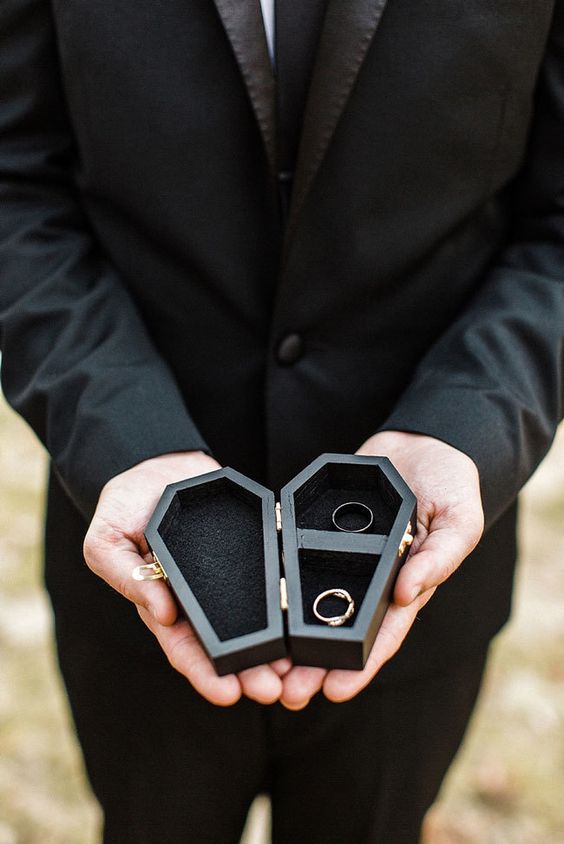 It's all about the details! This lovely little coffin ring box is the perfect little accent for a ring bearer.
The bridesmaids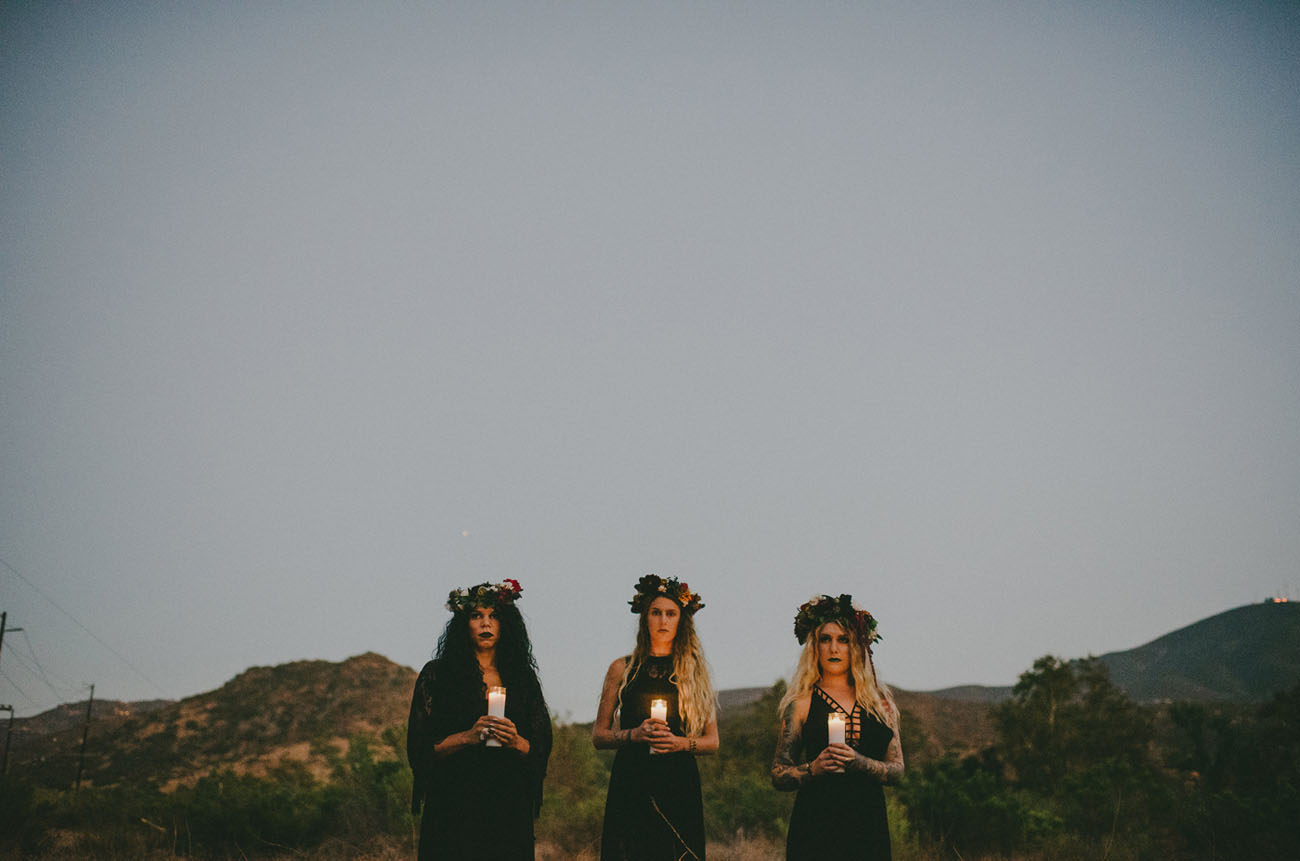 Your bride squad could look more like a coven! With black dresses, dark lips and floral crowns. And what if you switch the bouquets for candles? Even more dark and moody.
The ceremony
This super moody decoration couldn't have a better backdrop than a misty mountain. The image is completed by a leafless tree, candles and rugs to set a spooky mystery mood.
The reception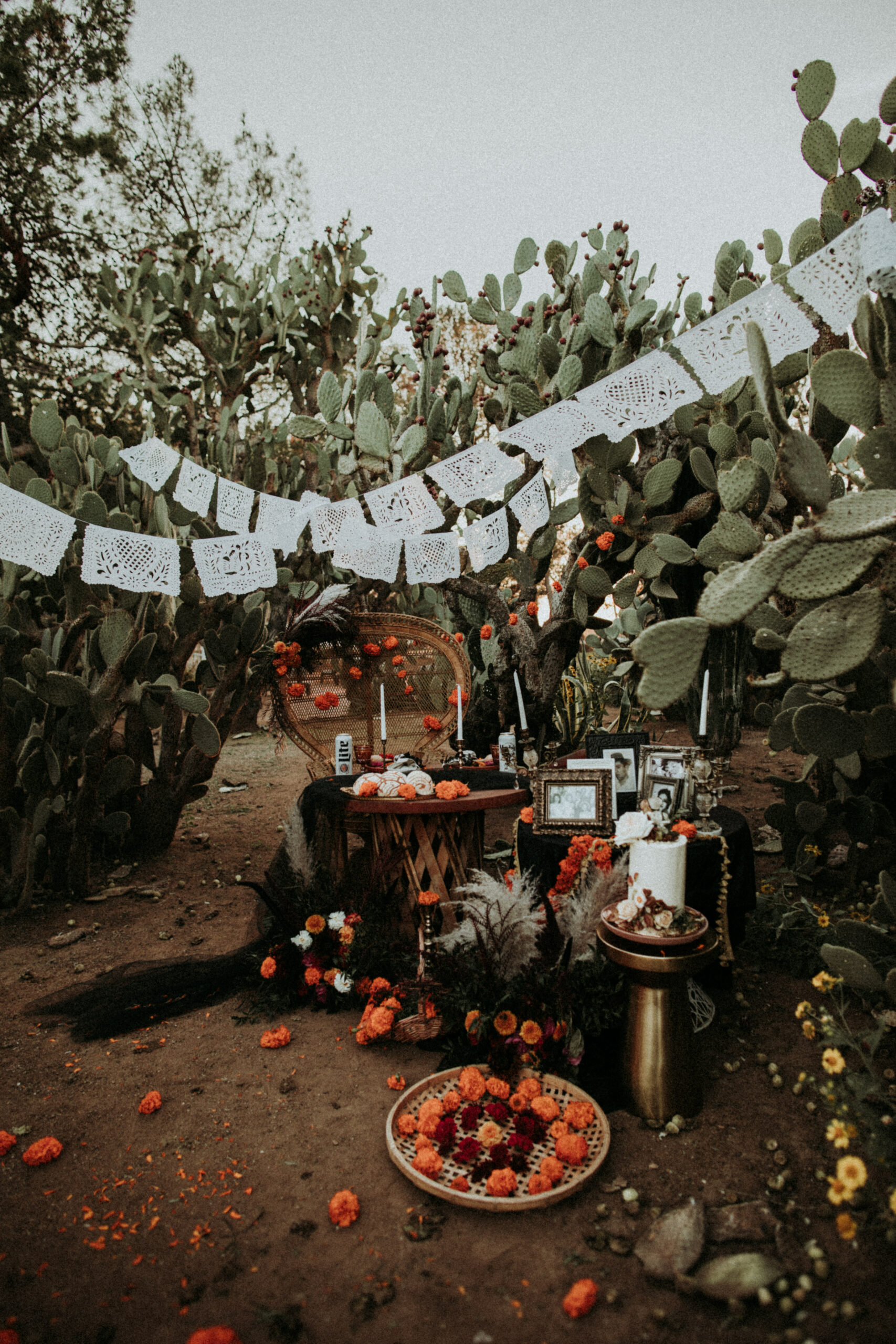 If your biggest inspiration is the Day of the Dead, this gorgeous traditional styling could be your go-to decoration. Keeping traditions alive, using photos from your loved ones who passed away, candles and cempasuchil flowers (Mexican marigold) your reception could be something heart-warming and ghostly. Also, you could cater Mexican food to stick with the tradition!
The table set-up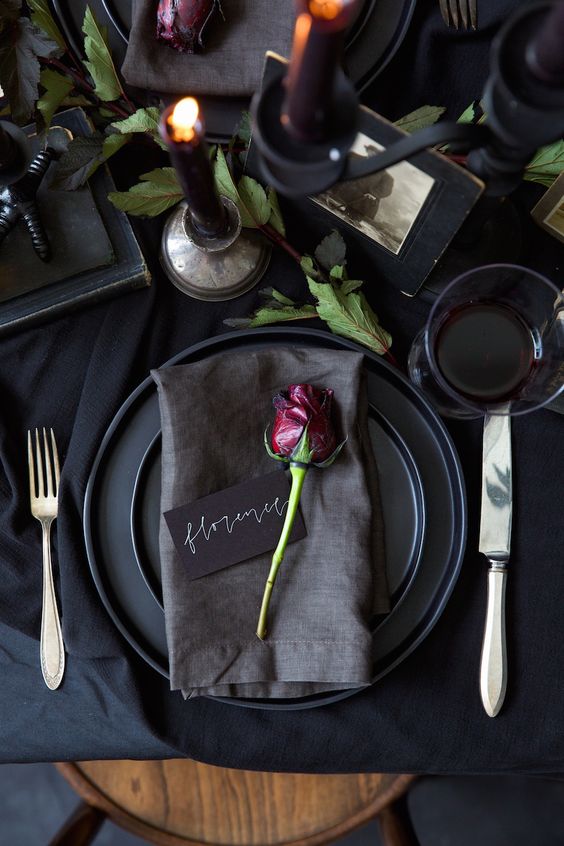 This black-on-black table set-up by Chanel Dror, is the perfect combination of dismal and elegance. The red rose brings romance to the table (literally) while the rest of the styling sets a dark moody vibe.
The invitations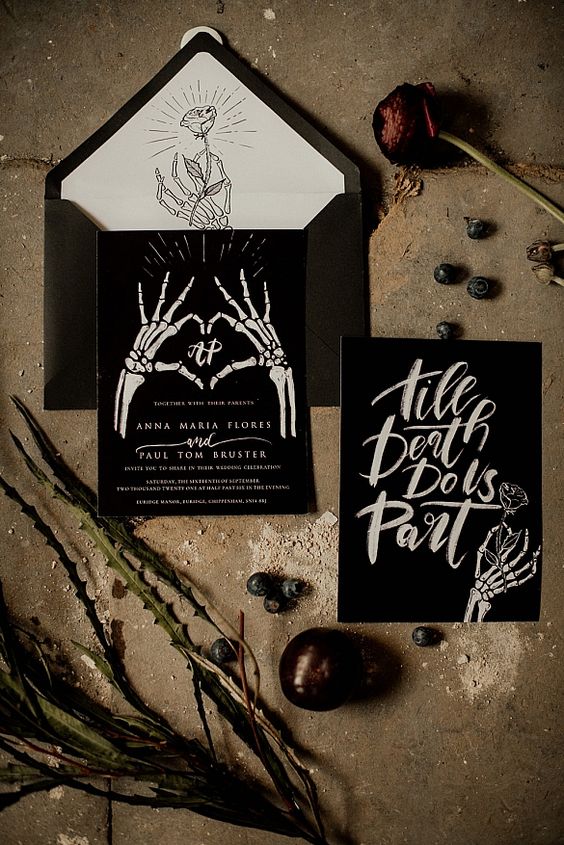 Your wedding invitations are the first hint of what your wedding is going to be like, so setting the theme/vibe is one of things you should consider when choosing your design.
These stunning hand-made calligraphy invitations, are to die for! Elegant, dark and gorgeous, and definitely will set the bar high for your big day.
Your bridal table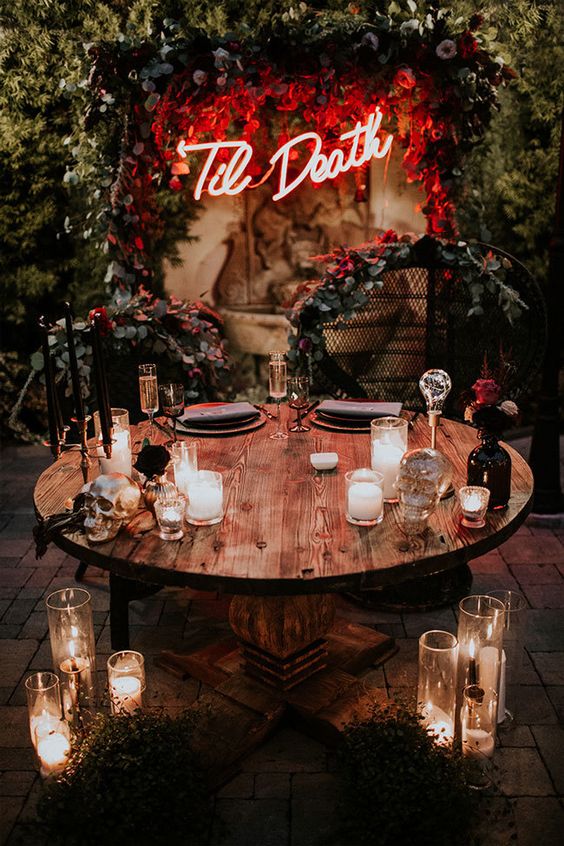 Last but not least, your bridal table. This beautiful styling by Joy n' Company Events, could be the perfect inspiration for the first table that you and your significant other will share as a married couple. Completed with a 'Til death neon sign.