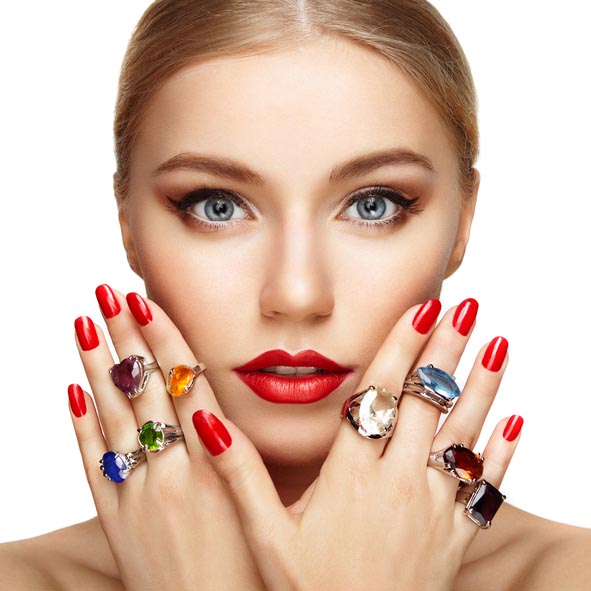 Congratulations on your engagement! Your journey up the aisle is an exciting one that, generally, comes along just once in a lifetime.
However, once that ring is on their finger, some brides and grooms find it one of the most stressful periods in their lives – but it doesn't have to be.
Planning your wedding day is a wonderful, wonderful thing to do. Yes, there's a lot to do, however, it's up to you just how simple or complex your big day is because, at the end of the day, you really only need three things to get married in Australia: two people, a celebrant and the appropriate paperwork filled out before and after the wedding.
So, now that you're engaged, where to start? At the beginning, of course.
The first two steps are interchangeable because, once you announce your news to the world, the first question they're going to ask is, 'when's the big day?', so do what is best for the two of you.
Your friends and family may want a say in the date (especially if babies are due or people are coming from overseas etc), so perform steps 1 or 2 in the order that you're most comfortable with.
Also, keep in mind that there are plenty more steps, things like setting a date for an engagement party, choosing your bridal party and, perhaps even, insuring your engagement bling. For a complete list, see here, however, below are the key steps that must first be done.
Announce your big news to the world
Instagram, Snapchat and Facebook may seem like the best communication mediums through which to announce your engagement to the world, but they're also highly impersonal – and once you've done it, the entire world will know. It's only polite to let your friends and family know first, especially if your significant other has gone down the traditional route of asking for your hand in marriage.
Take the time to trawl the phone book calling close friends and family members before logging into your social media profiles, sending a mass email or making the traditional engagement announcement in the newspaper. After all, it is your close friends and family who will be most happy for you and your partner to be.
Set an in-principle date
As mentioned, after the hugs, kisses and, sometimes even, tears of joy, you'll be asked about a potential wedding date. It's inevitable and, even if it changes down the track, you'll need a rough date in mind even to start your basic wedding planning and, of course, to invite people who may have to travel or make arrangements to be at your wedding (or in your bridal party, which is a huge commitment itself).
So, by setting an in-principle date prior to making your big announcement will not only sate the curiosity of friends and family, it will also help you and your partner begin preparing emotionally and financially for the next milestone on your relationship journey.
Sign up (for free) as an Easy Weddings bride or groom
Regardless of where in the world you are, EasyWeddings.com.au is an award-winning online wedding destination that, if you're in Australia, can put you in touch with more than 4500 wedding suppliers, from wedding dress designers and cake decorators to some of the country's most talented wedding photographers and florists.
It's also free and, if you're from overseas, our free tools, which includes a HUGE pre-wedding checklist, will ensure you won't miss a single step in your journey up the aisle.
You can sign up here – and it takes less than a minute!
Aside from our fabulous forums, which are chock full of brides and grooms-to-be who will help you in your journey up the aisle, we offer the latest wedding news, tips, tricks and trends and we've even got a free iPad app which contains all the tools so you can plan your wedding on the go.
And, don't forget to 'Like' our Facebook page where you can join more than 24,000 brides and grooms from across the globe to discuss everything wedding related – as well as share your own stories and ask questions.
Start a wedding fund
Now that you've made the announcements and celebrated with friends and family, you're bound to want to jump headlong into planning for the big day.
Unfortunately, regardless of how big or small your wedding is, you're going to need some savings set aside, especially if you've dreamed of a big old grand wedding.
This takes us back to setting an in-principle date, as this will dictate so many things, from the dress you wear (a fluffy gown simply won't do in summer) to when you wed, since marrying during the peak wedding season in your area will be more expensive than marrying off-peak.
There will likely be some way to go financially before you can afford the wedding of your dreams. So, once you've set a date (of sorts), open a joint bank account into which you'll both pay an agreed amount per month towards your wedding fund. You'll soon see it grow into something substantial, which in turn will give you a better idea about the kind of wedding within your grasp.
Of course, this only applies to couples paying for their own weddings. If family or friends are pitching in, you'll need to include them in on your plans and discuss who'll be paying for what and by when.
PS: Don't forget to sign up for your free Easy Weddings gift registry. It's the easiest way to let your guests know what you need – and the easiest way for them to find gifts you'll love!