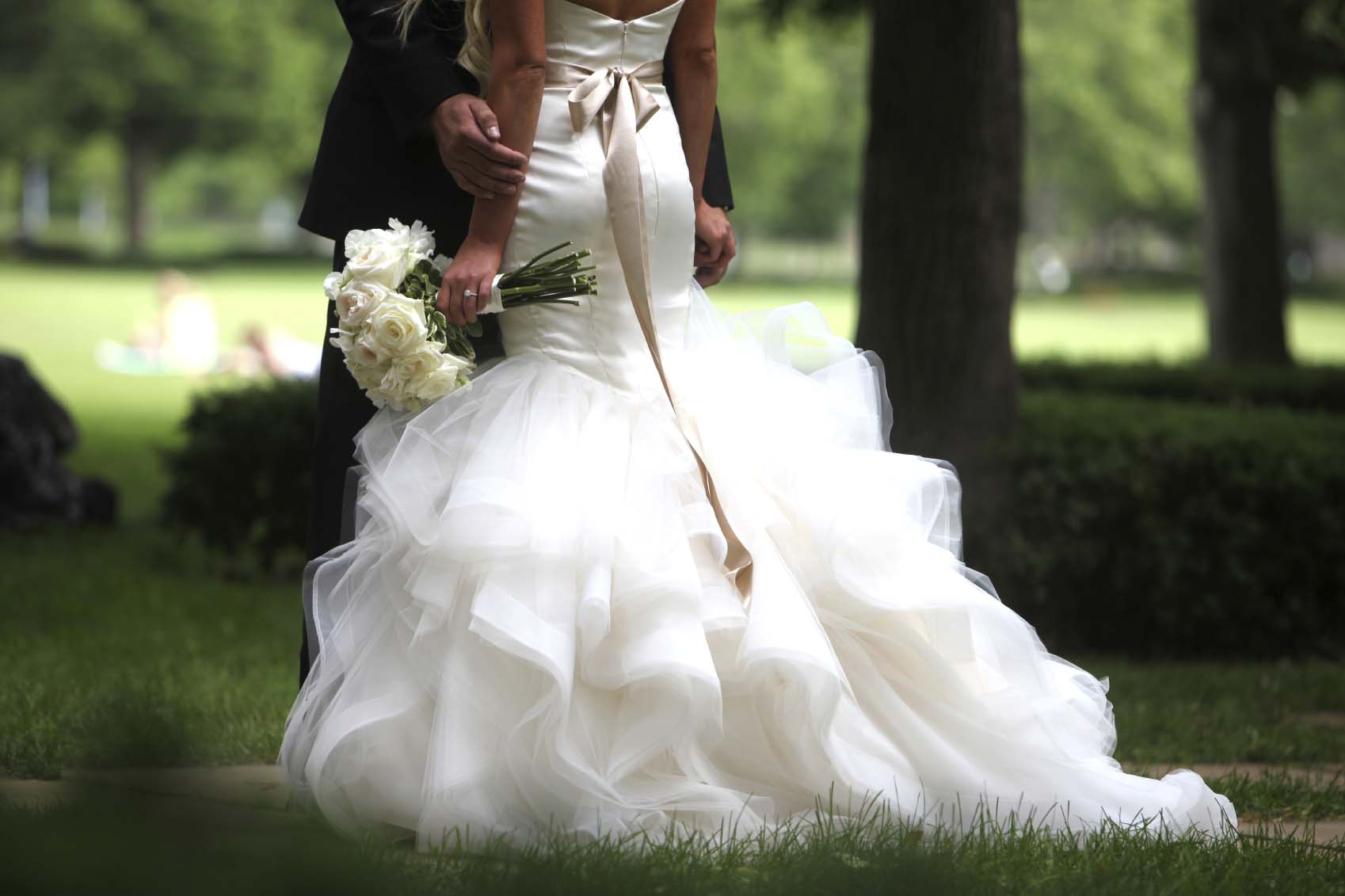 Whilst it's true that purchasing a pre-loved wedding dress can save valuable dollars, for many brides it also means they can wear a dress that represents a prior era, or perhaps a snag a limited style or vintage couture frock.
However, despite the many benefits of purchasing a pre-worn wedding dress, it is important to ask the right questions before you make the decision to purchase a gown that has been worn before. Here are ten questions to ask about pre-loved wedding gowns before you buy:
What was the original price?
Knowing the original price of the gown will help you to decide if you are getting a good deal. Some brides will advertise this up front, whilst others might try to hide it if they want to get as much money back as possible. If you know who designed the dress you should be able to get a good idea of the original price, and if you suspect the seller isn't being honest with you, ask to see the original receipt.
Has the dress been cleaned?
You might think that you would rather have the dress cleaned yourself to be sure it is done properly, but wedding gowns should be cleaned as soon after the wedding as possible. Most brides will get a few marks on their dress, and stains caused by sweat and spilled food or drinks may turn yellow and become permanent very quickly.
[ew-supplier-carousel]
How has the dress been stored?
Unless you are buying the dress immediately after the seller's wedding, the seller would have stored it for at least a few months. If it has been sealed in a plastic bag the dress may have been damaged by trapped moisture. Ideally wedding gowns should be hermetically sealed or stored in an heirloom box to maintain the fabric quality.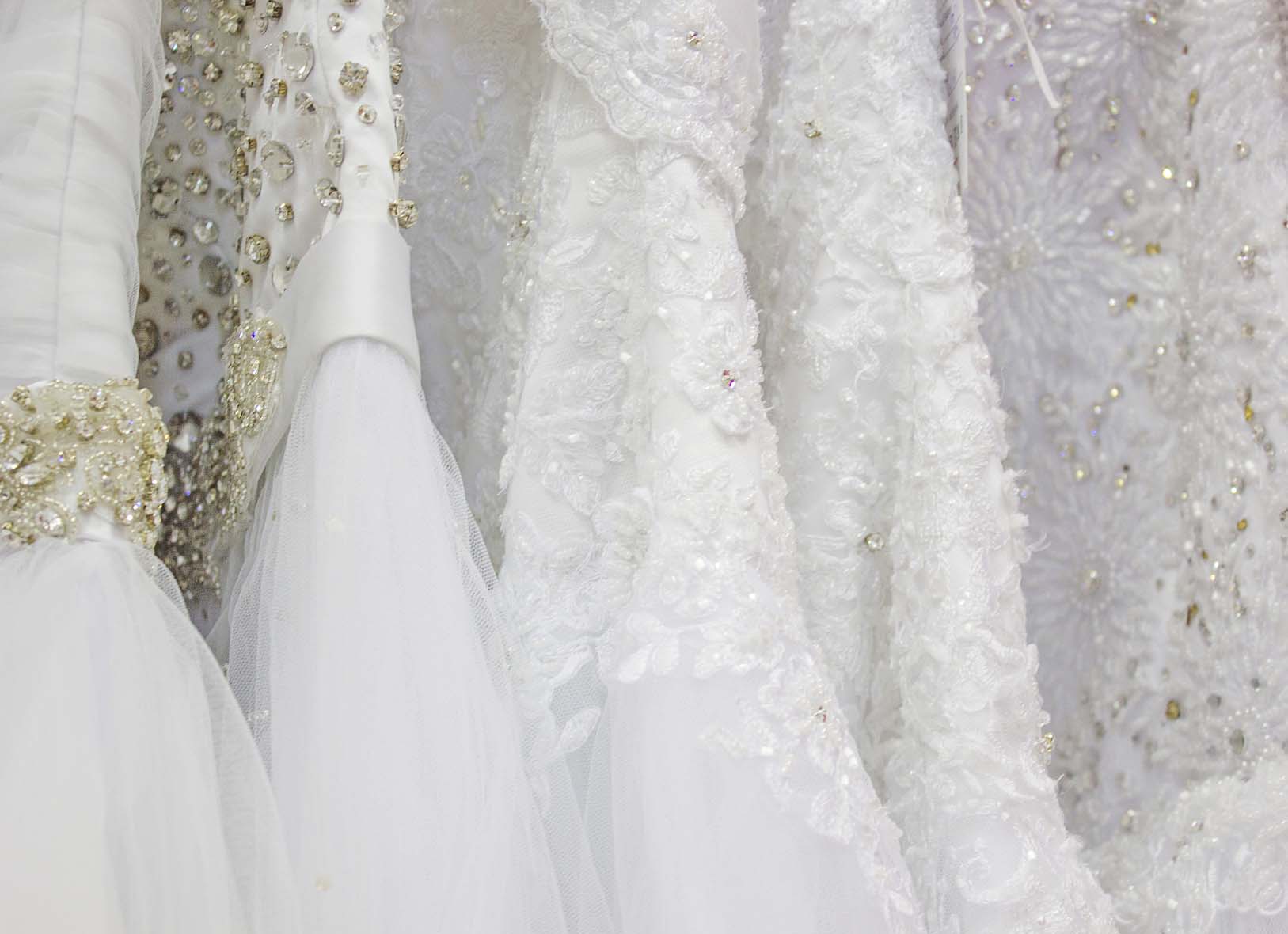 Was the dress altered?
It is important to ask if the dress was altered for the bride who wore it, as this may affect the way it fits you. Knowing the extent of the alterations will give you some idea whether the dress will fit you or not and whether you will be able to alter it even further. If in doubt look for a dress larger than you need so you have more material to play with, and always try to buy from someone who is similar in size and shape to you.
What height was the original bride?
Many brides focus on the size of the dress and forget to ask about the length. If a dress is too long a skilled seamstress may be able to shorten it without ruining the skirt design, but dresses that are too short won't be able to be altered.
Are there detailed photos of the dress?
If you have only seen a single front view of the dress, ask if the seller can send you additional pictures showing more detail. You could ask for a back view, a close up of any details, and a picture of the straps or neckline.
Exactly what colour is the dress?
If you have your heart set on getting married in pure white it can be disappointing when your dress arrives and you find it's an unusual shade of ivory. From time to time the camera flash or lighting when the photo was taken can alter what colour the dress appears to be.
Are accessories included?
The seller might not have thought about selling their veil or accessories they wore with their dress, but if you have seen a photo of her on her wedding day and you like the entire ensemble, it is always worth asking to buy the accessories as well.
How does the dress move?
It might seem an odd question to ask, but knowing how a dress feels to move around in is crucial when you are buying a wedding gown, and most former brides will be happy to tell you. Also find out whether the skirt can be bustled for dancing in the evening.
Can you try it on?
If the seller lives within a reasonable distance, ask whether you can come and pick the dress up yourself and try it on before you buy it. If the seller lives too far away and you have to have it posted, find out whether you will be able to return it if you aren't entirely happy once you've tried it on.