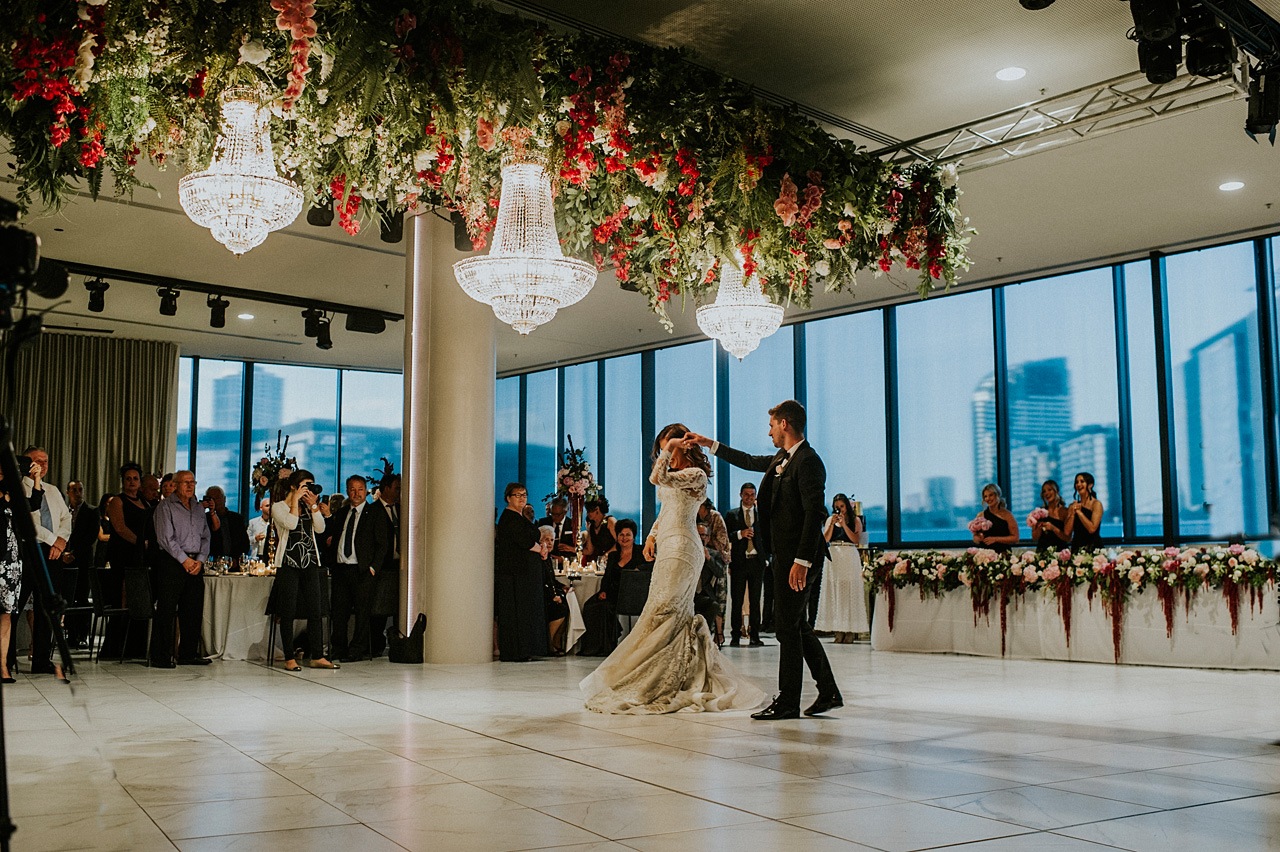 If you're looking for a quintessential Melbourne wedding with a view of the city and a very Melburnian focus on food, then look no further than Aerial by food&desire.
Located in Melbourne's CBD and close to transport and parking options, Aerial boasts unparalleled views of Melbourne's skyline. Easily accessible, versatile, and able to cater for large and smaller weddings, this modern Melbourne wedding venue is one space that you don't want to miss out on.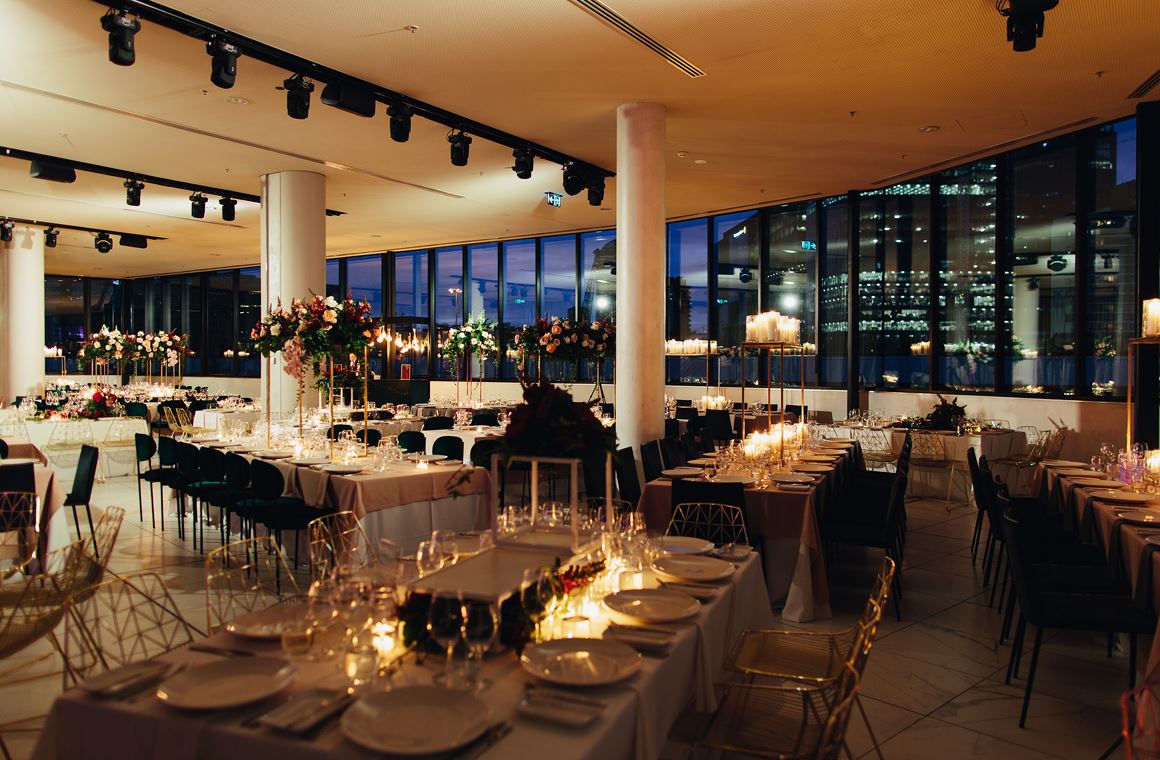 Breathtaking city views / modern Melbourne vibes
Set in Melbourne's urban focal point of South Wharf, Aerial is a hidden gem among funky bars and modern shopping experiences.
The first thing you'll notice when you walk into the grand foyer is the stunning floating staircase. The charcoal and navy detailing makes it the perfect elegant entrance for you and your guests. It's also a stunning way to enter your reception for the first time as a married couple.
Wide windows and stunning views of Melbourne's CBD will welcome you when you reach upstairs. The 180-degree views span the Bolte Bridge, Docklands and city skyline. High above the South Wharf warehouses, Aerial is the perfect focal point for gorgeous sunsets, stunning night lights, and even fireworks for those extra special occasions.
Aerial is 600 square metres and can host your ceremony, reception and canapé hour. There's also a beautiful bridal retreat for when you want a moment just to yourself. It's also run by renowned catering and events company food&desire so you and your guests are sure to be treated to delicious food and an unforgettable experience.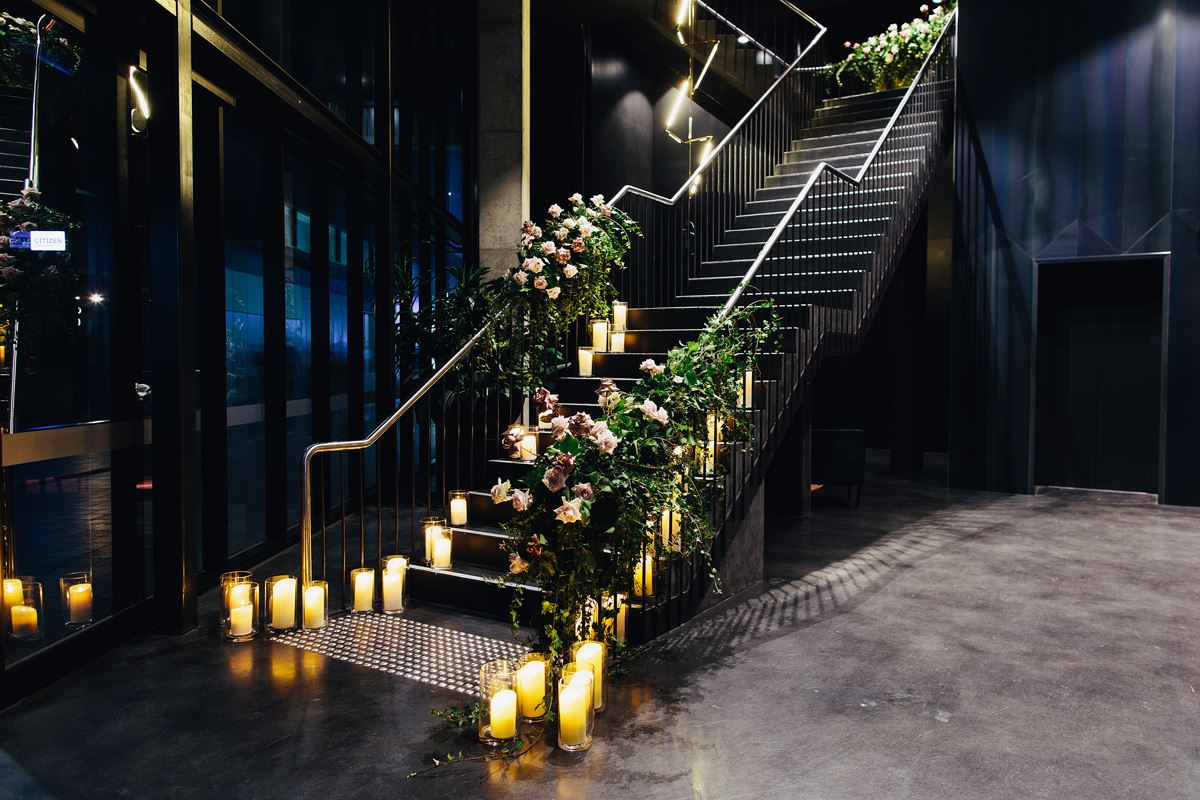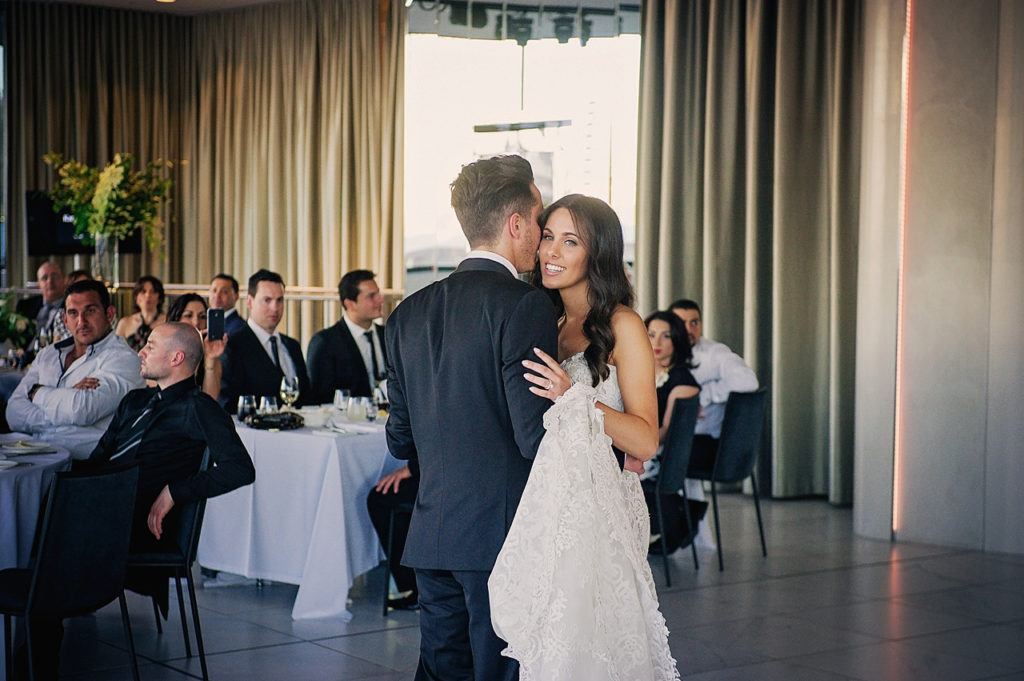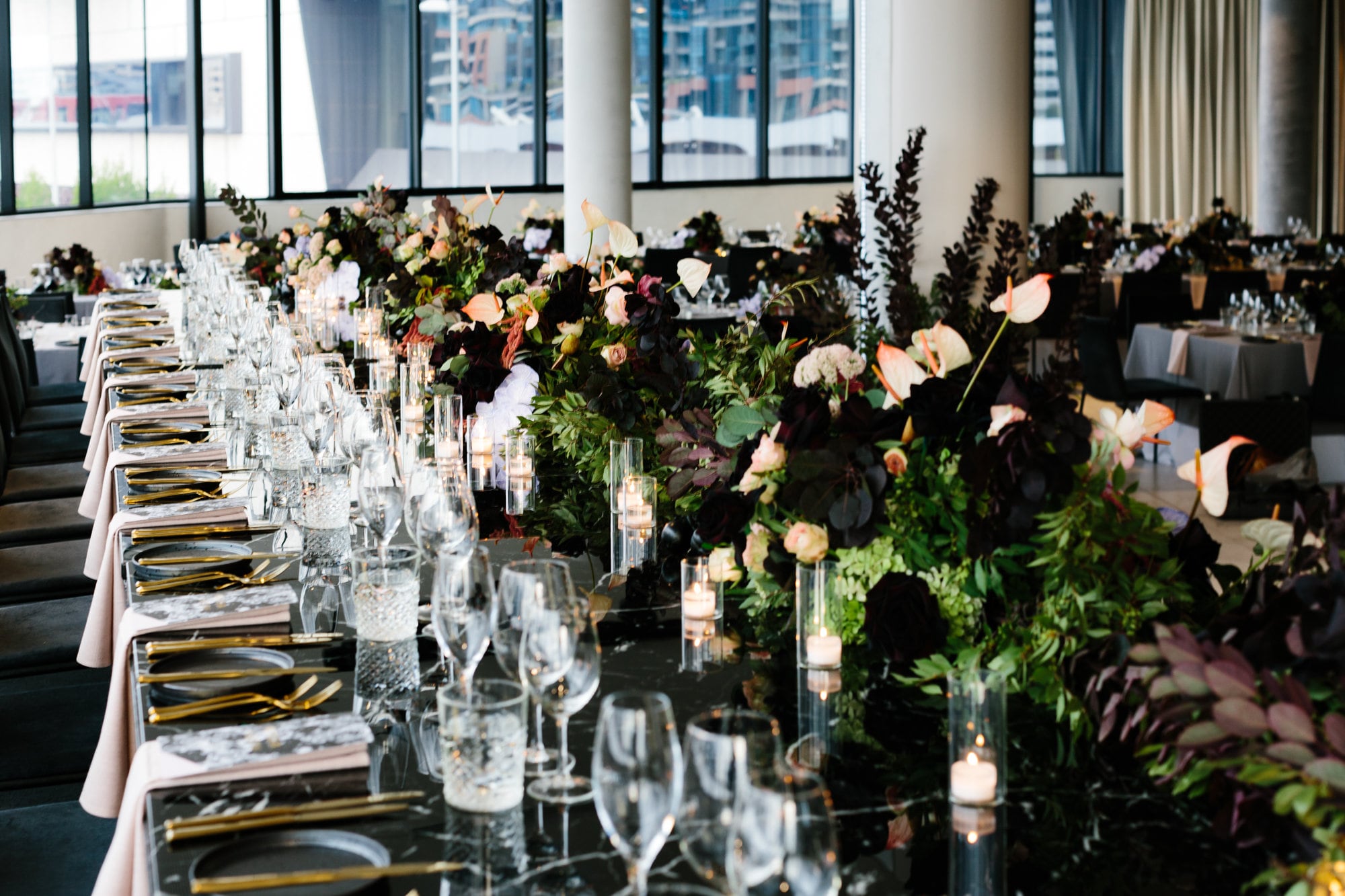 The Function Room
Capacity: 110 – – 310 guests seated and up to 900 cocktail style
The function room at Aerial will wow your guests in any capacity. Whether you're after long modern rectangular seating or space for a large wedding, Aerial will be sure to impress.
Your food&desire event coordinator can help with your wedding venue checklist, menu design and floor plan creation. They'll also be on hand to help with other suppliers or entertainment options for your day.
The room itself if a brightly lit blank canvas perfect for a modern, elegant, luxury or traditional wedding. Clean white features and wide windows overlooking the Yarra River give the room an open feel. The building boasts modern amenities, marble flooring and elegant drapes that can be used to curtain off different sections of the room. Add a state of the art lighting and audio system into the mix and you have the perfect venue suitable for any type of styling.
Varied floorplan options mean that you can fill the space and seat all your guests comfortably, no matter your wedding size. Unlike some venues that will compromise on a dance floor for higher guest numbers, Aerial can offer you a wedding space with 300+ seated guests as well as ample room for your dance floor and band or DJ.
Don't be daunted by the flexibility and ample space though. food&desire has nearly two decades of experience running events and know how to make your space look great, even if you're having a smaller party. Their use of plush lounge features and mingling sections in the bar area will ensure your wedding never looks empty. They truly know how to make the most of this versatile space for any wedding.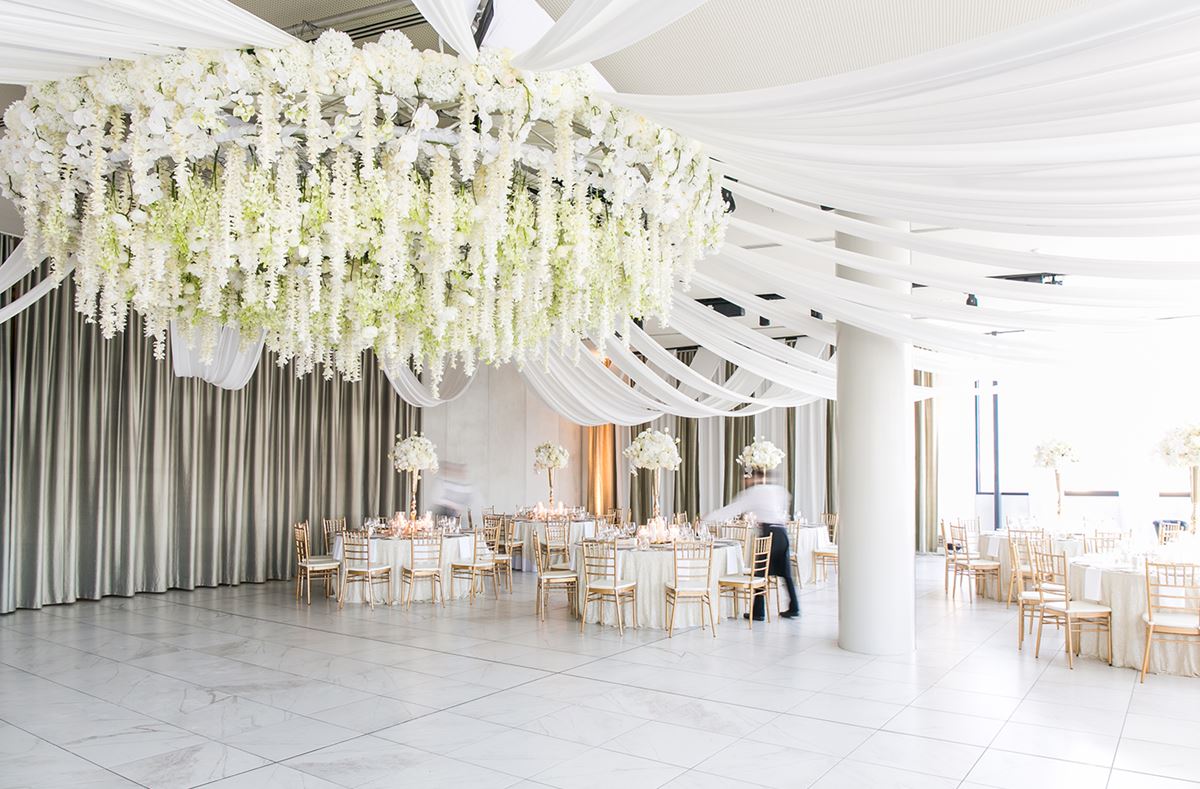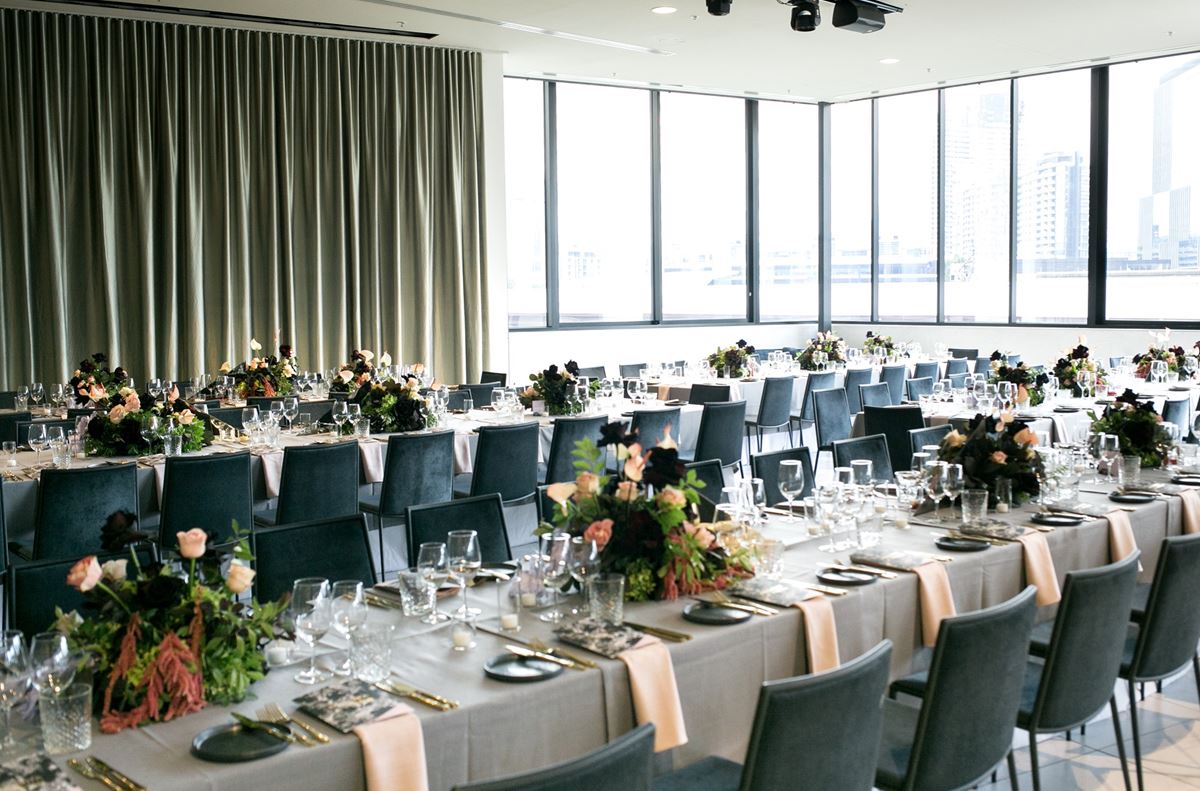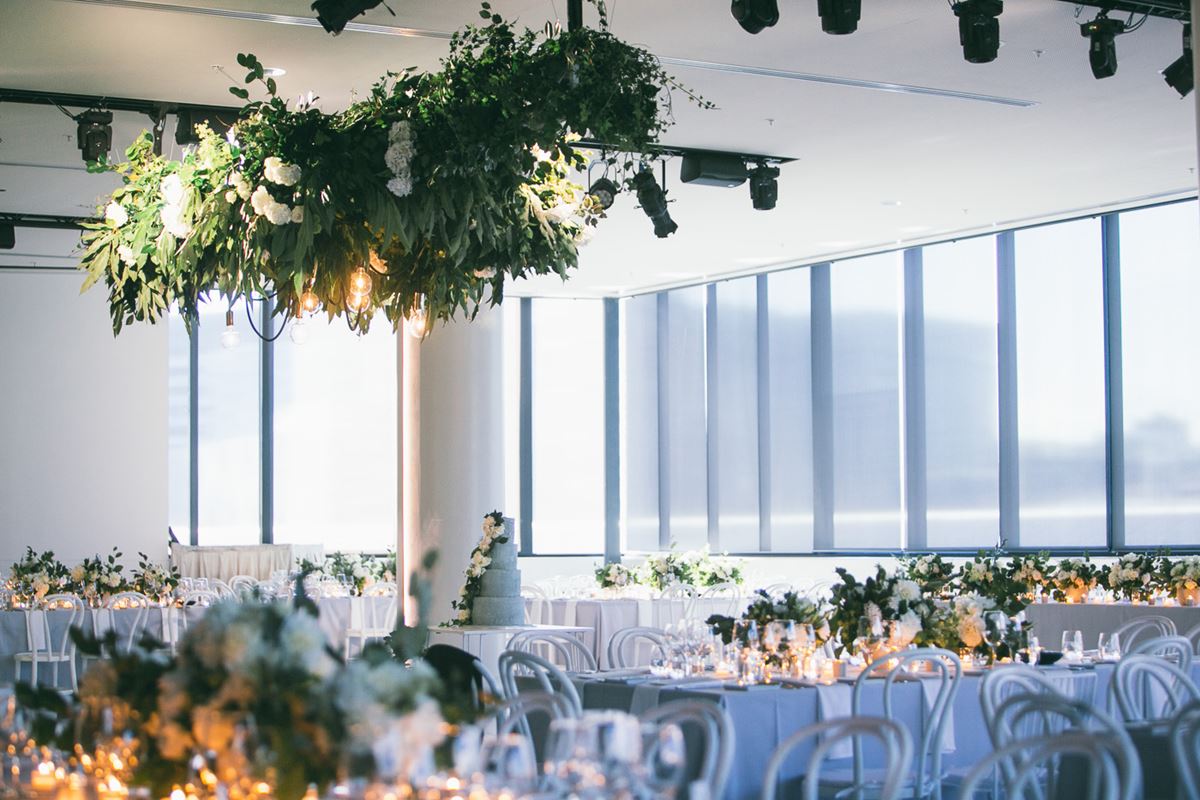 Stunning indoor ceremonies
Add elegance and a touch of convenience to your big day with a ceremony at Aerial. A ceremony at Aerial will get you the best of Melbourne's views. Without having to deal with unpredictable Melbourne weather!
A ceremony at Aerial can incorporate the opulent drapery of the venue plus an ivory carpet, signing table and chair set up for your guests. For an open look, the wide windows can provide a stunning backdrop for your vows. The drapery can also be pulled back to provide a concrete industrial feature wall perfect for hanging or standing arbours.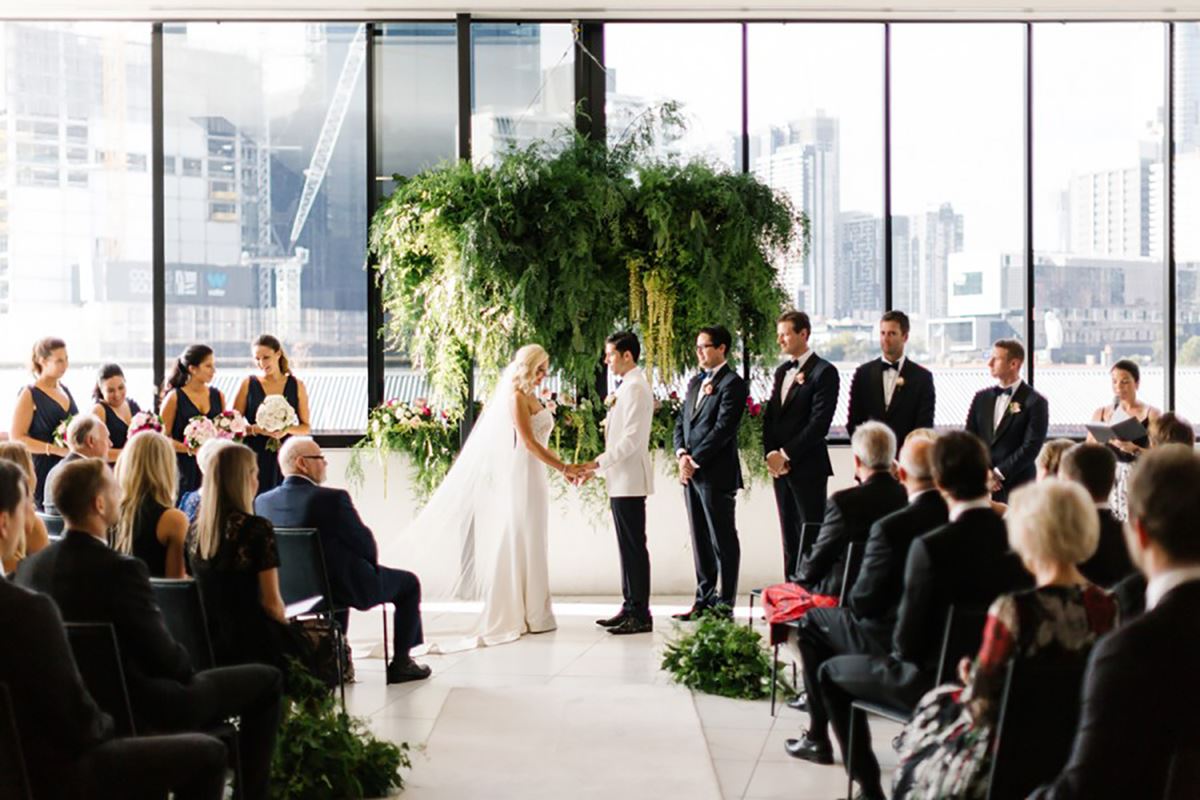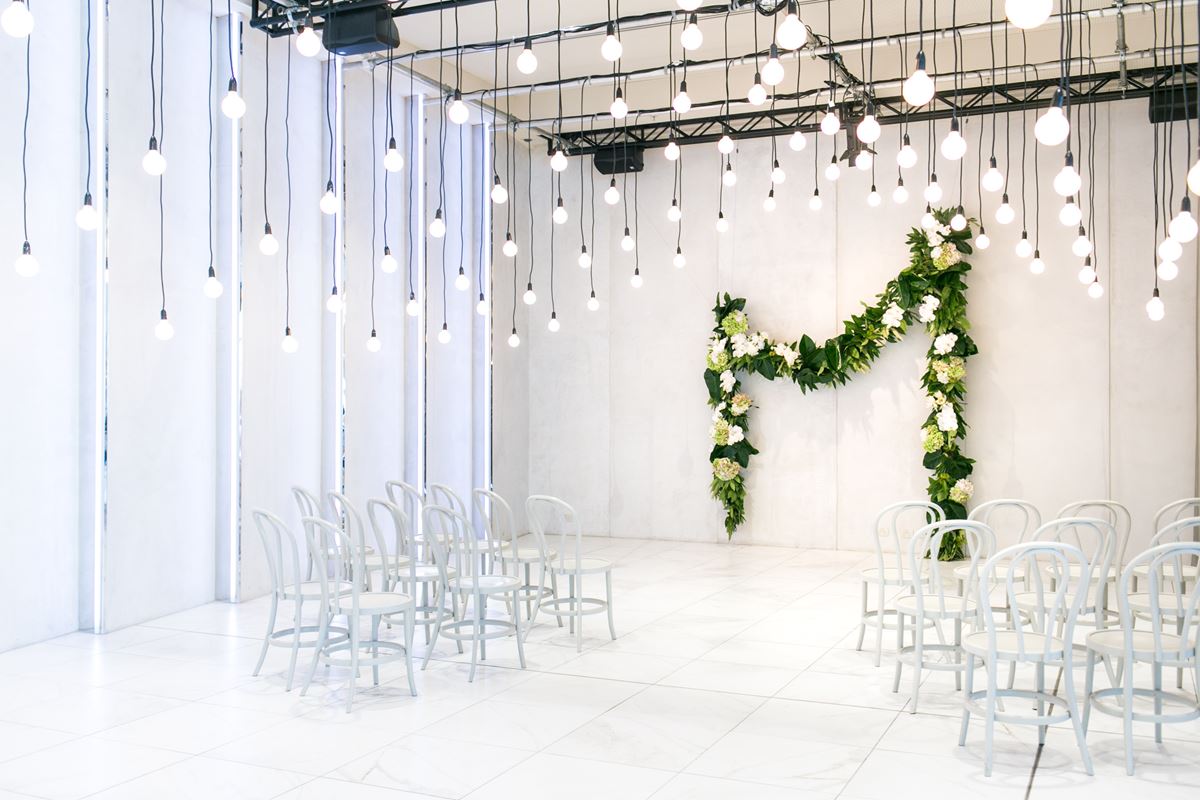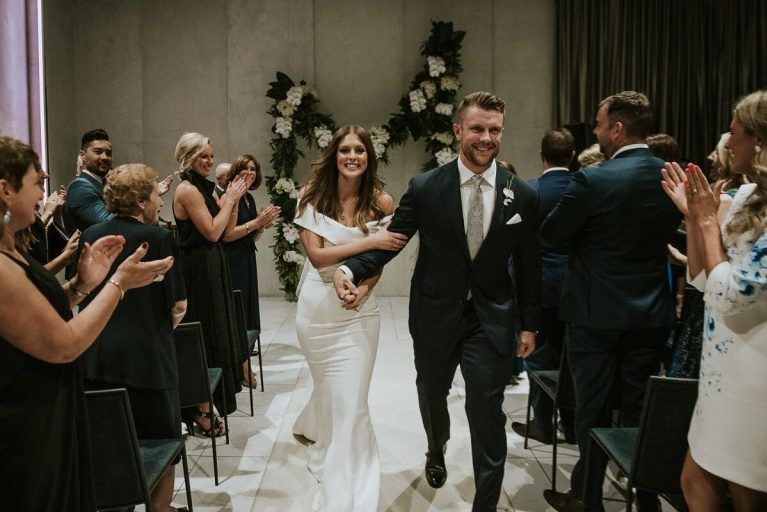 Amazing food and sharing options
Melburnians love their food and your wedding will certainly make an impact with a focus on fresh, local produce. food&desire has been in the industry for 18 years and will be able to respond to the needs of you and your guests by tailoring and designing their menu to suit your big day.
Or, if you want to bring your guests together even more then look at sharing options. Give your wedding that informal Melbourne dining feel with a range of dishes to be shared. After all, nothing quite brings people together like food.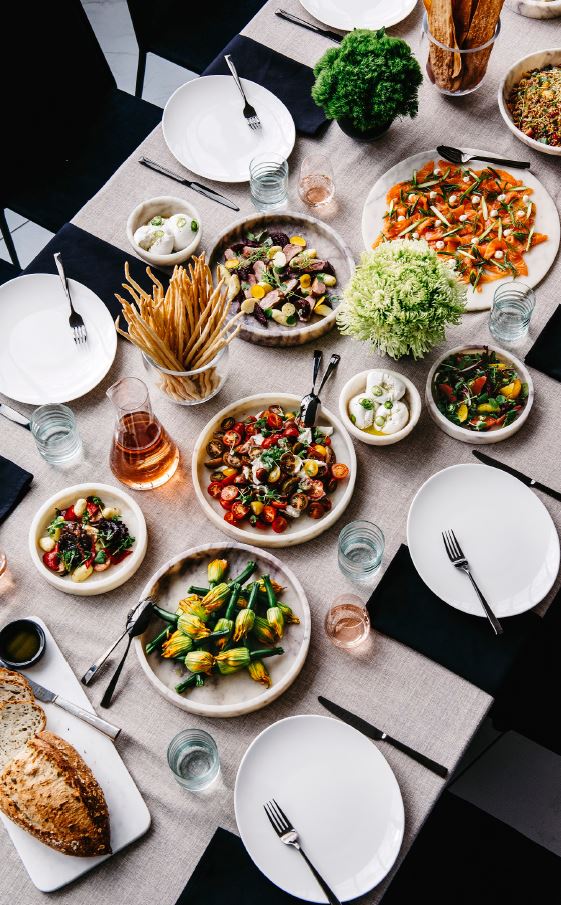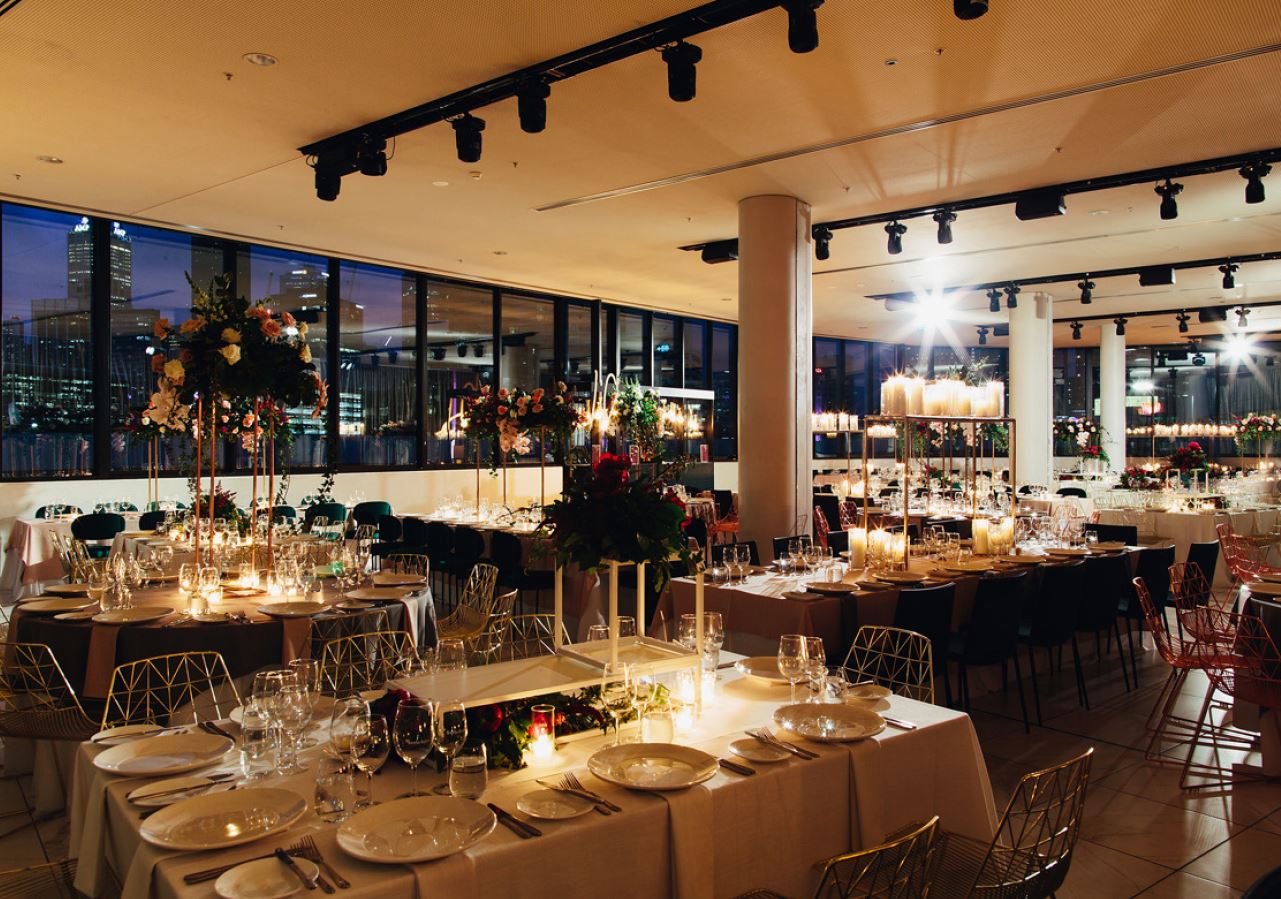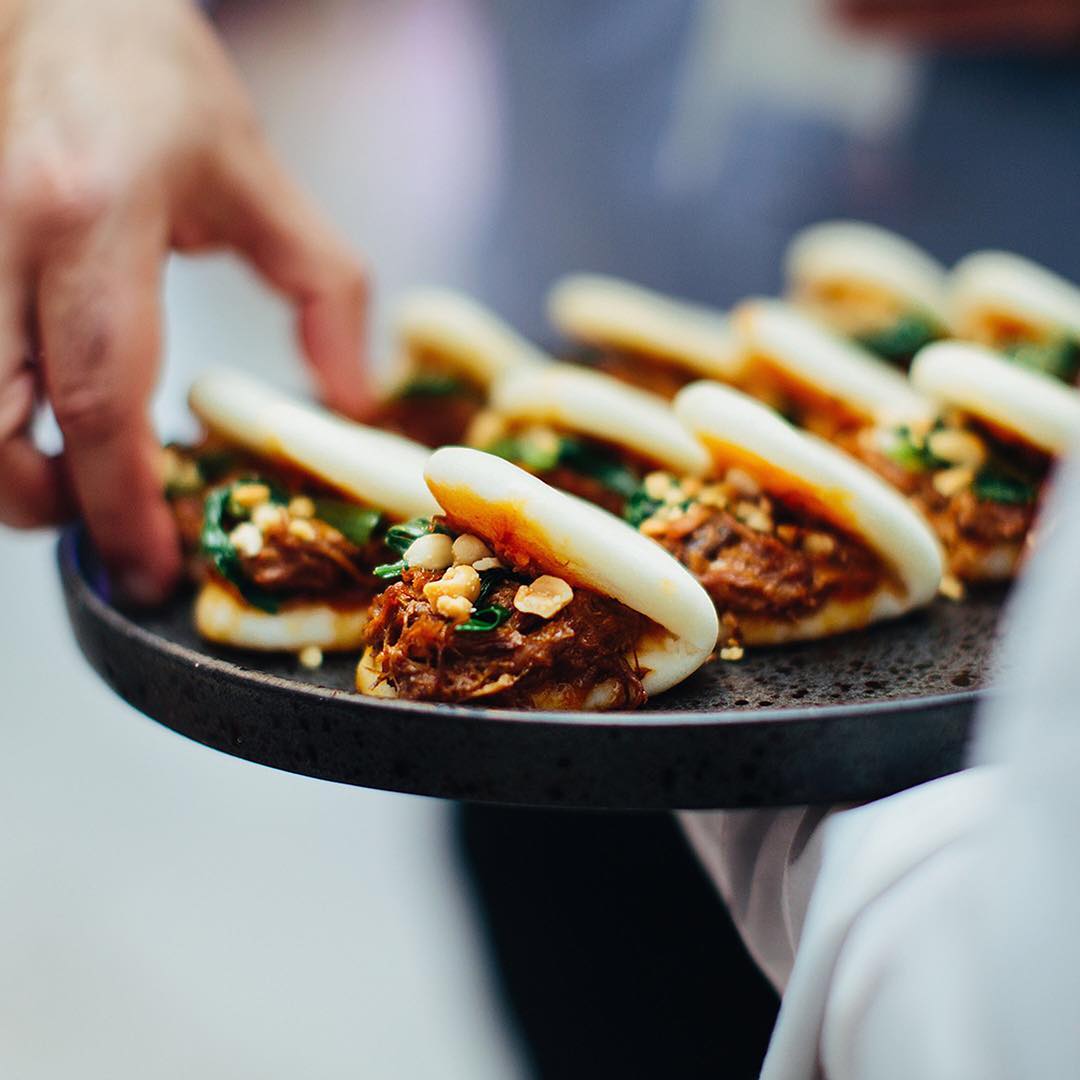 Easily accessible in Melbourne's river precinct
Aerial is perfectly located in the bustle of with city on the famous Yarra River. You'll have a raised vantage point over the riverside warehouses to get the perfect views spanning from the Bolte Bridge to the Melbourne Star and city skyline.
Guests will also find it easy to access this space without having to battle with huge crowds. Trams 70, 96, 109 and 112 all come within walking distance of Aerial while taxis are available just around the corner at the Pan Pacific Hotel.
Guests who are driving themselves can make the most of the 24-hour parking next door at DFO Southwharf. Entry can be made via Lorimer and Montague Streets, or Normanby Road. Parking is just $12 after 6pm and Aerial can provide every guest with a 50% discount parking discount before leaving your reception.
There's also secure parking at the Wilson carpark which can be arranged and prepaid in advance for just $20.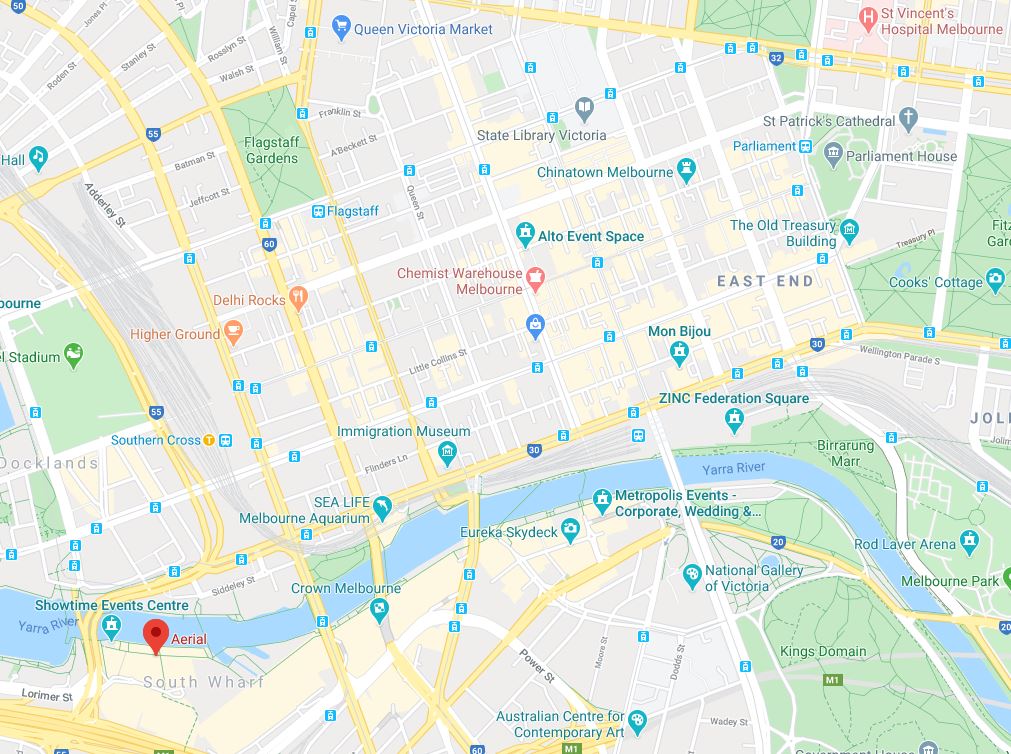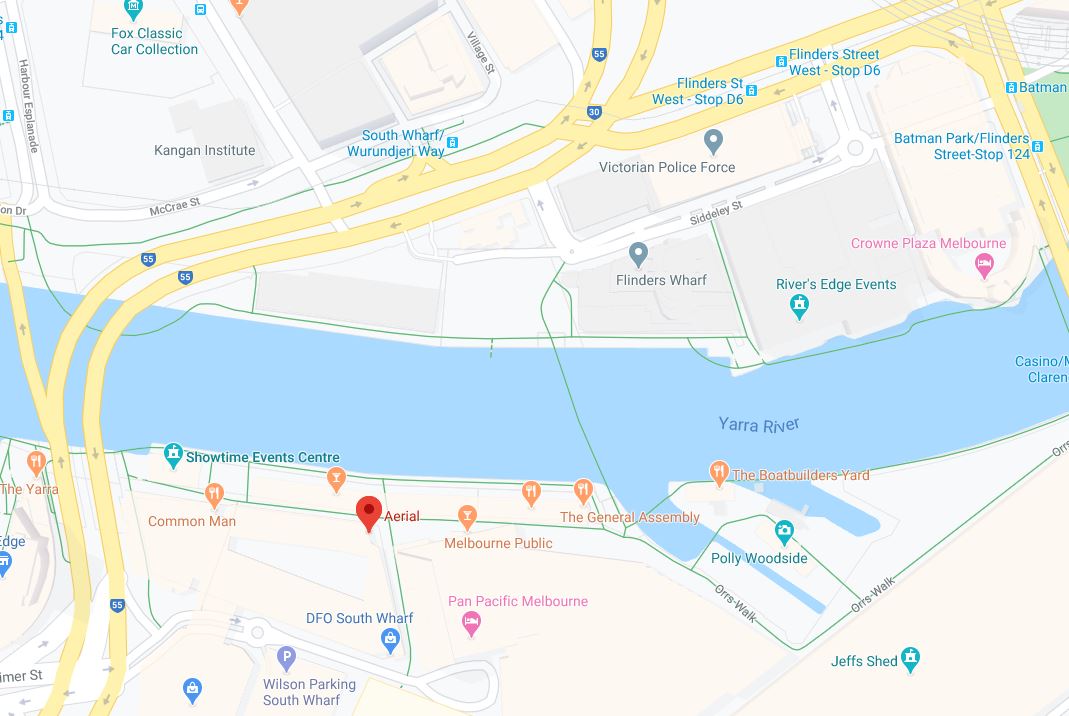 Various package options for your budget
Aerial by food&desire offers varying packages based on the needs of your wedding and when you're getting married. Packages start from $145 per person for a five-hour winter wedding, with prices starting from $170 per person during peak Saturday times or $155 for Friday or Sunday dates.
If you're having your ceremony at Aerial you can add $1,500 during the peak months or $1,000 during the winter months of June, July and August. This also includes an additional hour for your wedding package.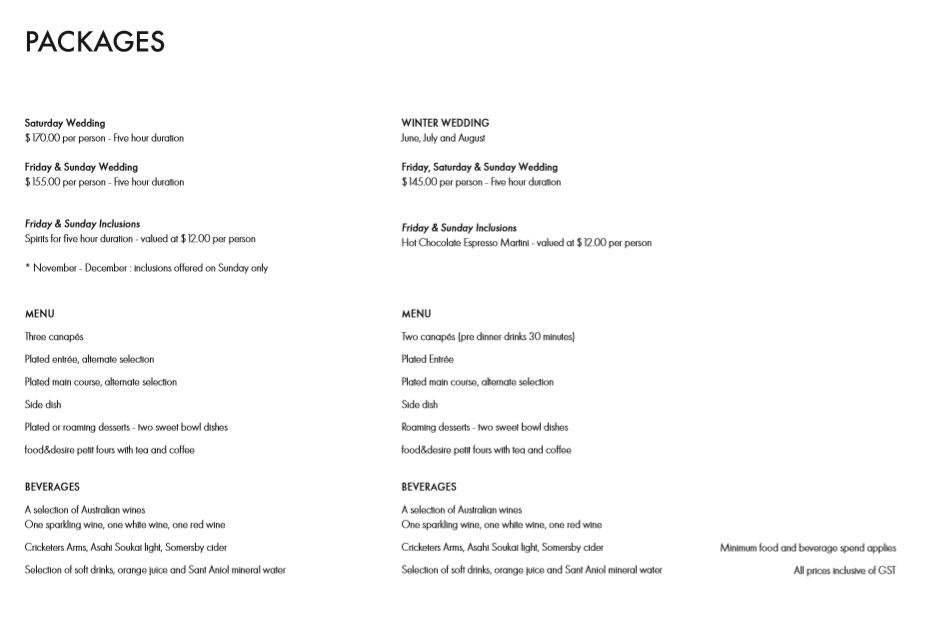 Aerial by food&desire Testimonials