We all wish that we could go that little bit extra for our wedding day. Unfortunately for most of us, that's not going to be the case. But not for this couple.
Wedding planner Luke and his partner Damien decided that they wanted to celebrate their wedding with their nearest and dearest, while also putting on a bit of a show. Not only did they spend 12 months completely landscaping the family venue, Palmyra B&B (Forster, New South Wales), so that they could host their luxury white wonderland themed day, but they also hired a wave of suppliers and services to help turn their big day into the wedding of the year.
You'll be able to see more of Luke and Damien's wedding later in 2019 on Channel 7 as part of the show 'Extreme Weddings', but for now here's what actually goes into hosting a million dollar wedding.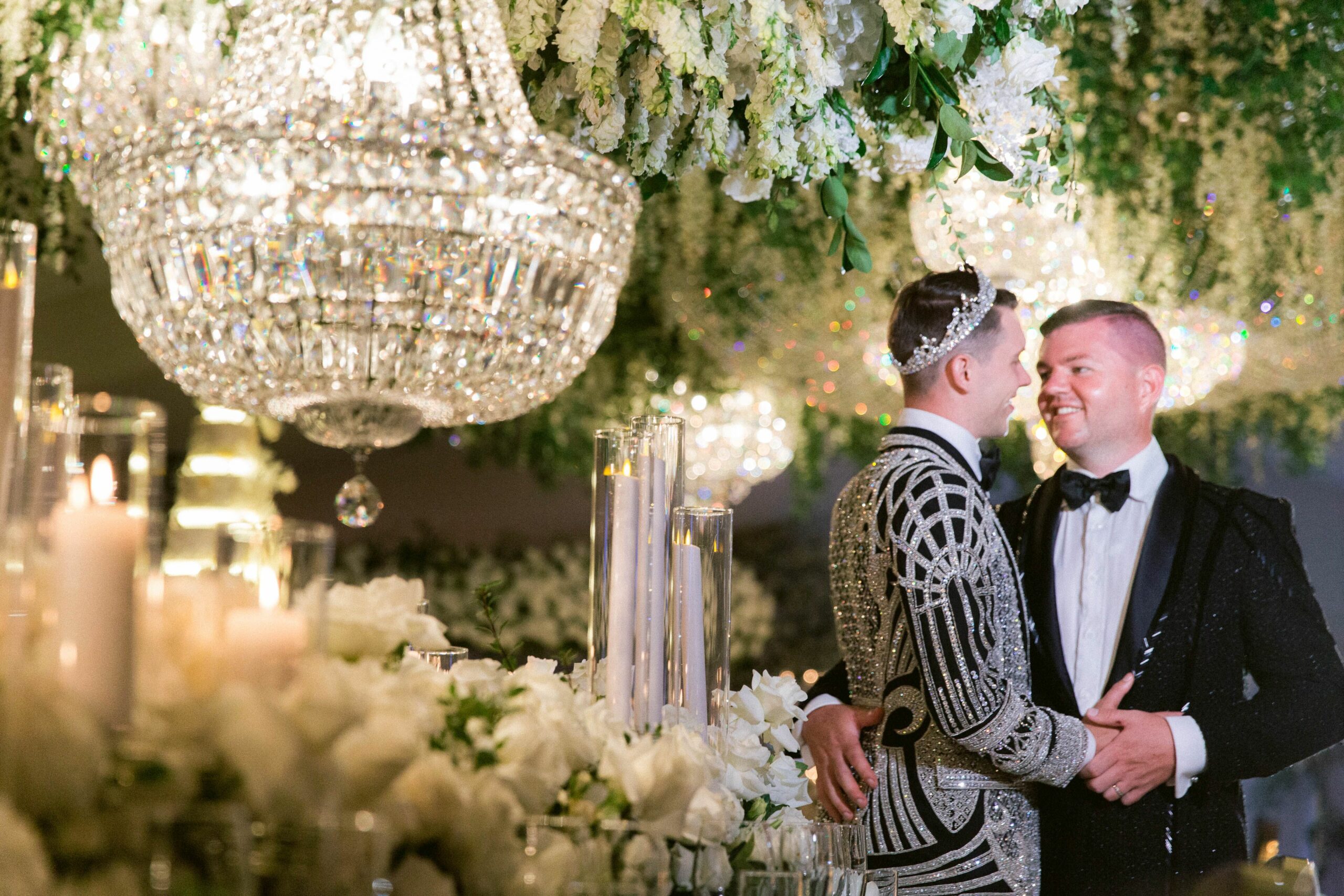 Planning – a lot of it!
As you can imagine, a lot of planning goes into a million dollar wedding. Particularly when you're planning a destination wedding that goes over four days!
Luckily for Luke and Damien, they were able to do a lot of the planning themselves, with Luke already being a pro in the industry running his own wedding planning business LUK Designs.
However, being your own wedding planner can also come with some downsides, such as having to fend off questions from both guests and suppliers in the week leading up to your big day. So think about hiring an external planner, or even a guest coordinator if your guests are staying close by.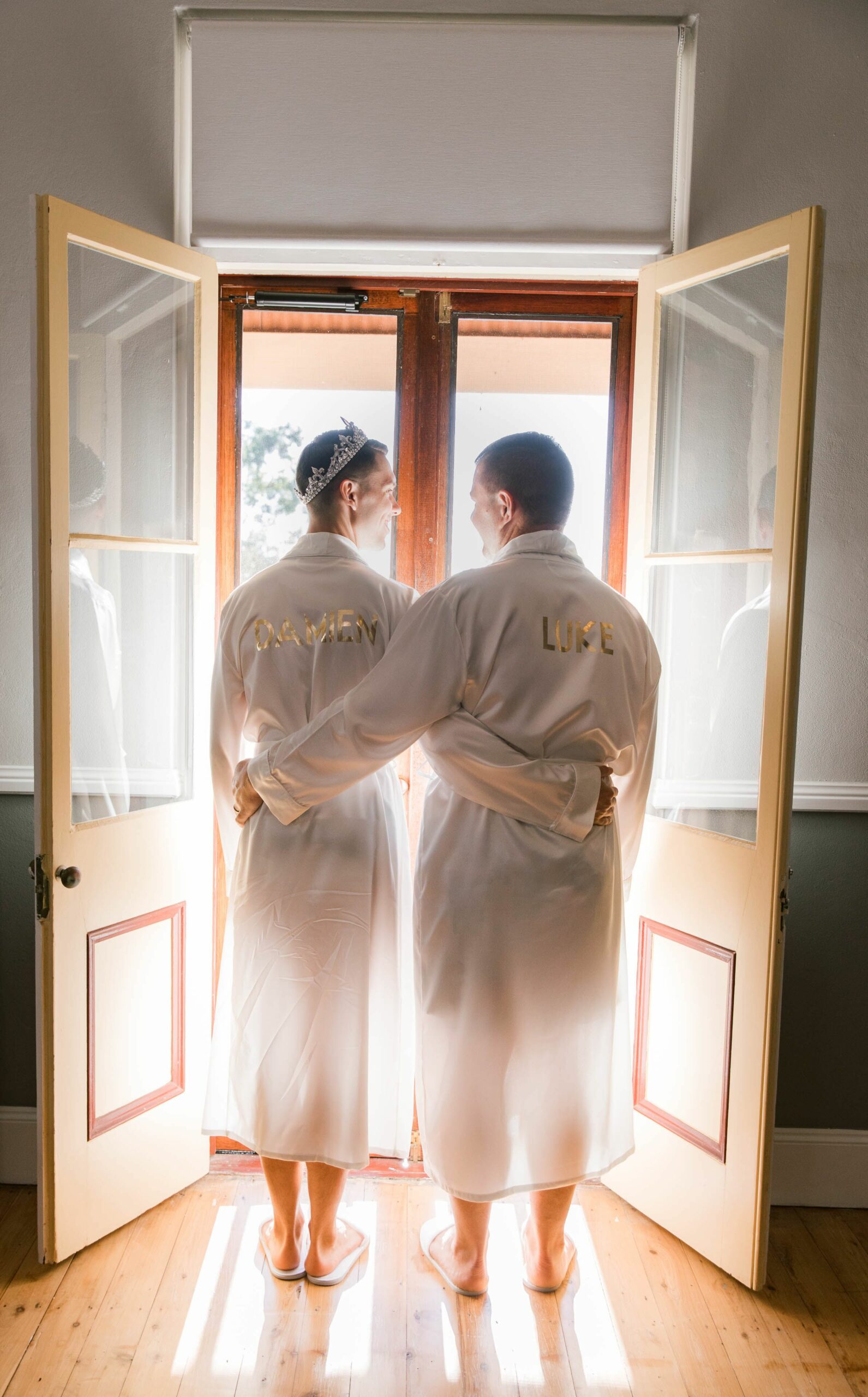 Something amazing to wear
Any wedding day requires a special outfit, and Luke and Damien's big day was no different. While they were a little unconventional in getting ready together, the pair had their wedding suits made by designed George Elsissa. Damien's bejewelled jacket on its own weighed 12kg!
Damien also had a stunning crown made and designed by John Khoury Design, which was truly amazing.
But of course, it's not just the boys who were decked out in the finest. Each of their six bridesmaids wore a full wedding gown by Sydney designer Velani, while their groomsmen were dressed by Brett Wilson.
There was also a dress change later in the night, with the newlyweds changing into their unique evening jackets.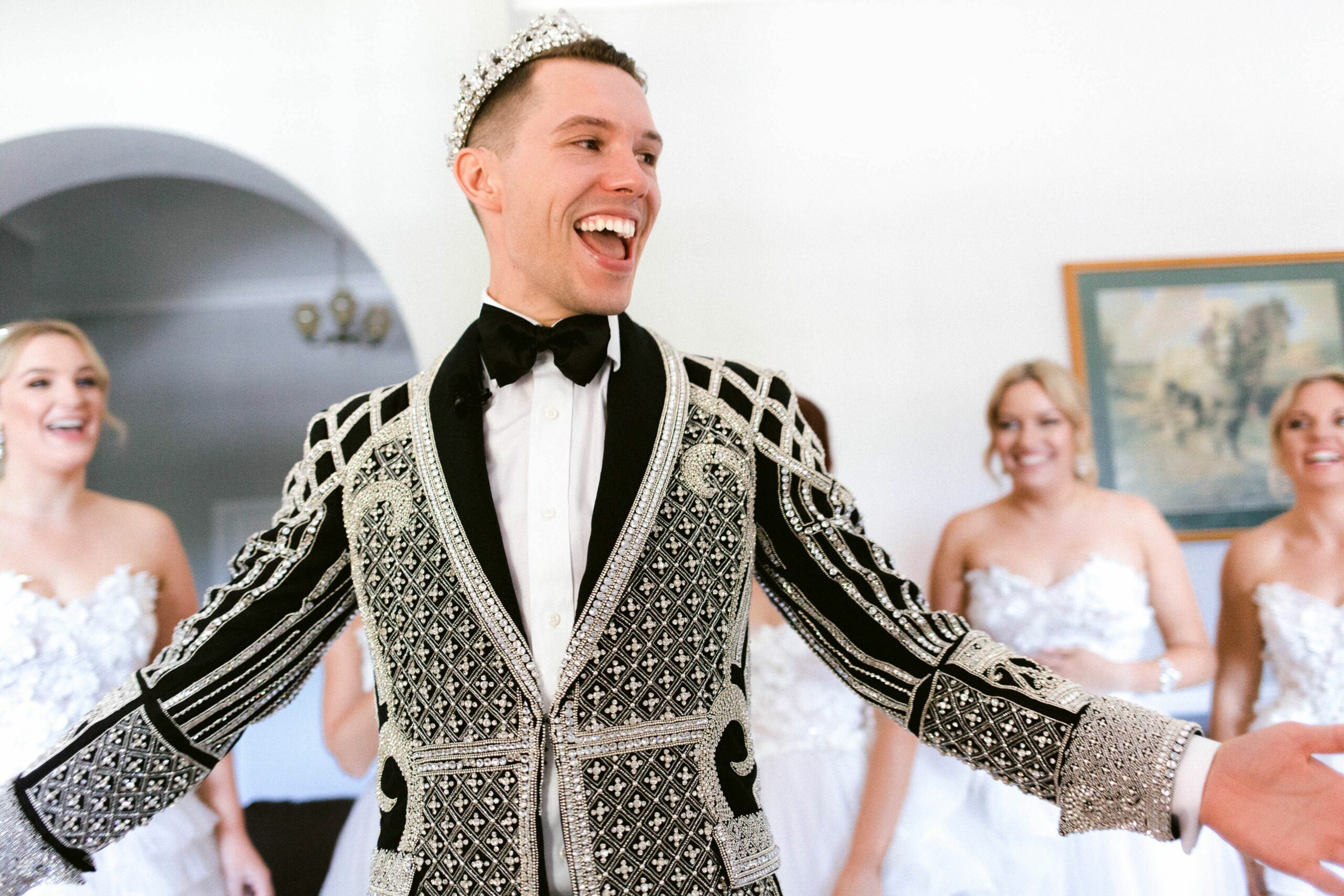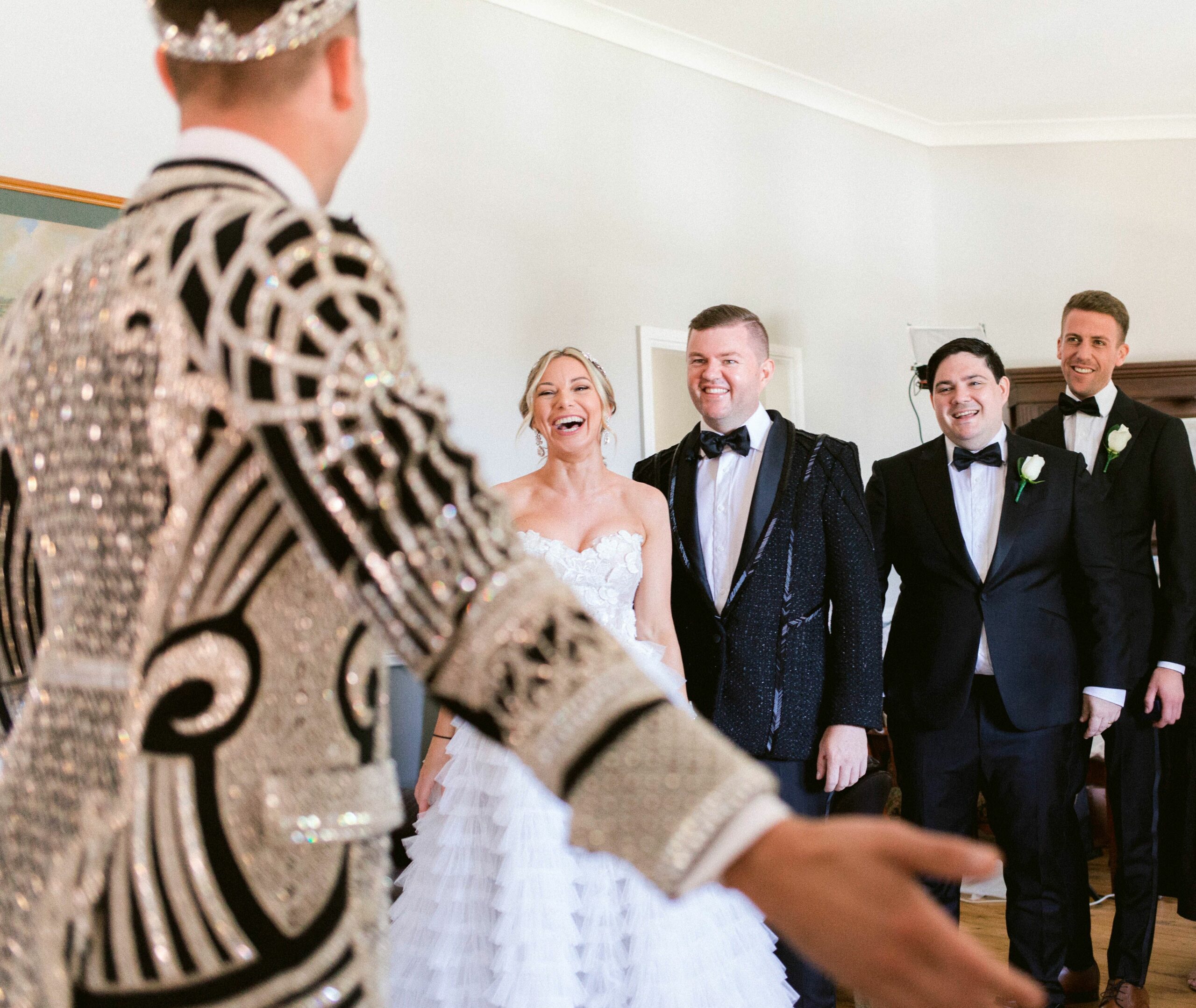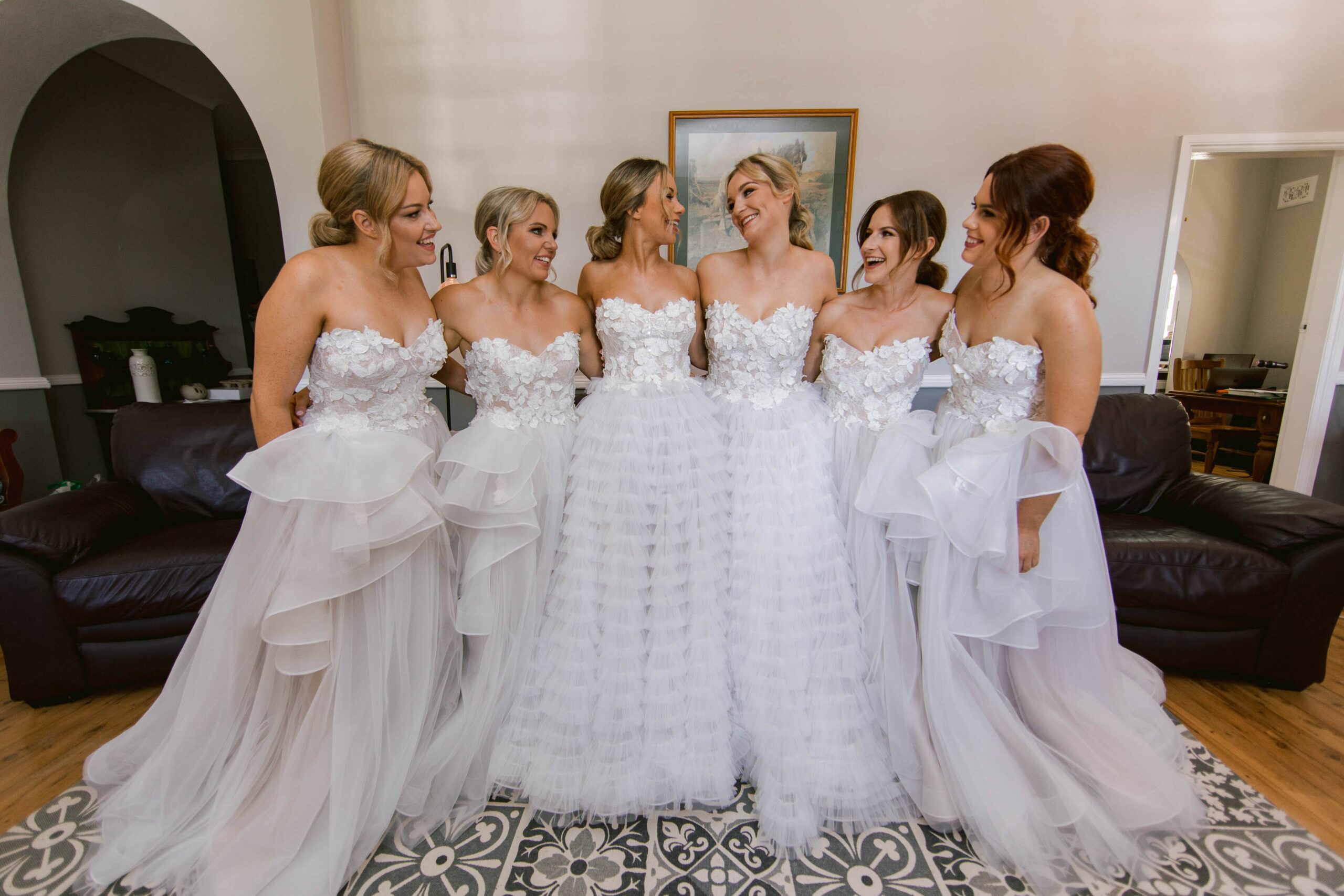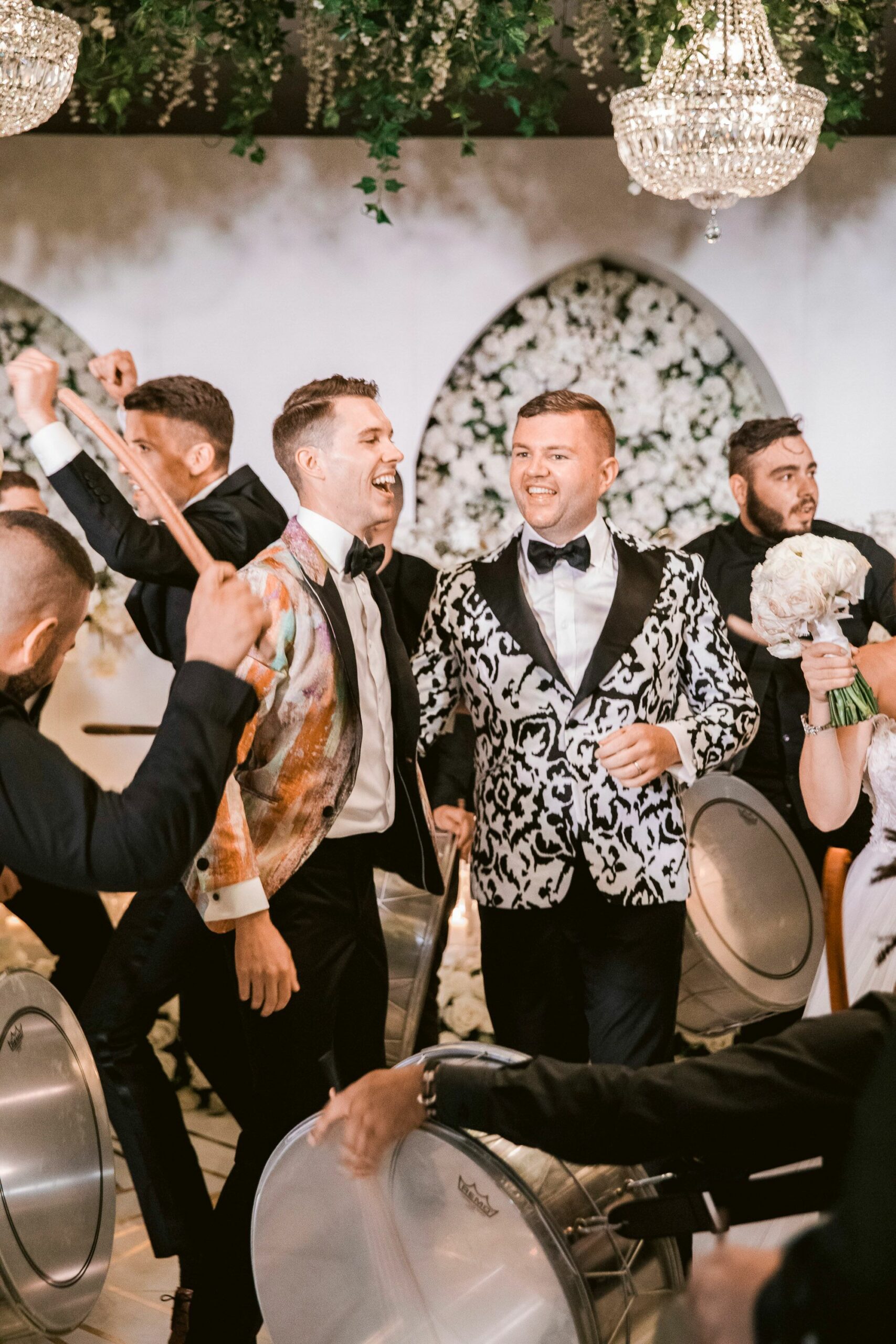 Shipping containers full of flowers
Have you ever seen two shipping containers full of flowers? Because we have! Vesna Grasso Floral Designer helped create one of the most stunning aisles we've ever seen.
Even before the couple had emerged, guests were mesmerised with the twisting rows of flowers leading down the hill from the main building to the ceremony space. The double-sided aisle started with a gorgeous vase centrepiece at the top of the hill before snaking its way down and through the guests.
What's most, the flowers were then reused for the rest of the wedding as well. The team of florists set them up in the marquee reception, and they were even used the following morning from a long brunch table set up for guests.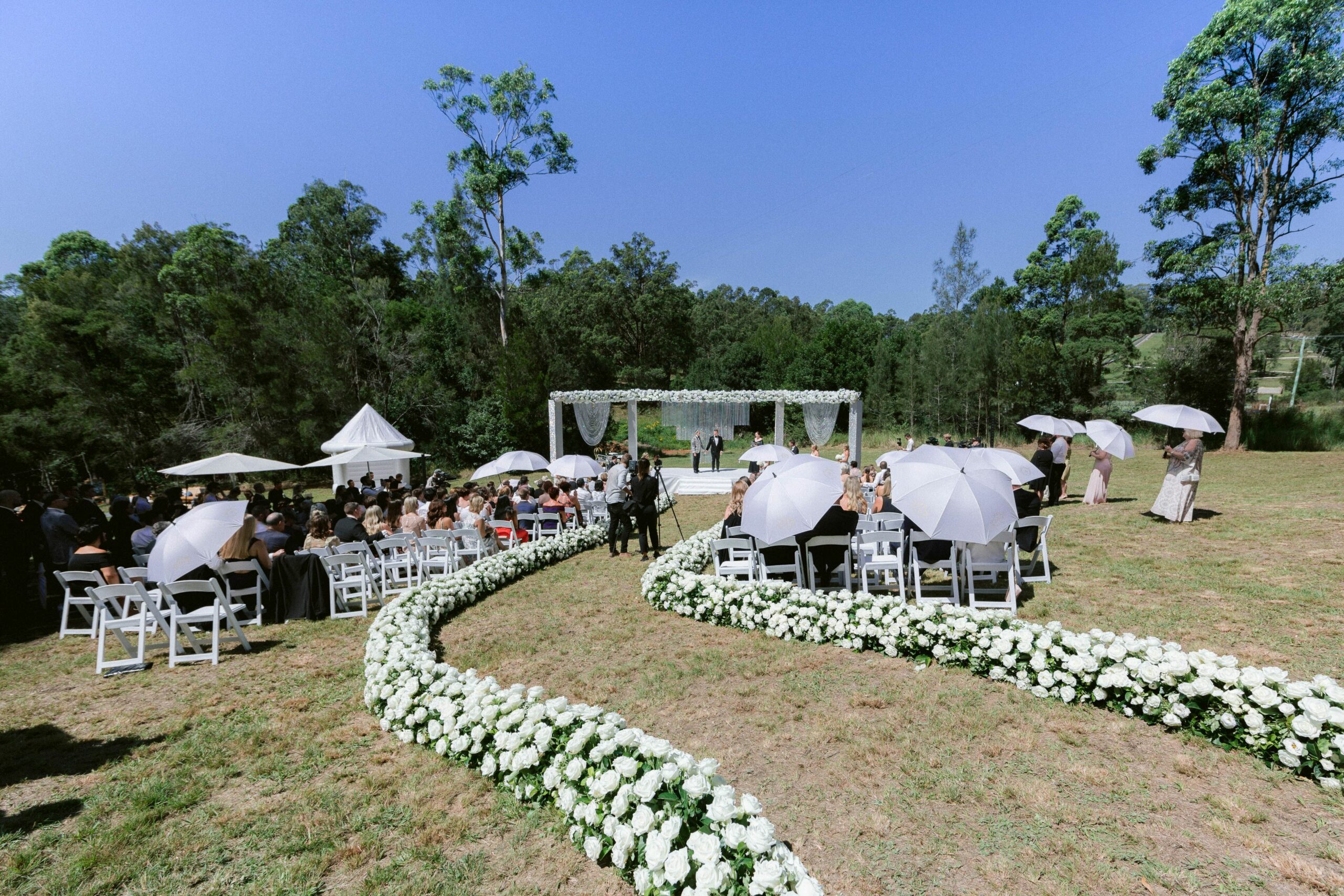 A gorgeous ceremony backdrop
We're ready for the actual wedding to start! If there's a way for your wedding backdrop to stand out, it's by adding 20 metres of sparkling Swarovski crystal!
We cannot get over the amazing looping crystal design used for the ceremony. Rain the evening before had polished the crystals so they were sparkling more than ever, and paired with the full flowers at the top of the backdrop and white additions, the boys really did achieve their luxury white wonderland dream.
The unique crystal backdrop was set up by Sydney company Chandeliers To Die For, who, as you will see shortly, were also involved in the marquee set up.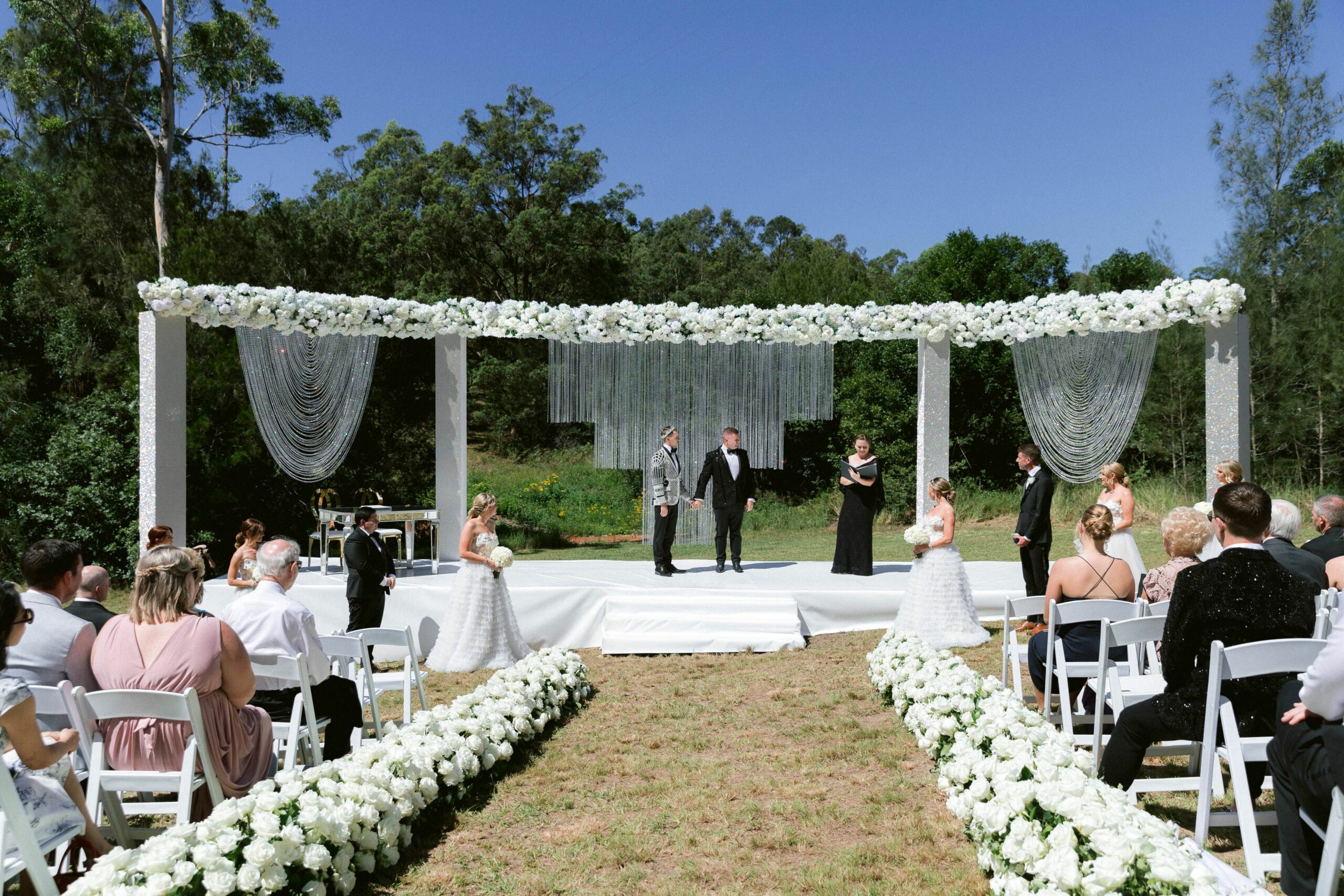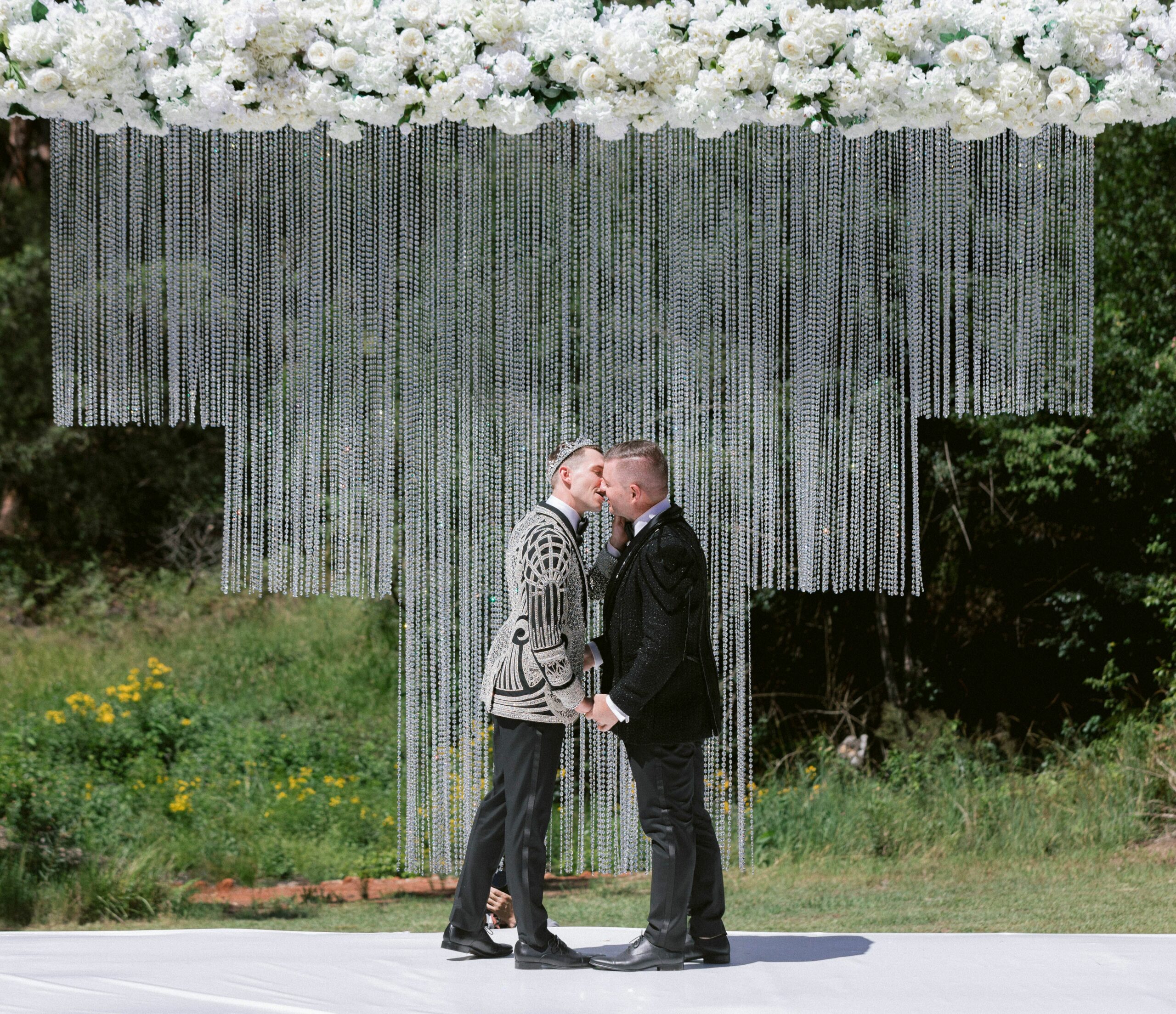 Transportation in style
Arriving in style is important for any couple, though you would think that when you're staying on site you probably don't need a car to arrive in. But it's not just the arrival that counts, it's the transportation for your photos and exit as well!
Three cars from Rolls Royce Sydney Hire were sent up in a truck from Sydney to Forster to make sure they were in pristine condition before the big day. They all had personalised number plates for Luke and Damien.
They also made for quite the spectacle, when the boys literally stopped traffic on the bridge between Forster and Tuncurry in New South Wales to get the perfect wedding day shots.
And while most motorists might get annoyed having to wait for a few minutes, on this day it was all cheers and smiles for the wedding day.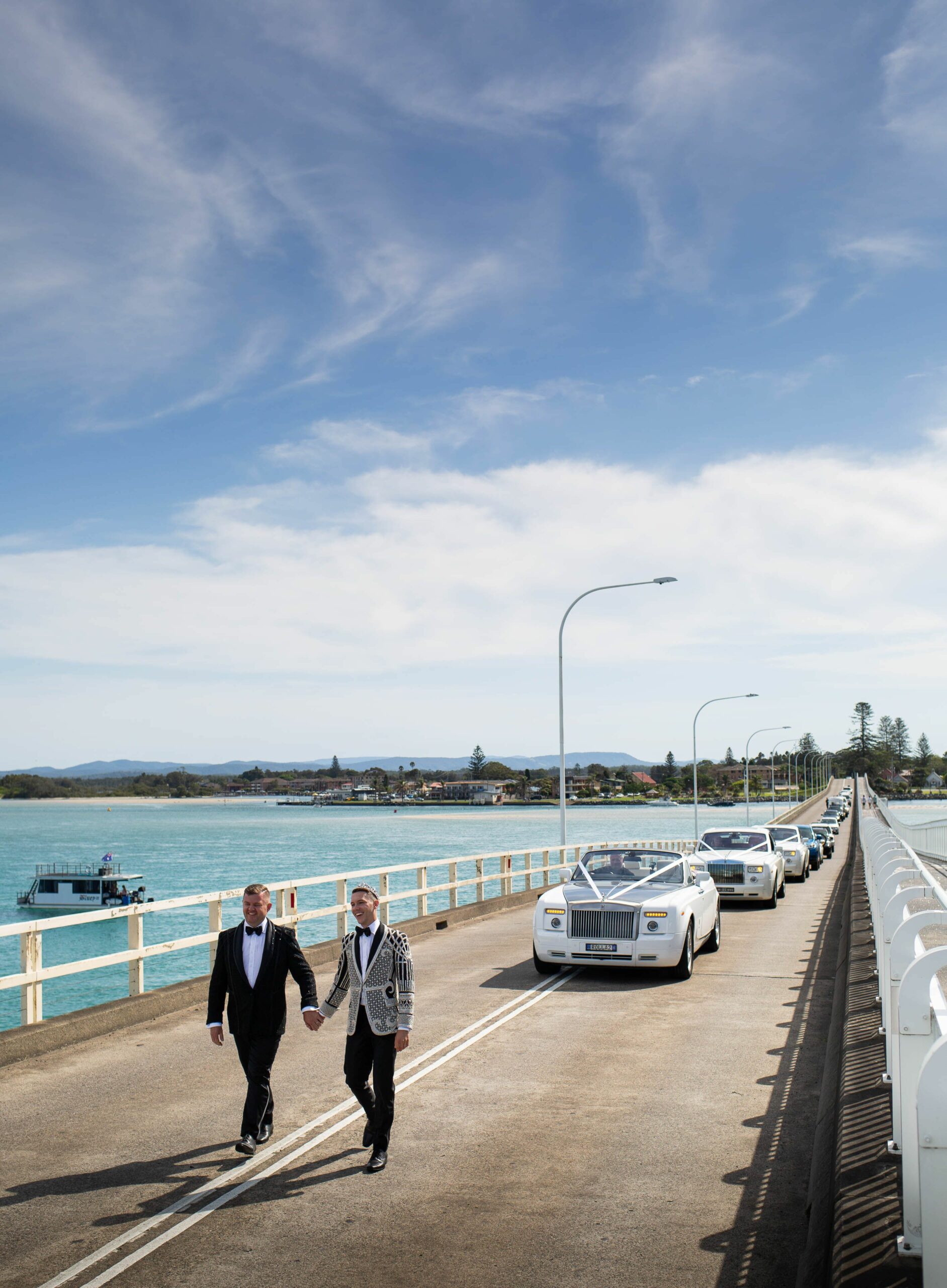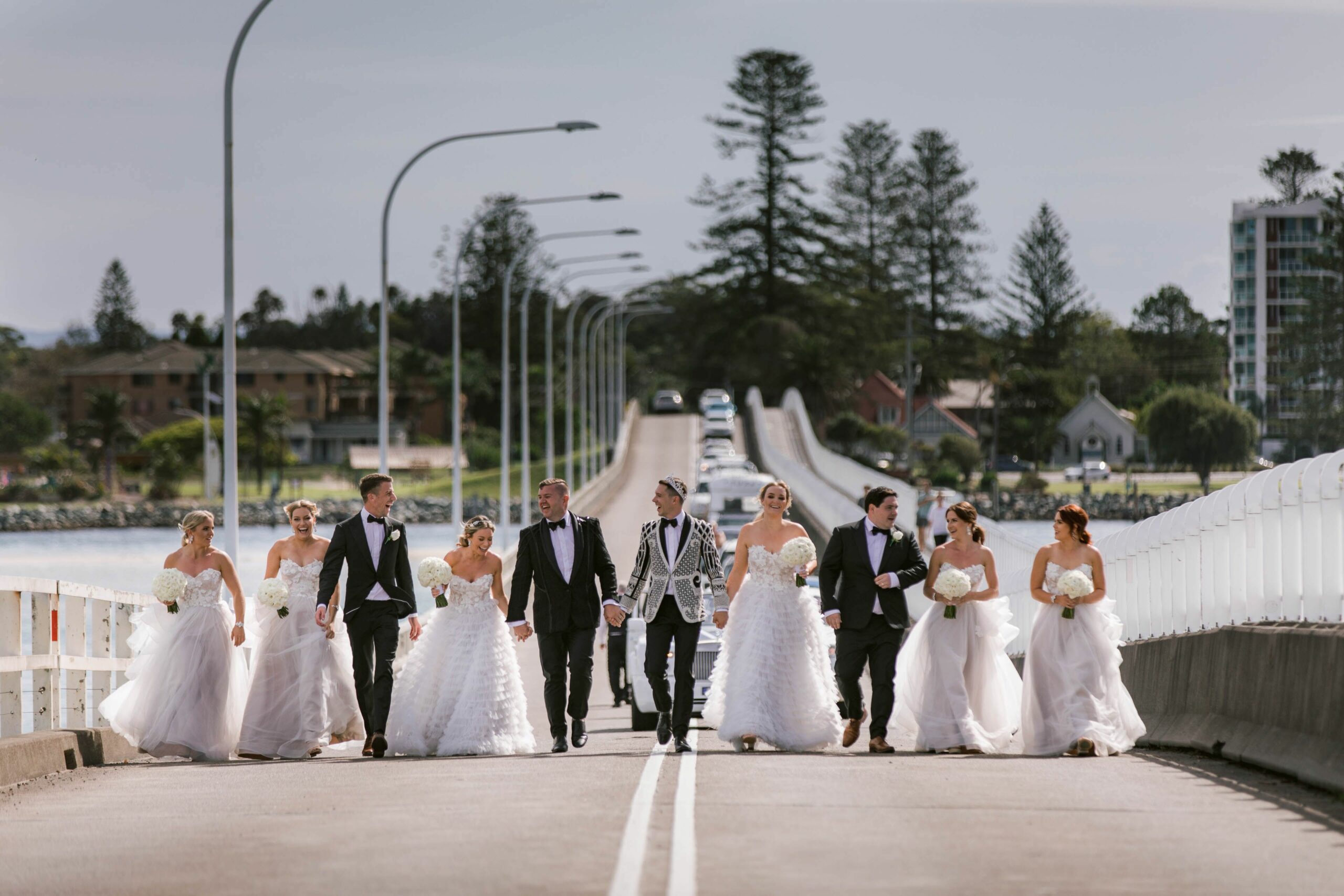 Double the number of receptions
While most couples might have a canapé hour to entertain guests while they have their photos taken, why not take it to the next level and have an entire first reception?
With boho styling, bar and grazing table, Luke and Damien's first wedding reception ran for between three and four hours while the couple got all their photos taken.
Because they were taking longer than usual, the boys opted to have the entire reception style feel, including lawn games, ongoing entertainment, and a wedding jumping castle!
They also had umbrellas around the area to offer shade from the warm weather, as well as personalised umbrellas for every guest!
August & Lucy provided the mobile bar, while Fennel & Co Catering set up the grazing table to go with the styling from Martin & Ko.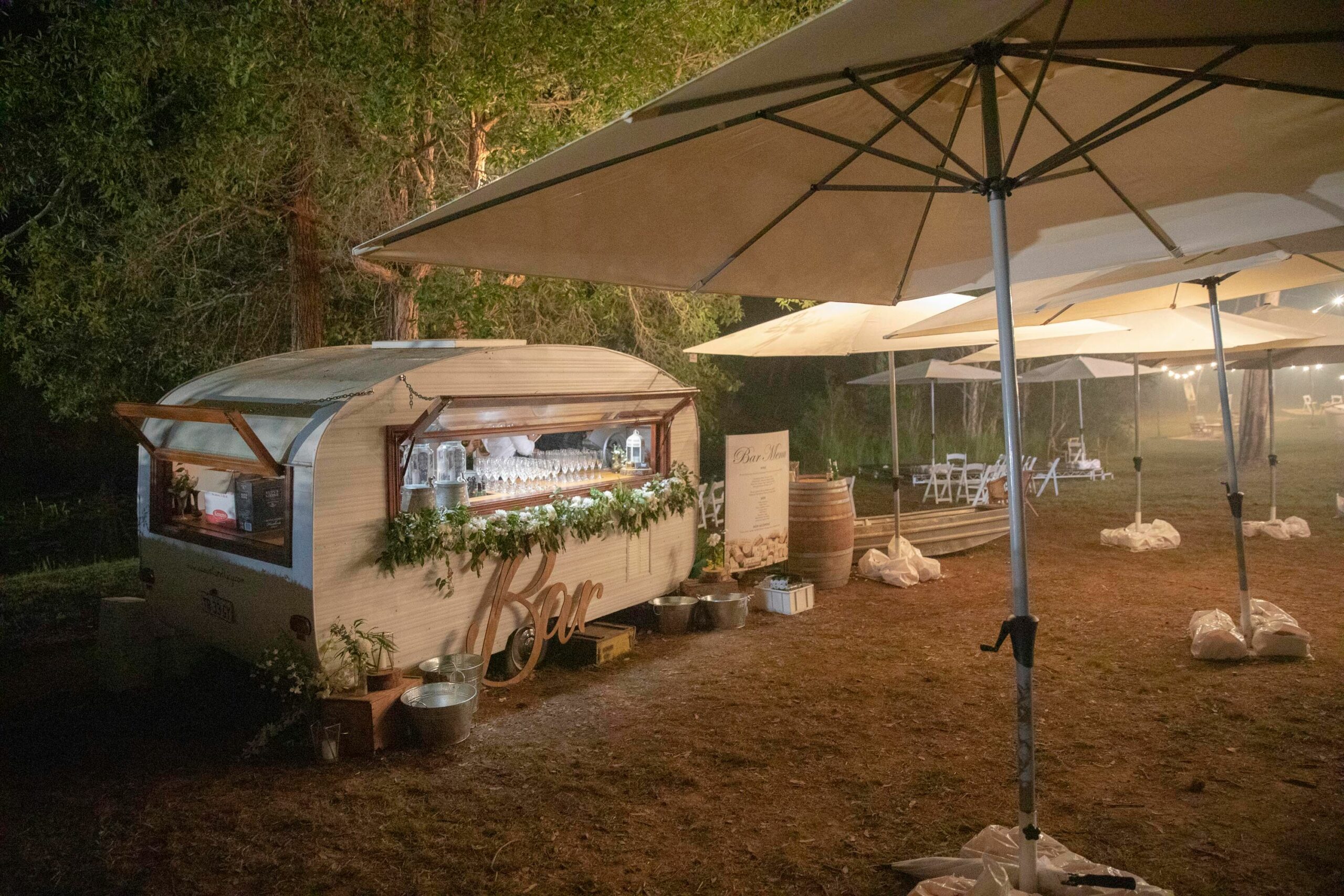 A venue built from the ground up
Of course, it was the second reception which was the main event, and no expense was spared. Luke, Damien and their families spent 12 months landscaping a paddock into the perfect spot for their giant marquee reception.
It wasn't just the chandeliers and the florals that made the marquee one of the most stunning venues we've seen built from scratch. The custom made floor, complete with personalised decals, the candles features around the room, and custom pieces of designer furniture all made the marquee a truly spectacular experience.
Not only did Luke and Damien tear up when they first saw their design come to life, but we almost did as well! It was a truly spectacular experience going from the boho vibe outside to the glam and luxury inside the marquee.
Luke worked with Harbourside Decorators to import the specific chairs and details in the furniture, which were previously unavailable. Vesna Grass Floral Designer and Chandeliers To Die For worked together on the truly spectacular table centrepieces, and masterpiece hanging installation in the centre of the room. White Label Hire added luxury with moody lighting and an array of candles across the tables and around the marquee, while Sweet Bloom Cakes and Flexineon Lighting paired together to light up the nine-tier wedding cake!
It's also the attention to detail that really leaves a spectacular impression, and Luke had worked on table stationery and signage for the day with LUK Designs. These paired with the suede (yes, suede!) menus from Ooh-Aah Invitations.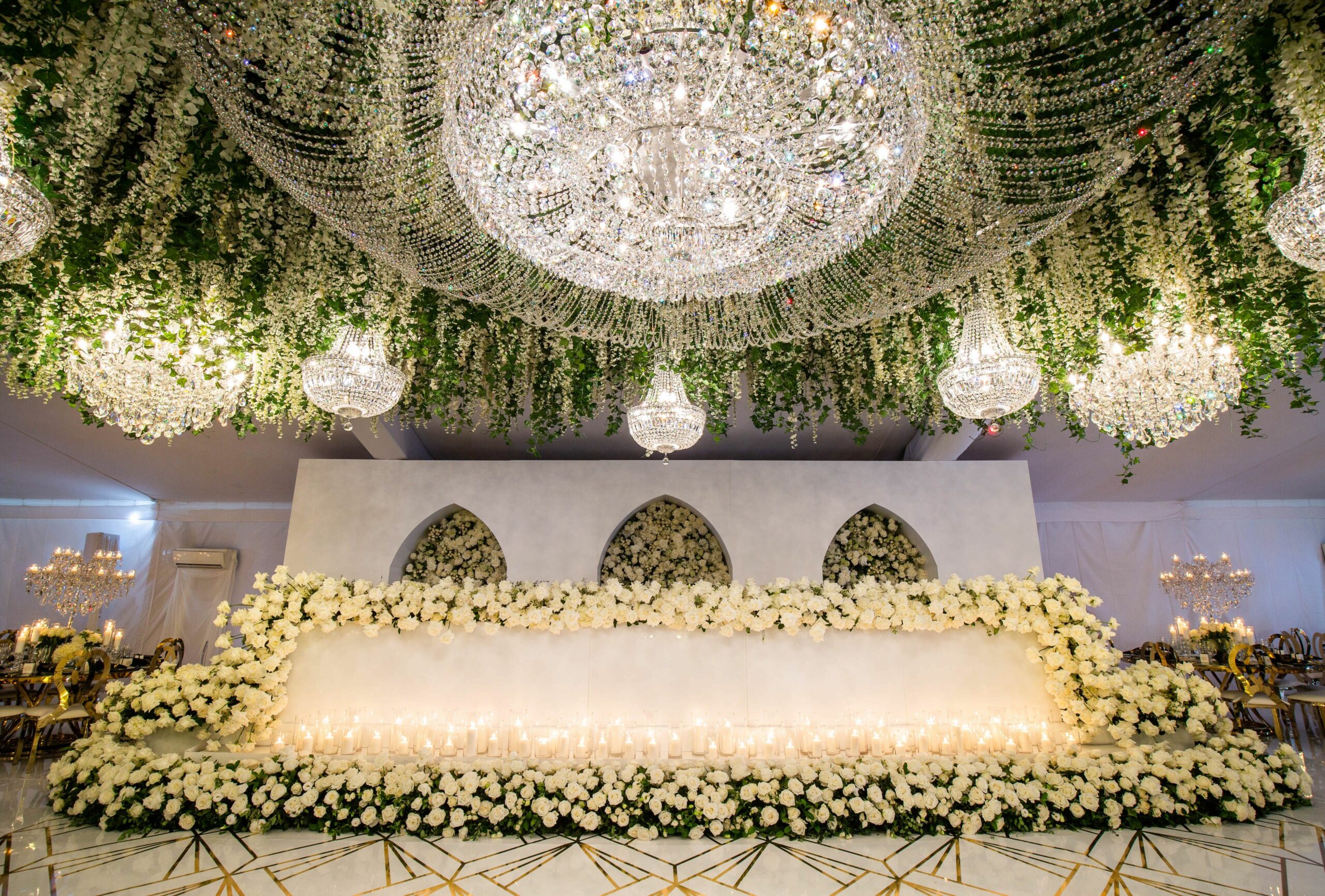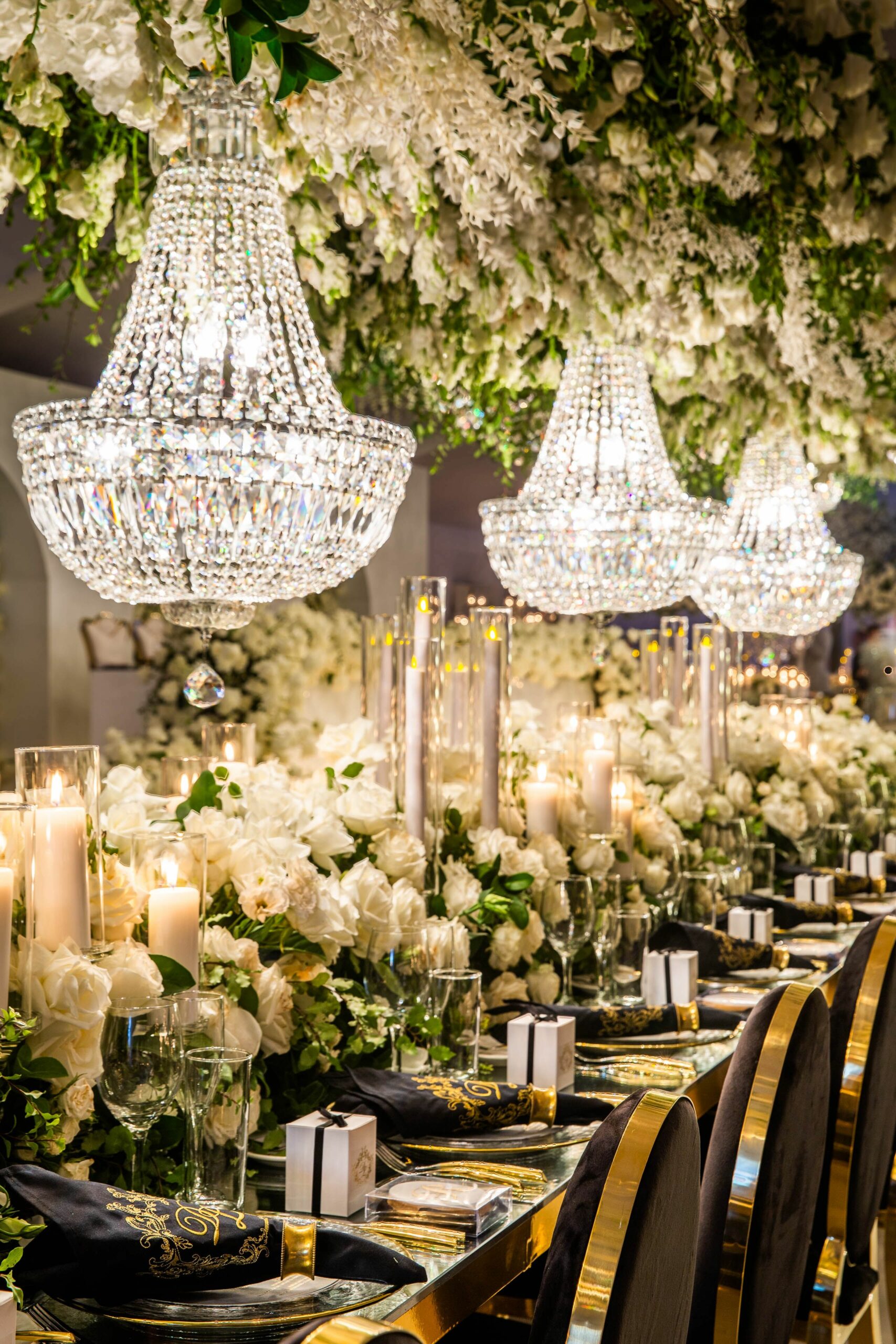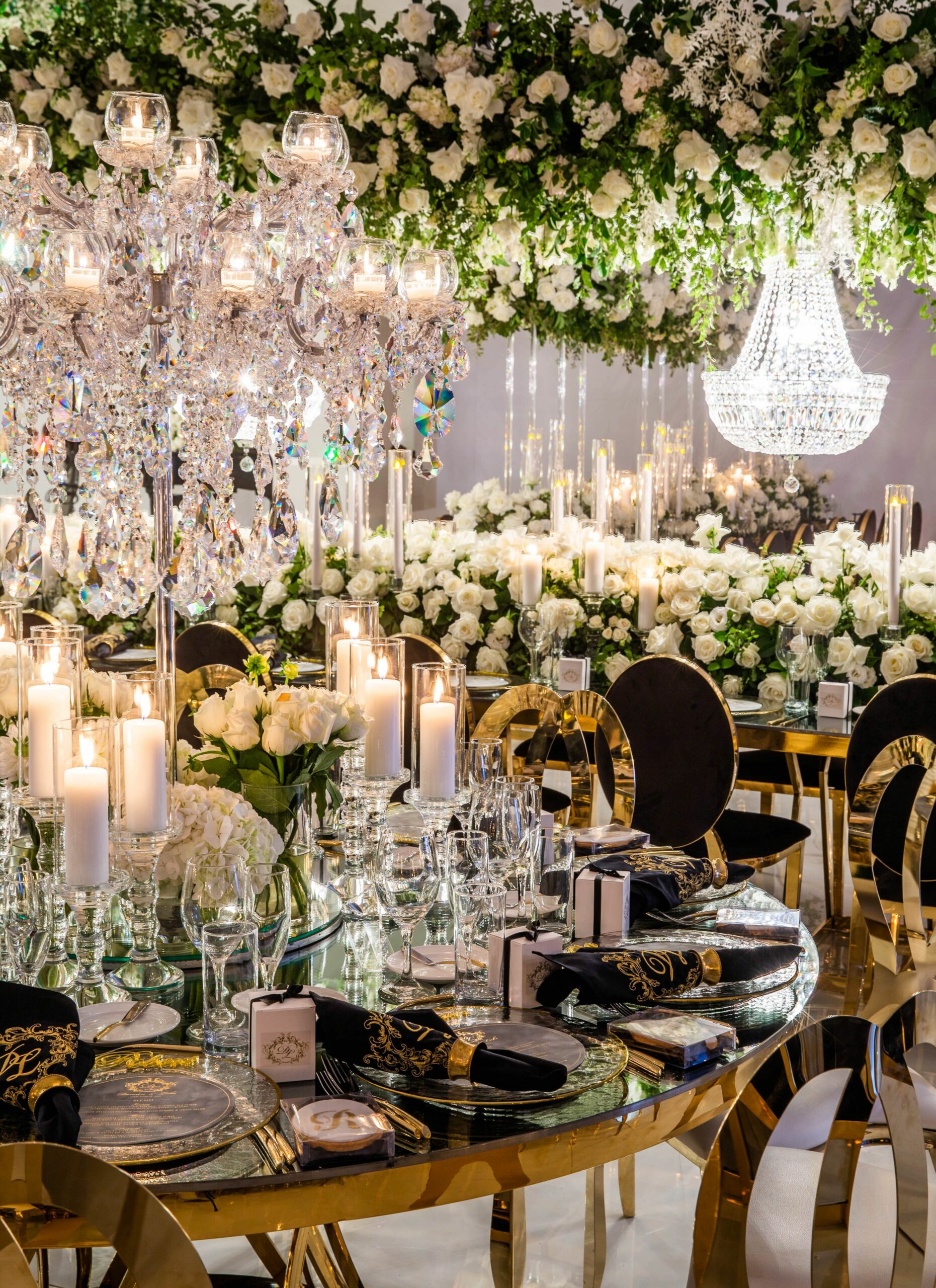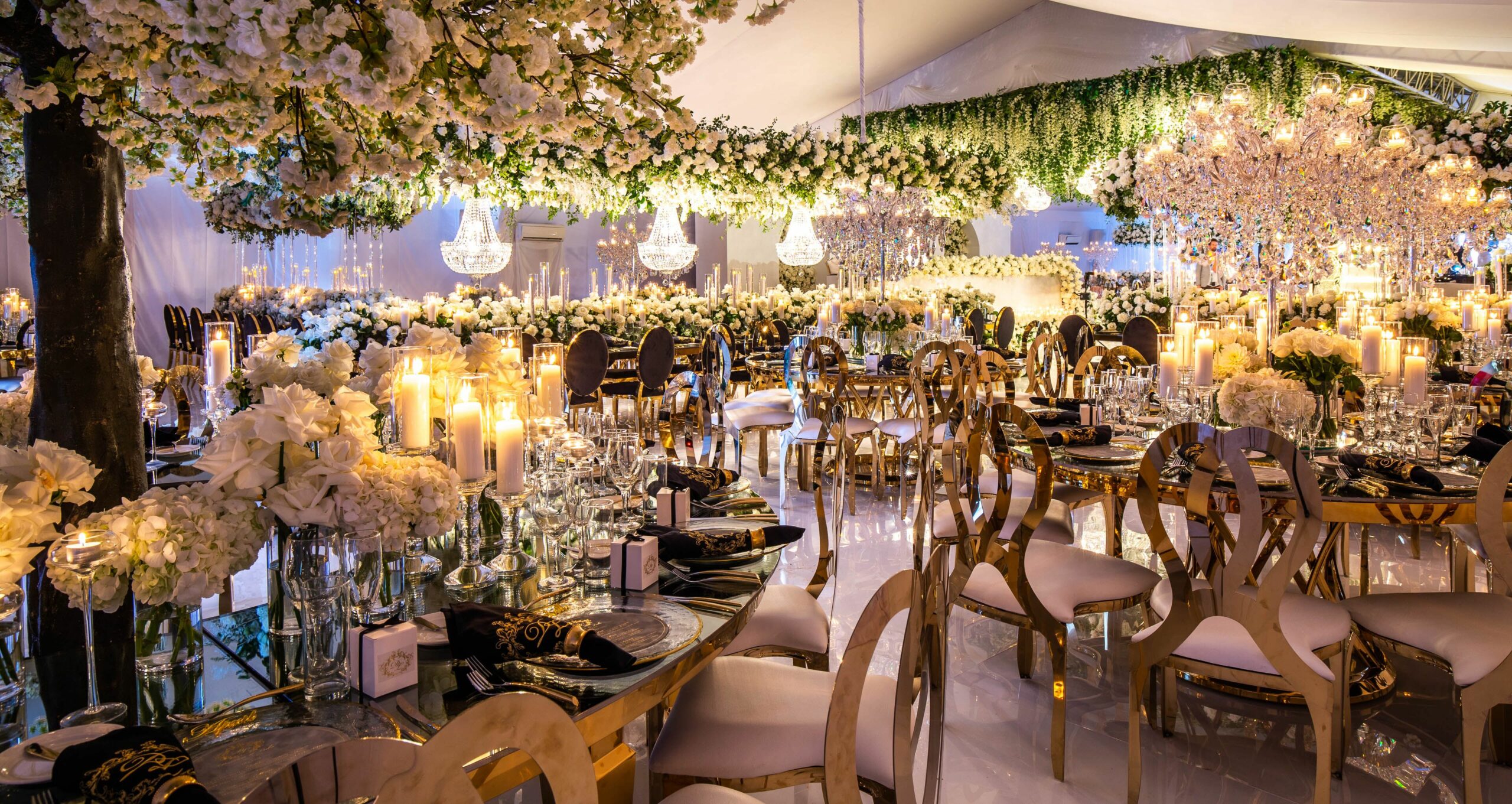 Guest entertainment all day
When you're spending a lot of time getting your photos taken and leaving your guests to themselves, it's important to make sure they're going to be entertained throughout the day. As a result, Luke and Damien had Limited Edition Band play for their guests throughout both the first and second wedding receptions.
They also had lawn games and a wedding jumping castle set up for the duration of their first reception while making an entrance when they returned from photos.
The boys and their wedding party danced down the hill to the drums of C'dzar Entertainment. They made a similar entrance into the marquee, accompanied by pyrotechnics. But it was when the night kicked off and everyone was ready to dance that they pulled out Brown Sugar Band Music and Soul Empire to get everyone up on their feet and dancing.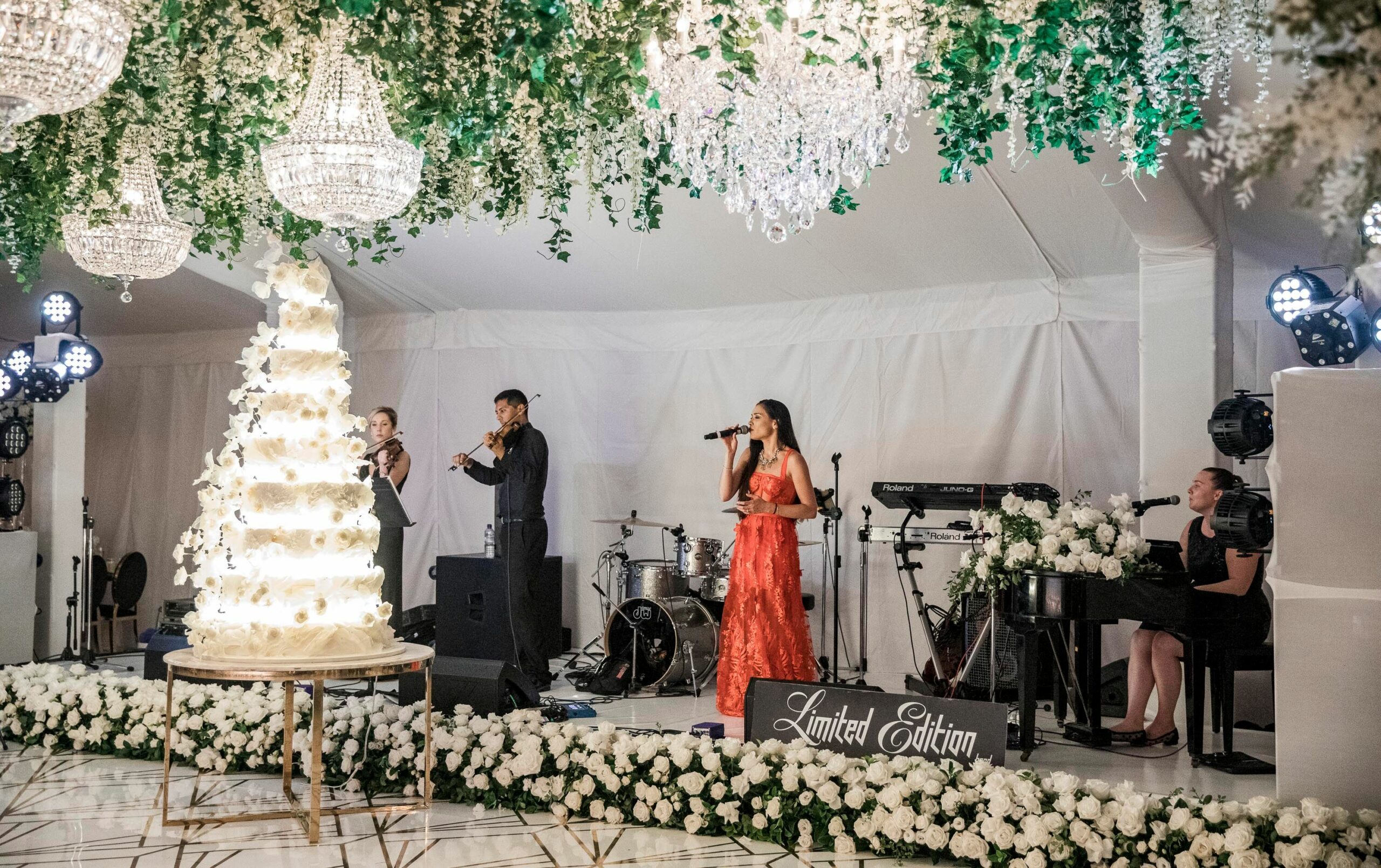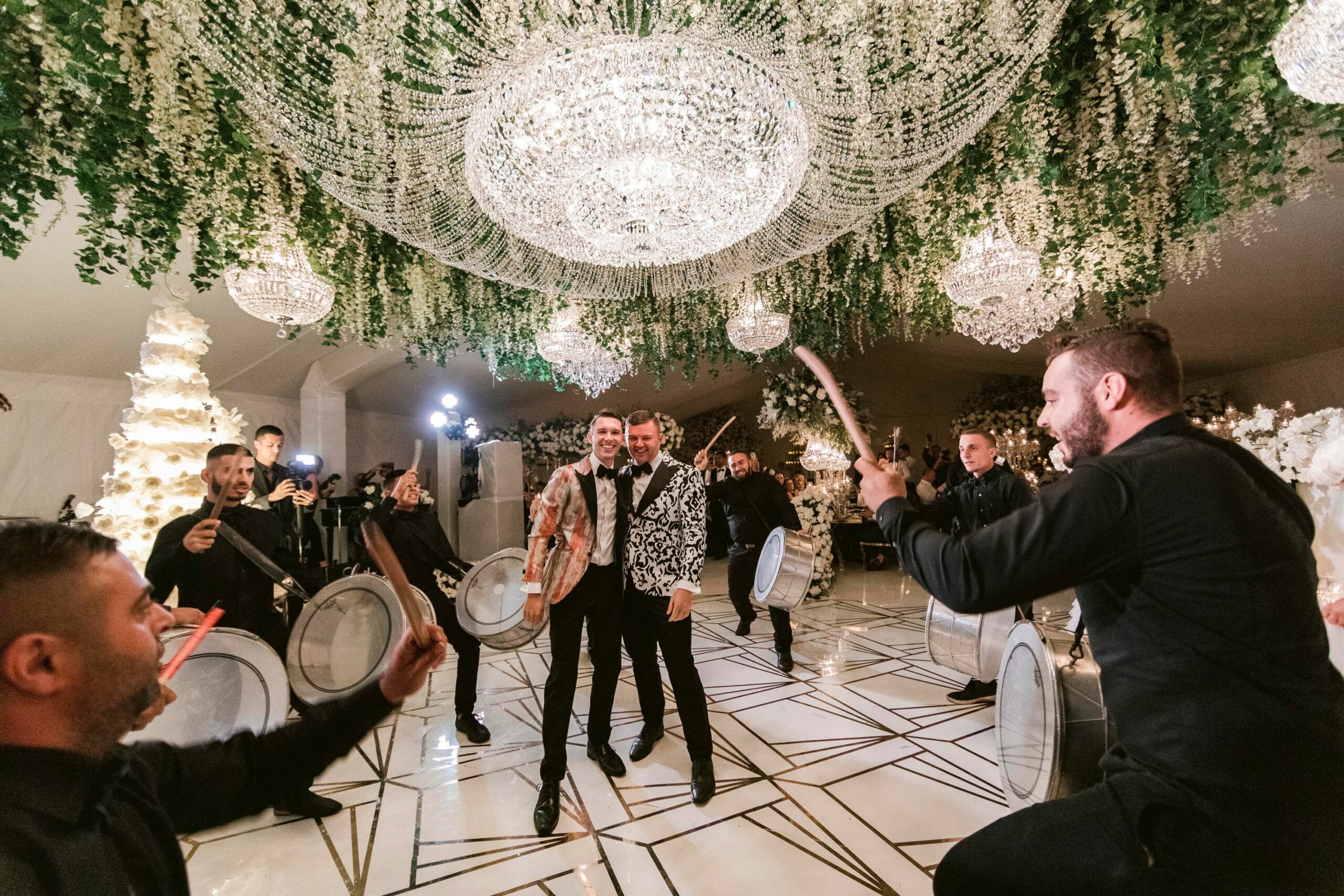 A lot of cameras
What's the point in hosting a million dollar wedding if you can't share it at the end of the day?
Luke and Damien spent their wedding being interviewed by Channel 7 producers as part of the program 'Extreme Weddings'. Of course, the team from Inlighten Photography were there capturing the photos for the couple, but that's not all. There were a total of 16 cameras shooting activity across the day, with teams from Soda Films and Ariana Photography Studio also there to capture the spectacular day.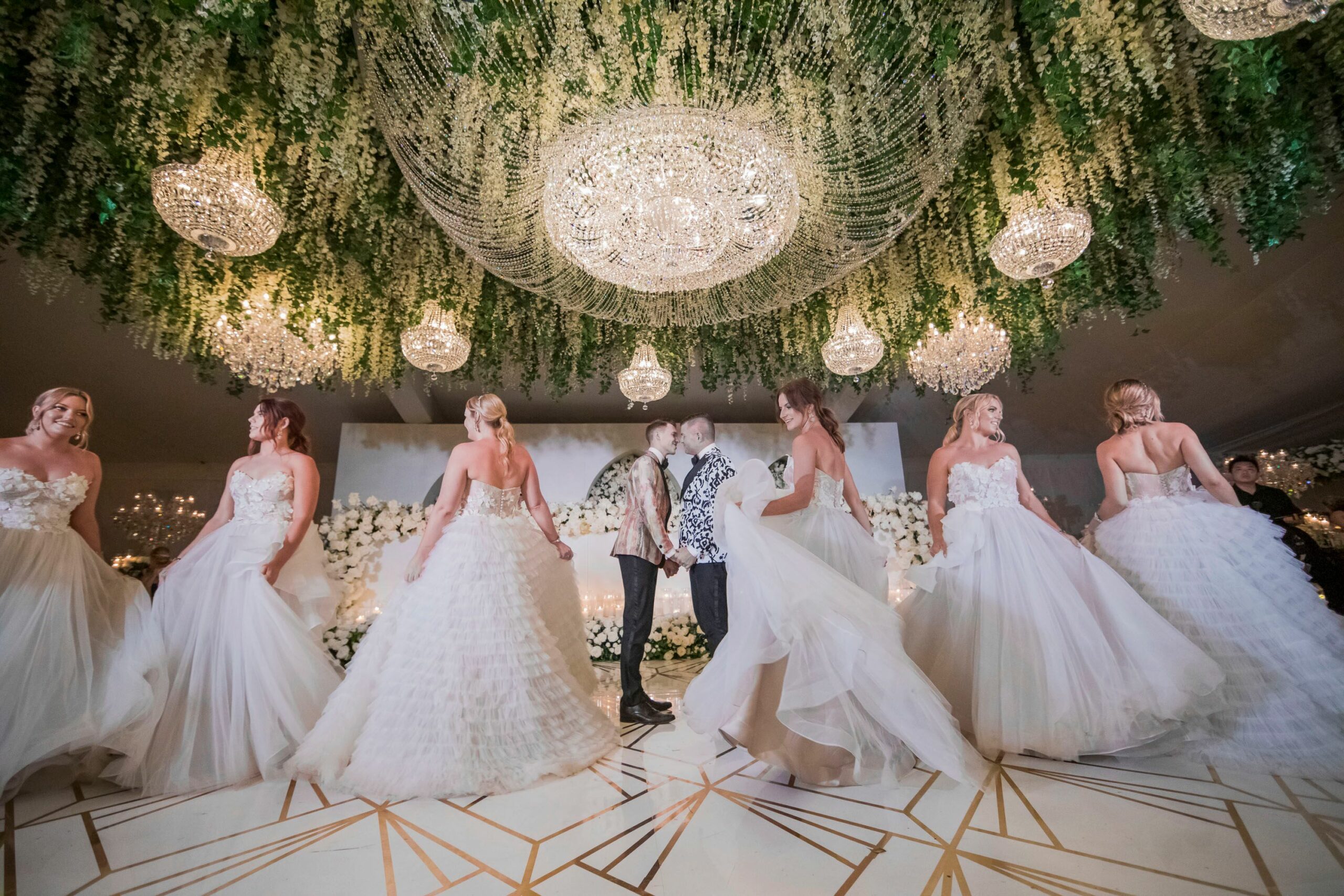 A finale with a bang
The first dance at a wedding is one of the final formalities of your day, but before that Luke and Damien called all of their guests out into the boho area again for a special surprise. 10 minutes of spectacular fireworks followed, shooting spectacular colours into the sky and ending with a firework rainbow from All Occasion Pyrotechnics.
But it was the first dance that was the real show stopper, with Luke and former ballroom dancer Damien performing their wedding waltz to the passionate 'Love Me Like You Do'. There were fireworks, smoke, lifts, and it was one of the most beautiful and loving first dances we've seen.
A fitting ending to a spectacular day, which was planned to perfection.