While the main wedding outfit focus will be on the bride, the groom will also need to put a bit of thought into what he is going to wear. Wedding suits for the groom can be hired or bought, and if you are buying they can be made just for the groom, bought off the rack from a designer, or simply picked up in a menswear store.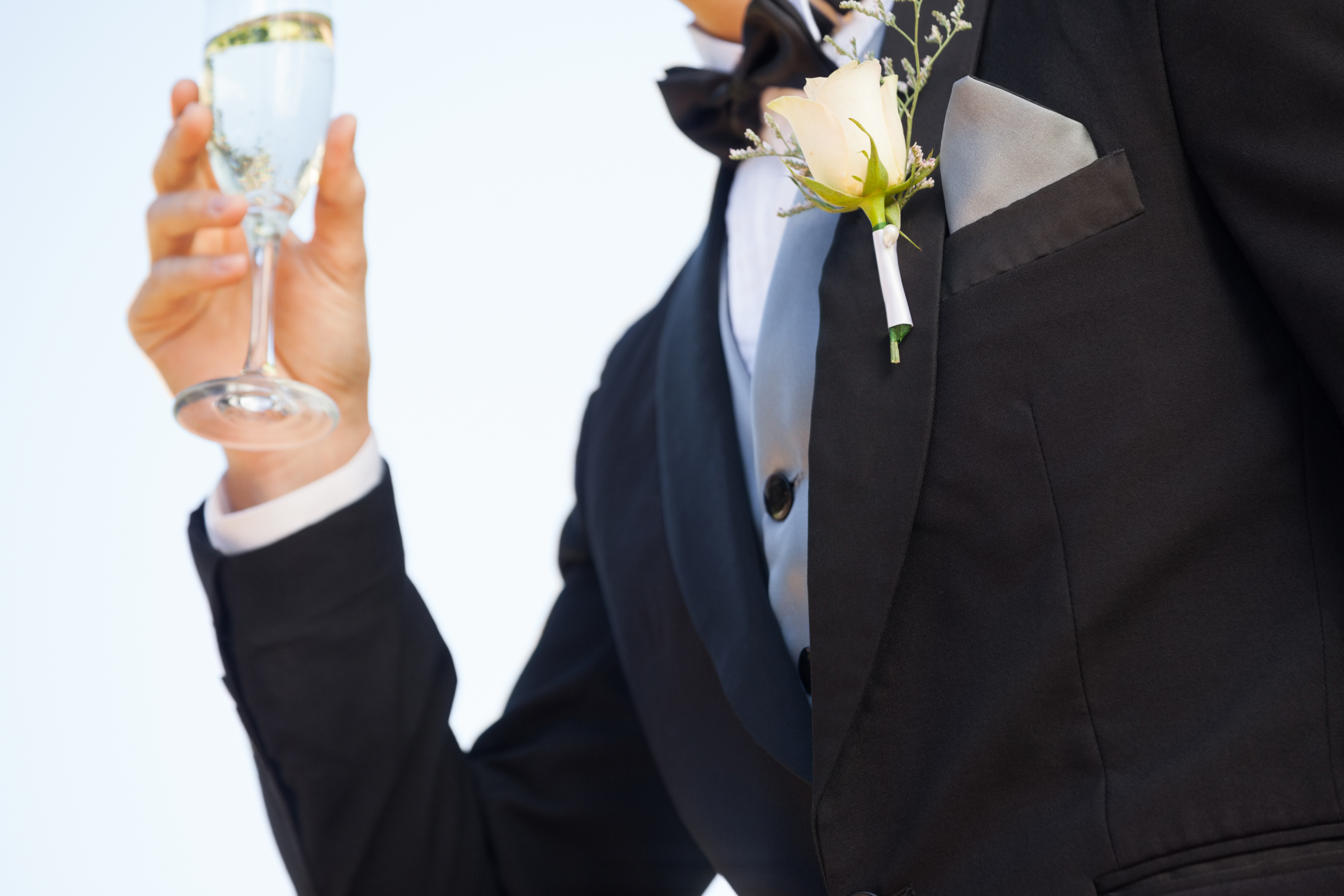 Hiring the Grooms Wedding Suit
Many grooms choose to hire mens wedding suits for a number of reasons. Perhaps they are on a budget and realise that hiring can be much cheaper, especially if they want all the male members of the wedding party to wear the same. They may also deicide they want to go ultra formal and wear a morning suit or white tie, and they can't think of a future occasion where they would get to wear a bought suit again.
Having a Suit Tailor Made
There aren't many occasions in life that justify a tailored suit but a man's wedding day is certainly one of them. Having a tailored suit means that the groom will get married in an outfit that fits him like a glove and completely suits his figure and tastes. It will be unique and will give him confidence that he looks his best on his big day.
The downsides of a tailored suit are that they can be quite expensive, especially if the best man is having one as well. They require more effort as at least two fittings are required and they need to be ordered quite a long way in advance of the wedding.

Buying a Designer Suit
Splashing out on an off the rack suit from a top designer will make the groom feel extra special on his wedding day and can be a good investment. As long as he chooses a classic cut and colour, he will have a suit that he can wear to every special occasion for the next ten years. Buying accessories from the same designer can create a seamless look.
A designer suit will cost less than a tailored suit, but it will still be quite expensive, especially if you are buying for the wedding party. The groom should be careful with the cut and style of a designer suit to make sure it doesn't become dated too quickly.
Buying a Standard Suit
Choosing a standard suit from a department store is a good choice for grooms on a tight budget, and it will be easy to get best man and groomsmen suits to match. The groom will be able to be a bit more daring with his suit style and colour. As long as it is new for the wedding it can feel every bit as special as a designer or tailored suit. He will also have an additional suit he can wear to the office after the wedding.