Whatever the style and formality of your wedding, there is bound to be a contemporary and fashionable look for your groom to adopt. Fashion for the groom is becoming ever more exciting and exotic, and here are six of the key current looks in mens wedding fashion for you to choose between: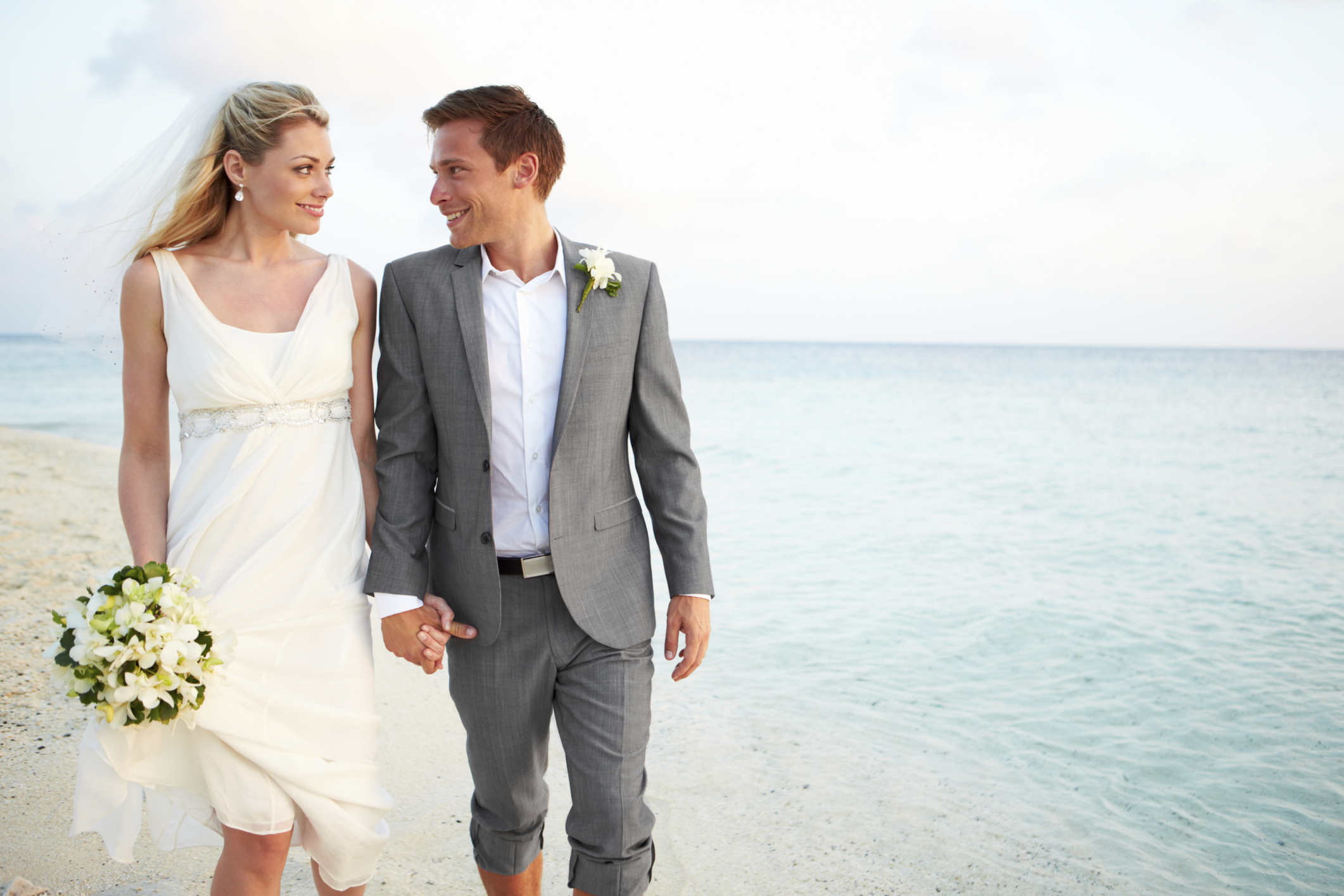 Casual Beach Boy
Don't worry, this doesn't involve a wetsuit. For a relaxed yet elegant beach wedding outfit, the groom should wear a crisp linen suit with a light coloured cotton shirt, a straw trilby, and a silk or cotton cravat style tie. Smart brown leather sandals or flip flops will help to keep his temperature down.
Sharp City Tailoring
A well fitting dark wool pinstripe suit is essential to pull off the city look. Bold stripes are also key and a coloured striped necktie and co-ordinating striped shirt create a real statement. Match pink with a grey suit, and light blue with a navy suit. Add a trilby, glossy leather brogues, and braces to complete the look.
White as Snow
Fresh and fun for a daytime summer wedding, an all white silk or linen suit will certainly make the groom stand out. Keep the suit sleek and simple; a single breasted jacket with just one button is the best option. Wear it with white shoes, a crisp white shirt and a tie in the wedding colour, and add a white waistcoat if the suit is formal enough. Finally make sure the shade of white works with the bridal gown.

Morning Groom
The classic morning suit is still as fashionable and popular as ever, and the tailcoat and pinstripe trousers are an elegant choice. Grey works well in the warmer months, but look for a black tailcoat with silk lapels for a winter wedding. Team with a waistcoat, a white cotton shirt, and a coloured cravat with pin. A felt top hat and a pair of gloves will add those finishing touches.
Eclectic Chic
For grooms that really want to express their personality through their wedding outfit, absolutely anything goes. Mixing and matching colourful suits, patterned shirts, and quirky accessories takes an artistic eye, but can achieve a truly unique effect. Perhaps start with one item such as a bright coloured scarf, or a pair of favourite wedding shoes, and create a colour palette from there. Plum, orange and silver are all possible colours for suits, and polka dots, stripes, or floral patterns can work well for shirts.
Classic James Bond
For an evening wedding, nothing beats the classic black tuxedo; guaranteed to make any groom look like James Bond. A black suit, white shirt, and black bow tie can be dressed up with a black scarf and gloves, and patent lace up round toed shoes. For something different look for a black dinner jacket with subtle satin stripes.