We recently had the pleasure of catching up with Ben Redlich, Owner/Director of Wedding Band Collective Melbourne, to chat about all things wedding music related.
In the interview below, Ben shares plenty of helpful tips and advice for nailing your wedding entertainment, including:
Where to start when booking your wedding musicians
The most popular act configurations for weddings
Killer tunes to get your wedding guests on the dancefloor
---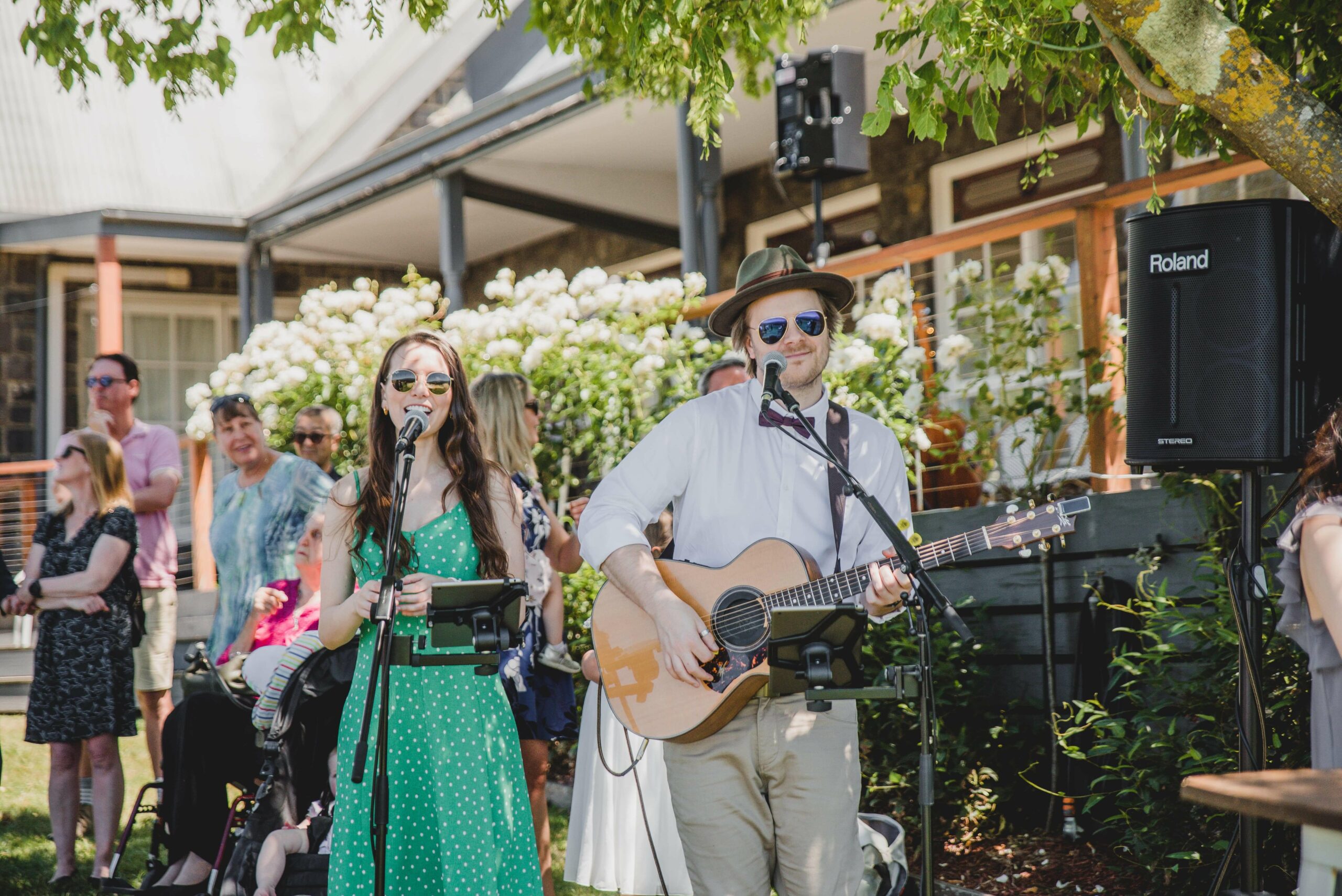 visit wedding band collective
Easy Weddings: Hi Ben! Can you tell me a bit about yourself and your business?
I'm a professional musician and have been so since leaving school. I started out playing the drums back in high school, and through playing with various bands, I was lucky enough to tour all over Australia, New Zealand, and Europe. When I was first asked to perform at a wedding several years ago, I discovered that it was something I really wanted to be involved with from then on.

With my background in band management, I started the Wedding Band Collective agency, turned my focus to weddings, and haven't looked back since. I started to play guitar, bass and even learned to DJ as well so that I was well equipped for the requirements of any wedding I played. Four years into the business now, I love helping couples plan the music for their weddings. Whether it's an artist that I play with or one of the many other amazing acts from our roster, it gives me a great sense of pride to be able to help couples celebrate their big day!
How did Wedding Band Collective start, and what has it become since then?
When Wedding Band Collective first started, I had a very small artist roster and a very minimal online presence. Over the last four years, myself and my colleague Olivia have found some amazing artists to add to our roster so that our couples can always find a great choice of musicians to fit exactly what they're after for the feel of their wedding.

While we did start with bands only, we now have a great selection of acoustic artists and DJs as well, so couples can always find something for their specific style.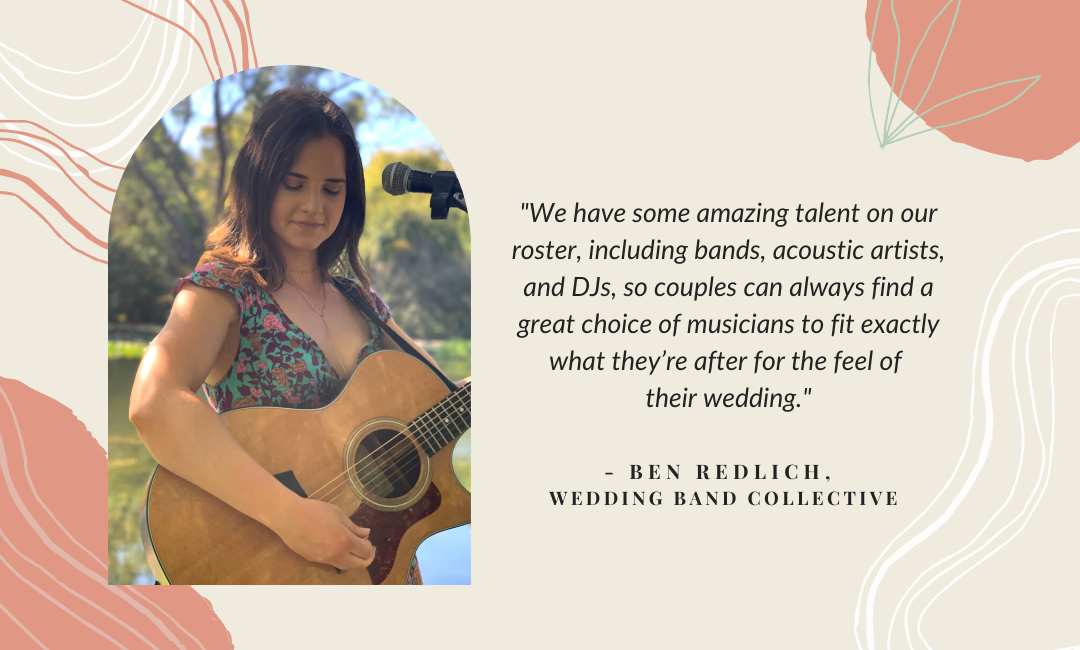 visit wedding band collective
Where should couples start when booking their wedding entertainment?
The first thing I always tell couples is that the artist has to be right for them! Music is so subjective, and I always tell couples to go with their personal preference. Each of our artists has their own profiles on the website, featuring high-quality videos, so couples can take their time to see who they get a good feel for and enjoy the most and make further enquiries from there.
What advice would you give to couples who can't decide between a DJ and live musicians for their wedding?
As I mentioned before, it all comes down to personal preference. If you're the kind of couple who love going to live concerts, then maybe the live feel of a band is best for you. If you prefer dancing in a club, then perhaps a DJ would be more suitable.

With many weddings these days, people are now choosing the combination of having a band or acoustic duo in conjunction with a DJ, which many of our artists can facilitate. Again, it all comes down to personal preference!
find musicians in your area
You offer several options for wedding entertainment, including acoustic duos, DJs, and live bands. What are the most popular act configurations for weddings?
The most popular package for weddings is our platinum package, which includes a band for the reception and acoustic music for the ceremony and cocktail hour. The combination of an acoustic duo and DJ is also very popular too. While we list packages on our website, every wedding is different, so we always try to tailor the package to suit each wedding.
What kind of input do couples have when it comes to the song list?
Generally, we'll talk to couples about the kind of feel they're after. While they might not have too many specific song requests, they'll often give us a great idea of the styles they like. Whether it be rock 'n' roll, pop, R&B, soul, or anything in between, we try to help couples find the perfect artist for what they're after.

While there will often be specific requests that our artists will play, there are so many songs being played throughout a wedding that it's more important to get an overall picture of what the couple likes rather than individual tracks. We're always happy to learn important songs for their first dance, ceremony entrance, registry signing, and bridal recession.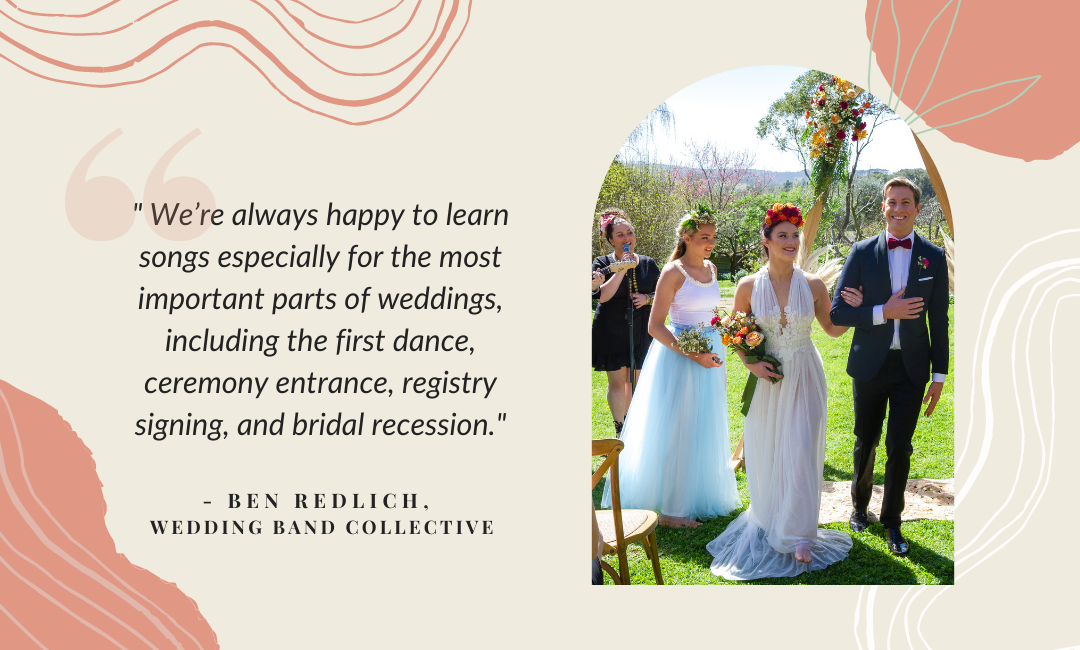 Why do you think it's important to have great music at a wedding?
Having great music at a wedding can really bring people together. Music has the power to set the mood, creating the soundtrack to ceremonies, and accentuating those powerful moments when couples tie the knot.

When it comes to the reception, there's nothing better for us musicians than when we're up there playing, and we see couples with their friends and families arm in arm, singing and dancing along with massive smiles on their faces.
What are your favourite songs to get people on the dancefloor?
The list is huge, but for me, some favourites that always get people dancing would be anything by The Beatles, Stevie Wonder or Elvis. Although I'm a lot younger, my musical taste goes way back to the classics. That's the best thing about wedding music, though — we're not there for us, we're there for you. As long as we can help create the atmosphere our couples are after; we enjoy the music we play immensely!
---
find wedding musicians