If an intimate celebration at one of Melbourne's most sophisticated wedding venues sounds like your perfect day, let us introduce you to Vue Events at Rialto.
Perched 55 levels above the city in the iconic Rialto, Vue Events at Rialto specialises in curating luxurious wedding receptions in their stunning private event space, with all-inclusive packages and fabulous fine dining menus ensuring an unforgettable experience.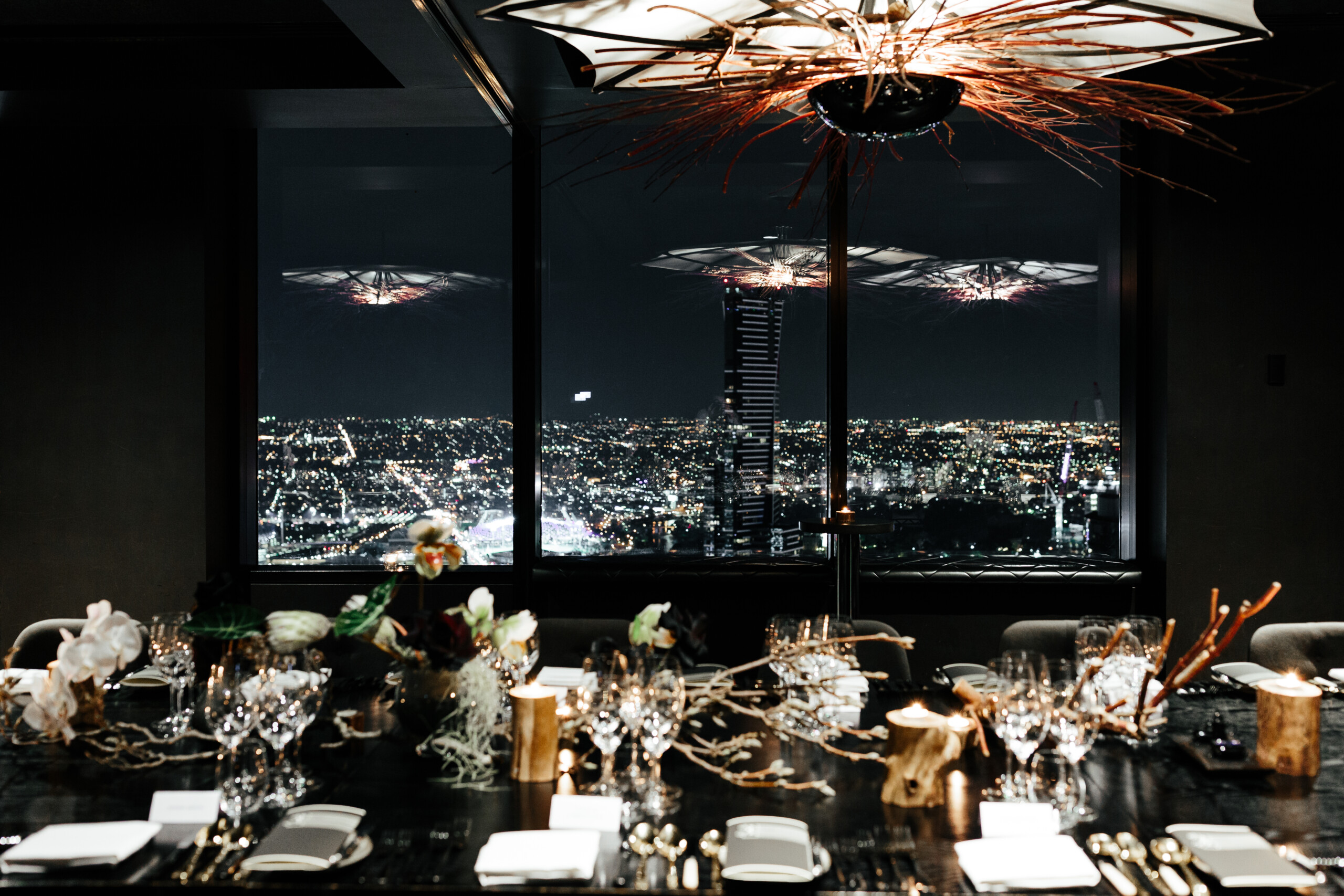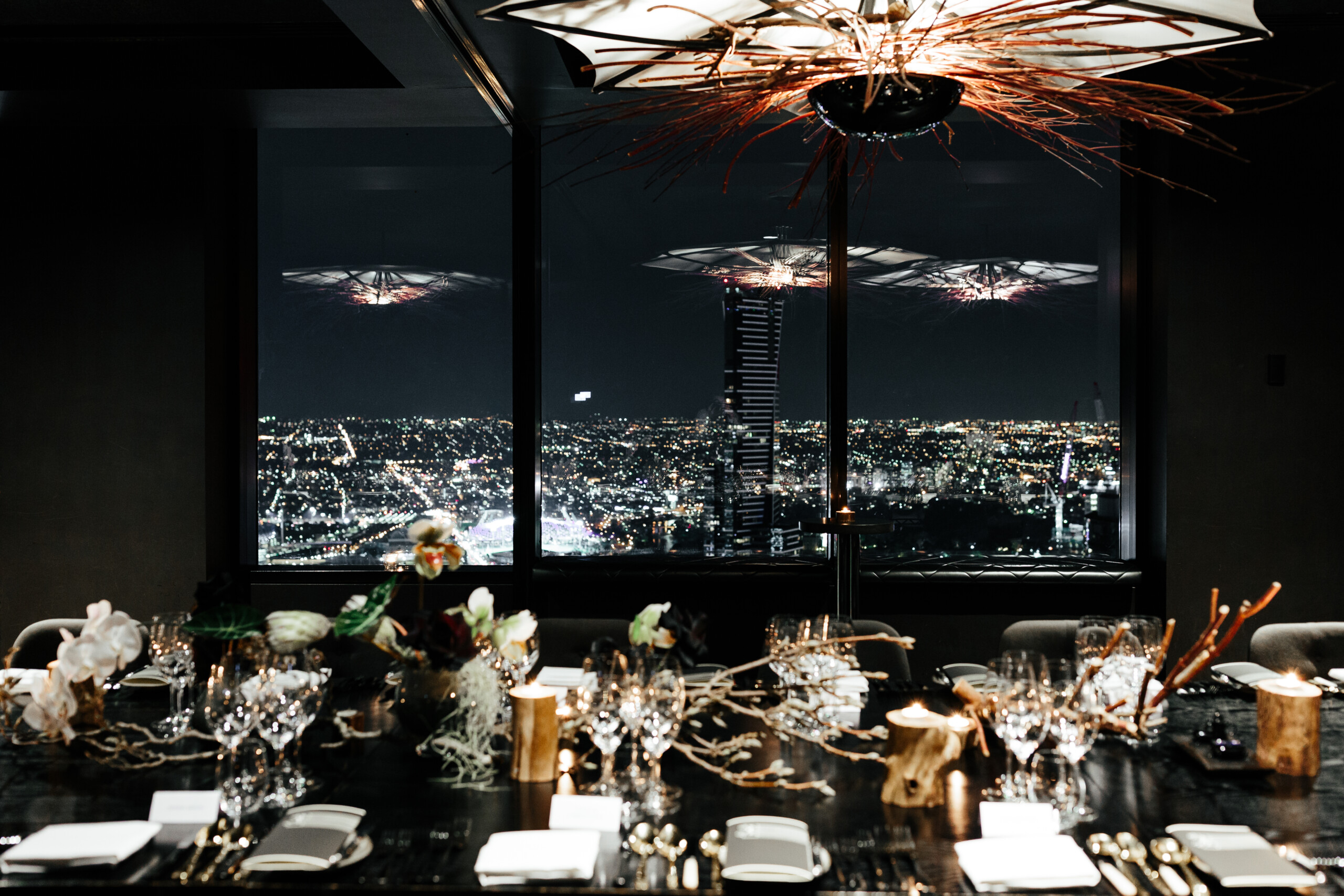 visit Vue de Monde
---
The Venue
When it comes to stylish inner-city wedding venues in Melbourne, Vue Events at Rialto is about as unique and high-end as they come. Located on Level 55 of the Rialto Tower, Vue de Monde is an award-winning Australian/European restaurant serving exquisite fine-dining menus, superior service, and dramatic views.
Shooting up through the sky to Level 55, you arrive at the sleek Vue de Monde restaurant. Here, shiny black floors, dark walls, and dimmed lighting create a moody atmosphere that feels exclusive and intimate. Expansive windows wrap around the building, showcasing unrivalled views of the Melbourne skyline, which only get better as night falls and the city lights twinkle in the distance.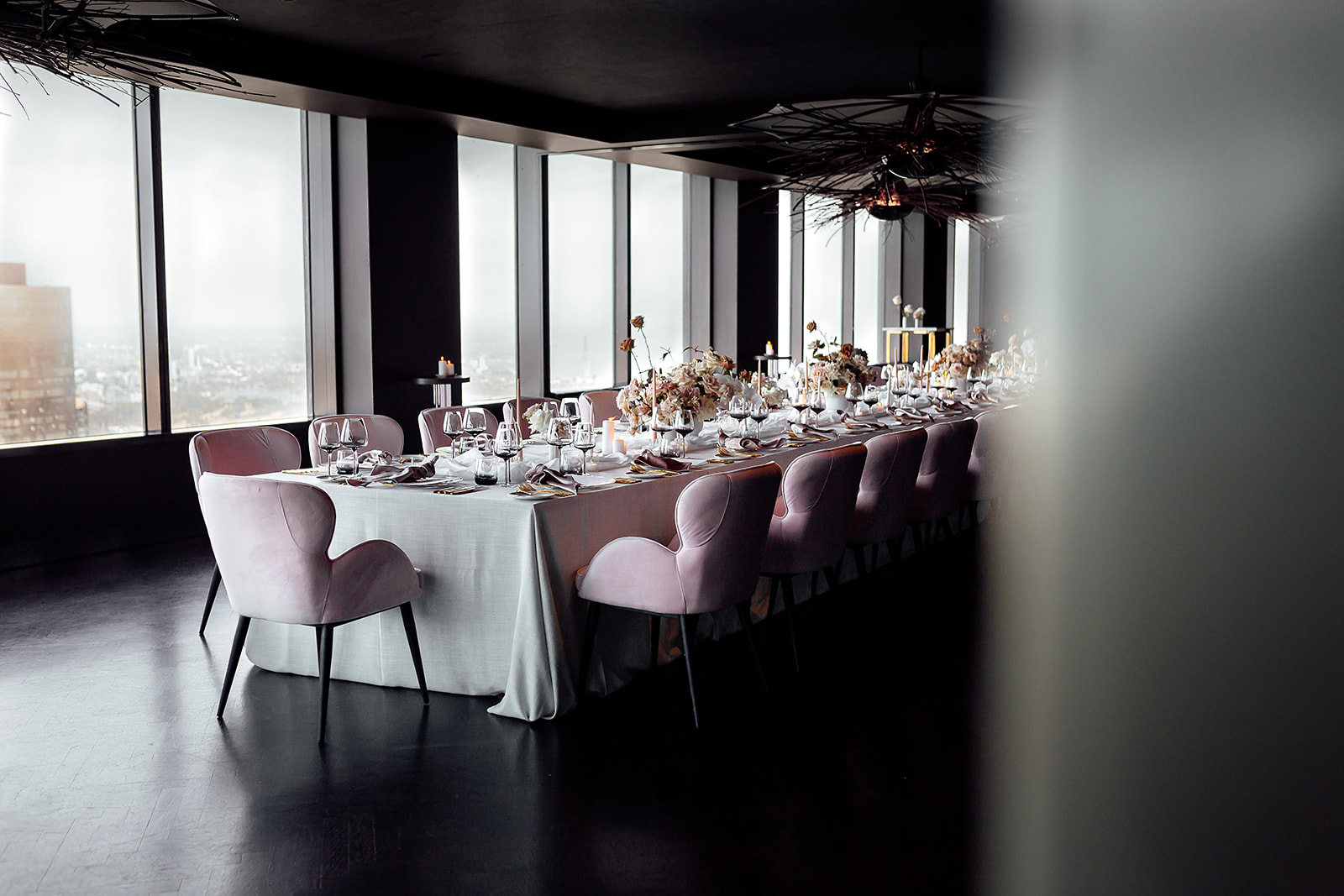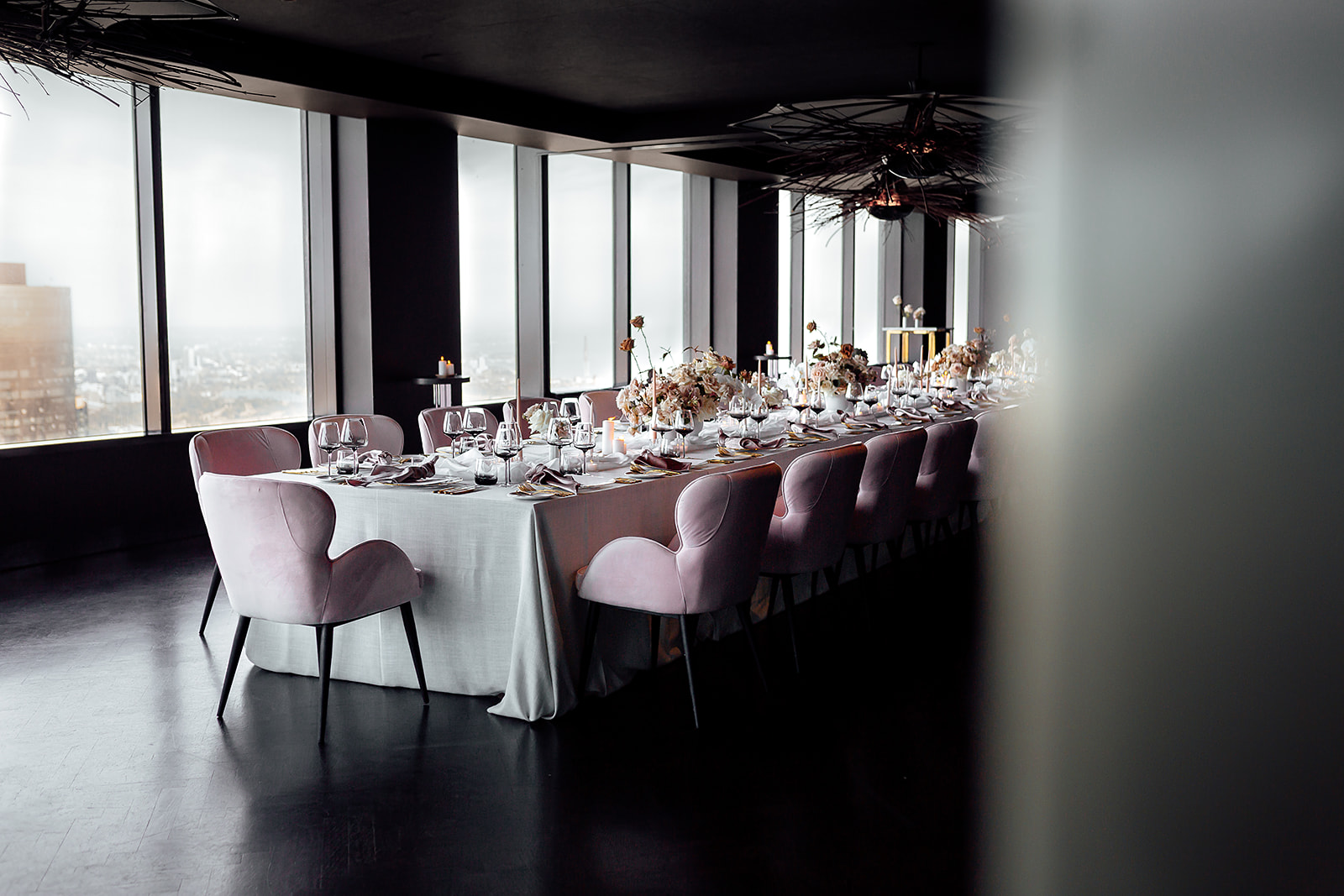 Vue de Monde Rialto Venue Highlights:
Modern event space with sky-high views of Melbourne
Impeccable dining experience from a multi-award-winning team
All-inclusive wedding packages for a seamless experience
What Vue de Monde couples are saying:
"We had our reception at Vue Events, and it was so special. Our ideal wedding was having delicious food and wine. Those boxes were very much ticked with this venue. All of our guests were commenting on the quality of the food and wine. The service was exquisite, as well." – Luke W.
"Service on the day was fantastic, attentive but not overwhelming. Good support for preparation and decoration on the day. We had a spacious private room with a fantastic view. The food and alcohol were marvellous. All of our guests had a great night." – Jenny L.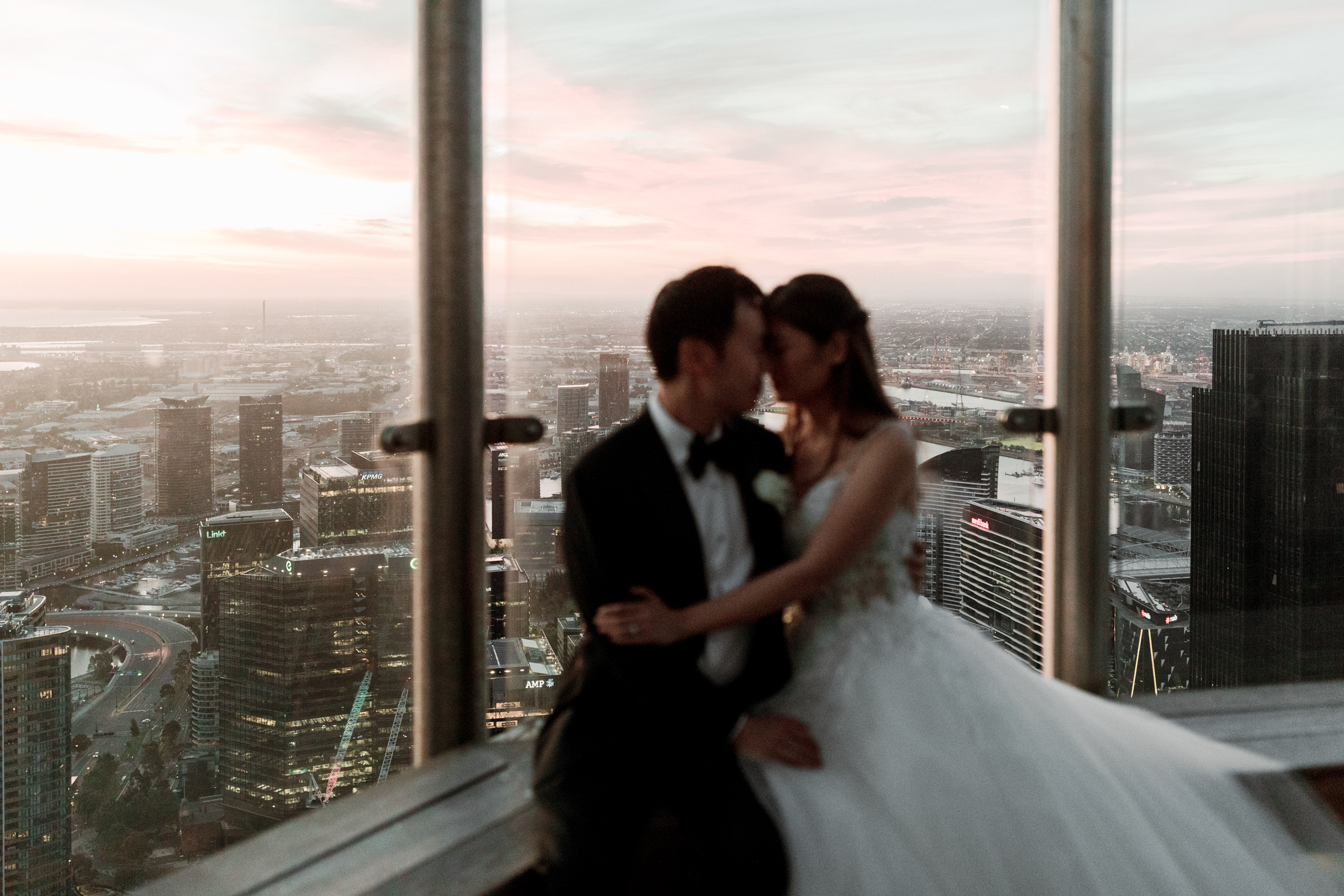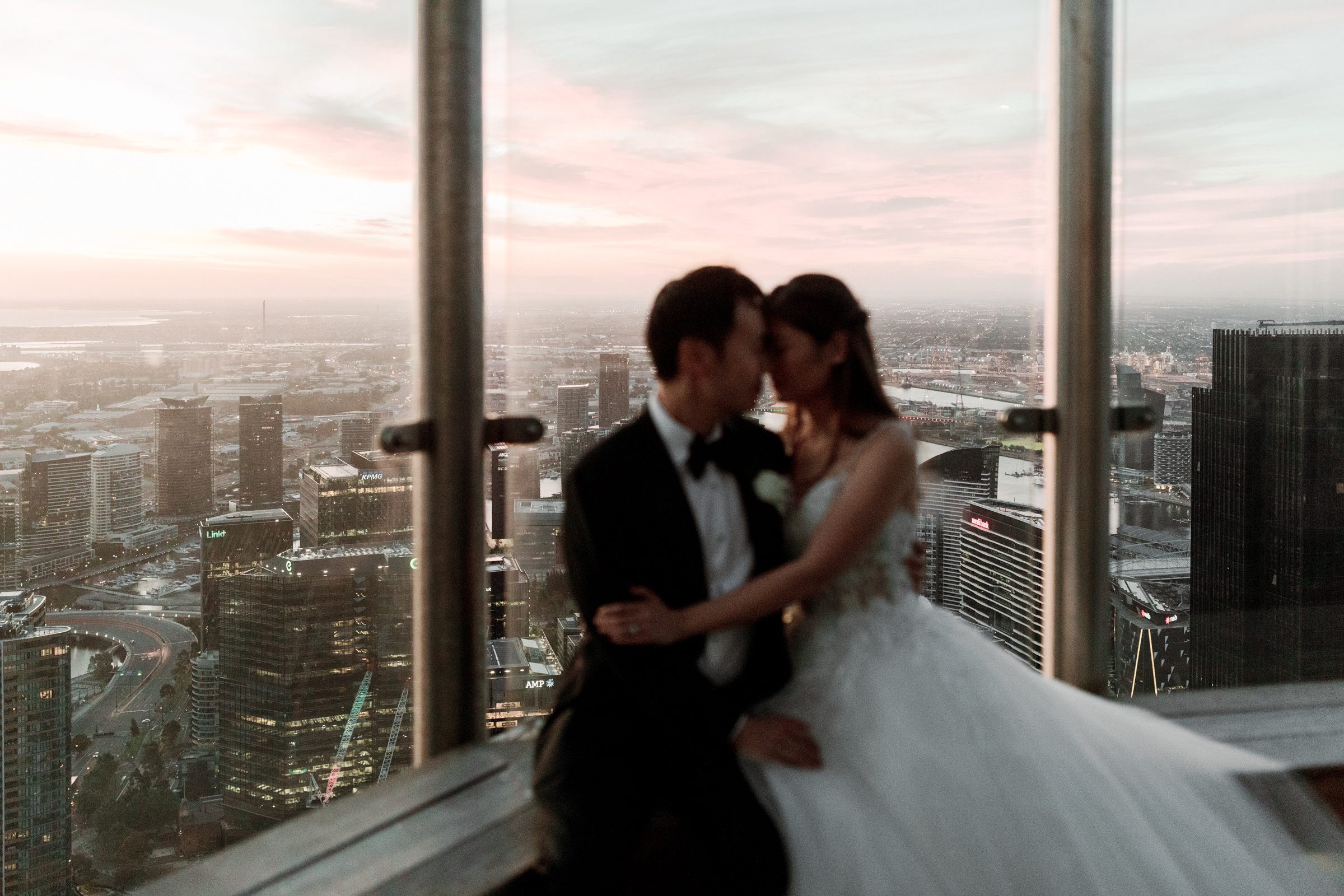 Why a Micro Wedding?
A micro wedding is an intimate affair, typically with no more than 50 guests. They still feature time-honoured traditions that make a wedding but on a much smaller scale, with fewer guests freeing up more budget to focus on the finer details.
The benefits of a small-scale celebration are endless, with the chance to make your wedding feel more intimate, luxurious, and personalised. At Vue Events, the team specialises in curating intimate events and will work closely with you to set the perfect tone for your wedding day.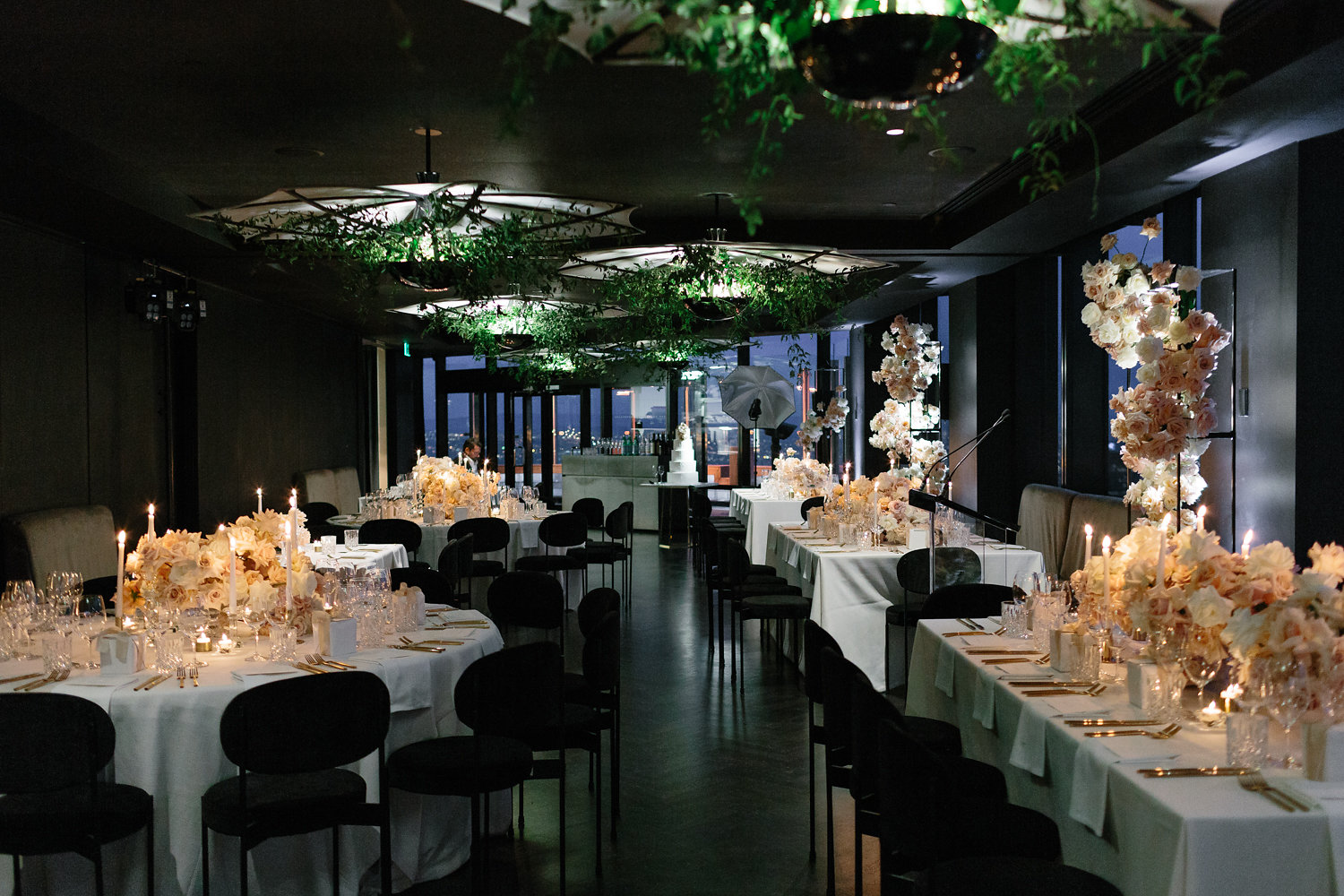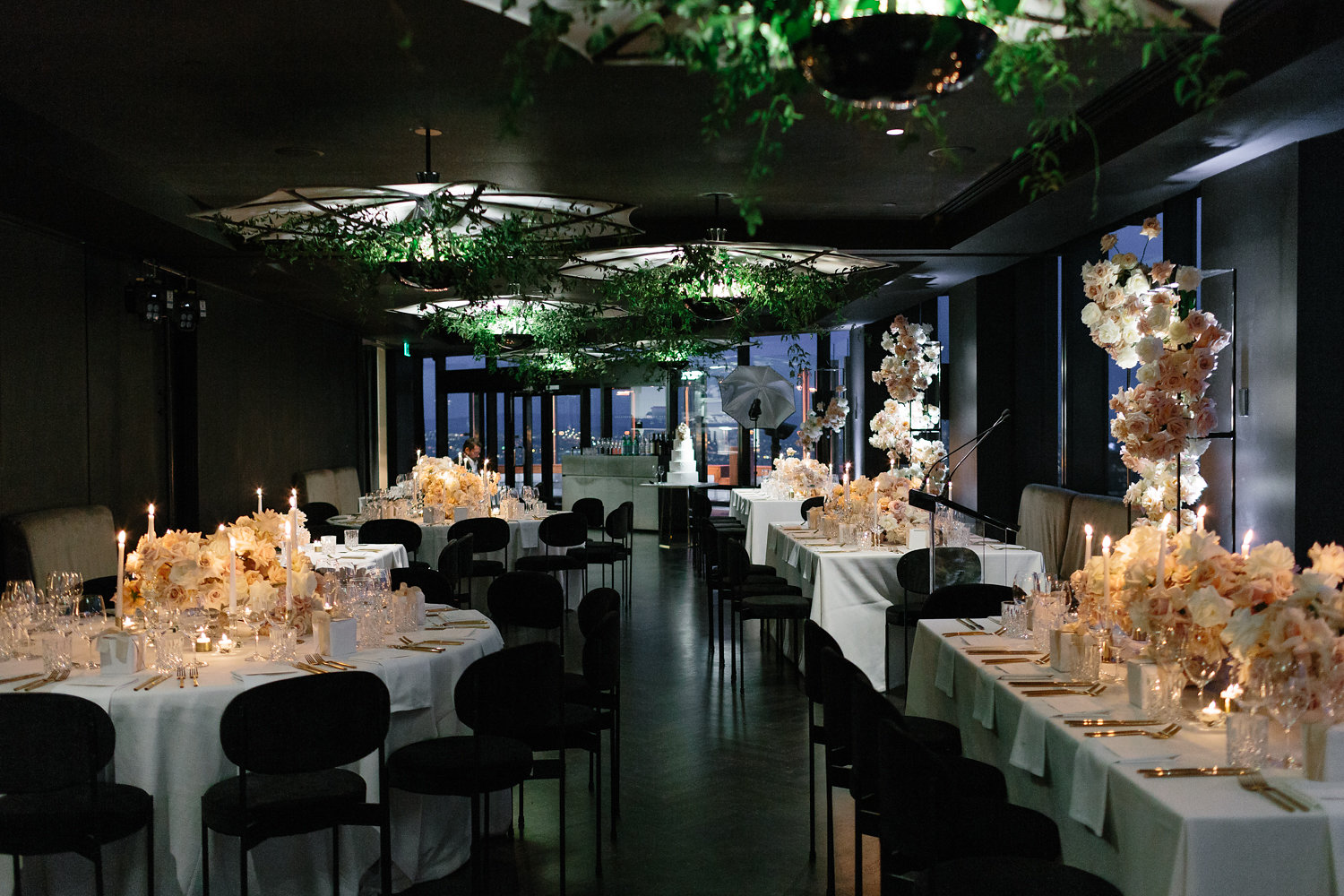 All-Inclusive Luxury
If your idea of the perfect wedding is an indulgent soiree that comes together effortlessly, Vue Events at Rialto is the place for you. Their all-inclusive wedding package has been carefully curated to ensure a seamless wedding experience, with every detail taken care of, so you can relax and celebrate in style with your closest loved ones.
Vue Events' All-Inclusive Winter Wedding Package includes a decadent four-course dining menu, an artisan cheese station, and a five-hour beverage package hand-picked by their Head Sommelier. Upon arrival, your wedding guests will be treated to a signature Lui Bar cocktail while indulging in freshly shucked oysters and delicate canapés.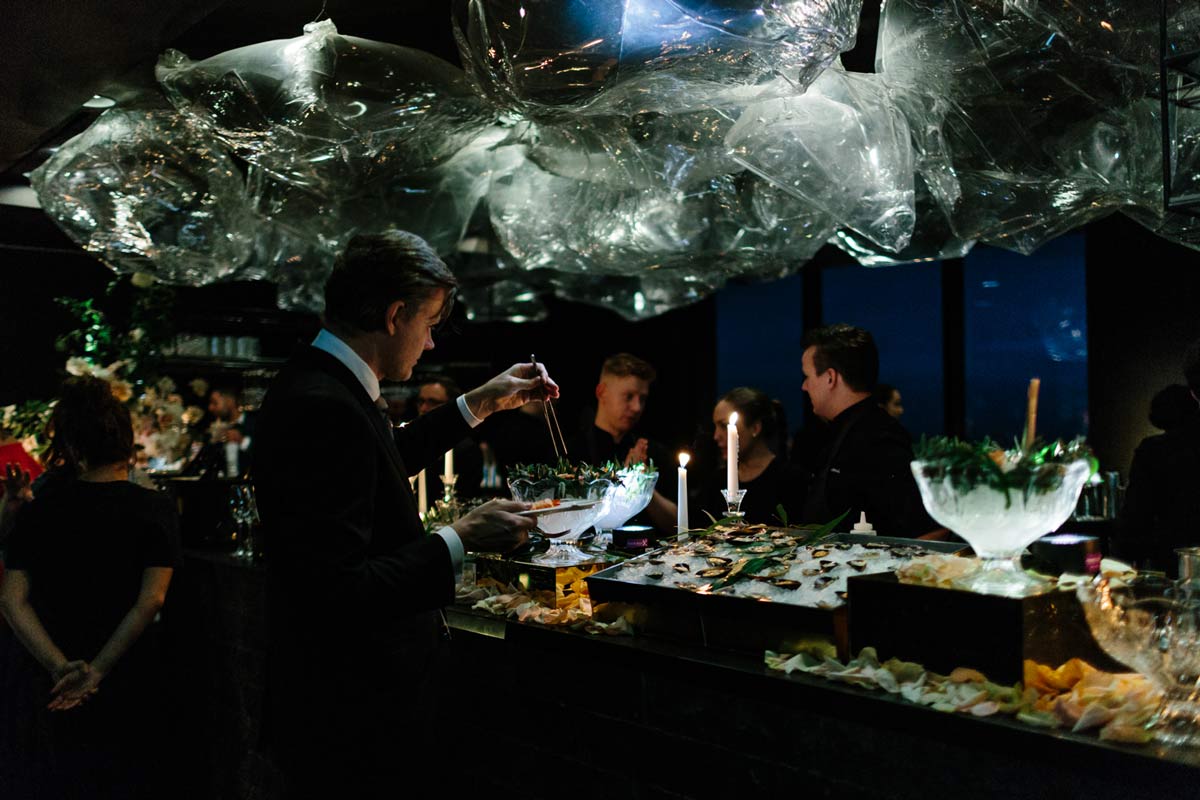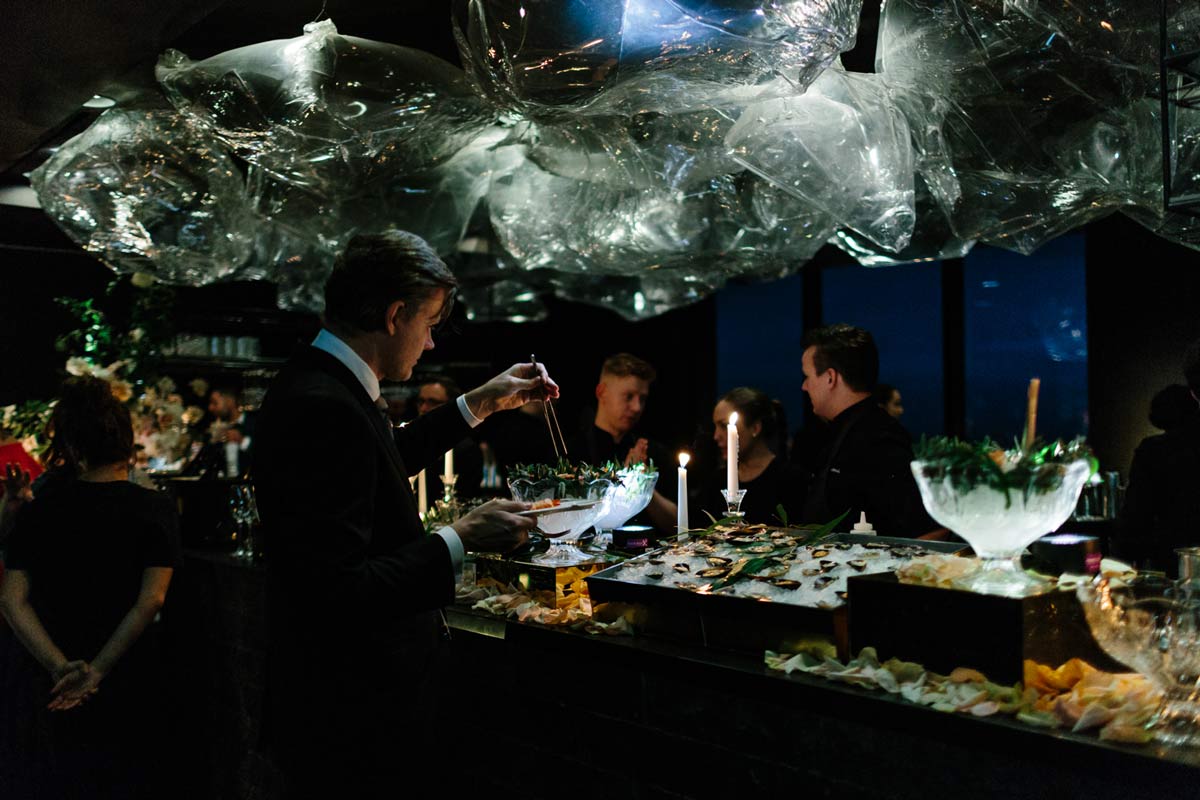 find out more
Fine Dining Menus
Hosting an intimate wedding reception means you'll be able to curate an unforgettable gastronomic experience for your guests. And because Vue de Monde is one of Melbourne's most iconic restaurants, it goes without saying that food is at the core of everything Vue Events does.
The ever-evolving Vue de Monde menu combines the grandeur of classical dining with a modern twist by experimenting with native Australian ingredients. Executive Chef, Hugh Allen, celebrates the exceptional quality of Australian produce and time-honoured European cuisine, crafting considered dishes that honour seasonal flavours and local ingredients.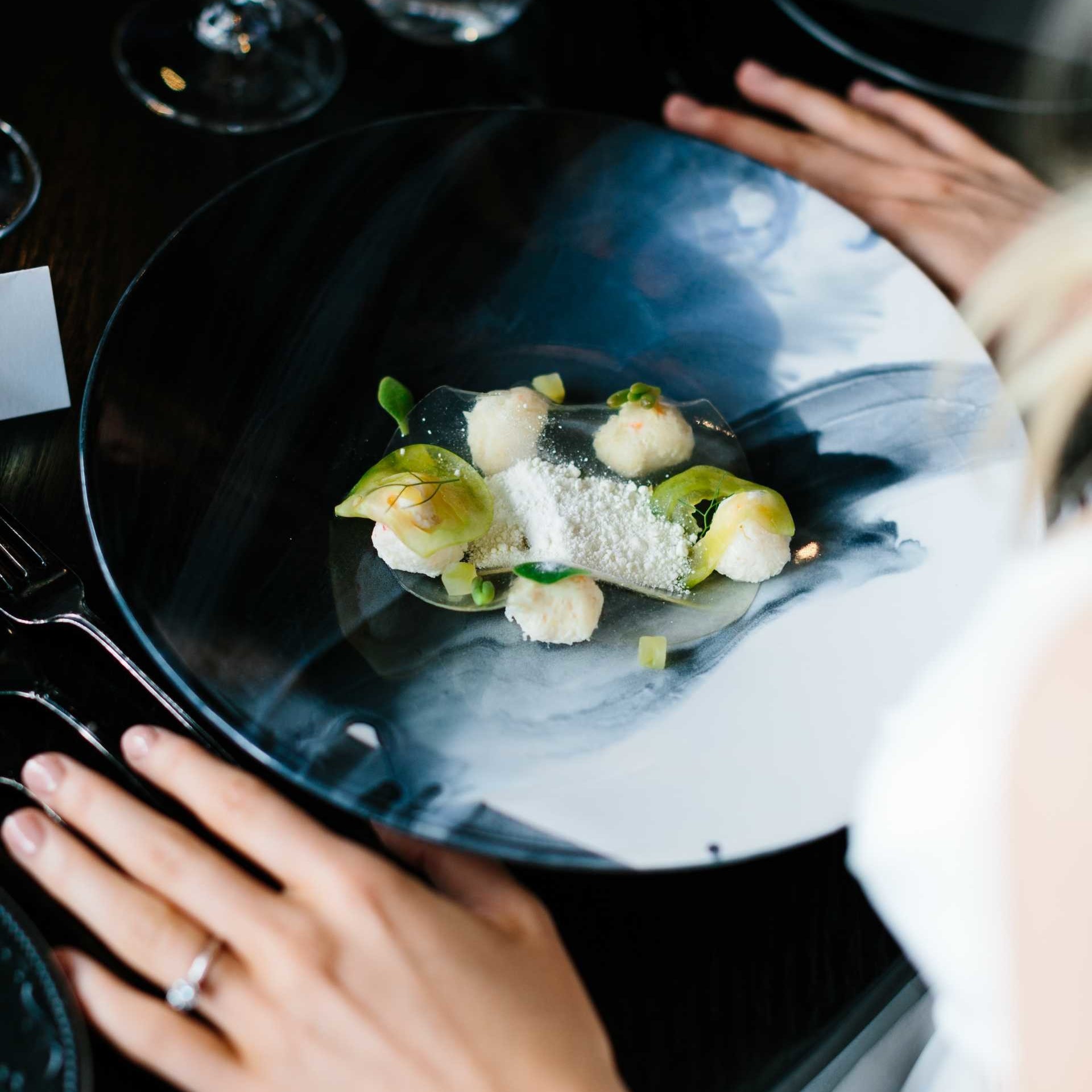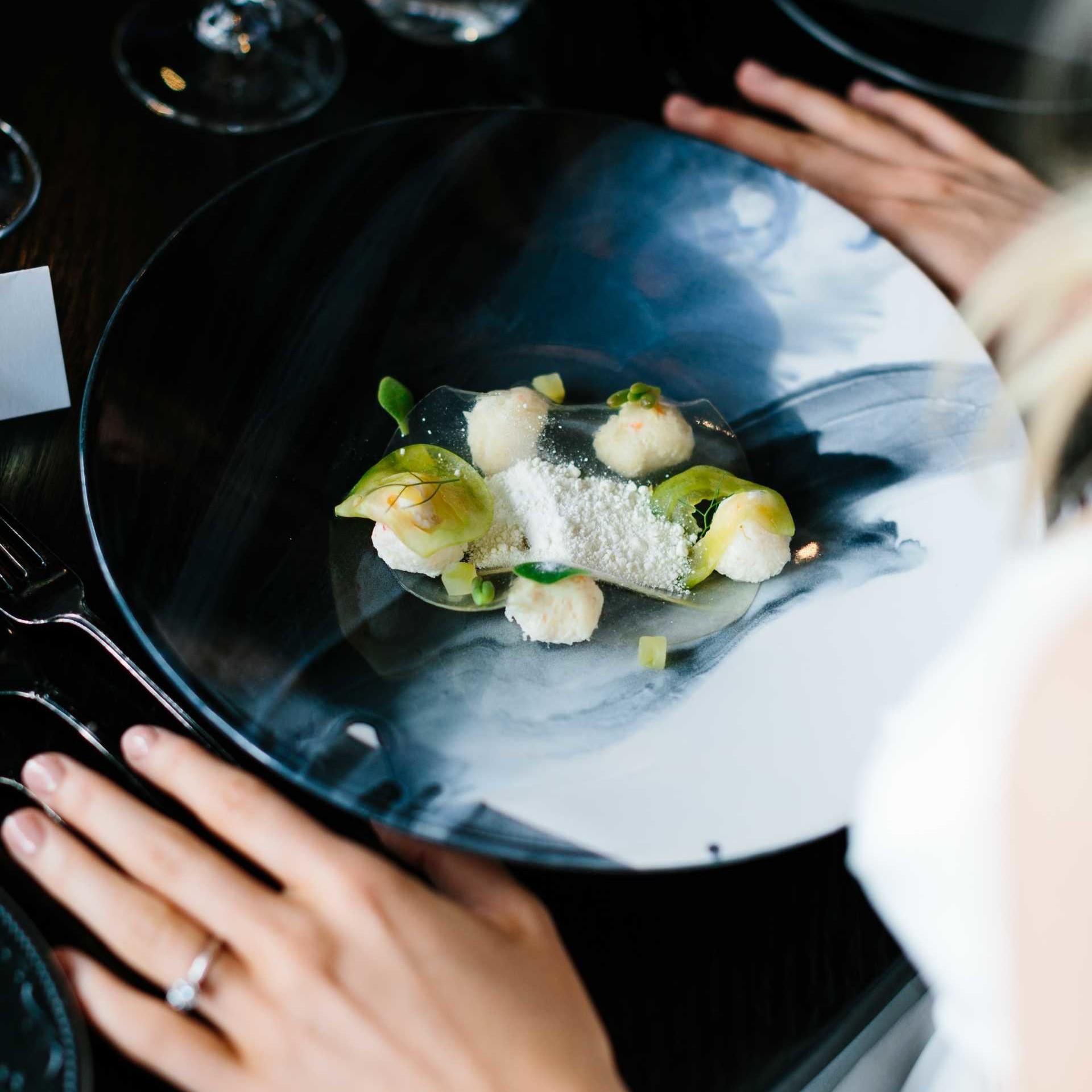 "We always strive to tailor our fine dining to each taste, always inspired by the gastronomic journey that has seen our clients continue to return throughout the years."
visit Vue de Monde