There are a few extra special details about your wedding day that elevate it to the next level, and one of those is a stunning lighting look. You may not have thought about this yet- but the lighting can increase the ambience and overall mood of your wedding celebration! Here are 8 amazing luxury lighting ideas for your wedding day: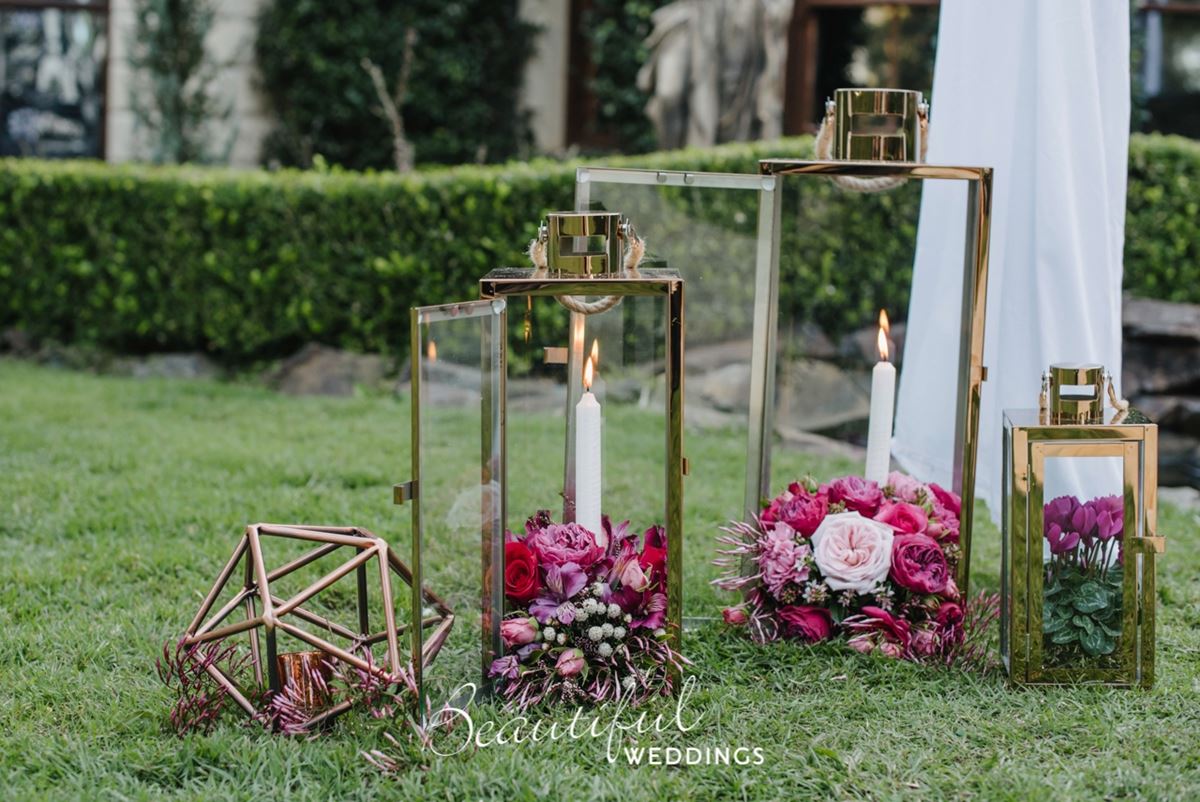 The perfect lighting for your wedding reception provides a number of beautiful effects:
When done well it welcomes your guests into an exquisite and magical fairyland for your reception

It will look gorgeous as a backdrop to your photos and video of the day

It will compliment your theme and the décor of the venue

It will be flattering for you and your guests, making everyone look their best on the day

It may even encourage new romances in the corners of the room; starting off planning for the next future wedding day!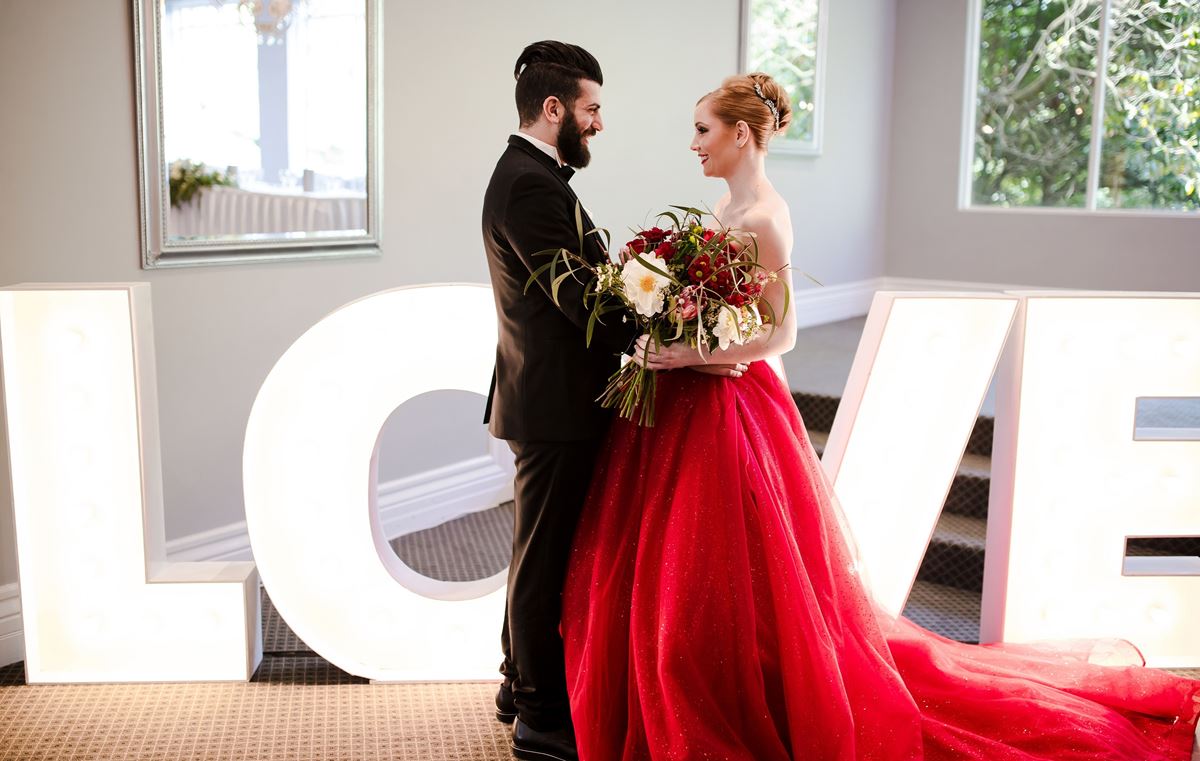 We have come up with some breathtaking lighting looks for your reception which are out of the ordinary and will set the look of your celebration apart from the cookie cutter decorations that you see so much of.
They look luxurious but do not break the bank, as when done well, lighting has the effect of creating a wonderland finish with just a few twinkling lights. Romantic lighting fits in with every wedding theme and can lift them all, from modern to vintage, rustic to beachside, bohemian to luxe, every wedding day can be next level with a stunning lighting look.
Some of these ideas are stalwarts of the venues where the receptions were held, but you can steal inspiration from all of them.
Check out some of our luxury lighting wedding reception ideas:
Chandeliers
Chandeliers are an old favourite for wedding venues, but they are a wonderful effect. They can take you back to a variety of historical periods, or bring a modern feel to everything. We like the 1920s feel created by these chandeliers.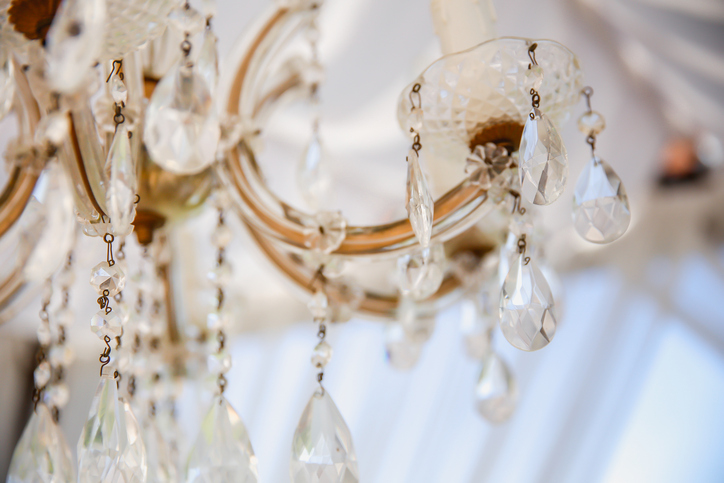 Fairylight Curtains
It is very simple to create a whimsical look of fairylights draped everywhere, and this wonderful look doubles up at covering any not so fancy parts of the venue or anywhere you don't want your guests to go.
Our Real Weddings gallery offers some awesome inspiration such as this understated and classical effect in front of the bridal table.
Fairylight Curtains and Ceiling Drapery offer this kind of service in the Sydney area, talk to them about inspiration for your ideal day, and have great reviews. Here is a review from Tiffany: "The draperies and fairy lights really added the magical touch to the night!"
In Melbourne, speak to Weddings of Distinction about adding beautiful fairy lights to your decorations.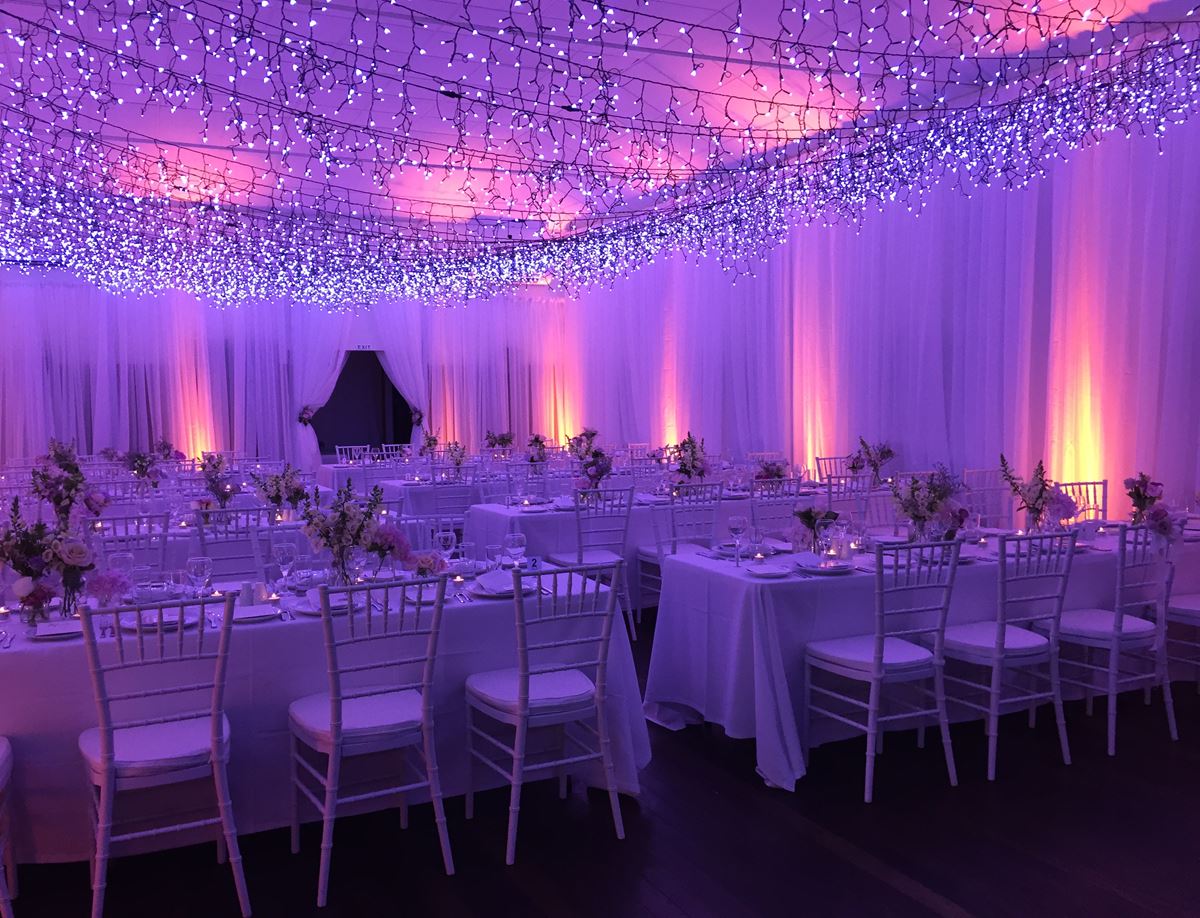 Candles
Candles can do a thousand things. You can create a vintage themed look with candlelight, or take it to the complete other end of the scale and have the most sleek and modern candles you could find. Wonderful vendors of modern candles include Styled Candle Co who can tailor your candles to your exact colours and scents, and also send some home with your guests as bonbonniere. Or, get White Label Hire to fill up the rooms with breathtaking candles and florals like the image below.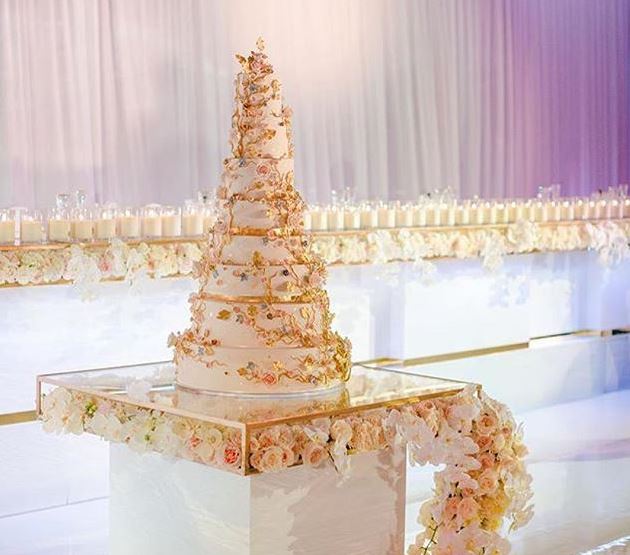 Letters
You could hire gorgeous vintage look letters spelling out words like love, or get some of your ownintials, or use a word that means a lot to the two of you, like "forever", your hashtag, "I do" etc! The sky is the limit. Light It Up Event Letters can help you find the right letters for your venue and style in Sydney, or Giant Letter Company in Victoria.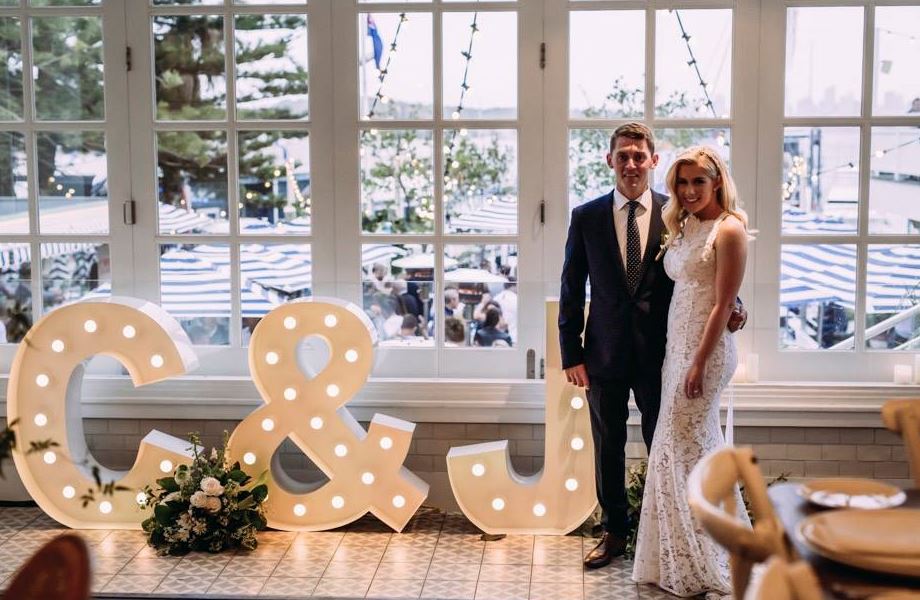 Fireworks
You'll need a venue that allows this, but some lighting effects come with the venue or can be hired in by specialists from our vendor partners such as those on the Decorations section of our wedding directory. Click here to see more from Mr Skye Candy Fireworks.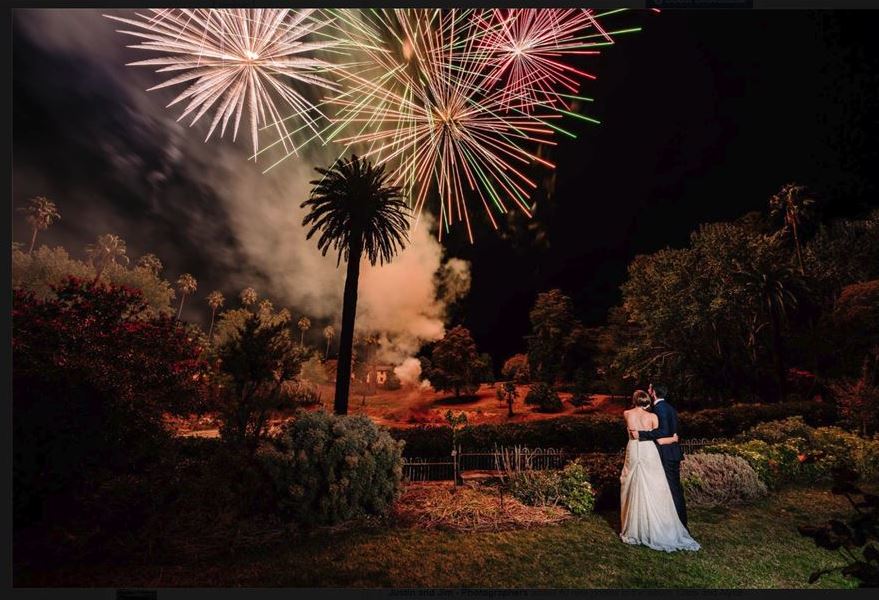 Pyrotechnics
Who doesn't love a bit of sparkle? Real Weddings couple Effie and Matt had a luxurious Melbourne wedding on the river's edge and enjoyed their first dance with a little something extra…. pyrotechnics! It really adds to the visual impact of the venue.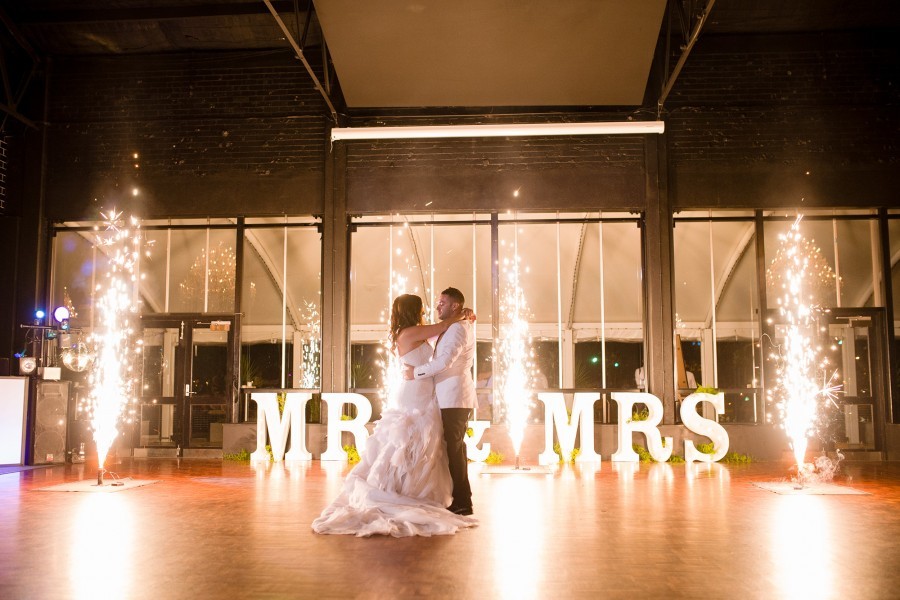 Minimalist
You could put on a massive show, like the couple above, or bring it down to the minimalism of candles/fairylights and handheld sparklers for a more low-key effect like our Real Weddings couple below, Naomi and Jason, who used both fairy lights and simple fairy lights.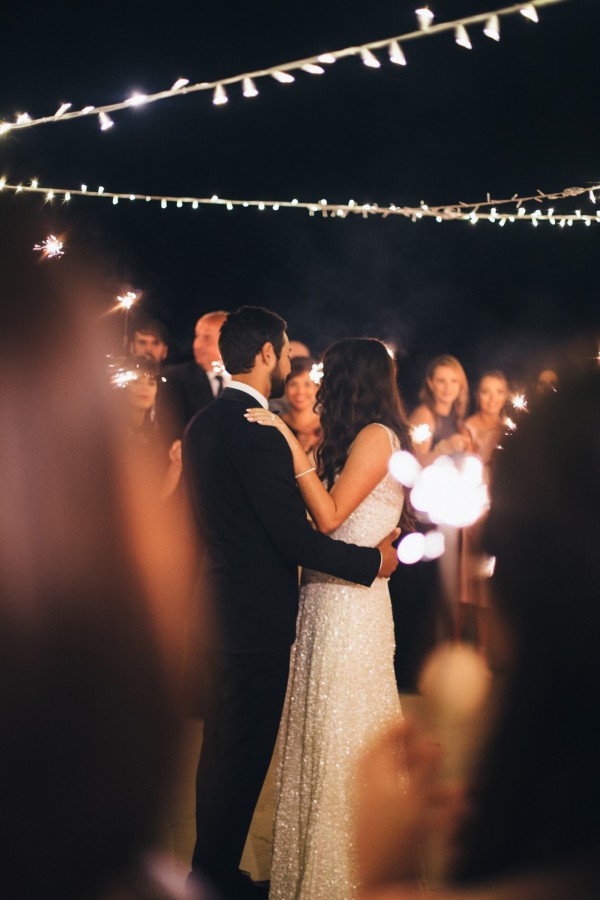 Lanterns
Lanterns again are wonderfully versatile and can create a world of different effects, from rustic to contemporary. Consider St Andrews conservatory, a gorgeous venue in Melbourne with lovely lanterns in the ceiling. The venue has impeccable reviews, including this recent review from Sheridan: "St. Andrews Conservatory is PURE MAGIC. The Quality of service is second to none. The venue speaks for itself – it is well decorated, functional in design and is the perfect space for a mid-sized wedding (we had a cocktail wedding of approx 120 guests). The staff were so polite and went above and beyond to ensure our guests had the best time. Most importantly, this venue is incredibly well priced. I cannot fault this venue. All I can say is BOOK IT! you won't regret it."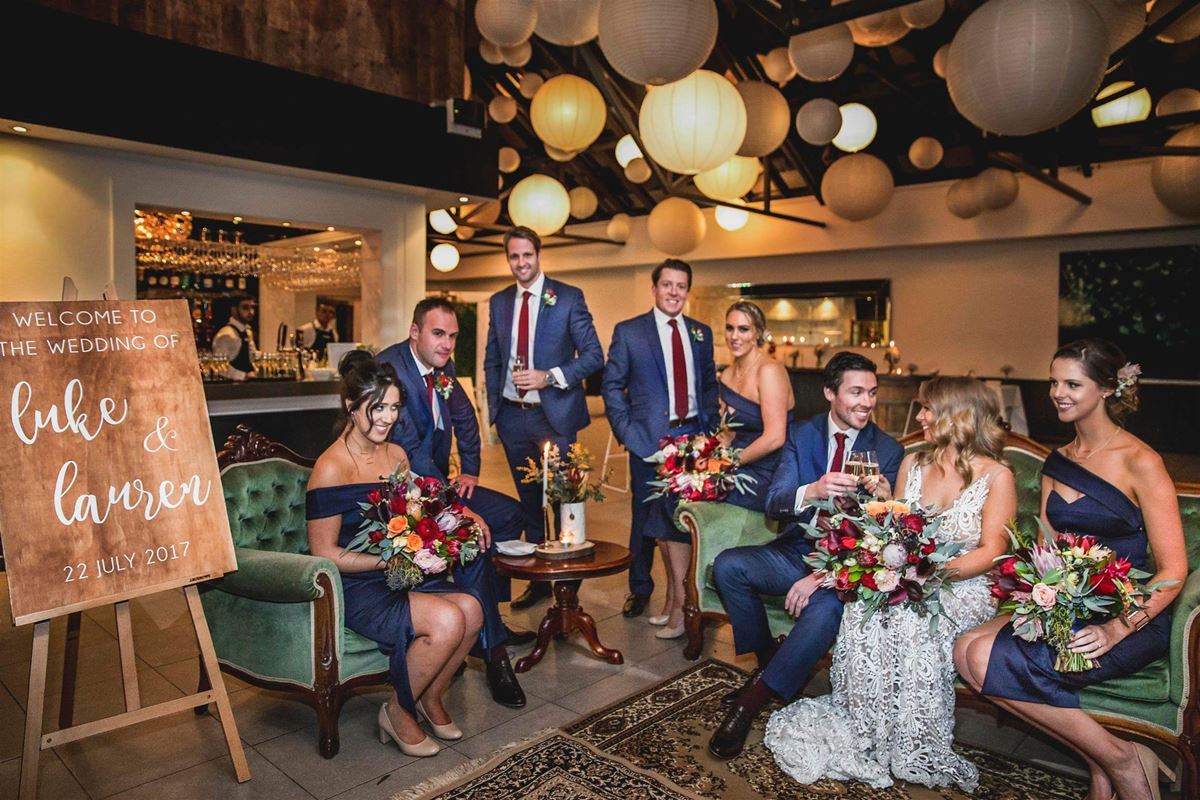 You are only really limited by your imagination and how many photos you are willing to add to your perfect lighting vision board on Pinterest. Most of these effects can be recreated at your own venue- either DIY (but not the fireworks, please), or by a professional. We recommend leaving decor like lighting to a decor specialist as you will be pretty busy on the day of your wedding, and may want to spend your time getting ready rather than lighting hundreds of candles.