The trees are bare and there is most definitely a chill is in the air. It's the ideal backdrop for a wonderfully romantic winter wedding. But there's a catch: It's going to be cold. Very cold.
That strapless wedding gown you've had your eye on may look stunning, but what's the point in buying it if you're going to be so cold, you turn blue? And, of course, hubby's footy jumper probably won't cut it on your wedding day!
Thankfully, there are plenty of stylish alternatives for keeping the bridal party warm during a crispy cold winter wedding, and none of them involve the word 'cardigan'.
Beautiful (not blue) bridesmaids
Of course, the easiest way to offer your bridesmaids' (and yourself) warmth, is to opt for a long dress rather than a shorter one. If your heart is set on short dresses, be sure to wear (or offer your bridesmaids) matching tights. There is such a huge range available, you'll easily be able to find something that perfectly matches the colour and patterns of your dresses by looking here.
Think sleeves
A strapless dress may be your dream outfit but when the temperature plummets, you'll be freezing to the bone – and it will show in your wedding photos and, more importantly, you'll be uncomfortable all day. Keep this in mind when choosing your gown and, perhaps, consider one with sleeves. You can always accessorise with an elegant shawl or, even, a faux fur muff and you'll be able to take your outdoor photos without having to resort to a bulky coverall.
[ew-supplier-carousel]
Don't forget the digits
Your fingers (well, and your nose) are likely to be the first to let you know just how cold it is outside. You can keep them warm and still remain stylish by opting for a pair of elegant gloves. The best bit is that you can accentuate gloves with such shimmering bling as bracelets and bridal cuffs or a nice watch for the fellows. Glove are available in myriad lengths, from little 'shorties' that reach only to the wrist, all the way up to full-length opera gloves and even pairs that reach just under the wearer's armpits, so there's most definitely a glove to suit any type of outfit, with or without sleeves.
Stylish grooms and groomsmen
You'd think men would be easy to keep warm during a winter wedding, after all, they can slip on some fabulously cosy grandad gear underneath their suits and nobody will be the wiser. Similarly, they can always wear long, matching coats. However, not only can this cover their carefully chosen outfits, it can lead to the males in your bridal party looking a lot more bulky than need be, so consider less obvious accessories such as matching scarves and even a handsome hat. That way, they'll remain warm but still look polished.

It's a wrap
Be it a wrap, a bolero, a coatee or a crocheted shawl, there are so many ways to keep your top-half warm in a most elegant manner. Like the tights mentioned above, they are available in every shade, style and type of material possible so finding something to match your dress and those of your bridesmaids shouldn't be an issue. Kate Middleton, for example, paired an angora bolero perfectly with her 'second' wedding gown, the one she slipped into for her post-wedding ceremony celebrations (left) at Buckingham Palace.
Give the gift of warmth
A lovely, albeit extravagant touch in a winter wedding is to give guests a scarf or a pair of cute little woolly mittens as your bomboniere. If you pick them up in bulk, they can cost about the same as most bomboniere on the market, perhaps even less. If your budget doesn't allow for scarves/mittens for every guest, a thoughtful gift for your bridal party, especially your bridesmaids, would be a beautiful, matching pashmina shawl they can throw over their shivering shoulders while taking photos outdoors.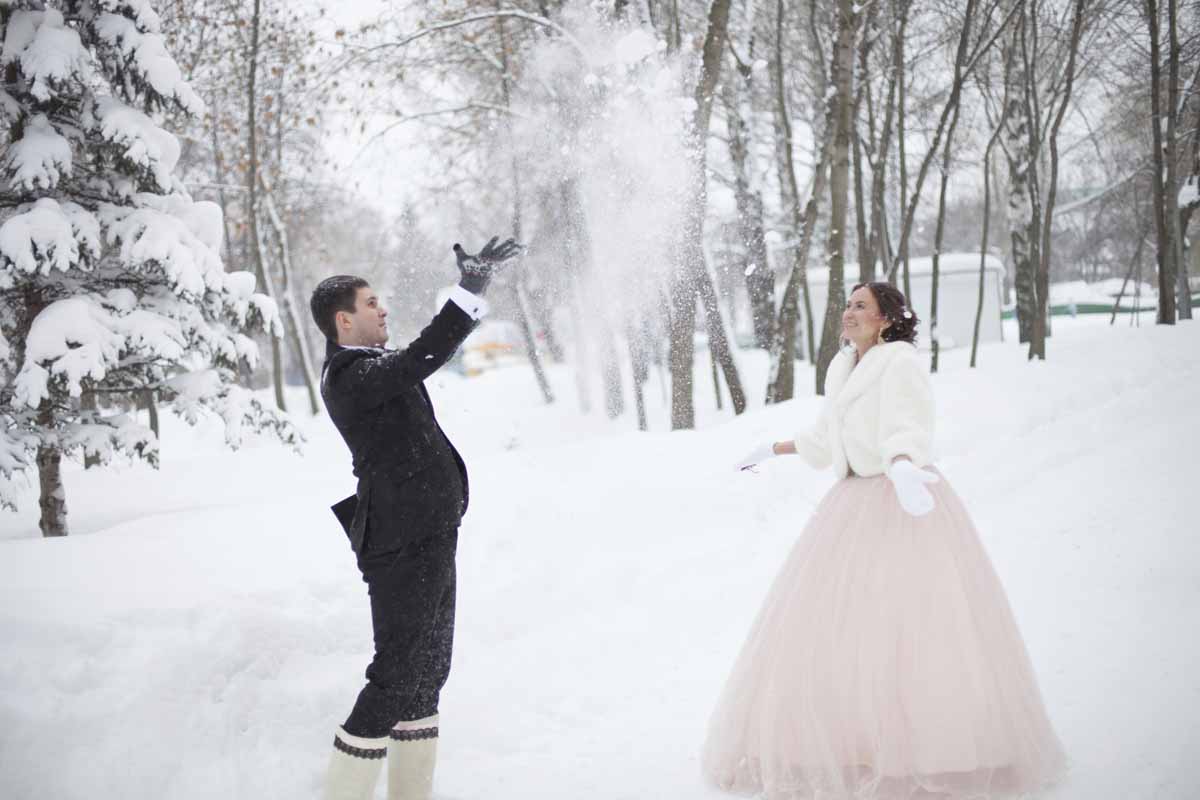 Underneath it all
We've already mentioned underwear and, though lovely long thermals aren't the sexiest of wedding lingerie, they sure beat hypothermia and a trip to the hospital on your wedding night. Hey, it's better to feel warm rather than sexy during those wintry outdoor photo-shoots, don't you think? We're nothing if not practical.
If you're planning a winter wedding, you can find a great range of wedding suppliers to help keep it toasty warm here.