Some dream of rain-sprinkled wedding days. Others prefer sun-drenched moments on the beach. And for those indoor-loving couples, you may prefer admiring those natural views from the comforts of inside.
Whether you've planned for it or not, the weather's unpredictability can play a bigger part in your wedding day than planned. This is why we've devised a few weatherproof contingency plans for you to consider! Read on to discover how best to weatherproof your wedding day.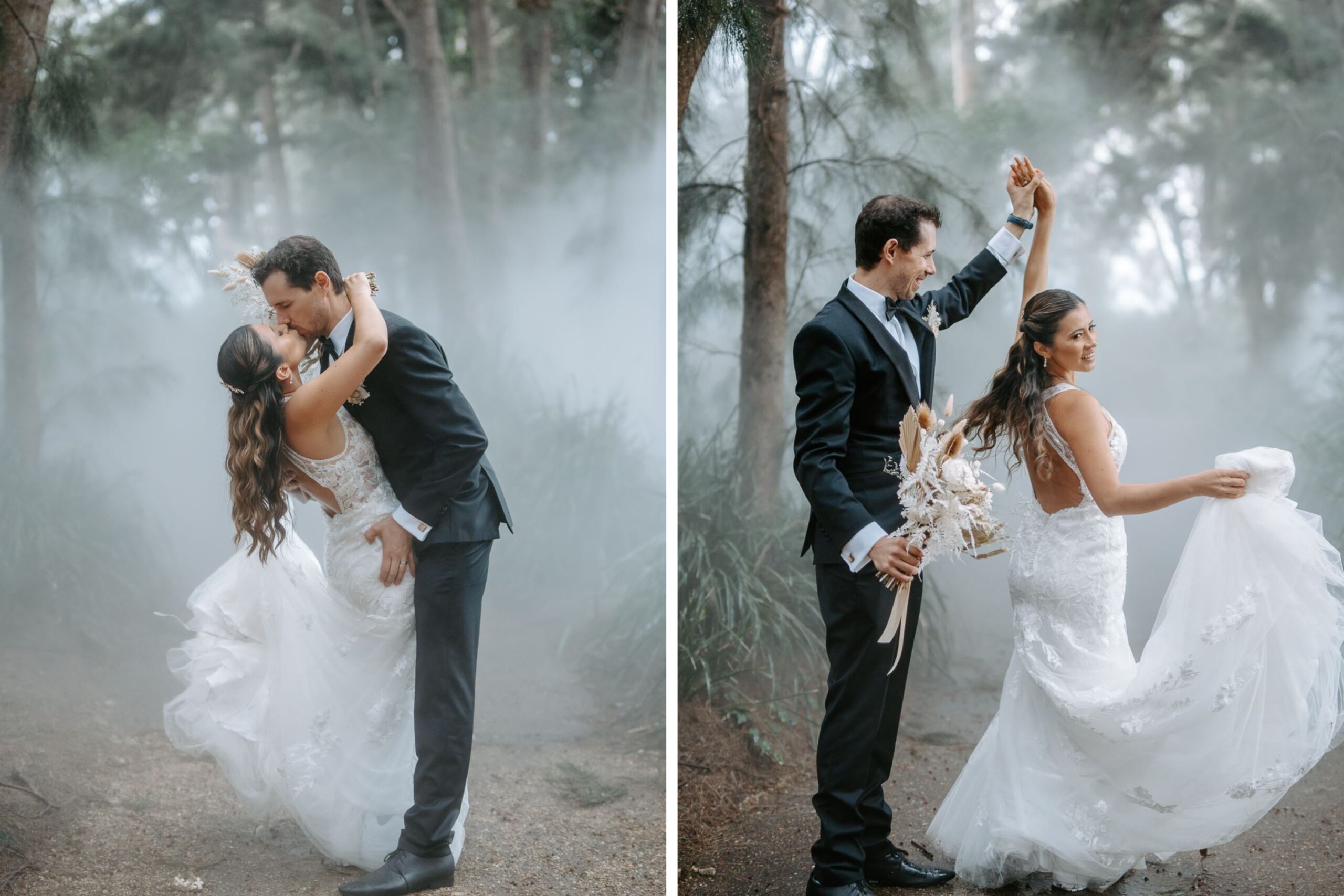 Get Help Planning Your Wedding
---
For those hot and sticky days
If you're planning an outdoor ceremony and reception in the warmer months, there's a chance the sun will want to play a special part in your day, shining a light on your favourite moments. However, sometimes that light comes with unwanted heat you may need to prepare for.
Direct, hot sunlight isn't incredibly pleasant, especially for your guests who have to stay in the same spot for a certain period of time. Ensuring you have adequate shade for your guests is a good start — especially some large outdoor umbrellas or natural shade from the trees.
You can also pass around some small paper fans, insect repellent, and of course, sunscreen to keep your guests comfortable and well-protected. And we can't forget about plenty of H₂O! Supplying your guests with water bottles during your ceremony is a great way to ensure everyone stays hydrated!
Summer-friendly clothing is also worth thinking about! Be sure to advise your guests of the dress code so they can style accordingly.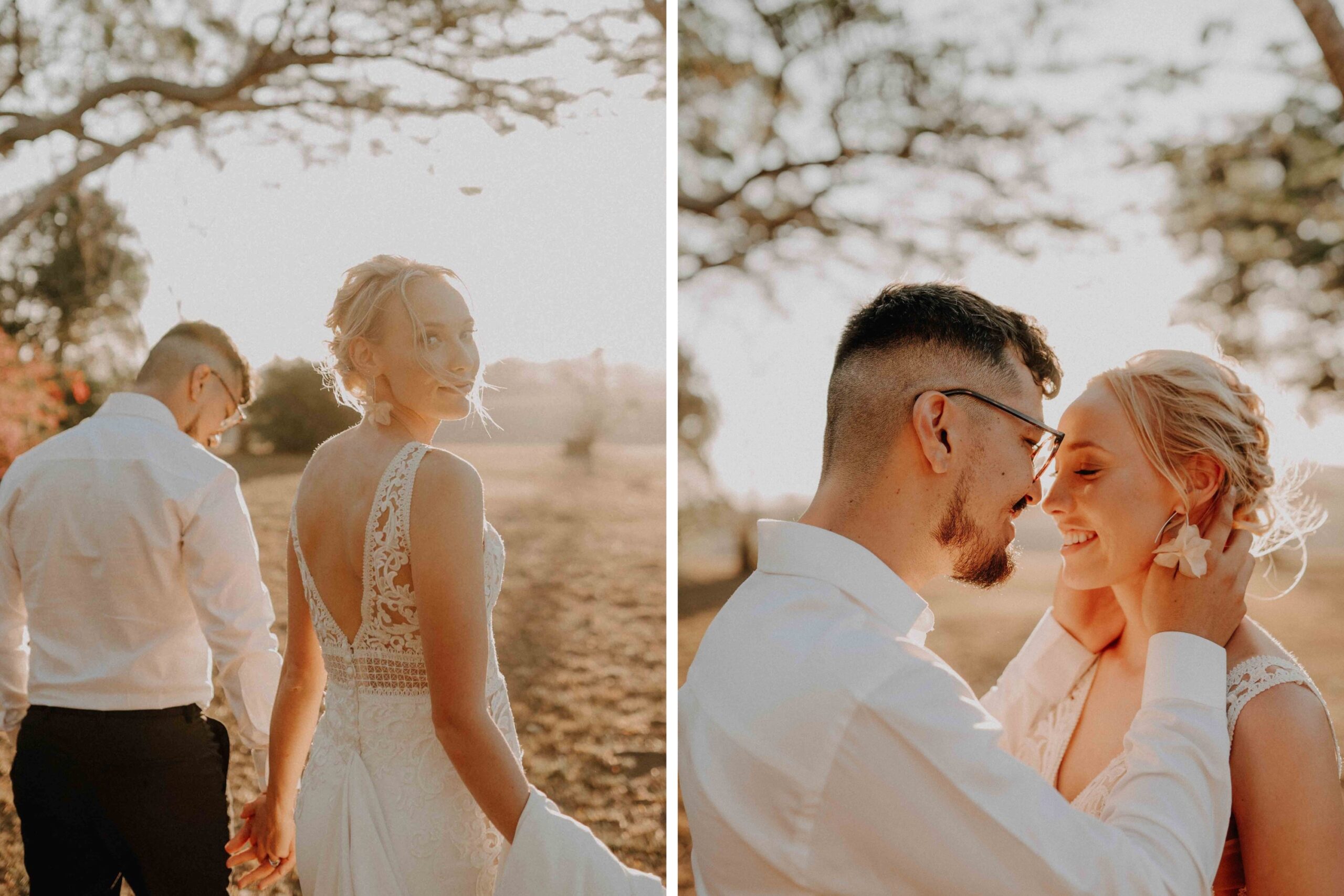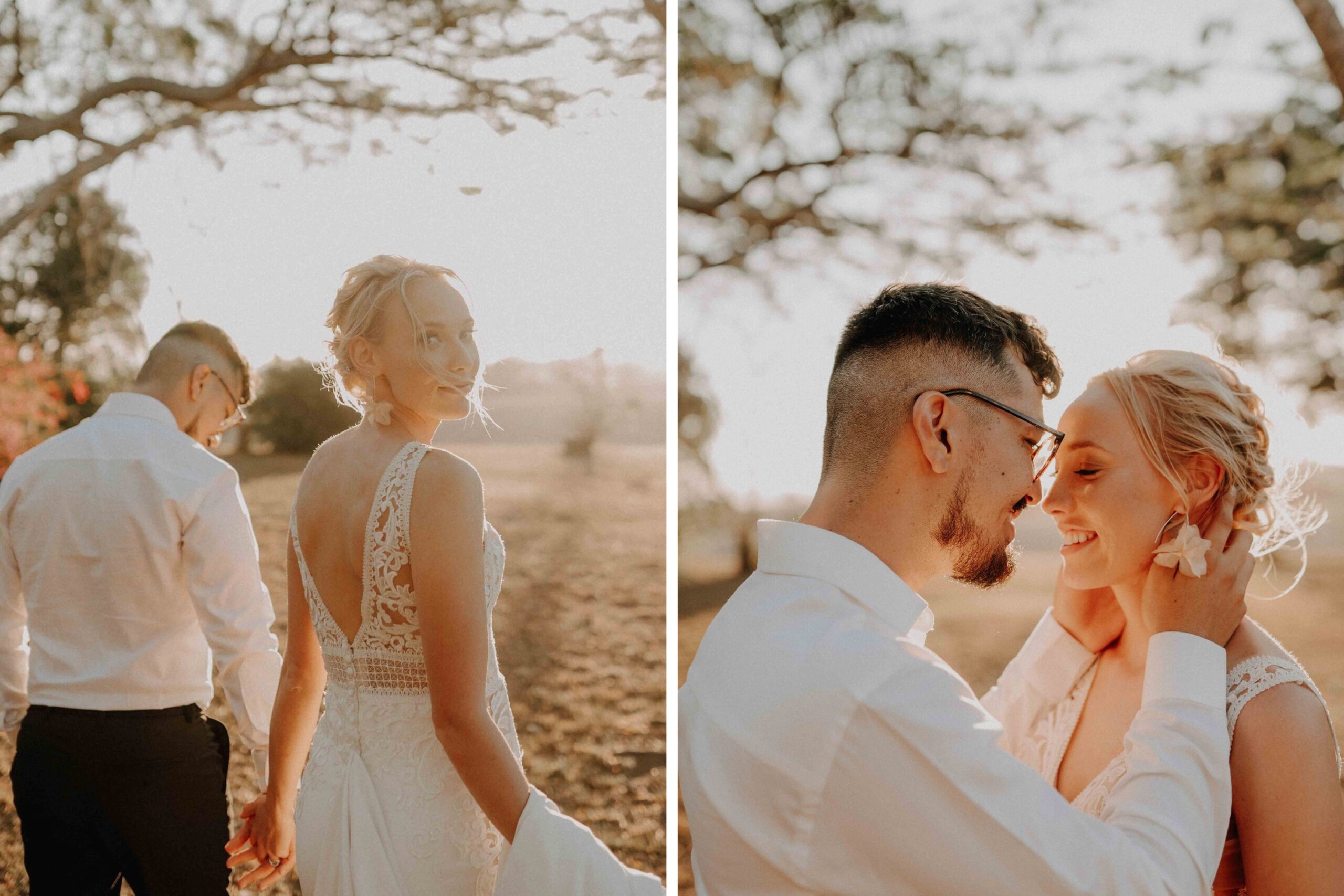 For those rainy, cold days
"Rain, rain, go away. Come again some other day!"
Whether you've planned for a romantic, moody wedding day filled with glistening drops of rain and fog or want to avoid it at all costs — there are a few tips and tricks worth trying.
Ensuring your wedding venue has a wet-friendly option is a good start, especially if you're unsure of the ever-changing conditions. Your Plan B wedding space may be a nearby sheltered area, an alfresco space or even a marquee tent.
As the team at much-loved Melbourne venue Encore St Kilda Beach venue explains,
We give all our couples the opportunity to upgrade to a rooftop ceremony from October — April. The ceremony's final location is an on-the-day decision we make based on the weather. If we are looking at a rooftop ceremony, the wet weather backup option is our beautiful dancefloor, with floor-to-ceiling windows overlooking Port Phillip Bay. Here, you have stabilised climate control and are protected from the elements whilst still enjoying the beautiful view of the beach.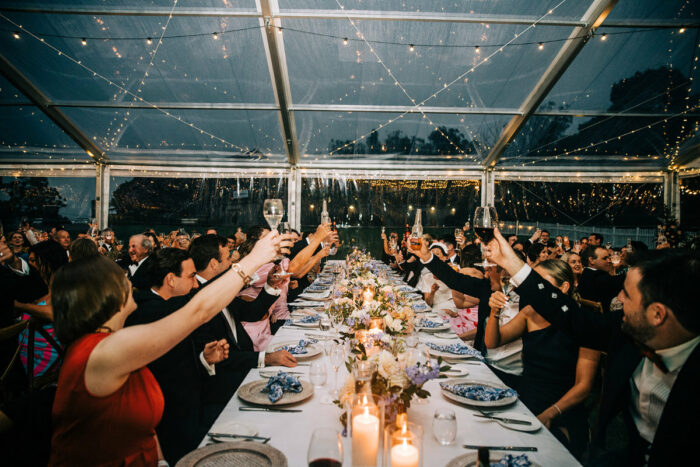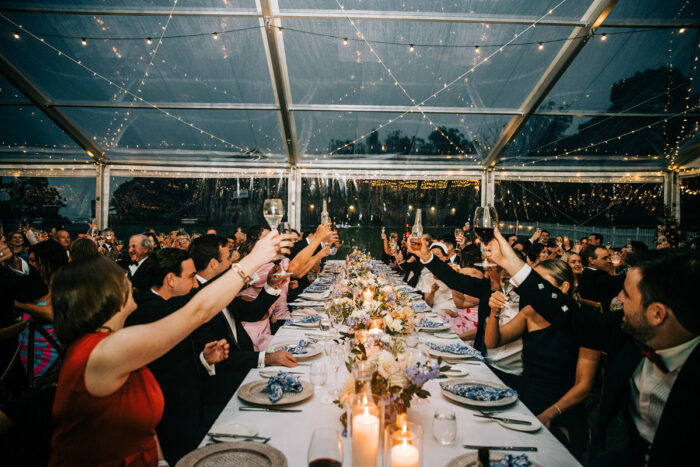 Some may fully embrace the cold climate and choose a winter wedding theme — complete with big, furry coats, snow-capped mountains, and boots to keep their feet warm. If, however, a cold snap isn't on your list of must-haves and you'd rather not turn into your own "something blue", it's wise to pack an extra pair of gumboots, plenty of umbrellas, a protective hood or raincoat to shield your clothing, and plenty of blankets and wraps to go around. A coffee and tea stand may also be the perfect addition to your wedding day to ensure your guests feel nice and cosy during the festivities.
And when all else fails — embrace the rain! Grab some stunning clear umbrellas, and let your photographer do the rest. Some of the most romantic wedding photos out there include an elegant haze of droplets, fog, and the candid excitement of being out in a storm!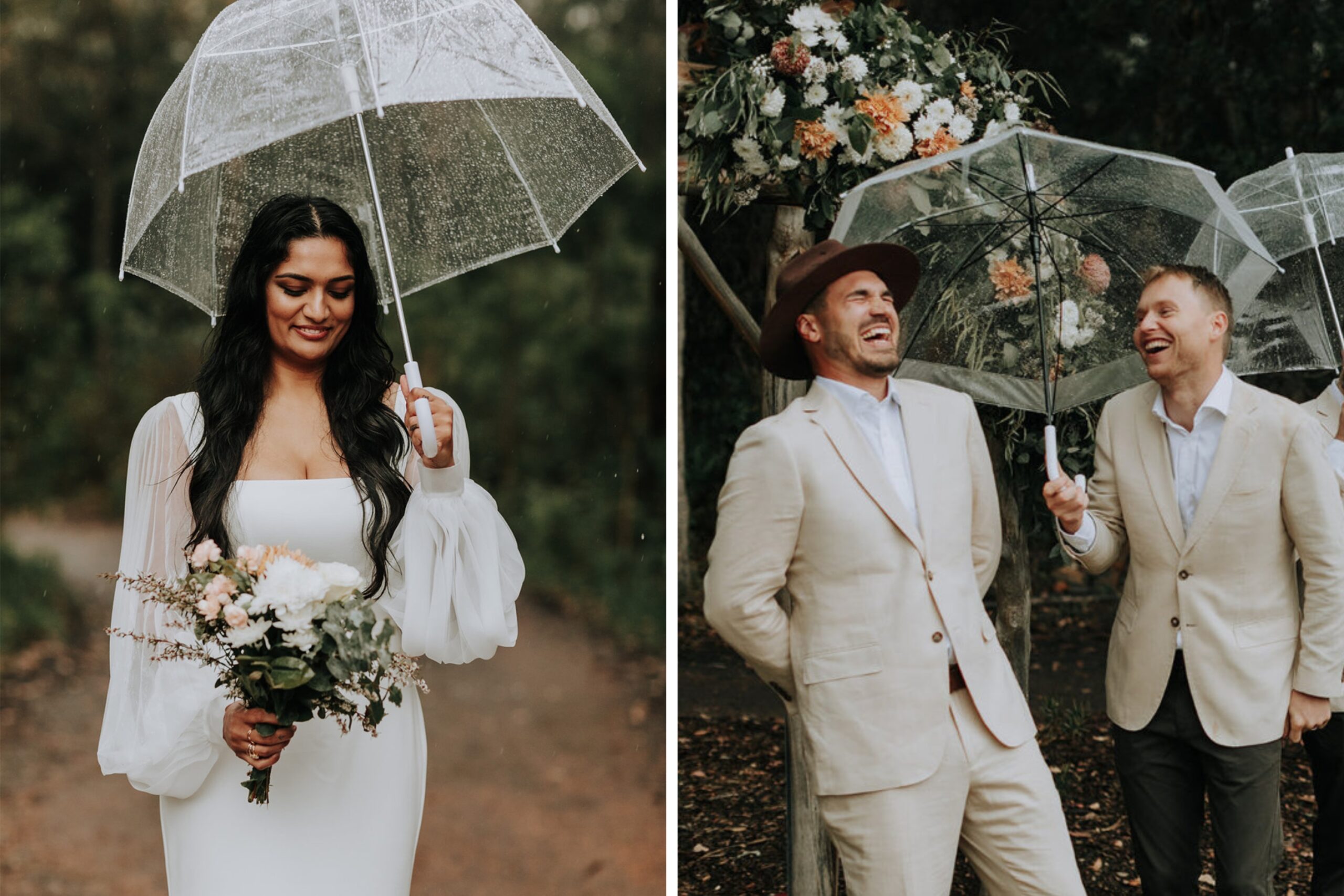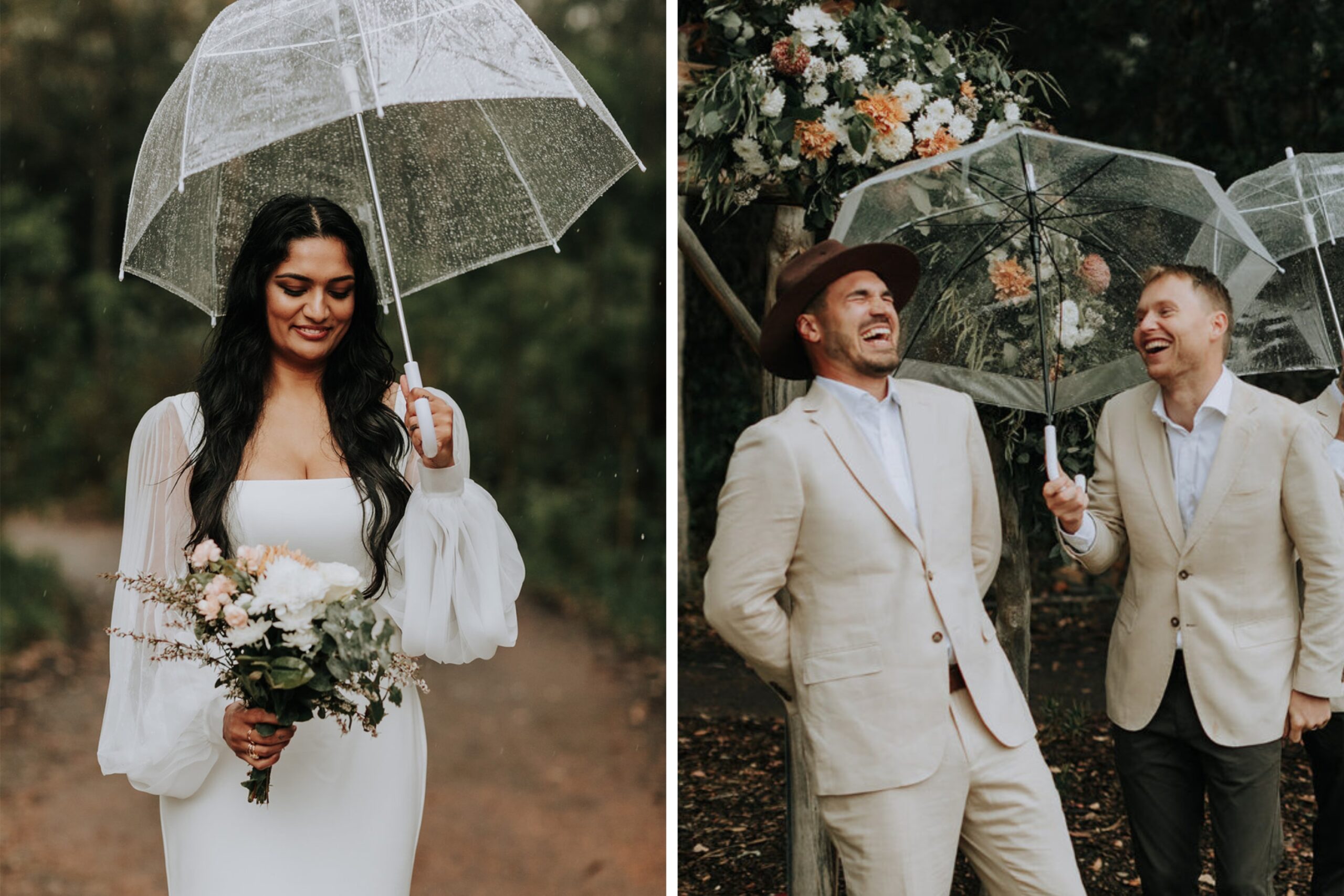 For those windy days
The wind has caused plenty of fun, humorous, and downright embarrassing moments for people in the past. If you're a natural Marilyn who can turn a gust of wind into an iconic moment for all to admire for years to come — then you have nothing to worry about! For others, it's wise to ensure your hair is pinned and hairsprayed, your clothing protected, and your wedding settings and decor sheltered from any unwanted flurries. The last thing you want is your beautiful decorations and loved ones blowing away to the magical land of Oz!
Trust and rely on those around you
Your family, friends, wedding party, wedding planner, venue coordinator, and suppliers are all there to help bring your dream wedding to life. Always remember that you can lean on others, outsource tasks, and trust that they have you covered — literally!
If you're unsure of the weather
Here are some extra things you can do if you want to avoid being caught off guard by rain, hail, or shine:
Host your wedding at a venue with both indoor and outdoor settings
Alternatively, if you really have your heart set on a particular location, but need a backup site, clearly outline your contingency plan to all guests
Give your guest a wedding day contact phone number so there's no drama if you have to switch to Plan B
Be safe and forgo a vulnerable transport option such as an open horse and carriage in favour of something suitable for all weather conditions, say a classic car or a limousine
Choose venues that have reverse-cycle air conditioning so you can increase and decrease the temperature as needed
Pack a few extra blankets, umbrellas, hats, fans, and protective shoes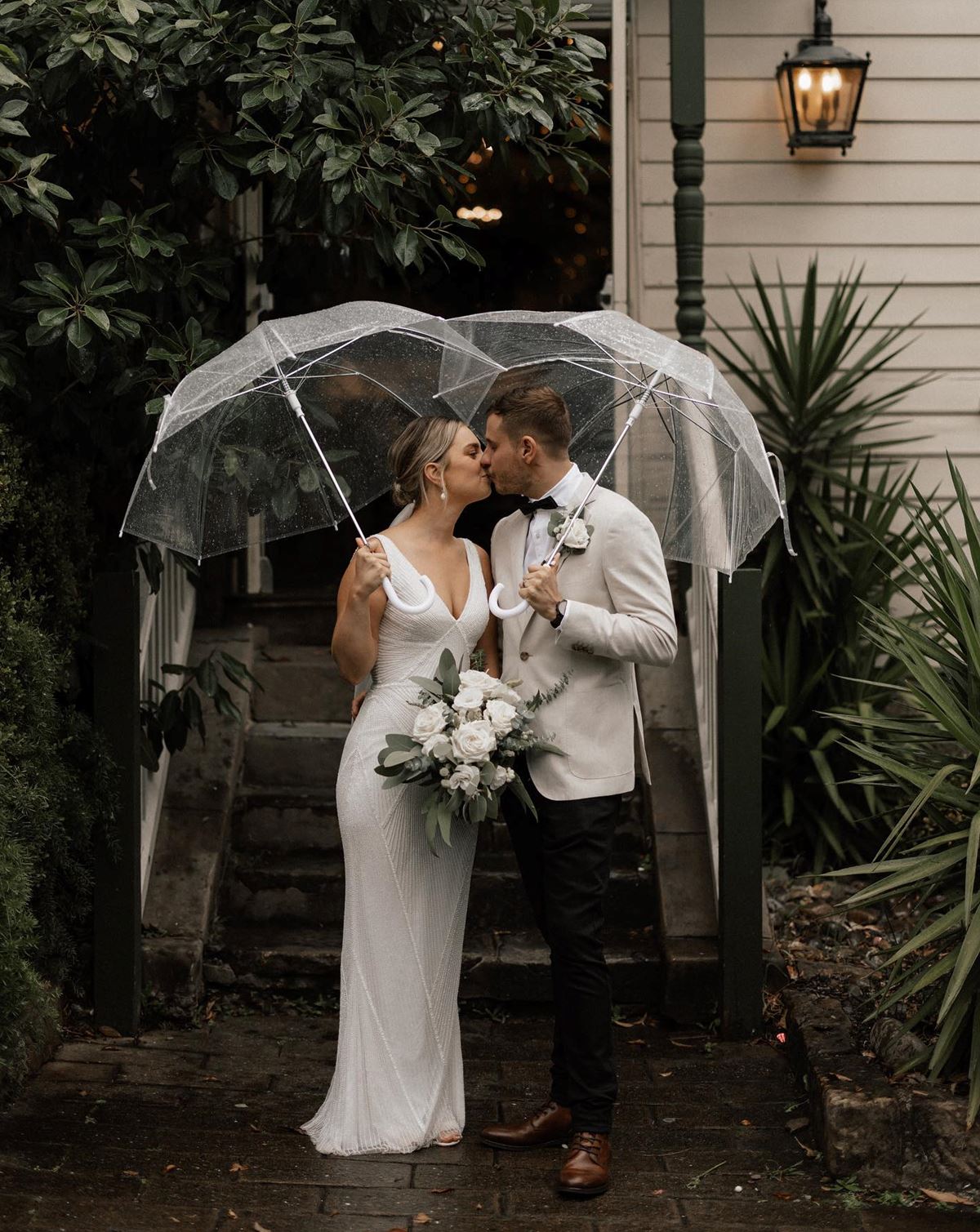 ---
So there you have it, our top ways to weatherproof your wedding day. For an unforgettable celebration (rain, hail or shine) our wedding supplier experts have got you covered! Chat to a supplier specialist today to get the ball rolling on your dream wedding day. 🥰
Get Help Planning Your Wedding
---