Whether you're dreaming of a tropical beach affair, a mountainous retreat, or a charming cultural escape, your destination wedding itinerary is the compass that will guide you towards a truly memorable experience. Before you start daydreaming about the hotel pool, let's dive into the details of an itinerary that will make your destination wedding flow seamlessly from one event to the next.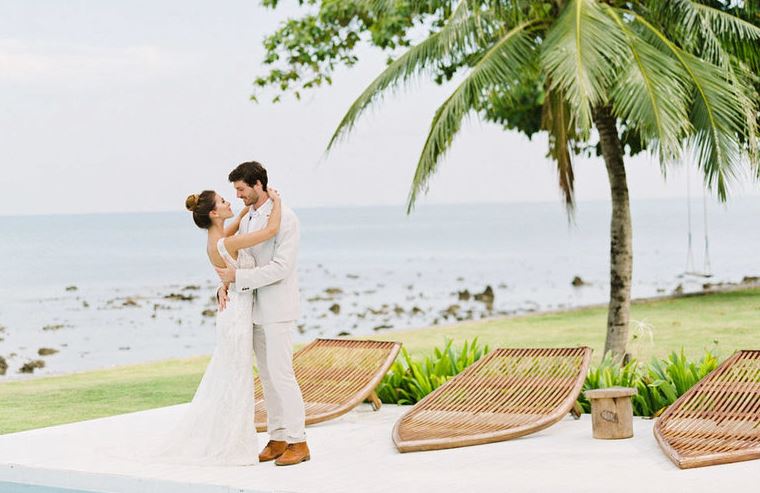 Before the Wedding
After arriving at your destination via road, air,  sea, or all of the above, you'll likely feel a mix of nerves and excitement. The culmination of months of planning and anticipation has brought you here — you've made it! In the day(s) before your wedding, we suggest doing your final wedding day checks, then prioritising relaxation and spending time with your guests as they arrive.
We generally recommend having just two or three coordinated events with guests, allowing them plenty of time to explore the area on their own time before and after the wedding day. Usually, this means a welcome, wedding, and some kind of farewell event for a destination wedding.
Confirm Final Details.

If you're working with a wedding planner or venue manager, a visit with them will be your first stop. Confirm the wedding day timing, transportation and logistics, and any last-minute changes to ensure everyone is on the same page.

Venue Walkthrough. Unless you've been there before, sometimes pictures and videos aren't enough to capture the vibe of your venue. Visit the ceremony and reception spaces to familiarise yourself with the layout and discuss any specific requirements or preferences with the venue staff that you haven't already covered or may want to readdress.
Pre-Wedding Activities. Start your wedding festivities off with a casual welcome party for your guests. It could be a breakfast or lunch, or even drinks by the pool, depending on the vibe you're after. It's an excellent opportunity for your loved ones to mingle, relax, and get into the celebratory spirit. For the inner circle, a rehearsal dinner is an opportunity to make sure everyone is comfortable with their roles and knows what they need to do the following day. However, many Aussies opt to have a welcome dinner that everyone's invited to attend.
Take Time for Self-Care. Remember to take care of yourself. Get enough rest the day and night before your wedding, stay hydrated, and practice self-care activities that help you relax and stay centred. If you're staying at a resort or hotel, check out their spa or relaxation services — a massage or gentle facial the day before your wedding can go a long way to helping you feel relaxed.
Guest Activities. While you're busy with wedding preparations, consider providing your guests with a list of suggested local activities. This could include nearby attractions, water sports, cultural experiences, or even spa and wellness activities. Give your guests the freedom to explore and enjoy the destination at their own pace, adding an extra layer of excitement to their overall experience.


Day of the Wedding:
This is the day when you absolutely want things to go off without a hitch… well, except for you. You want to end up hitched! Your precise timeline will be a little more detailed with your beauty squad coming and going, but these are the major things you need on your wedding day itinerary.
Bridal Party Prep. Depending on the time of your ceremony, you might want to get an early start for hair and makeup services. Allow ample time to create and enjoy a relaxed atmosphere. Consider light refreshments and some bubbly to keep everyone energised and in high spirits.
Ceremony and Reception. Your wedding day itinerary should allow for a smooth transition from ceremony to reception. Coordinate with your wedding planner or coordinator to ensure a seamless flow of events. Allow time for pre-ceremony photos, the exchange of vows, and capturing cherished moments with your loved ones. Once the ceremony concludes, move on to the reception, where you and your guests will celebrate, dine, and dance the night away.
After the Wedding:
You did it! The certificate has been signed, and the lips have been kissed! In the day or days after your wedding, you have the right to remain sleepy, happy, and ready to kick off married life in style. Consider these low-key post-wedding activities that will keep you in that blissful mood for a while longer.
Day-After Brunch. Extend the celebrations by hosting a day-after brunch.You can opt for a formal farewell brunch or simply enjoy breakfast together at the resort restaurant. This can be a more relaxed and casual gathering, allowing guests to recount their favourite moments from the wedding day and bid farewell to one another.
Check Out Local Activities. Before you all return to the real world, go ahead and get touristy. Encourage your guests to explore the local area further by providing a list of suggested activities, ranging from guided tours to adventurous excursions. It's up to you whether you want to participate, as you may understandably be craving some downtime after the wedding festivities.
Crafting a thoughtfully designed destination wedding itinerary sets the stage for a joyous and unforgettable celebration. With careful planning, you can ensure a smooth flow of events and create lasting memories for both you and your guests.
---
DISCOVER DESTINATION WEDDINGS