Planning your own wedding allows you to have creative control regardless of the theme. For a Halloween wedding however, the boundaries are pushed beyond what society would classify 'normal' for a wedding celebration.
The great thing about Halloween weddings is that they don't have to compromise creativity or class to include elements that are especially spooky. Despite the knee-jerk reaction to deem them 'tacky' or 'cheesy', many couples have and will continue to have Halloween spooktacular weddings.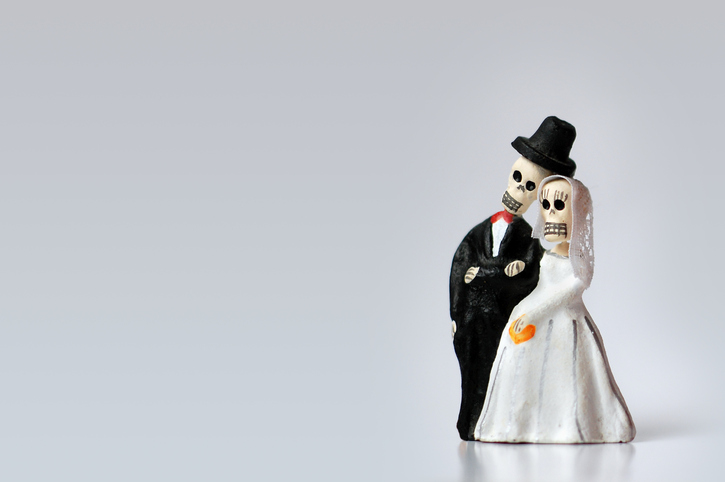 Dramatic colours
While traditional weddings often include blush, pastel, and romantic colours, there's nothing holding you back from using dark and ominous colours in your Halloween wedding. Incredibly beautiful bouquets and floral arrangements made of black and dark coloured roses and blooms can create the Halloween aesthetic without necessarily breaking out the skull and crossbones.
Another unique way to add a touch of eeriness to your wedding is to include coloured smoke bombs in your wedding photos. You mightn't choose to deck out your entire wedding with Halloween props and costumes, but the inclusion of coloured smoke is just enough eeriness to create beautiful photos and give you that gothic look you desire.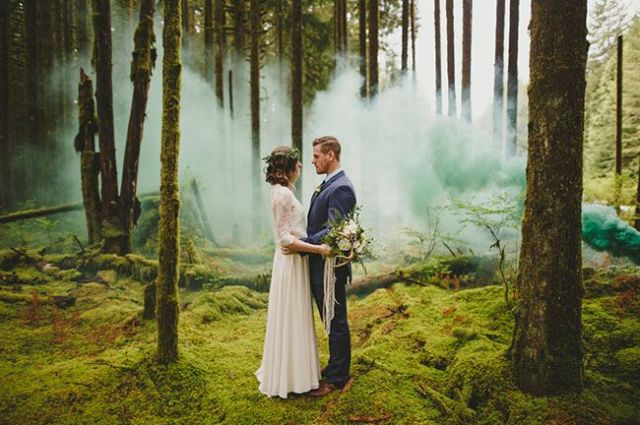 Unconventional wedding attire
While most brides jump at the chance to wear a traditional wedding dress, some simply don't feel themselves in a white dress. Why, when you usually wear dark colours, change for one of the most important days of your life?
The Halloween theme is great for allowing couples to truly be themselves – and if that means wearing a black corseted dress, so be it!
Additionally, those more inclined to plan a Halloween wedding may be more experimental with makeup and hair, so you might come across a bride with green hair and a groom with purple.
Halloween is the time of year you can truly be yourself, so Halloween weddings are great for those with creative flair and a love for everything 'unconventional'.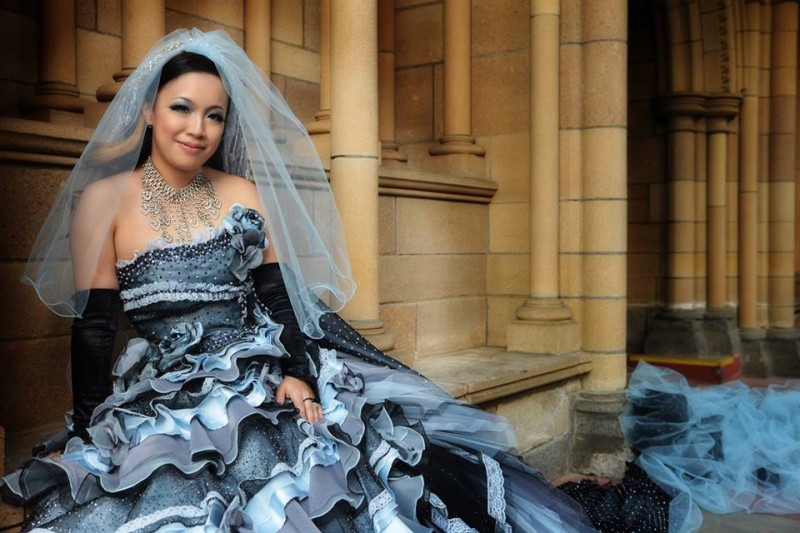 All black everything
For a lot of women, black is their colour of choice when it comes to clothes. It makes sense then, to wear it on their special day.
This doesn't only apply to attire, as incredibly romantic and classy weddings have been created using black decor, flower arrangements, cutlery, and crockery. Some newlyweds have even cut a black wedding cake!
Although Sophie Cachia (aka The Young Mummy – pictured below) wore a black dress, her wedding was not Halloween themed. This means even 'traditional' weddings can incorporate gothic and 'typically Halloween' colours, and still look incredibly chic.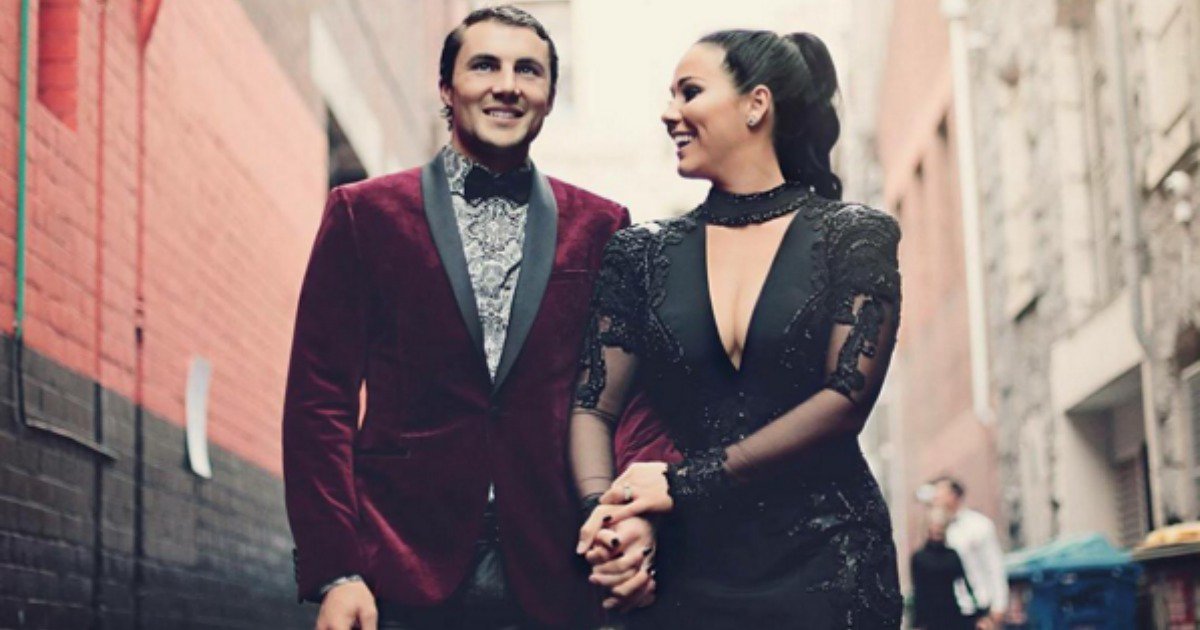 Spooky decor
Decor is where couples planning a Halloween wedding can have a little fun. Think tall, dramatic candlesticks, a candlelit dinner, and splashes of black, burgundy, and pastel purples. Halloween weddings allow for spooky decor including decorative skulls, metal drinking goblets, and the usual Halloween paraphernalia such as pumpkins, black cats, and hairy spiders.
Keep in mind that the Halloween theme is easy to push into 'cheesy' territory, so if you're going for the classy gothic Halloween aesthetic, be sure to choose decor items that go with your overall colour palette and theme.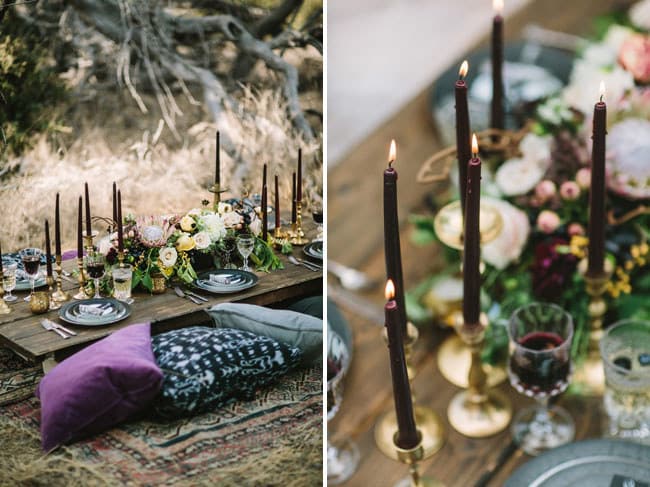 Masquerade
Halloween lends itself to masquerade, allowing guests to wear masks and disguises and be truly themselves (or someone else) for the night. Halloween weddings may take the path of allowing guests to dress up to suit the spooky theme, or couples planning a Halloween wedding may provide masks as bomboniere (a way to say thank you for attending) at the event. This way, guests won't have to put effort into their costume to suit the Halloween theme, and everyone can still participate in the spooktacular fun.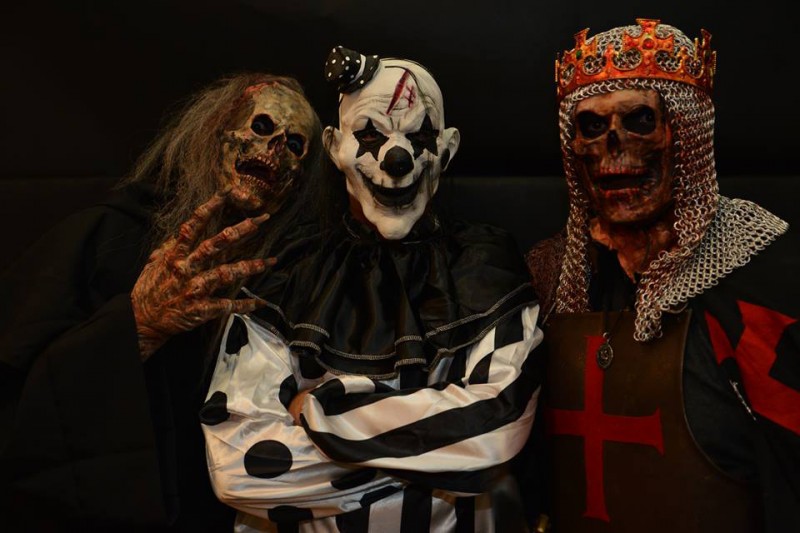 Halloween candy
Possibly most important of all, Halloween weddings give couples the chance to go absolutely nuts with the candy buffet. Think toffee apples, black cupcakes, and whatever you'd usually collect when doing the round of Trick or Treat.
Halloween candy buffets can even double with bomboniere stations, allowing guests to pick and choose what treats to take home with them.