We love a bit of a wedding theme at Easy Weddings. But if you're looking to stray a bit further from the traditional rustic or classical wedding, and have something that's a bit more unique, then it's important to make sure that your day looks like a wedding and not a fancy dress party!
With Halloween coming up it's time for all things spooky with some gorgeous Halloween inspiration. Whether you're after a touch of black to your decor, love horror movies, or really just want an excused to service spiced pumpkin lattes on your big day, we've got you covered.
Here are some of our favourite ways to celebrate your Halloween wedding while still keeping it classy.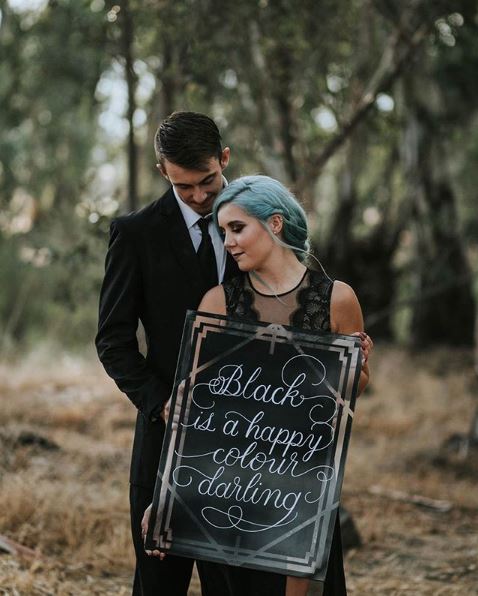 Black and silver table settings
You can do a lot with some gorgeous black settings. Experiment with matte black plates with silver cutlery to truly stand out of the display. You can make the cutlery the feature of your table settings as well, going for stylish all-black tiffany chairs or some dark brown bistro chairs to match it all together.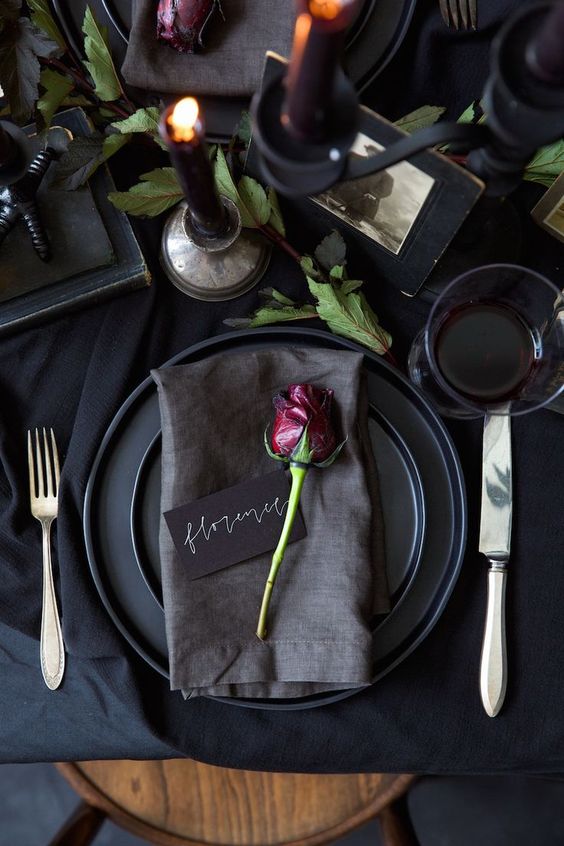 Pops of rich red or burgundy
There's nothing more Halloween than a few representations of blood and gore and splashes of dark red or burgundy will not only give your wedding that pop of colour, but also add to the dark theme.
Looking at adding those rich reds into your decor, florals, and even bridesmaids dresses or the formal wear for your groomsmen will give your wedding some added flair. Plus the good news is that rich reds and burgundies are very popular at the moment so you shouldn't have too much trouble looking for a few pops of colour to add to your day.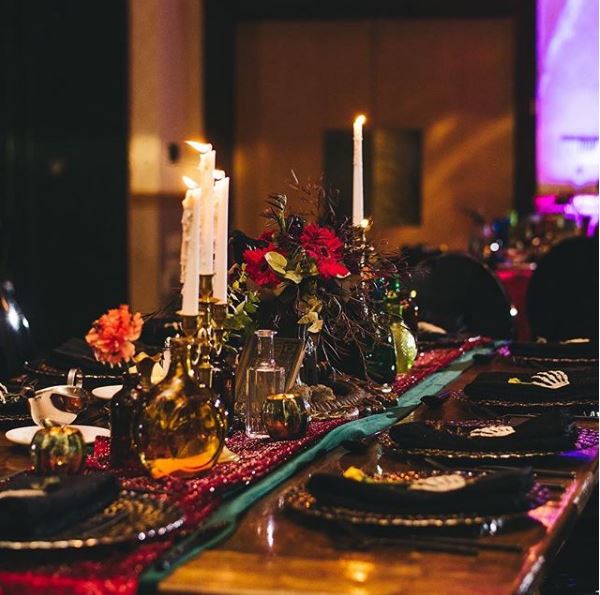 Candlesticks and candelabras
Nothing quite says haunted house like an array of candlesticks that are already melted over their candelabras. Give your wedding some lighting goals by sourcing a number of bottle or glass candlesticks for your wedding day. Make sure you're going for something silver or red if you're choosing a colour so that it meets with the theme, or opt for old bottles or a black stick.
If you're working with new candelabras get some cheap candles to melt down first to cover them with wax. Then you can invest in some more expensive non-drip taper candles to light up your wedding for the whole night, while still getting that melted effect.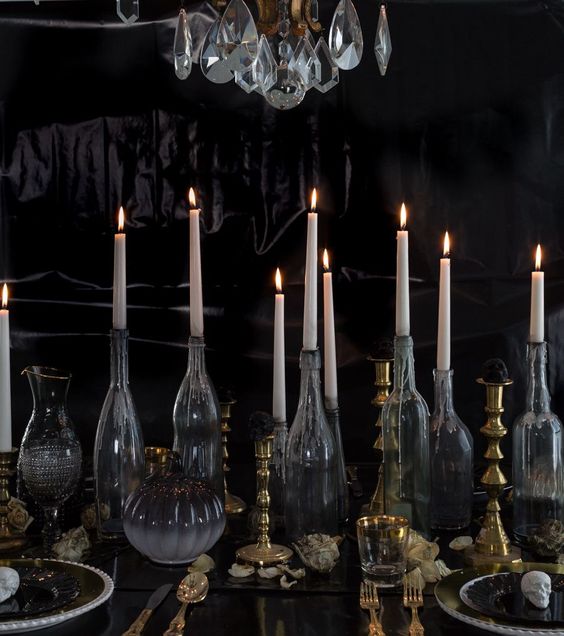 Festoon lighting or lanterns
While you're at it with the candlesticks, get some festoon lighting to give your wedding that warm and mysterious glow. The last thing you want for your Halloween wedding is to have fluro lighting blocking out all of your spooky features.
Warm yellow festoon lights are a great way to add more lighting without it becoming too overwhelming. Add some closed candle lanterns in various locations as well to add to the mysterious flickering light of the evening and cast more shadows up and down your venue.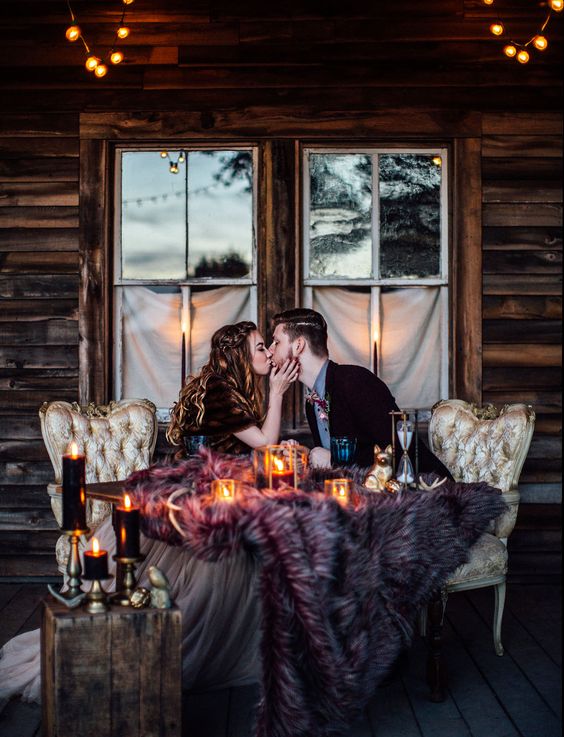 Old school gothic furniture
If you're really getting your haunted vibes on then opt for other older world furnishings. Embellished old school furniture with elaborate designs will definitely give your wedding the glam it deserves, while also sticking with your theme.
Old chandeliers, plush fabrics sofas and vintage Victorian furniture will make your day stand out for the right reasons, while also adding to your theme.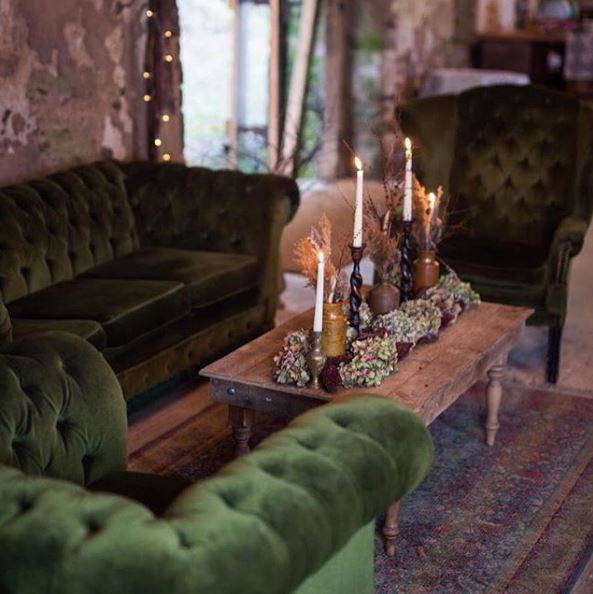 Flower crowns
Nothing quite brings the combination of the living and the dead quite like a live flower crown. Not only will it give you the elegant headwear that you'll want for your wedding day, but it will also be super easy to tie in with your theme.
Whether you go for rich reds, purples, or black, a standout unique flowercrown fitted for Halloween will make you look elegant while also giving you a point of difference compared with the bright flower crowns of other brides.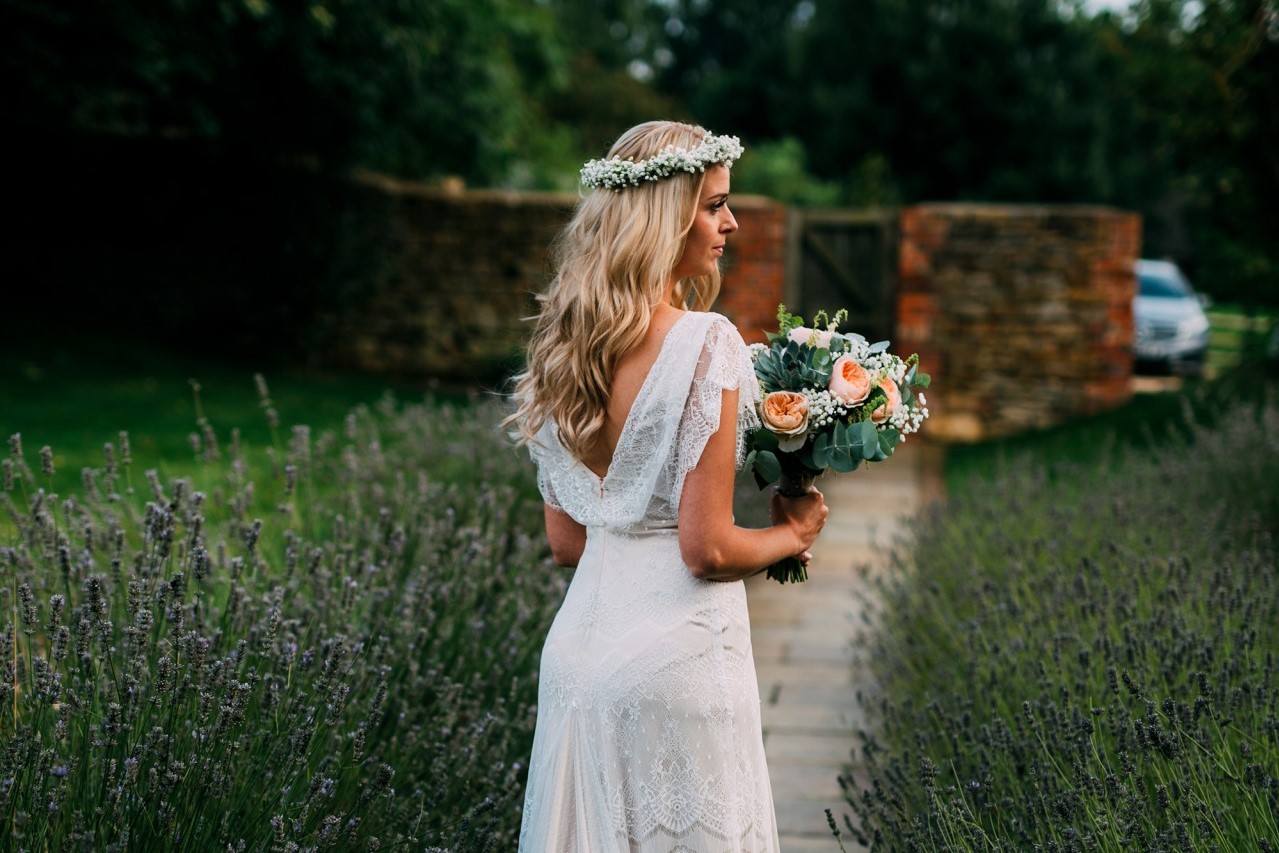 Well placed greenery
Just because you're having a wedding celebrating doesn't the macabre doesn't mean that you can't add a little life to your day! Greenery foilage is still very popular and, if used well, can add to your dark theme rather than take away from it.
Add splashes of greenery against dark backdrops and decor and add it to your surroundings for another mix of life vs death.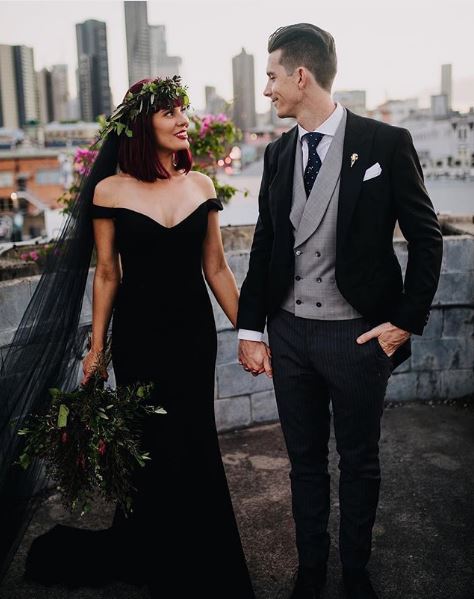 A spooky wedding venue
Of course, one of the biggest factors for Halloween wedding inspo is to find yourself a spooky venue worthy of horrors night of nights. Look for alternative venues such as dark gardens, caves or even old gaols, cathedrals or asylums that have been opened up for weddings.
Your venue is going to be one of the biggest factors in terms of making or breaking your excellent theme, so make sure you do your research and see what it looks like at night and in the daytime!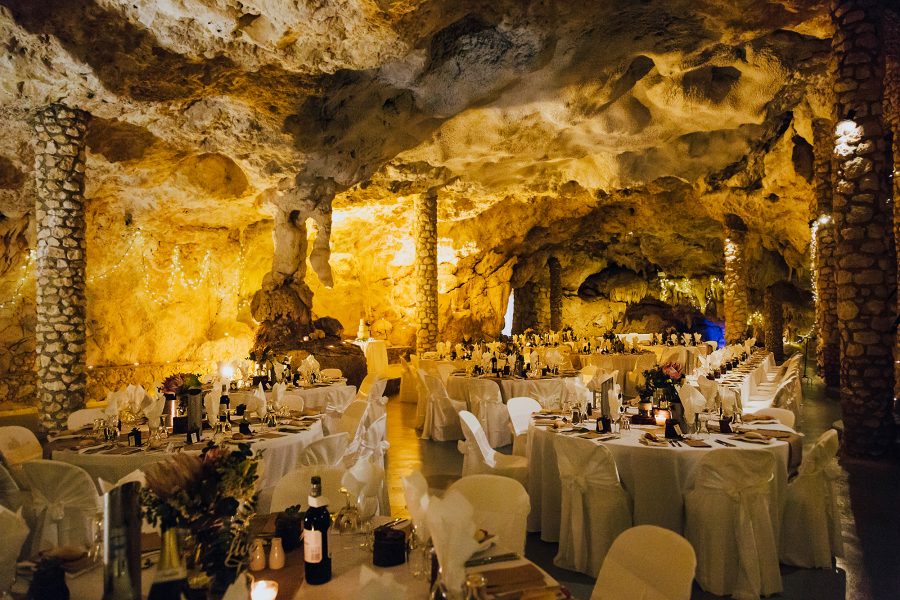 Lace dresses and/or gloves
Lace just gives off that gorgeous gothic vibe. Plus, a lace wedding dress can be absolutely stunning. Considering adding lace features to your dress, or even wearing lace gloves for your big day.
They'll give you that point of difference again and also match well with your gothic furniture.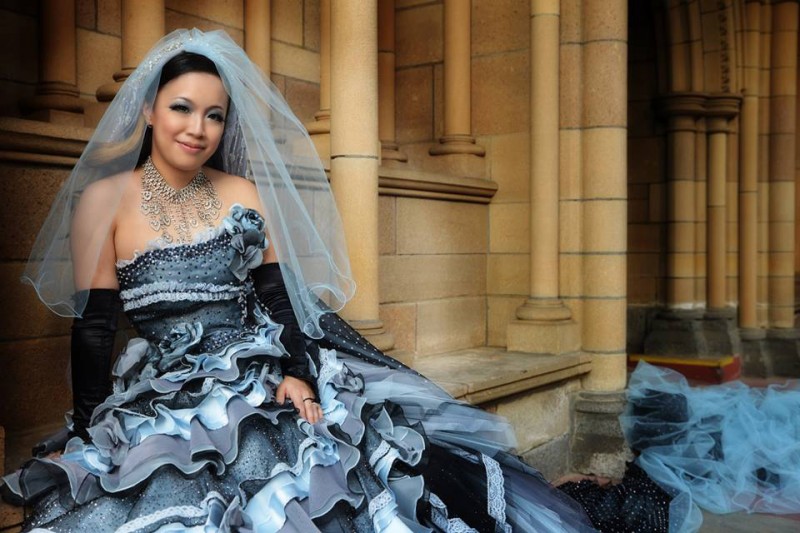 Moody cakes
Moody cakes might not be as popular now as they were a year ago, but if you're having a Halloween wedding the chances are you want to go against some of the trends anyway!
Opt for a dark moody cake with heavy drips to add a bit of mystery and macabre to your dessert. Not only will be look great, but the chances are it'll taste fabulous as well!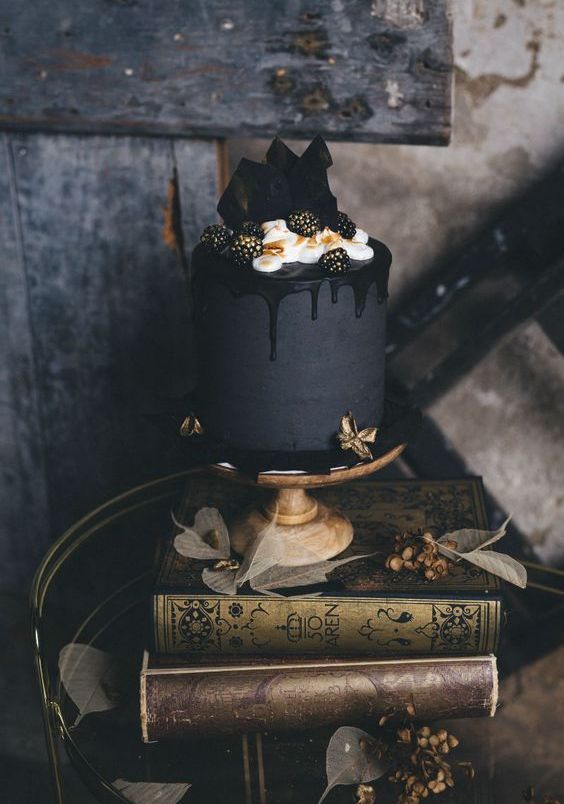 Heavy makeup
It's not often that we advocate heavy makeup for your wedding day, but well-done heavy makeup for your themed wedding can look spectacular.
Experiment with dark burgundies and reds for your lips and smokey eyes. These will make your features pop out more against the Halloween theme as well as making you look stunning for your big day.