In the past the groom's role was to wear something smart enough to get married in without upstaging the bride. Groom attire tended to be very formal and there wasn't much room for personalisation. Things have changed, however, and many grooms now spend as long looking for their outfits as their wives-to-be. The etiquette behind groom attire has become more relaxed, and statement suits or accessories are becoming the norm.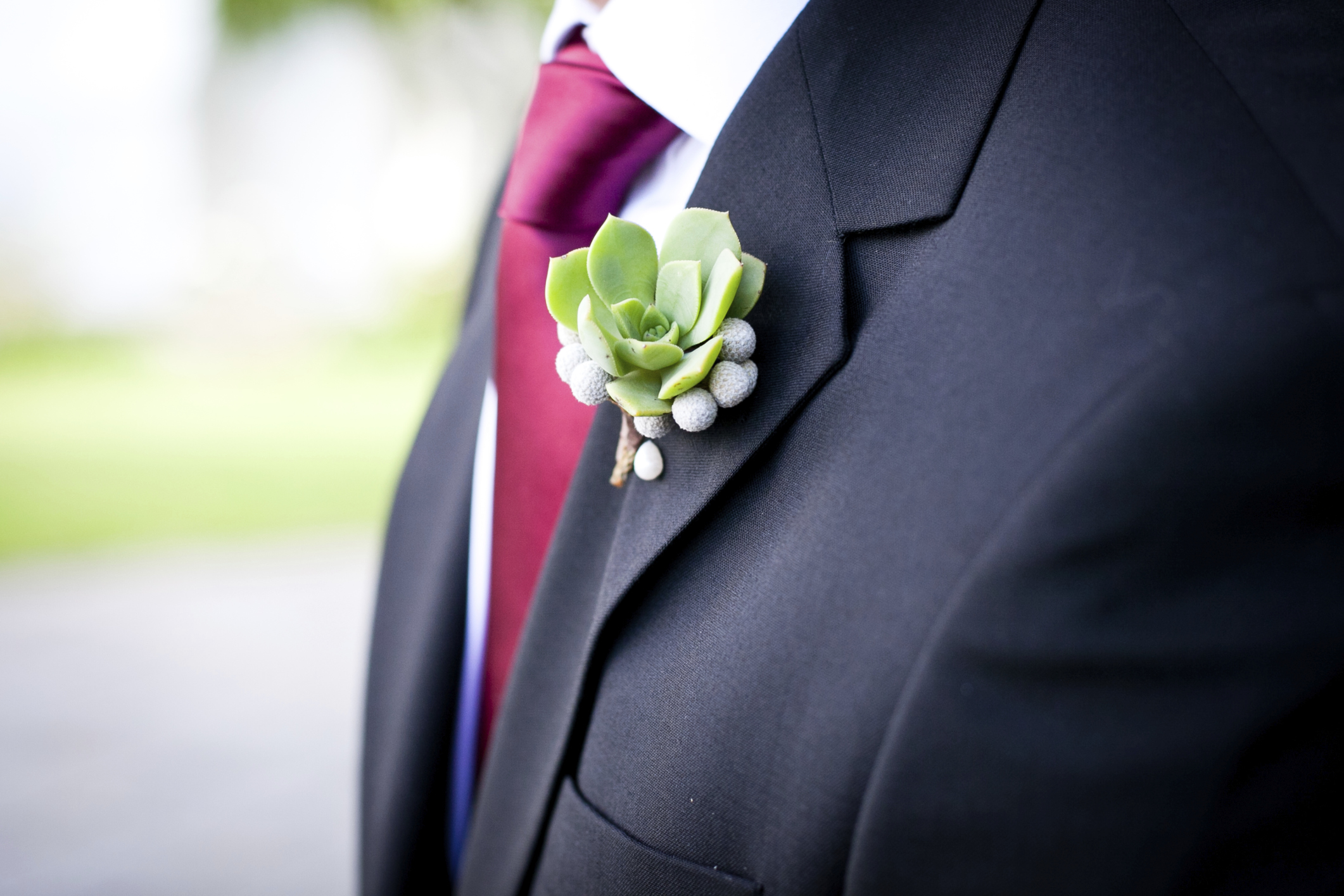 Here are seven of the latest trends in groom attire:
Statement Ties
As simple tailored suits are becoming a popular option for casual weddings, many grooms are choosing to personalise their outfit with a striking statement tie. Bold stripes, paisley patterns, and polka dots are all great designs, and as long as the colours co-ordinate with the boutonniere and don't clash with the bridesmaids' dresses, anything goes.
Simple Elegance
Although double cuff shirts still add an element of formality to a wedding outfit, other fussy embellishments such as pleats, frills are being pushed aside. White shirts are the most popular choice with colour being added in the tie, waistcoat or boutonniere.
Contemporary Tuxedos
A tuxedo is still a popular wedding suit for the groom, especially for an evening wedding, but it has been given a modern face lift. Notched lapels tend to be more popular than shawl or winged styles, brightly coloured or patterned waistcoats are replacing cummerbunds as the accessory of choice, and long cravats are more likely to be worn than the classic bow tie.
Extended Wedding Party
It is very common for the best man and groomsmen to wear the same outfit as the groom, or at least something similar, and the fathers of the couple are sometimes included as well. It is now becoming fashionable for grooms to ask their grandfathers if they would also like to wear a wedding outfit if they are attending the wedding. Try finding a grandfather suit of the same colour and material as the groom's, with similar accessories, but in a less formal style.

Casual Groom Attire
Casual wedding outfits are becoming more common, and many grooms and their groomsmen are simply wearing khaki trousers and matching blazers. Grooms often want to wear something to their wedding that they wouldn't wear to the office, so striped, checked, tartan or textured blazers are all very fashionable.
Ivory Ties
Traditionally the groom and groomsmen would wear ties in the same colour as the bridesmaids' dresses, but this is changing as many grooms decide to coordinate with the bride and wear an ivory tie. Some brides ask for extra dress material to make the groomsmen's ties, which ensures a perfect match but does mean that the groom will know the colour and material of the dress before the big day. Other popular neutral colours for grooms' ties include silver and gold.
Individual Boutonnieres
Having a different boutonniere from his groomsmen has often been one way for the groom to distinguish himself as the star of the show. However, it is now becoming popular for each male member of the wedding party to have a distinct boutonniere to add character to their outfits. If you are having an American style processional where the groomsmen walk the bridesmaids down the aisle, each pair could have a co-ordinating bouquet and boutonniere.