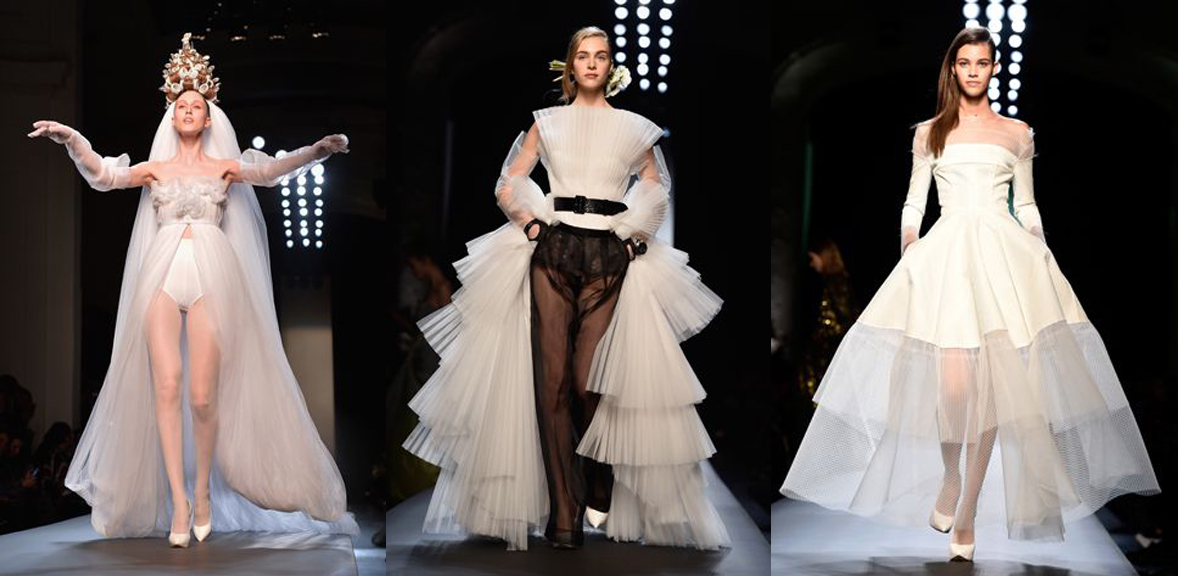 Haute couture designer Jean Paul Gaultier has kicked off his show at Paris Fashion Week with more than a few head-turning wedding gowns – and there wasn't a meringue-style dress to be seen!
His entire show was set to an upbeat '80s pop soundtrack that included, of course, Billy Idol's White Wedding.
The Spring Summer 2015 Haute Couture Collection was filled with his mainstays: black satin, snakeskin and crinoline, only this time, he incorporated ruffles and tulle and used these materials in wedding dresses.
One model bride even strutted the catwalk in curlers!
But his wedding dresses weren't just about first-time brides, they were also about second time brides and divorcees, hence the inclusion of pant and shirt combos made from python skin, which added an edgy, modern feel to the new collection.
Focussing on this duality, Gaultier also showed several 'bi' dresses, which had two sides to them, as can be seen from the first two images below, which are, essentially, two vastly different gowns turned into a single dress.
He ended his big wedding show with a giant bridal bouquet, which, at its centre, featured supermodel Naomi Campbell wrapped in cellophane – and a few strategically placed leaves to protect her modesty!