When it comes to planning your wedding day timeline, you'll quickly discover that the couple barely has time to sit down. However, it's a different story for your guests.
A wedding day inevitably comes with periods of time when your guests will be waiting around for the next item on the agenda, be that gathering pre-ceremony, whilst you're off taking formal photos, or during the reception. That's why we recommend booking something to keep your guests entertained that will also create lasting memories.
The biggest thing you want to consider when you're booking wedding entertainment is the vibe. Your ceremony has set the tone for the rest of the day, so it's a great idea to keep the atmosphere going by booking entertainment that will flow smoothly.
Here are some of our favourite ways to keep guests entertained during the reception.
Organise dinner and a show
Set the stage for some truly memorably reception entertainment by booking in some dinnertime entertainment. Dance Dance Dance is a Sydney-based and award-winning entertainment company whose dancers create and perform bespoke routines in an array of genres. Choose something sweet and romantic like ballroom or samba, or something to get your guests' hearts pounding like breakdancing and can-can!
Ricardo from Dance Dance Dance says that wedding guests are enraptured by their performances.
"We often get into a situation where it is extremely hard to get people to stop dancing and having fun, and clients request for us to extend more party interaction. Then we always offer to pose for photos with the bride and groom, bridal table, and guests for the final thank you."
Reception entertainers can be scheduled to perform throughout the entire reception, or at strategic moments throughout the event. This could be whilst the guests are eating, between speeches, or after the main meal has been finished and the guests are ready to party.
"There is nothing better than sharing a smile with a boogie and shimmy along with guests right in front of you… Human emotion and [being] hands-on is a major factor with regards to [the] wedding party having memorable experiences to cherish for a lifetime. Whenever we apply the elements of surprise all our guests respond with happiness, laughter, happy shock, and are completely mesmerised," Ricardo says.
Check out Dance Dance Dance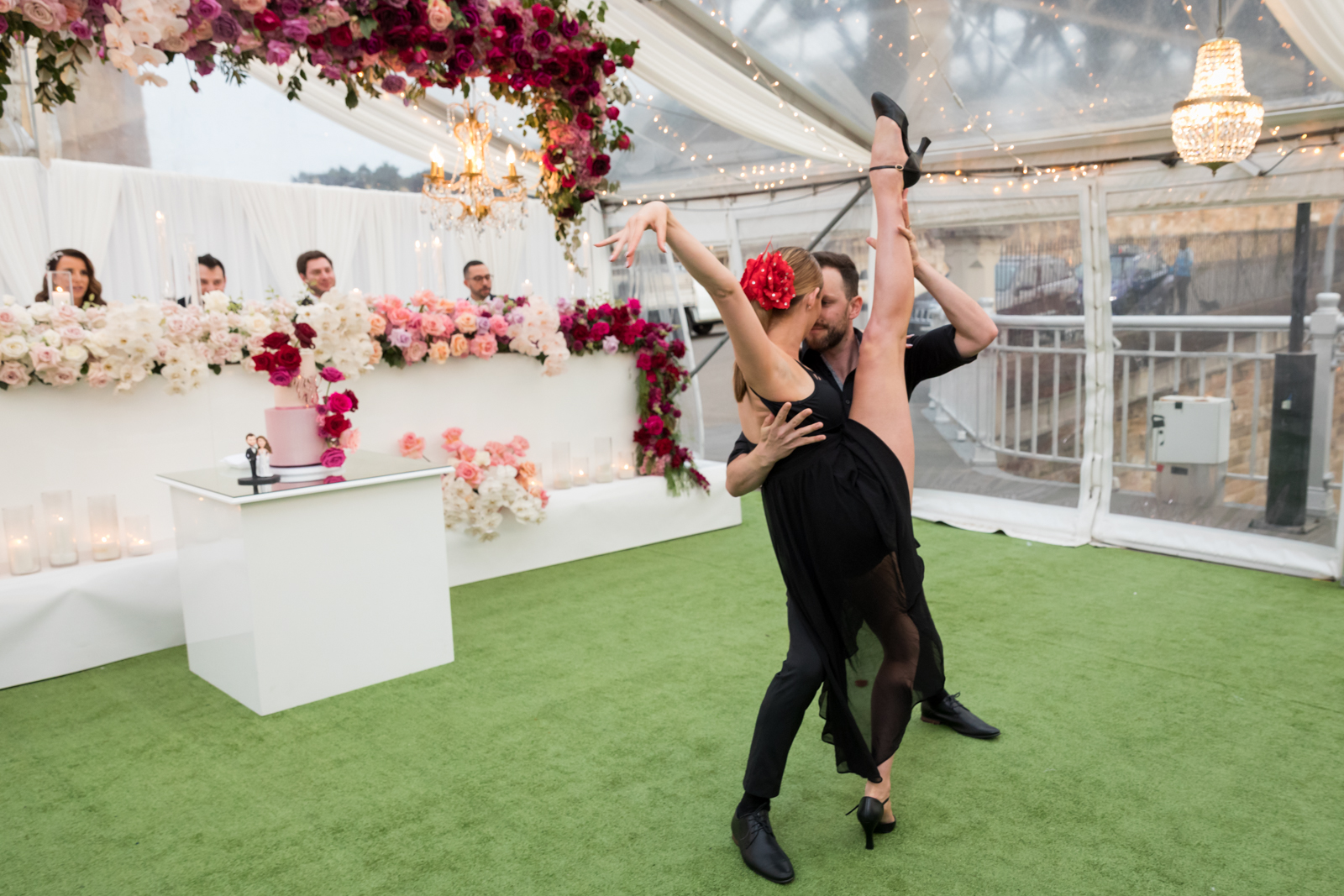 Grab a classic party activity
Before you start hand-packing some party bags, we've got other suggestions in mind for a slice of childhood nostalgia: the humble bouncy castle.
Or, not so humble, in the case of Bridal Bounce. Based in Canberra, this premium jumping castle company hires their premium white castle exclusively to weddings. The team handles the setup and pack down, so all you need to worry about is how quickly you can shuck your heels to clamber on and start jumping. Perfect for iconic wedding pictures with your partner and best mates, the bouncy castle is also the ideal entertainment option for guests who want to relive some of their favourite childhood memories.
Check out Bridal Bounce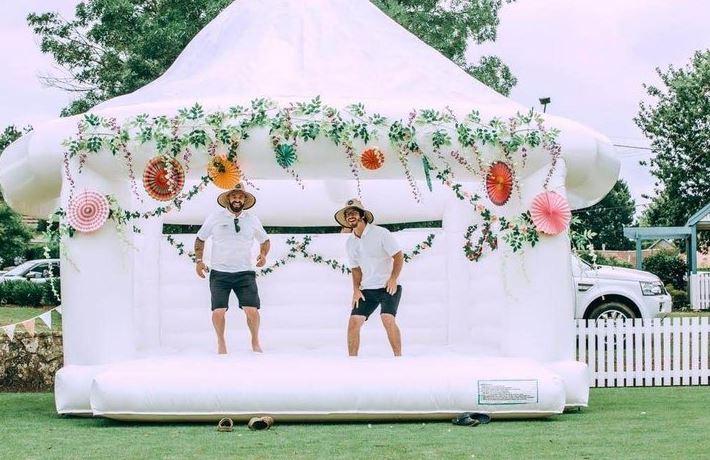 Hire an artist
Another unique way to keep your guests engaged and entertained in down times is by having an artist at your ceremony and reception. Some couples contract an artist to create a live drawing of the ceremony or reception, and other artists are highly regarded as mid-reception entertainers. Have them set up their station in a convenient spot where your guests can stop by to watch the magic happen.
Bala from Wedding Caricatures – The Art of Comics brings a sense of wonder to receptions all across Brisbane. Racing through guest portraits in just 5-7 minutes, Bala is a great source of entertainment for the portrait subjects and the guests watching on.
Able to capture a person's likeness so quickly makes live artists a unique spin on the classic photobooth, and the portraits are a great wedding gift from you to your guests.
Check out Wedding Caricatures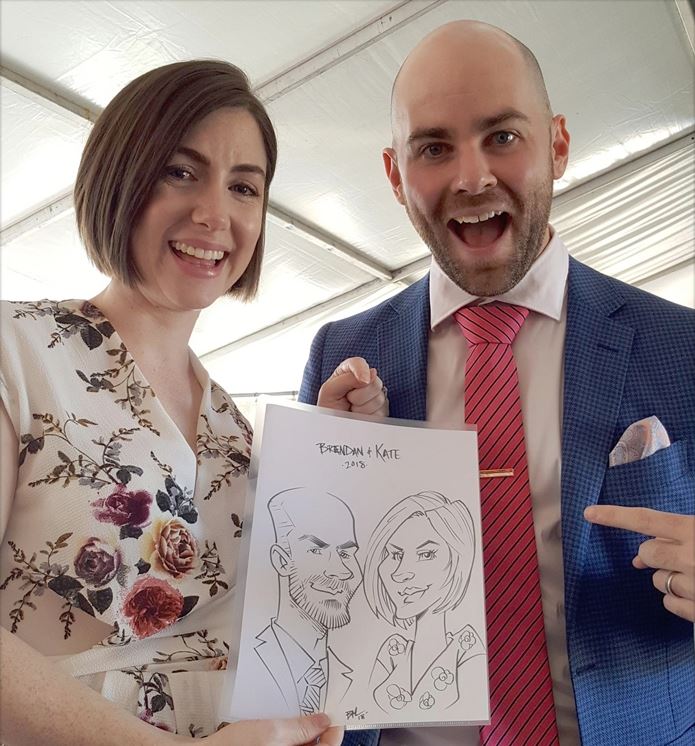 Set up a hilarious surprise
Flashmobs are a fan-favourite for outlandish proposals, and many couples seek inventive ways to bring that surprise into their wedding. Give your guests the shock – and thrill – of a lifetime when the waiter serving their food suddenly breaks into song!
Based in NSW, the Undercover Entertainers are a talented team of singing waiters who go incognito at weddings only to burst into song at the scheduled moment. With roving waiters strategically spread across the venue, your guests will get a wonderful surprise when the room erupts into a musical and dance number!
Check out Undercover Entertainers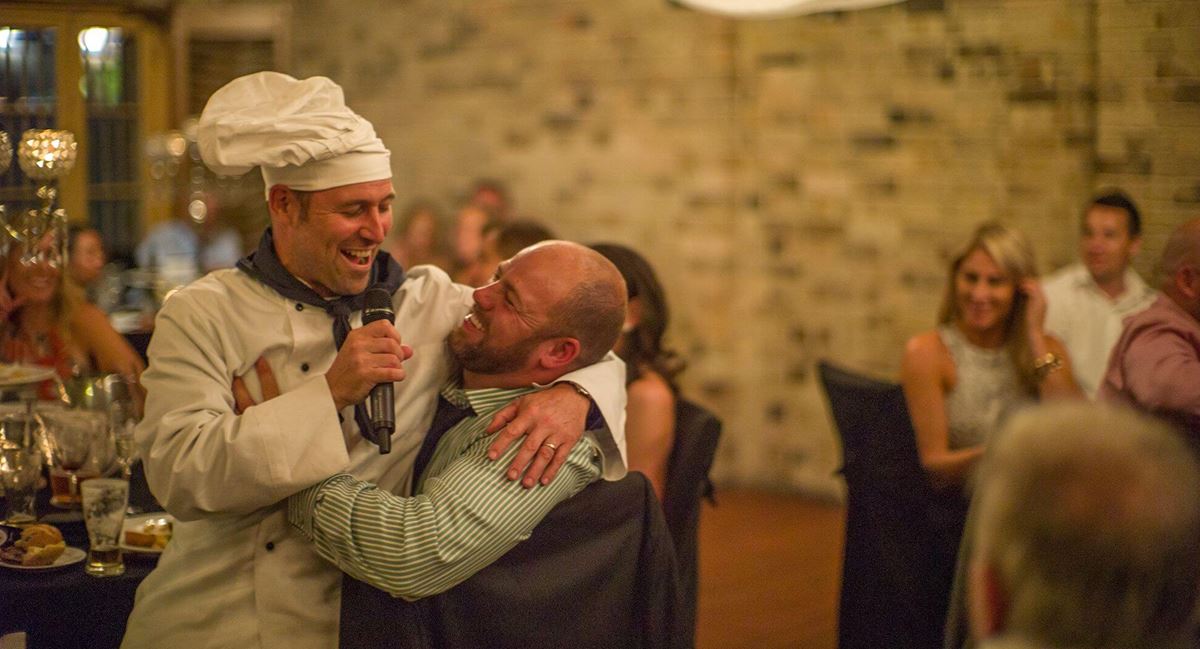 Looking for more entertainment inspiration for your wedding? Click here to view more entertainment options in your area.