Many modern gents go through life never owning a suit, let alone one that's tailor-made. However, having a suit made-to-measure is not just about crafting attire that fits better than anything you've ever worn before, it's a thoroughly enjoyable experience, one that can be absolutely addictive.
If you are considering having your wedding suit tailor made, chances are it won't be the last time you dabble in the wonderfully luxurious world of made-to-measure attire.
At Oscar Hunt, Sydney-based men's tailors that also service Melbourne, they take made-to-measure attire very seriously – but they like add a modern twist to lighten up the process for customers.
"In days gone by, the relationship between a man and his tailor was more of a long-standing friendship, just like the relationship you might have with your barber," says Oscar Hunt's general manager Chris Edwards. "These days, buying a suit is more of a quick and impersonal very transactional experience. We're trying to bring back the old tailor-client relationship.
"We strive to craft that perfectly fitted suit – but like the process to be more one the groom-to-be truly enjoys in the lead up to his big day, just like a bride may experience having her own wedding gown custom-made."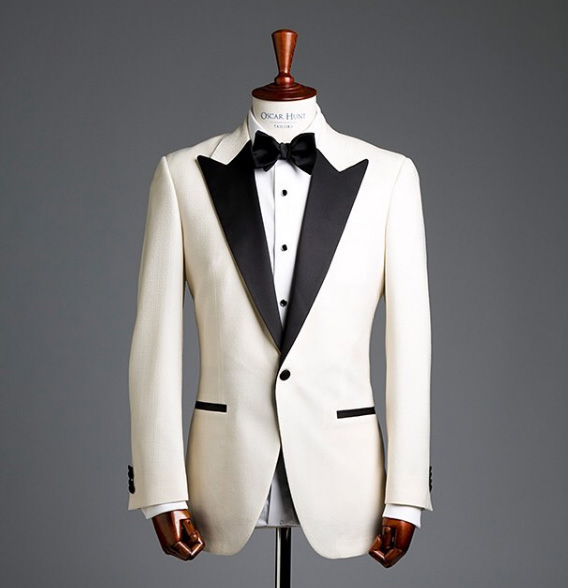 Chris says it's easy to spot a groom wearing a tailor-made suit a mile away because of it's flawless fit.
"There's a lot to worry about on the wedding day and to know your suit is going to perform well and 'behave' in photos is crucial," he says. "Throughout the day you can feel confident in the knowledge the suit is going to do the job."
But, he adds, a well-made suit won't just "do the job" on your wedding day, it'll do it again and again and again!"
"Nothing beats the fit and comfort of a tailored suit," says Chris who, after a recent cull, now owns a mere 47 suits – all tailor-made, of course.
Chris opened the first Oscar Hunt store in Melbourne's CBD with school mates in 2012 before opening their second showroom in Sydney last year. His inspiration behind the service was his own experience with a local Melbourne tailor, Lionel, who made his father's suits over many decades.
Chris' mission is to bring back the traditional relationship between tailor and client and he hopes to demystify that experience while adding a friendly, modern twist.
"In the past, the tailor-client relationship was based on service and the experience of going through the process of constructing a suit," he says. "We basically start a little friendship. That, for us, is the whole point."
That relationship between tailor and client usually begins with informal conversation in which the tailor will derive details about the upcoming wedding day and the groom's personal style, and, the staff at Oscar Hunt aim to make the overall process a light-hearted and enjoyable experience.
Indeed, some grooms – with their groomsmen in tow – tend to consider their suit fittings "a bit of a party – with the odd troupe actually kicking off their buck's night with their final suit fitting."
"It can be really fun," says Chris. "We've been the precursor to more than a few buck's parties now because, just as the ladies in a bridal party have a number of touch points, such as hen's parties and bridal gown fittings, a suit fitting provides a chance for the blokes in the bridal party to get together, bond and, well, have a great time – and they always do!"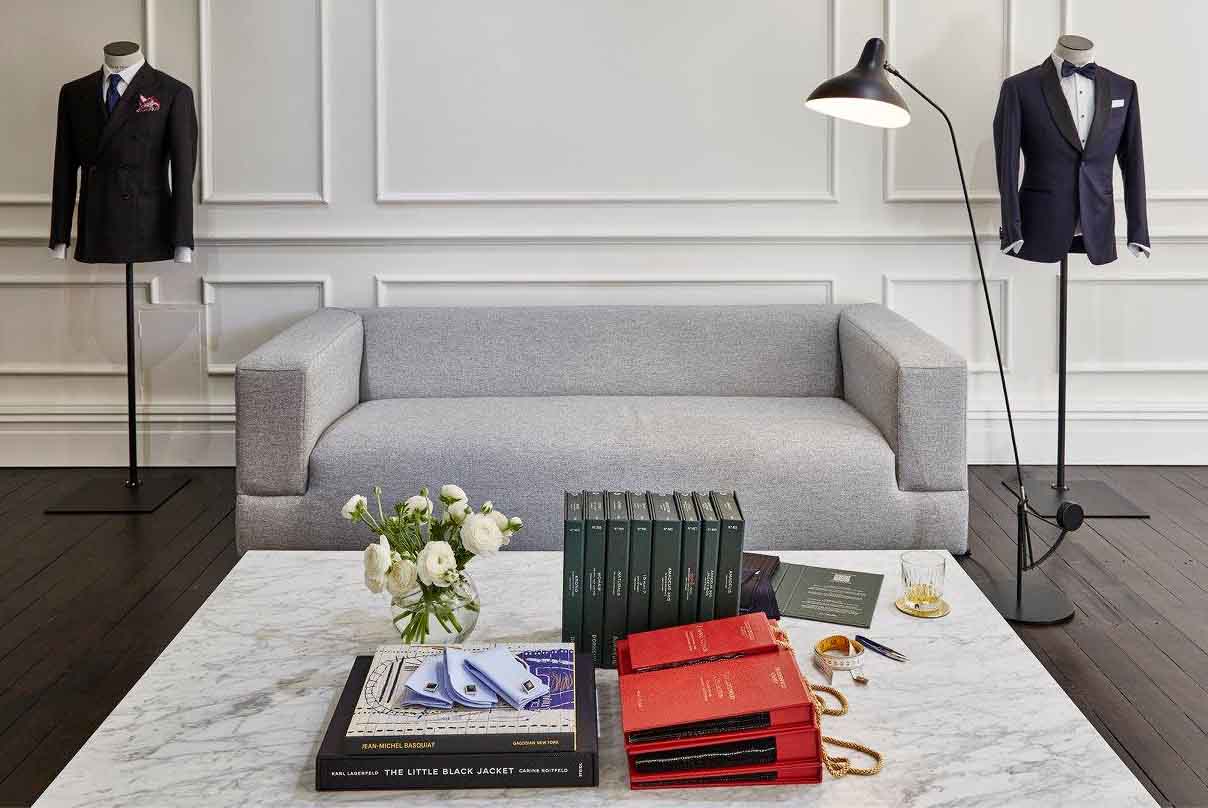 Once clients make their first inquiry about purchasing a wedding suit they then choose from more than 2000 different fabrics in a variety of patterns, weights and colours.
The wools on offer are almost entirely sourced from Australian producers and, says Chris, the most popular offering for grooms remains the classic black or midnight navy dinner suit with silk lapels.
Chris recommends clients leave about an hour for their first fitting. About a month later they are invited back to try on their suit to determine what adjustments need to be made.
The final fitting takes place about two to three weeks later to ensure clients are completely satisfied with their suit.
"These cuts aren't crafted overnight. A tailored suit does take time," says Chris.
Talking to clients and learning about what they want in a suit is a crucial part of the process.
"Slim fitting means different things to different people. We do get a great understanding of the client's preferences and we base our pattern on that."
For many clients buying a wedding suit at Oscar Hunt is their first time working with a tailor.
"We do see a lot of guys for whom it is their first experience but they come away saying 'I can't believe I didn't know about this or consider this earlier'."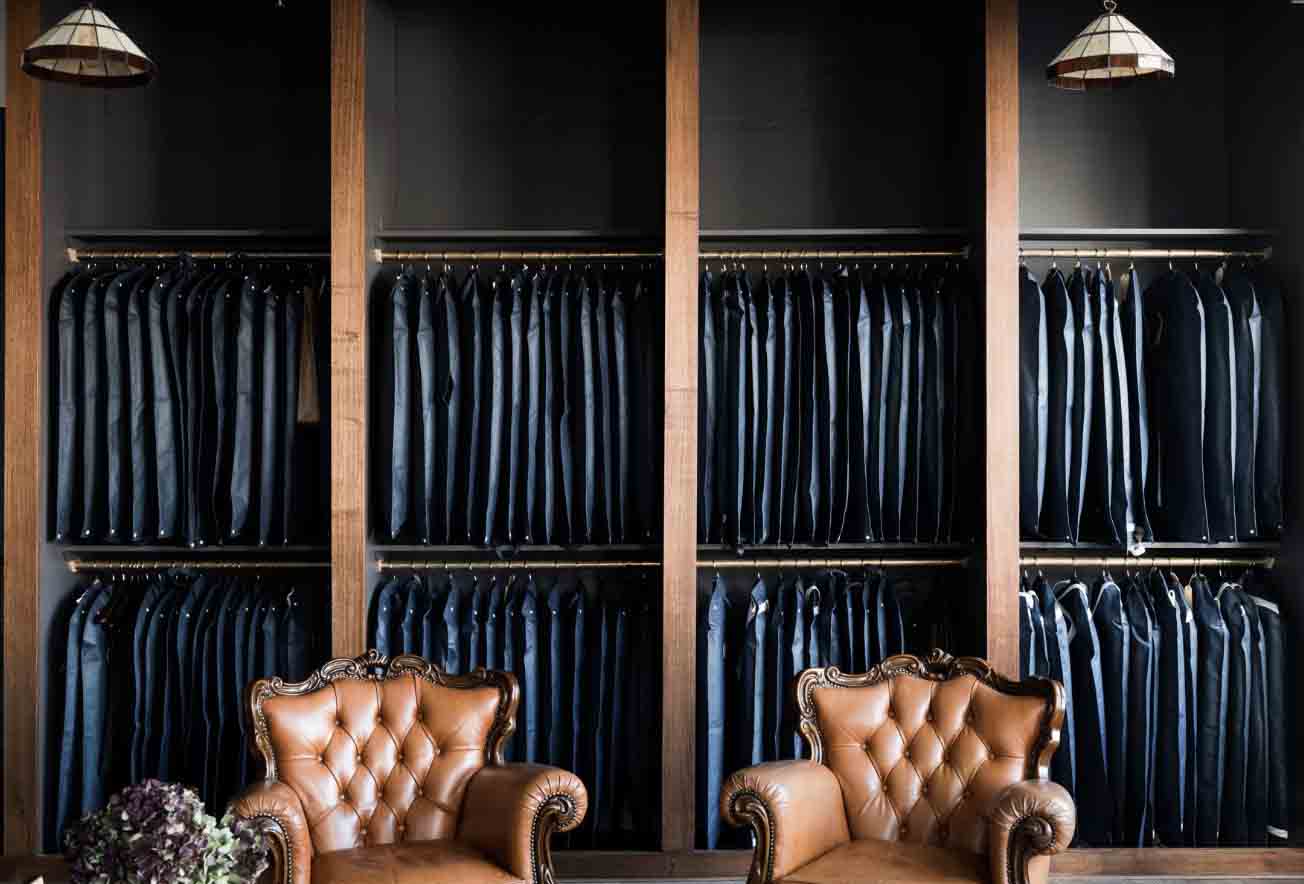 From formal black tie affairs that require tuxedos to casual beach weddings, each suit is specifically designed to match the aesthetic and style of the client's wedding.
Oscar Hunt also provides tailored shirts in addition to overcoats, ties, bowties and suspenders. Soon they will introduce a range of shoes.
Chris says the tailoring experience is neither stuffy nor excessively priced. He says Oscar Hunt pitches its prices at roughly the equivalent of mid-range off-the-rack suits.
A tailored suit is an investment that will pay-off in comfort and durability, allowing it to be worn many times, Chris says.
Oscar Hunt's tailor-made suits are in stark contrast to what Chris describes as "fast-fashion". But he insists the process is welcoming and inclusive.
"It's not a snobby or inaccessible realm. You can come in here whether you're a high-end suit wearer or a tradie – and we'll welcome you with open arms!"