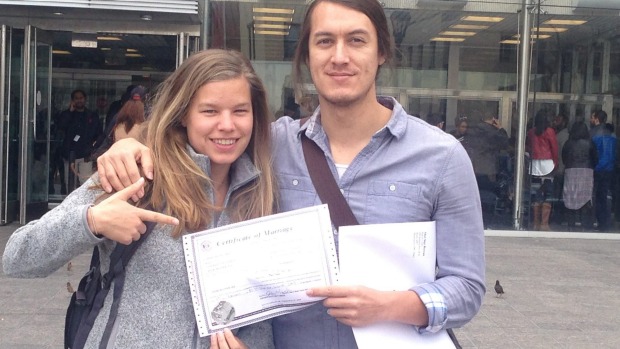 Many couples make a decision to ban phones and the use of social media at their weddings to avoid guests being distracted, but millennials are now embracing it – even shunning traditional wedding ceremonies for those streamed live to guests online. These have been called "Facebook Weddings".
The names Zita de Pooter and Jeremy Meek are being broadcast around the world as a couple who celebrated their wedding with 210 friends – none of whom turned up for the big day.
Instead, they "liked" the couple's wedding announcement – a photo of them in casual attire pointing to a crisp white sheet of paper, which just happened to be their marriage certificate.
"We picked up the papers from the courthouse , it was really easy and left to Starbucks," Zita told The Washington Post.
The 28-year-old says they picked up papers from the courthouse, found a "quiet nook" in a local Starbucks and Jeremy, 32, said some "silly words" about their time together before they signed the paperwork.
"We didn't want to make a big deal out of it. It was nice. A little bit romantic even," she says.
There was no bouquet, no wedding dress and no pressure to pull off a ceremony in front of guests.
Their photographer was a passerby on the street, who took the photo on an iPhone that the world is now seeing on Facebook.
The caption read: "Went to the courthouse yesterday and became leap day husband and wife. Anniversaries every 4 years for the rest of our lives."
Comments began pouring in from the "guests" including: "Congrats! Good Looking couple! Wowowow!"
Several months later, the newlyweds hosted a three-day garden after-party in Zita's native Belgium.
Even then, the event cost them less than A$8,200.
So is there merit to the idea of shunning a traditional marriage celebration for a social media "event"?
Your wallet will say yes, but your heart might say no.
The 2016 Easy Weddings Survey found the average cost of an Aussie wedding is $30,985, this is just over $10,000 more than what couples budget for on average. This is why a budget is important in the planning process.
It worked for Zita and Jeremy and they won't be the last couple to get married in such a fashion.
More and more young couples are kissing tradition goodbye and saying "I do" to elopements, courthouse nuptials and intimate small-scale weddings.
In the era of social media sharing, these modern couples are taking to the web to broadcast their nuptials to the world through Facebook, Instagram and Pinterest and there are others who choose to live-stream their ceremony through services like Periscope and Skype, so guests can tune in wherever they may be.
If this new era of simplicity is right up your alley, don't be afraid to embrace it. You can always have a "reception" party afterwards so that you still get to celebrate.