When your wedding day has passed you will probably feel a little sadness. There is just so much excitement and planning for so long, that builds up to that one day, that afterward, you can feel a bit let down. There is so much drama and anticipation for one day, what do you do afterward?
You are probably wondering what to do with your wedding dress. For most women, this is a rather large investment and something you wouldn't be likely to wear again. It is, of course, worth every cent paid for it if it made you feel good on your big day, but it may seem a little unnecessary to keep it now.
Do you have to keep your wedding dress?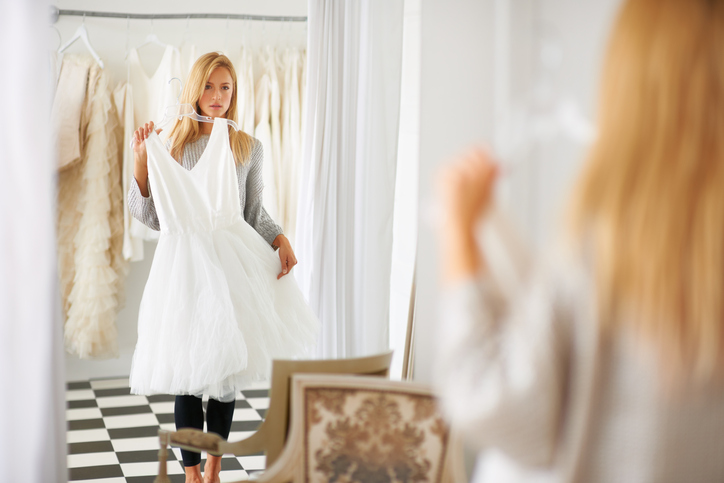 You don't have to keep your wedding dress at all. Many women will and will put it away lovingly to keep as a treasured possession, but many don't feel that kind of sentimentality or attachment.
Some will get rid of their dress because practically they don't see the sense in keeping it. Others will get rid of it because financially it just makes sense.
There is no right or wrong thing to do with your wedding dress, you don't need to feel a certain way about it. Every bride will be different. Just do what feels right for you, and if you are unsure yet, just put it away and think about it a bit longer.
But if you have no idea what to do with your wedding dress after the wedding is over, and just letting it hang in your closet taking up space doesn't seem like a good option, here are some other ideas.
What to do with your wedding dress when your wedding day is over
Box it Up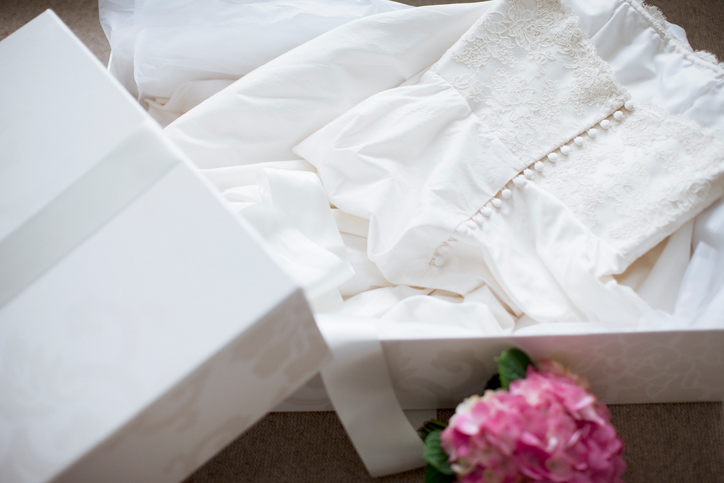 Some services will dry clean your precious dress and then box it up for you for storage. You may want to keep it for yourself or to pass onto the next generation of your family one day.
Getting your dress properly cleaned and stored is the ideal way to ensure it is safely stored and will stay free from chemicals, bugs, light damage, and anything else that may affect it. Once boxed, it also flat ready to pop away in a cupboard until the next time it is needed.
Talk to a specialist dry cleaner such as LDC Luxury Dry Cleaning.
You can buy specially designed boxes for storage through The Dress Box Co.
Sell it
Many women sell their dress and this makes a lot of sense. You won't wear it again, and chances are if you have daughters they will have their own ideas for a wedding dress.
There are many places you can sell your wedding dress secondhand, but the easiest is through our preloved dresses pages on Easy Weddings.
Donate to a secondhand store
You may choose not to sell it, but decide you are still happy to get rid of it, and could just donate it to a secondhand store or op shop. By donating your dress to be resold you will raise money for the chosen charity, which is a lovely way to let the goodwill of your wedding day live on long after the day itself is over.
Donate to Angel Gowns
Angel Gowns Australia is a gorgeous charity through which volunteers turn donated wedding dresses into free tiny gowns for stillborn or very premmie babies who pass away without leaving the hospital. The families of these babies will very rarely have clothes for them to get buried in, so charities like Angel Gowns give these dresses to the hospitals to make available when this incredibly sad occasion is needed.
Trash it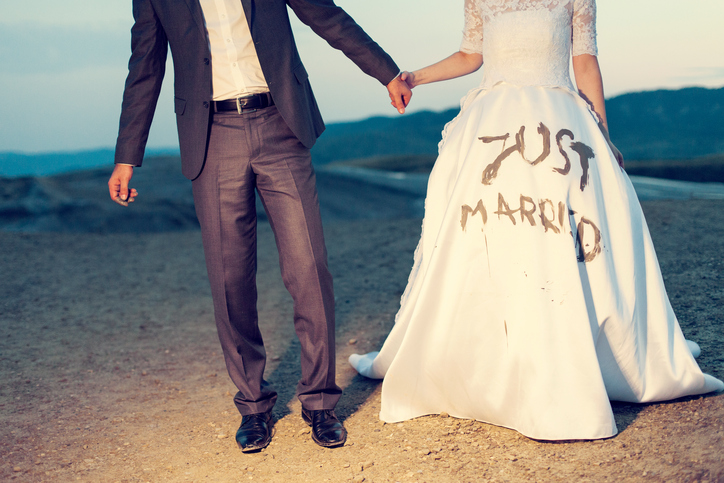 If you are thinking outside of the box with your wedding dress, something very cool is to have a professional photo shoot and trash your wedding dress. You get points for creativity on this one, and you can scour the internet for images and ideas, but the more adventurous and messier the better.
Wedding dresses are so dramatic, it can make a masterpiece of art when you trash it wonderfully for the cameras. Some 'trash the dress' ideas include:
Jump in the ocean, a creek, waterfall or fountain
Throw paint over it
Pour red wine all over it
Roll around in the hay or on the beach
Walk in the rain or jump in muddy puddles
Make sure that you get photos, however, as it won't be worth it otherwise. Your wedding photographer will likely have some great suggestions for effective shots.
Transform it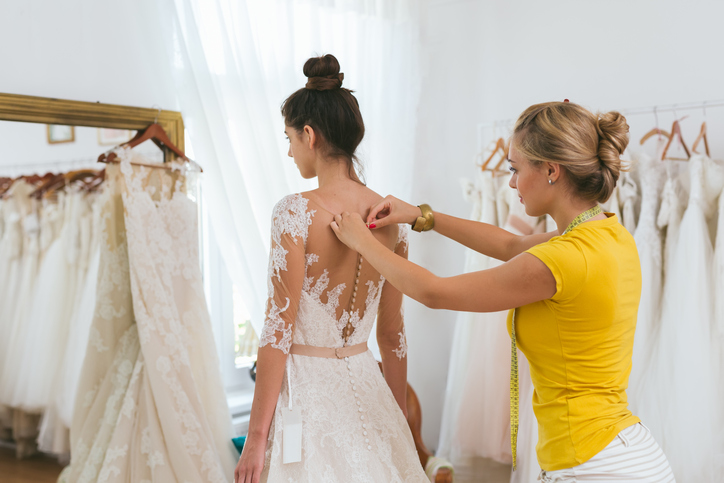 Talented craftspeople can take your beautiful dress, and all of the emotion and nostalgia that comes with it, and turn it into a keepsake which is a bit more practical than storing the entire dress. Some heartfelt ideas for items that can be created out of your wedding dress include:
A necklace
Bespoke lingerie
A christening gown for your babies
A cocktail dress that you can get more wear out of
Ribbon or wrap to give to your daughters for their wedding bouquet (they might be more likely to appreciate this than your entire dress)
Make an artwork
You can very easily make your own artwork from a piece of your wedding dress to be put on permanent display in your home. Choose a detailed section and then place this with other mementos such as your bouquet or wedding invitation, in a shadow box.
If you don't feel confident creating your own shadowbox, look online for people that can do this for you.
Another idea is to use sections of the dress throughout your wedding album, or a scrapbook that you can make of your big day.
Have a party
If you have a lot of friends who got married around the same time, maybe hold a girls only night and wear all of your wedding gowns again, while you still get the chance. As soon as some of you get pregnant you will no longer fit into them, as well as no longer be able to enjoy a cocktail with the girls, so why not make use of this while you can?
Whatever you choose to do, the magic of your wedding day will never fade, and you were so lucky to meet the love of your life and get to wear this one incredible dress. The joy of that can live on forever.