Choosing your bridal party can be equal parts fun and stressful. You want to be surrounded by your best gals, but there's lots of other things that come into play – from existing expectations among friends and family, to the strength of different relationships. Here's the difference between bridesmaids and your maid of honour.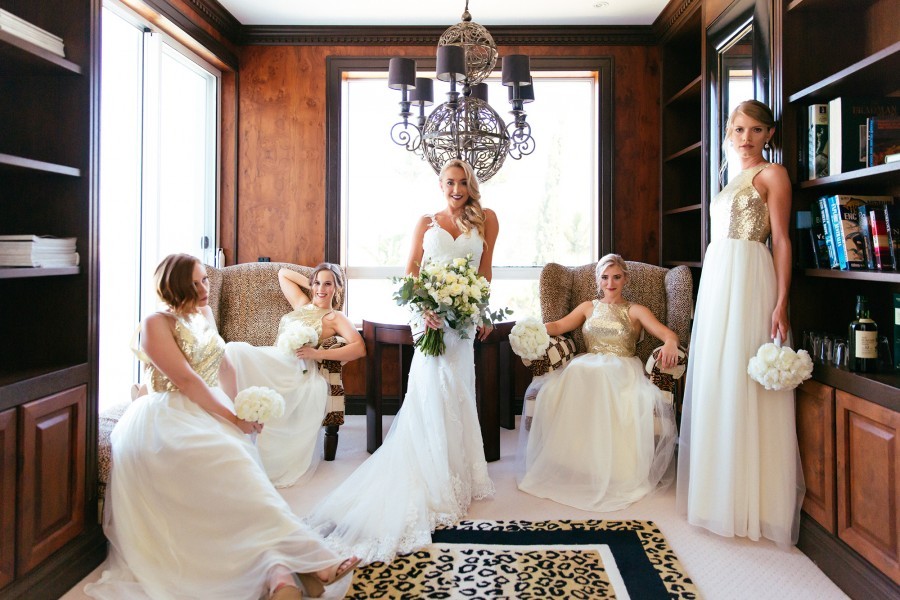 So who – and how – do you choose to fill these VIP spots? Is it the longtime friend from school, or the one you see every day? Someone for whom you were a bridesmaid or a favourite cousin who lives in the next town. Do you have 10 bridesmaids or just go for three?
As you can see, there's a lot to consider. And that's before you get around to assigning the most important role of them all – that of the Maid of Honour. To help you understand the difference, and pick the right person for each role, we've compiled this handy guide, but remember, the first person to come to mind for each role may not be the best person to carry out each role, so choose carefully!
What does a bridesmaid do?
As the name suggests, a bridesmaid is a member of the bridal party. They tend to be a sister, cousin or close friend, although these days brides sometimes choose attendants of the opposite sex in reflection of the varied nature of modern friendships.
Numbers wise there's no minimum or maximum limit imposed, although couples often choose to have an equal number of attendants. Where you have only one bridesmaid, they will serve as the Maid of Honour.
In the lead-up to the wedding, some of the tasks brides traditionally seek help with include addressing and stuffing envelopes, going dress shopping, or getting involved in DIY projects, whether it's creating personalised ceremony programs or making decor elements for the reception. Bridesmaids can also help out with tasks such as recording details of gift givers during events such as the engagement party.
On the actual day, they will support the Maid of Honour in looking after the bride, can help look after junior attendants, will circulate at the wedding to ensure guests feel included, dance with their opposing groomsman, and also answer guest queries.
This article looks closely at the role of a bridesmaid.
What does a Maid of Honour do?
The Maid of Honour (or Man of Honour, where applicable) serves as the chief bridesmaid. She acts as the bride's key personal attendant both during the engagement and on the big day, with an aim to reduce stress wherever possible and lend a hand or opinion whenever needed.
In the lead-up to the wedding, the MOH will traditionally host events such as the bridal shower or kitchen tea and also plan the hen's night. She can also help corral, and delegate to, bridesmaids wherever a hands-on effort is needed, for example if the favours are being home made.
On the wedding day itself, her duties range from helping the bride get dressed, making sure she eats something and holding her bouquet during the ceremony through to signing the marriage certificate and helping the bride to go to the toilet if her dress is too ornate to wrangle alone. She also dances with the best man during the newlyweds'  first dance, takes charge in any moments that need a soothing hand and may also make a speech or a toast.
Usually she is dressed the same as the bridesmaids, although some brides will reflect her status with a different colour, piece of jewellery or slightly different dress design. Note that if she is married, the correct term is matron of honour.
Here is a more detailed look at a Maid of Honour's duties.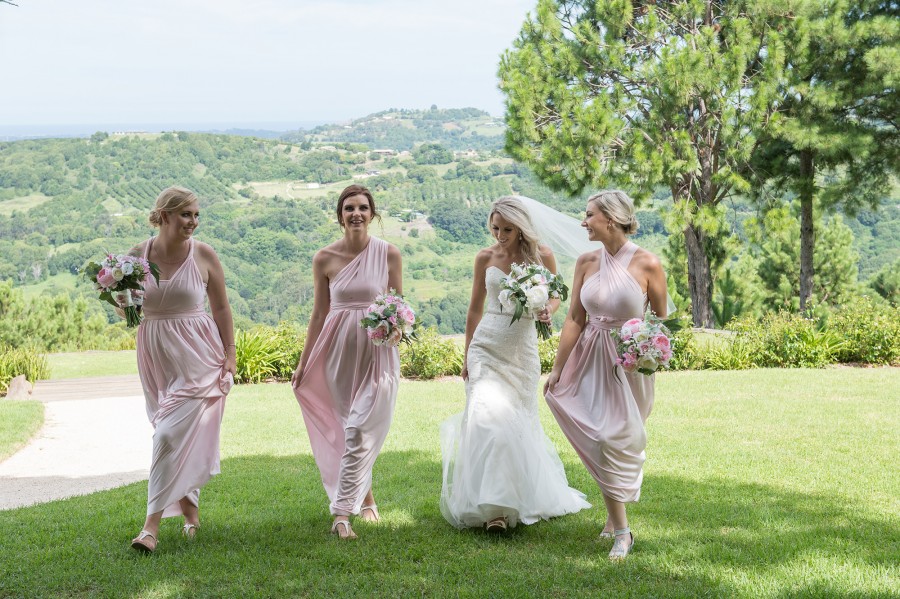 How to choose your bridesmaids
There are many factors that go into choosing bridesmaids. There's friendship, family ties, sentimentality, returning the favour or even doing the right thing. And they're all important to consider, in varying degrees.
But the big question you want to ask in making final selections is this: "Do I want these people to be the ones standing with me at the altar as I get married? And am I confident they will support me along the way." If the answer is yes, you're on a winner.
How to choose your Maid of Honour
When it comes to choosing a Maid of Honour, sisters and best friends are the obvious candidates. After all, you need somebody who knows you intimately, who you trust and who can also bring you back down to earth on the odd occasion you need it. Plus, they're going to be a patient right-hand gal when wedding responsibilities add up or you get overwhelmed and need tissues, or even a hug.
As well as love and trust, time availability is an important factor to consider. When the groom isn't free – or even when he is – you're going to want the MOH to join you for activities such as cake tasting or venue hunting, on top of usual responsibilities ranging from dress shopping to planning celebrations such as the hen's night. So if one of your besties works incredibly long hours that limit her time off, she may be better as a bridesmaid.
Something else you'll want her input on is deciding themes, colour schemes, reception decorations and more. For this reason, someone who has an eye for style and shares your taste is also a perfect choice.
Finally, if your potential MOH has an existing relationship with the other bridesmaids, that's wonderful too, because then she can easily direct them as needed to key dates and responsibilities such as hair and make-up trials and jewellery shopping. She'll also ensure they're in their best form on the big day to help make it a magical celebration which, after all, is why you have attendants in the first place.