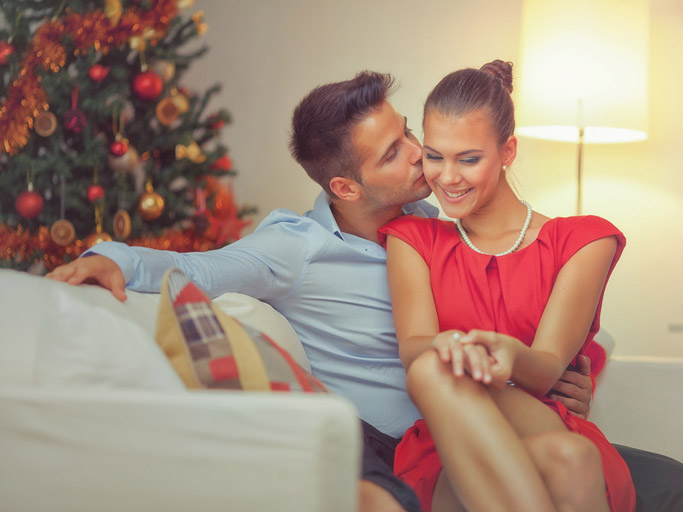 There's something utterly romantic about Christmas that tends to bring out the warm and fuzzies – as well as the engagement rings. It's a popular time for getting down on one knee, so, to celebrate the holiday season, here's some Christmas proposal ideas yule love.
A little Christmas tree bling
Hang the ring on one of the branches of the Christmas tree, or place it on a sprig of rosemary on the Christmas table dinner setting.
Image: Kristen Hornberger Photography Image: Living Radiant
Spell it out
Write your proposal on baubles and place them on the tree on Christmas morning.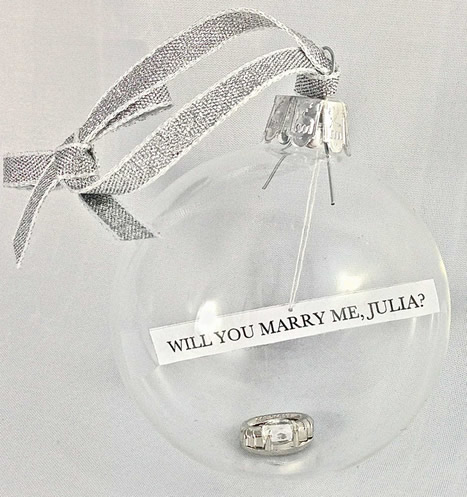 Image: Pinterest
A pine tree proposal
When you go to buy a fresh Christmas tree, take your special message with you and hang it on your tree of choice.
Image: With Love and Embers Image: With Love and Embers
Joe and Chelsea's annual trip to the local Christmas tree farm usually ends after (many painful) hours of searching for the perfect tree, but there was no doubt which one they'd take home this year.
A Christmas caravan
Image: Q Avenue Photo
Brad kicked off the holiday cheer by decorating his holiday caravan in sparkling Christmas lights – before getting down on one knee and whipping out an equally dazzling engagement ring.
Let there be (Christmas) lights
Photos by Jessica Fairchild
We can only imagine Jenny's surprise when she and Jake wandered around the neighbourhood looking at Christmas lights – and the words 'Marry me, Jenny' mysterious shone out of one of the garages.
Santa's little helper?
Image: Pinterest
Santa has his little helpers, and so did this groom… except his 'little helper' wasn't so little. Woof!
Classic proposal in front of a twinkling tree
Do it the old-fashioned way, except with a beautiful Christmas tree in the background!
Image: Pinterest
This Christmas proposal looks suitably romantic with the groom's face glowing lovingly under the twinkling lights.
Get Santa to help!
Video: Utah's KSL 5 News.
A Christmas card with a twist
A loved-up groom-to-be got his whole family involved in his creative proposal, which started off as a traditional family Christmas card shoot. But look again. The t-shirts no longer spell 'Merry Xmas' but 'Marry me?'