Chinese spoons have become a very fashionable way to serve appetizers or canapes, and including Chinese spoons in your wedding reception will help to give it a contemporary edge. They also save guests from getting sticky fingers. Read on to learn more about including Chinese spoons in your wedding catering.

What are Chinese spoons?
As the name suggests, these chunky spoons originate in China. They are used alongside chopsticks for everyday dining, and are especially useful when eating soup or rice. If a Chinese spoon is being used to consume liquid, such as soup, the liquid is sipped from the side a bit like a cup. If solid food is being eaten, the user lifts the spoon to their mouth and then eats the food using chopsticks.
Chinese spoons are usually made of porcelain and are plain white, but they can be made from other materials such as metal, and are also available in a range of traditional and modern oriental designs and colours. They have a wide, usually flat bowl and a curved handle.
How are Chinese spoons used in modern weddings?
Chinese spoons are being used to present bite-sized portions of complex dishes as appetisers or canapes at modern functions and weddings. Sweet or savoury foods are arranged in single mouthfuls, one on each spoon bowl, and then trays or circular plates of spoons are offered to guests. This makes the arrangement and presentation of the canapes very effective and is an easy way for guest to eat intricate appetisers without using plates or cutlery.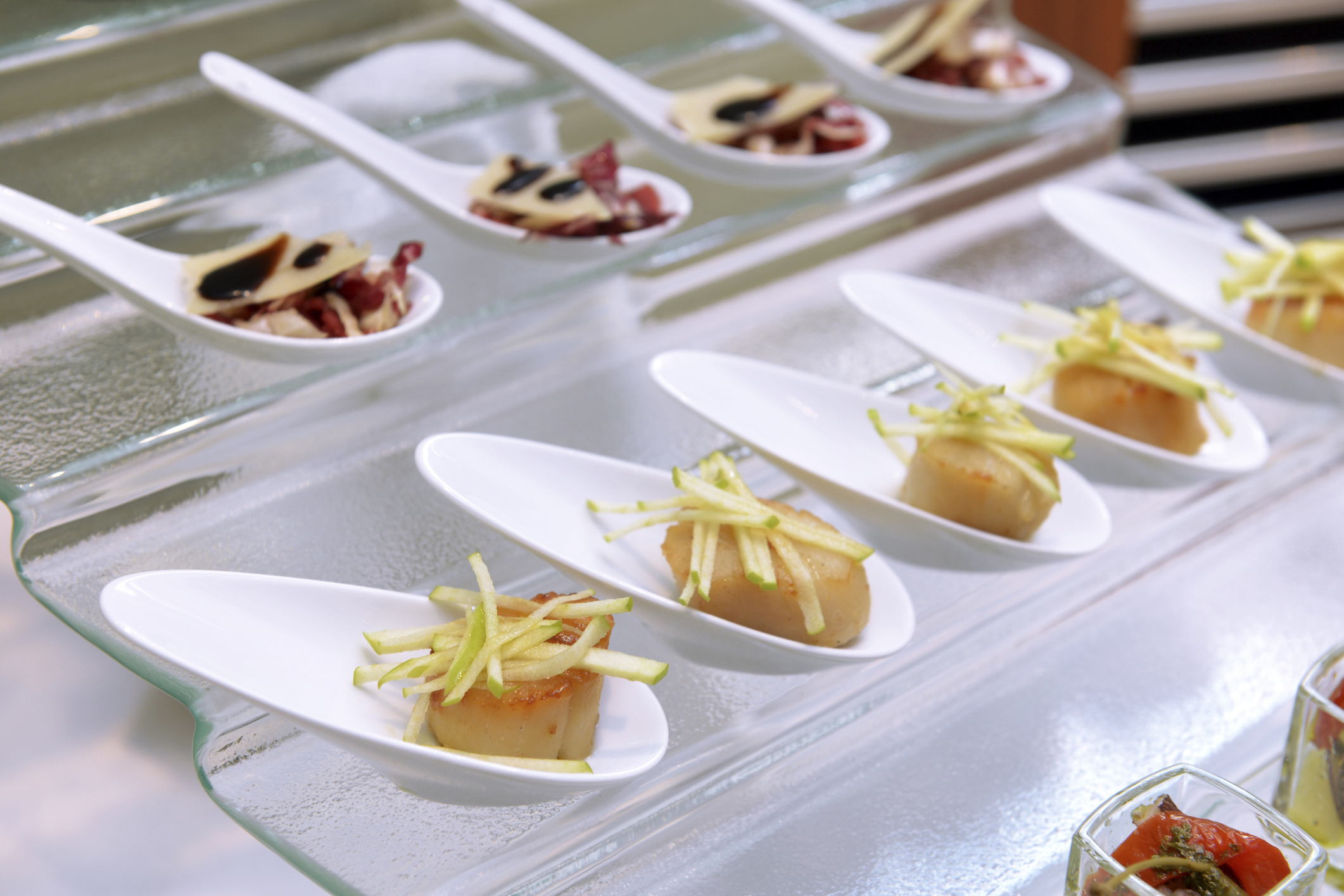 Chinese spoon appetizers work best when they involve a piece of solid food resting in a sauce or soup. Here are some of the more common Chinese spoon canapes:
Four ideas for savoury Chinese spoon canapes
A single piece of tortellini in a warm soup
A single meatball in a spicy tomato sauce
A square of curried chicken in mango syrup
A small bacon wrapped scallop in sesame sauce
Four ideas for sweet Chinese spoon canapes
A single strawberry in chocolate sauce
A single mouthful of caramelised creme brulee
A white chocolate truffle in raspberry sauce
A mini toffee and pecan sponge in maple syrup
Using Chinese spoons as bombonieres
Chinese spoons can make beautiful wedding bomboniere, especially if you are having an Asian-inspired wedding theme. Look out for unusually shaped or highly decorative spoons that can be filled with sweet treats. You could even place Asian spices in the bowl of the spoon and tie a recipe suggestion to the handle.
By arranging your Chinese spoon wedding favours in a circle in the centre of each table for your guests to pick up, you are adding an interesting feature to the table and accentuating your table centrepieces. Alternatively, your Chinese spoon bomboniere and its contents can be wrapped in a clear cellophane bag and tied with a complementary ribbon.