Nothing is more romantic than exchanging your vows on a beautiful sandy beach with the sound of the ocean as your wedding soundtrack. However, there are certain practical considerations to a beach wedding, and finding the perfect beach wedding dress will probably be one of your top priorities.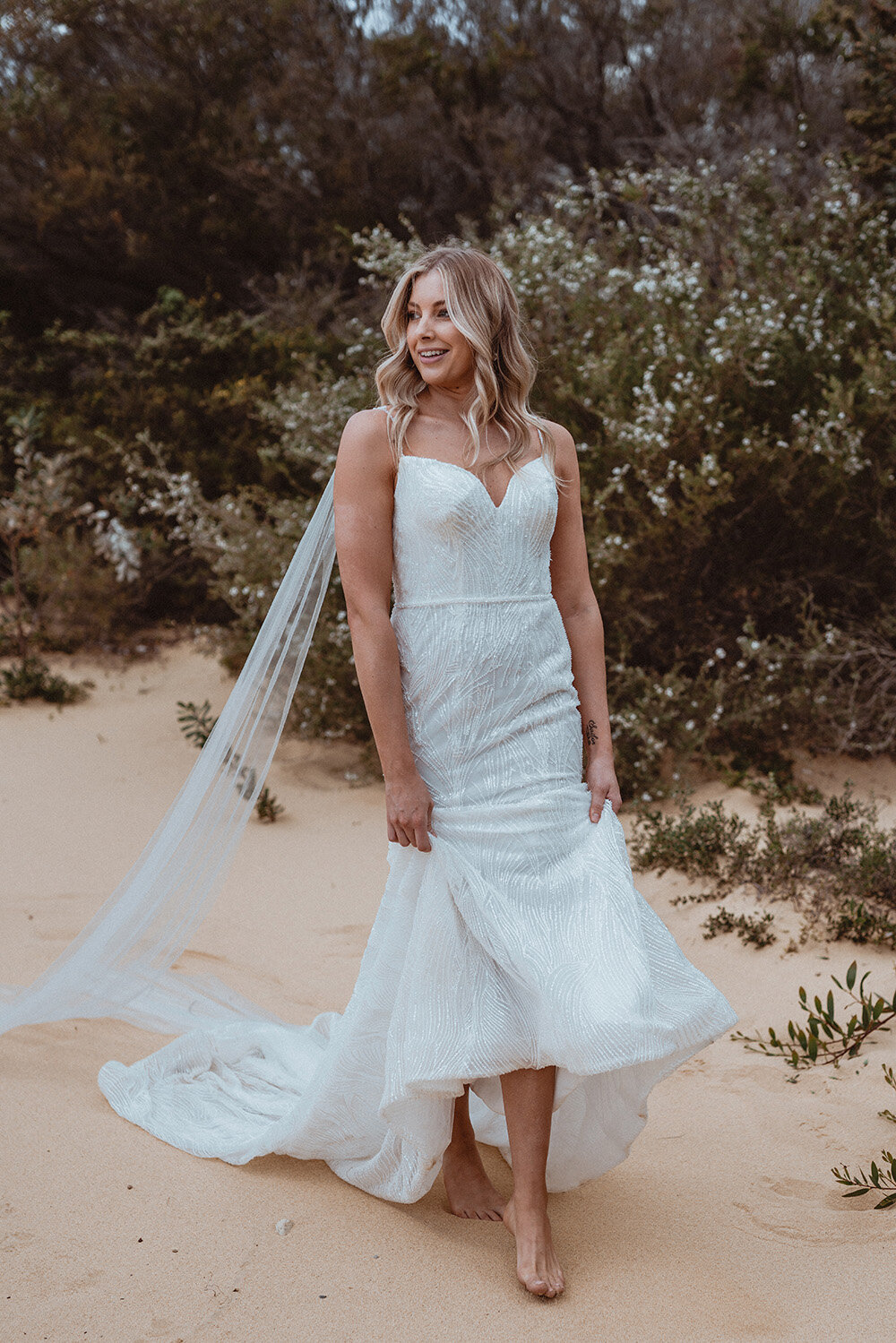 Here are seven tips on choosing the perfect beach wedding dress:
Tip 1: Consider a shorter style
The idea of your bridal train flowing along the sand may sound idyllic, but in reality, it will be annoying. Getting sand trapped in your dress could easily damage it and make it look grubby on the photos. Shorter styles are popular for a beach wedding dress and a cocktail length or tea length dress can work really well. Some brides choose a varied length skirt, which is calf length at the back and knee-length at the front to give a more bridal appearance without it dragging in the sand.
Tip 2: Choose a breathable fabric
If you are having a beach wedding, you are probably expecting hot weather and plenty of sunshine, so make sure the fabric of your wedding gown won't make you overheat. Light and floaty fabrics that work well for a beach wedding dress are chiffon and charmeuse so look out for dresses that feature these materials.
Tip 3: Look for a casual style
Beach weddings tend to have a less formal look and feel than indoor weddings, so a very structured, formal bridal gown with a full skirt and bodice may look out of place. The ideal beach wedding dress will flow over the lines of the body to give a soft and smooth silhouette, complimented by loose curling hair and fresh flowers.
Tip 4: Think about packing
Unless you are lucky enough to live next to the beach, a beach wedding will often require a certain amount of travelling. Finding a dress that is easy to pack and carry onto a plane as hand luggage will save you a lot of worry and will reduce the risk of your beach wedding dress being lost or damaged.
Tip 5: Don't rely on heels
Bridal gowns can look very different on a bride wearing flat shoes, and one that is wearing towering stilettos, and many brides rely on high heels to make their dress work. However, a beach wedding dress should look good with flat shoes, pumps, flip flops or bare feet, as high heels and sand don't really work well together.
Tip 6: Consider a strappy style
Although strapless bridal gowns are eternally fashionable, they often incorporate a lot of fabric and support which can be hot and uncomfortable for a beach wedding. If you are looking for a sexy style, nothing beats white spaghetti straps against tanned shoulders, and if you have straps you can try a style with a low cut back instead.
Tip 7: Prepare for a breeze
There is always the chance of a strong breeze if you are getting married at the waterfront, so try to limit any loose accessories on your wedding outfit that might blow around. Plenty of brides choose not to wear a veil with their beach wedding dress, and mini-skirted dresses are best avoided to reduce the risk of embarrassment.