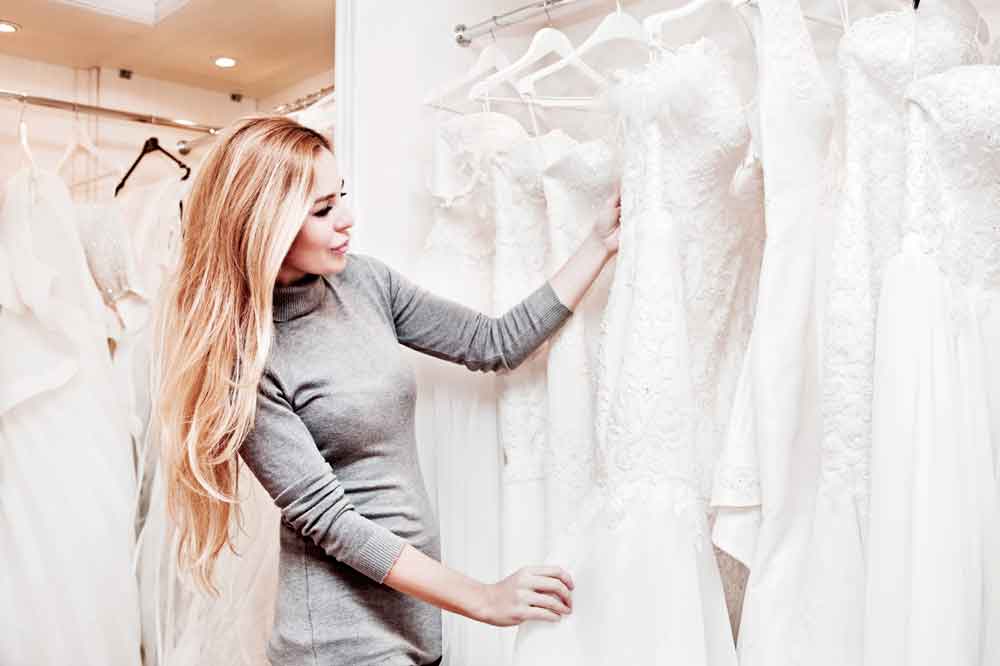 You've got the ring, now it's time to find the dress! Wedding dress shopping can be very exciting, and is no doubt a moment that you will want to cherish and make the most of. Just remember, it's never too early to shop for a dress, especially if it's for an event that happens once in a lifetime!
If you're not sure where to start, or maybe you're a little nervous, here are some essential reminders to help you when shopping for your wedding dress…
Know your look
You've worn many dresses and perhaps it's about time to figure out which showcases your character and form. This is the best foundation in purchasing your best dress style: are you going for a mermaid, an A-line or a ball gown? What shapes fit your body shape best, and what design elements enhance your features? These are all things to consider when you begin shopping for your wedding dress.
Do it early
Start looking for your wedding dress at least six months before your wedding day, (some eager brides even start 12 months before!), this allows time for finding the gown and then any alterations or changes you may want to make. 'Do it early' also applies to your appointment time, if you're planning to go to a few boutiques during the day you may want to book your first appointment as early as you can.
[ew-supplier-carousel]
Set a budget
Setting a budget means you can go in with a game plan, and will help give the salon assistants an idea of what gowns to suggest. The last thing you want is to fall in love with a gown that is ridiculously over budget. Also remember that without setting a budget and using planning tools like a budget calculator, it is easy to let the expense of a wedding become much greater than you expected.
Book your appointment on a weekday
Weekdays make great salon appointments and mean you can avoid the crowds. If it's possible for you, schedule a working day appointment and leave your desk for that all-important fitting.
Ask for opinions…but not too many
Ask the opinions of those closest to you. Bring your best counsel around and let them give opinions about the dress and the look you're going for. However, sometimes letting too many people voice their opinion can become quite overwhelming so limit you shopping party to as small a number as possible.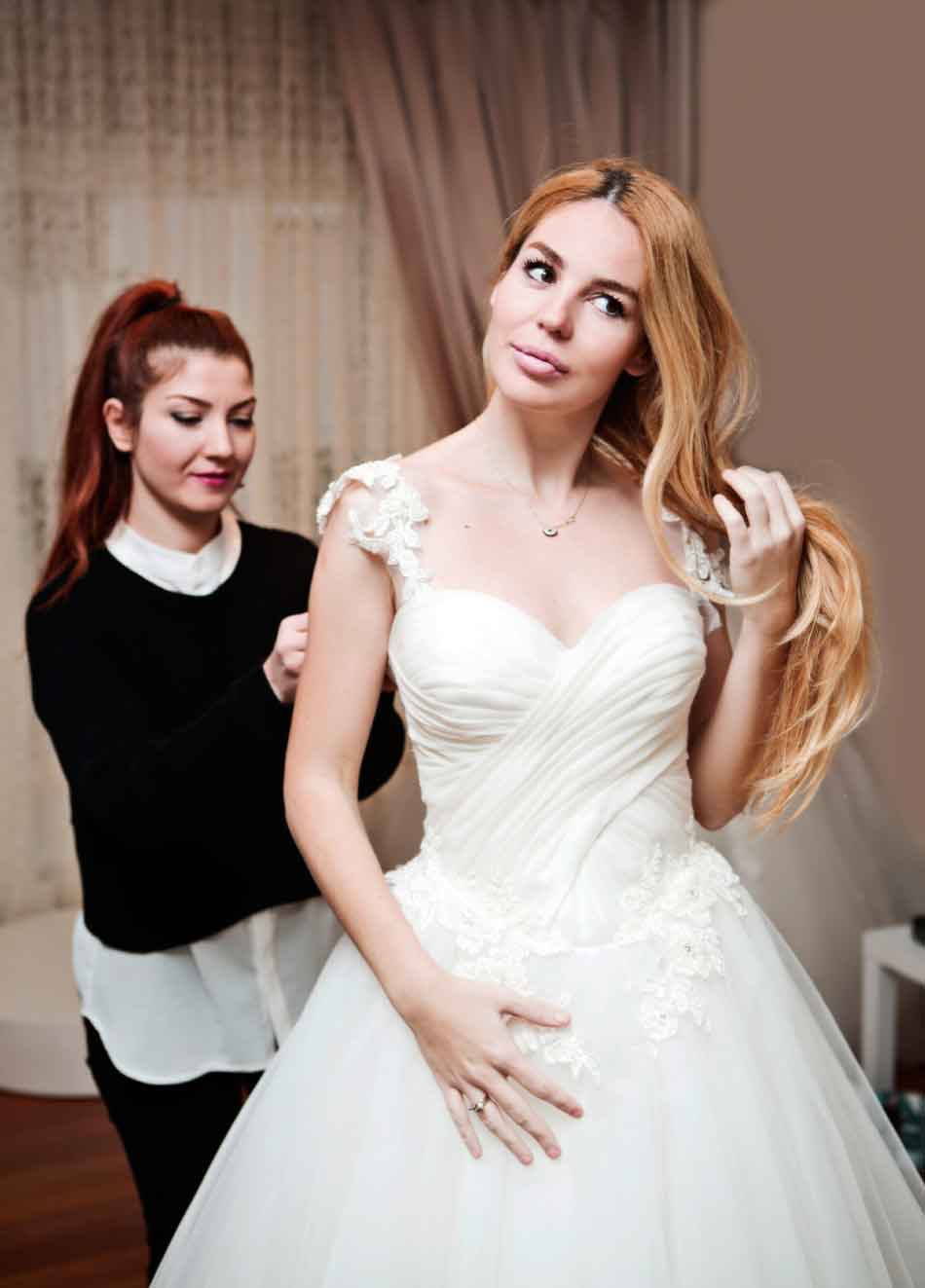 Consider colour
Maybe you want pure white, maybe you don't. Maybe you'll want a blush hue or a champagne tone. Maybe you thought you knew what you wanted but when the shop assistant pulled out a soft blush tulle or an ivory lace your heart skipped a beat… These are all possibilities! Open your mind and try everything to see what you like.
Personality is pretty
Choosing a wedding dress is a very individual experience and is an opportunity for brides to express their fashion personality, after all, your wedding day is the biggest fashion moment of your life! Choose a gown that reflects your style and taste rather than opting for something you or someone else thinks you should wear.
Let the professionals help
Your first choice may not always be your best choice. You may have to let go of that image in your mind wearing that specific dress. Allow the experts to help you pick the perfect cuts for your body. Who knows? You might fall in love with a second or third pick!
Shop smart
If you' end up getting engaged around the same time as sale season, then make the most of it! Start shopping while the sales are on, you never know you may find what you want for a great price!
Bring water and snacks
On the day of your fitting, bring snacks. You'll probably be spending a few hours at the boutique and it will no doubt be a long day. Avoid the hangry (hunger + angry) feeling so you can make the right decision.
Take your wedding location into consideration
Take cues from the setting. You may have chosen a beach venue or a garden wedding. Consider styles that will fit the atmosphere; you don't want to walk in a thick, ball gown while under the hot, sweltering seaside sun!
Take photos
If the boutique allows you to, it can be helpful to take photos. This way you can see how a dress photographs and see how it fits your figure from all angles. The best part about taking a photo is that it helps you to compare different gowns and allows you the luxury of giving yourself time to decide if you really love it or not!
Browse online
Go adventurous and hit the internet. Ah, the glorious power of online stores! Some bridal boutiques offer amazing deals—just make sure you read the return policy well.
Consider second hand
Maybe you're a lover of all things vintage? Maybe you're interested in selecting a pre-loved wedding gown? Or maybe you're thinking about altering your mother's wedding dress, explore all opportunities to find what's right for you!
Try everything
Try on as many dresses as you have time for! While some may say this can be overwhelming, the bottom line is that you won't know if you like something until you try it on! However, try to only try on gowns that are within your budget to avoid disappointment.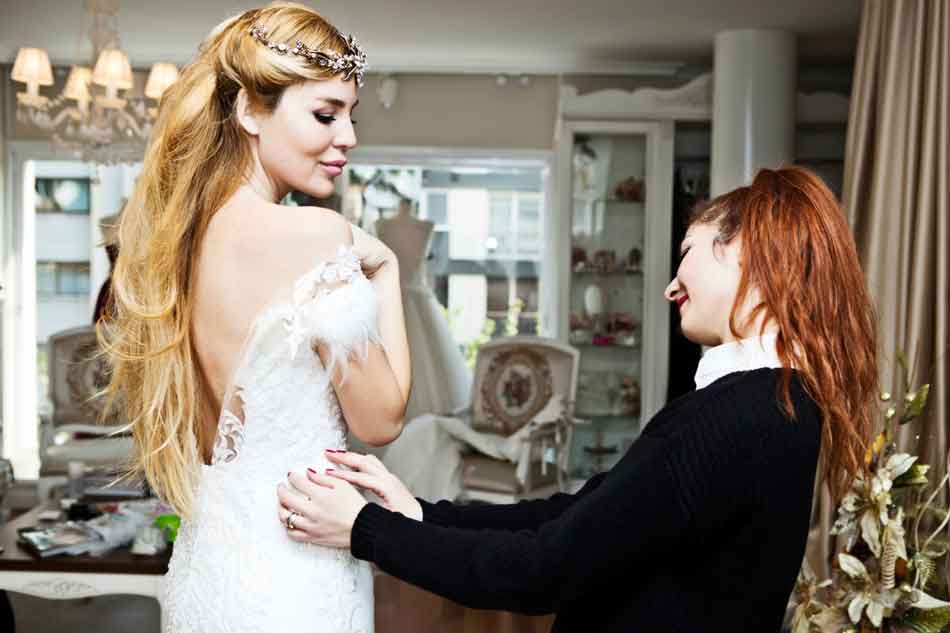 Don't be afraid to speak up
If you aren't comfortable with a dress, or you feel something isn't right, don't be afraid to speak up! Just because the shop assistant, or your mother or bridesmaids are comfortable with it, doesn't mean you should be if you aren't happy! This applies even more so to brides who are having their gown custom made; make sure you clearly communicate how you're feeling so you are 100 percent happy with the final product.
Buy a dress that fits
Buy a size that fits your present figure. Maybe you're planning to lose weight before your wedding day, however, it's easier to fit into a slightly-bigger dress than a too-small dress. Also, you may run the risk of buying something that you plan to fit into, but come the big day it doesn't quite fit.
Consider your accessories
Don't forget the accessories. The belt, veil, shoes, jewellery and headpiece makes a huge difference with the entire look! Try some of these on as well.
Follow your heart
Listen to opinions, but trust your gut. Many brides say they know when they have found the dress, and liken it to the feeling of knowing when they have found 'the one'. Listen to your heart and choose the dress that give you butterflies, (or makes your mum cry!).
Enjoy the moment!
A happy bride is a beautiful bride. Enjoy the experience, and if you're happy with your purchase, it'll definitely show. Keep that joy and let that radiance brighten up your aura on your wedding day!