While all eyes will definitely be on you during your ceremony, it doesn't hurt to put a little thought into what your ceremony backdrop will look like – especially for the photographer!
Whether you have the most jaw-dropping natural setting or more of a blank canvas to work with, there are many options you can look at when deciding on the perfect arch or altar for your ceremony.
We have pulled together 20 ideas for you to consider and while some are more traditional, others are a little out of the box and quirky.
Traditional floral arch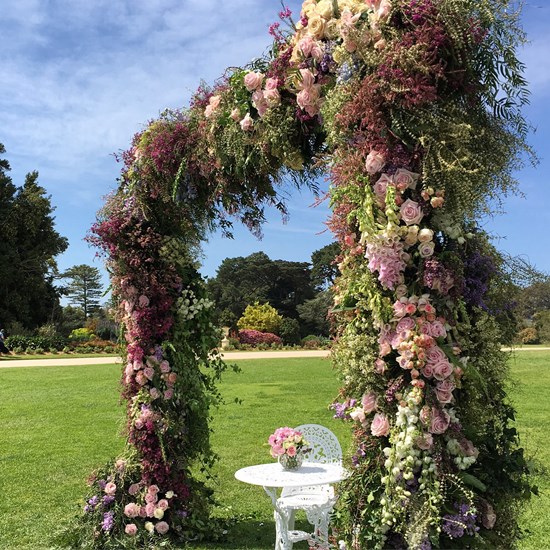 The beauty of working with floral arrangements is that they can be highly personalised to suit your taste as well as your colour scheme.
You can go all out with a large floral arch, or scatter the flowers and other greenery around in a more minimalist fashion and still make a big impact.
Lights
If you will be having a ceremony at twilight or even in the evening, a backdrop lit with fairy lights can really add a magical element to your ceremony.
Dream catchers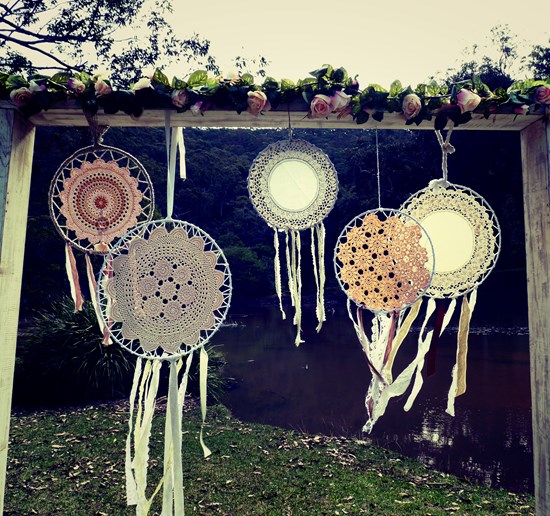 Dream catchers are not usually something you would associate with wedding decor, but when hung in the backdrop of an altar, they can be quite symbolic of the great dreams the couple have for a long and happy life together. They really compliment a bohemian theme.
Terrariums
Finding a table that matches your theme and placing terrariums of fresh flowers or succulents on top will create an eye-catching backdrop for your ceremony.
If your wedding has a quirky theme, you can also personalise these terrariums with little trinkets and other quirky elements to truly make them your own.
You can place these on an altar or hang them at varying heights from nearby trees or a simple arch.
Maximising the greenery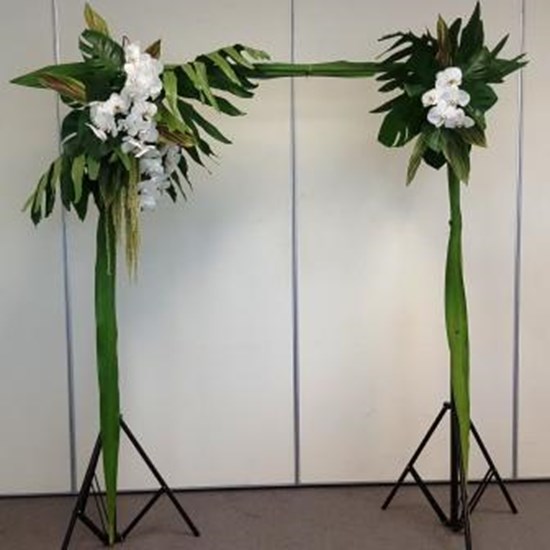 Whether you are wanting to boost the natural environment of your ceremony setting or want to bring a natural aesthetic to an indoor venue, using large-leafed greenery as a statement piece for your altar or as an arch to frame you and your partner will be a winner every time.
Candles
Nothing screams romance like candles, so why not incorporate them in your altar design?
While candles can be challenging at outdoor venues, they create a serene ambience indoors and look stunning in photos.
Vintage doors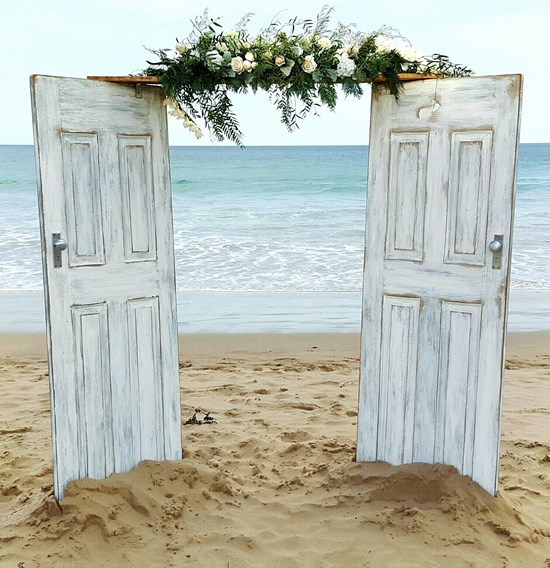 Placing a set of vintage doors in any setting can enhance the space and give a great boost to the theme and feel of your wedding with minimal effort.
You can dress them up with flowers or other decorations, or keep them bare for a truly rustic vintage look.
Origami
The intricate nature of origami makes it a stunning addition to any altar or archway.
You can arrange them on top of a table that matches your theme, or hang them from trees or an arch.
Getting back to nature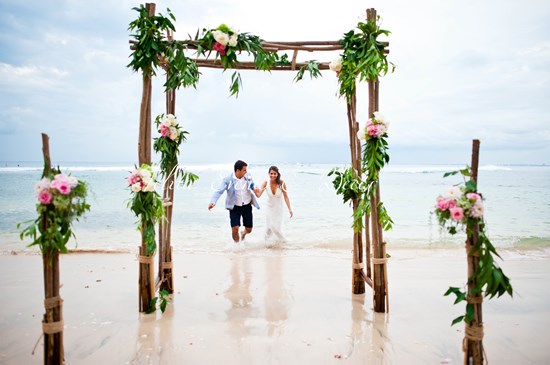 Using natural elements like bamboo and flowers can add a simplistic natural beauty that enhances a stunning backdrop rather than taking away from it.
This is minimalism at its best.
Photo frames
Vintage weddings lend themselves to the use of stylish mirrors and photo frames, so why not use them on your altar?
You can mismatch different styles, colours and sizes and add a personal touch by including photos of yourselves either during your engagement, before you met or as small children.
Simple fabrics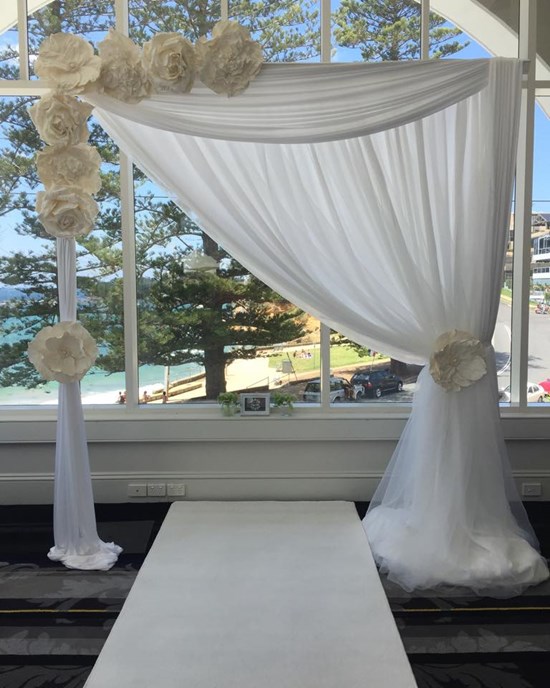 This stunning look created by paper flowers and fabric is a classic example of how two simple elements can create something that is timeless and sophisticated.
You can change up the colours to match your theme and create a canopy if you are outdoors to provide yourselves some shade if your ceremony is held during the day.
Tassels
When you think wedding, tassels don't usually spring to mind, but they can be very effective decorations for an altar or arch.
Think mismatched colours, different materials and designs and the potential is only limited by your imagination.
Lace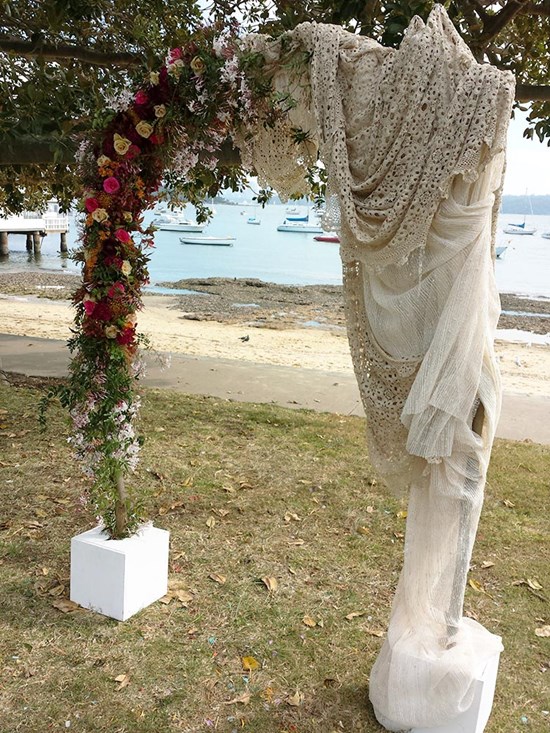 From lace tablecloths to draping lace over an archway, this material is so diverse in its ability to complement anything from a classic vintage wedding right through to boho chic.
Ribbon
Ribbons are a cost-effective way to bring colour and movement to your altar.
Attaching thick ribbons to the altar or hanging them from your arch is an easy DIY way to liven up your ceremony backdrop.
Pottery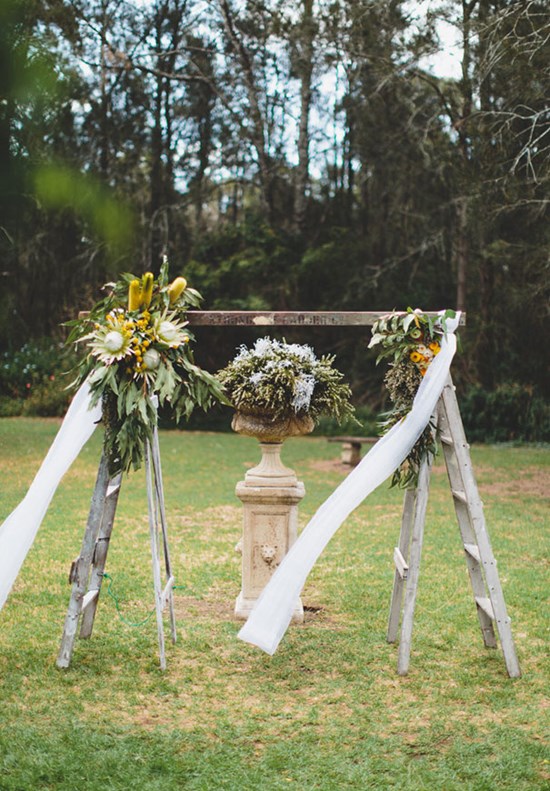 The vases or pottery you choose to house your flowers can really add value to the theme you have chosen for your ceremony.
Teaming old-style pottery with bare wood and native flowers creates a really earthy feel.
Giant balloons
Not just for birthday parties, giant balloons can add an element of fun to less traditional weddings and also a welcome pop of colour for indoor venues.
Woodland wonders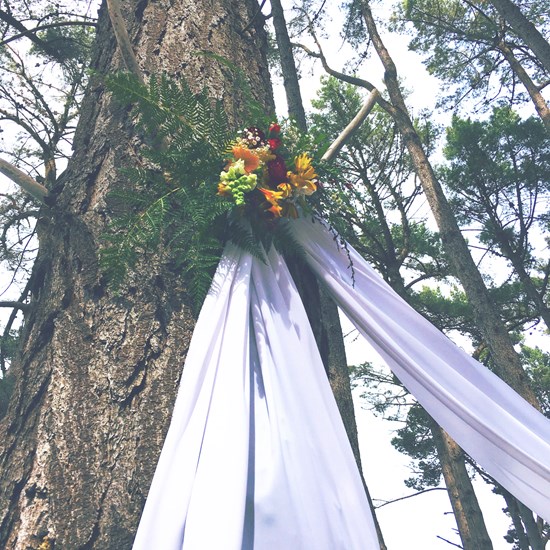 If your ceremony location already has lots of surrounding trees and other visual wonders, you can add a little pizazz by hanging simple flower arrangements or fabrics from them.
If you are lucky enough to have the tree close enough together, you could use this method to make a simple arch by draping the fabric from one tree to another and enhancing it with simple flower embellishments.
Ladders
Simple wooden ladders can make amazing and unique archways for weddings or if you run a wooden plank between two smaller step ladders, you can create a rustic altar to decorate with flowers or other elements.
Garden greenery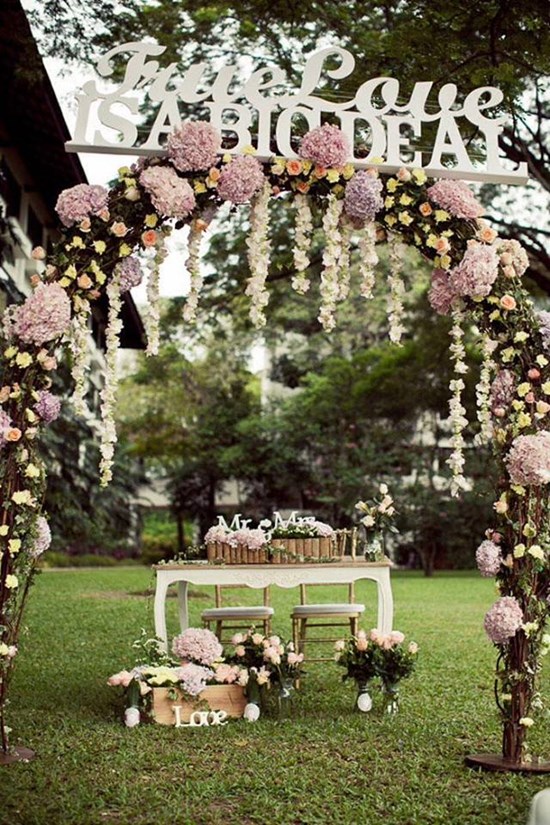 A simple vintage table and chairs is an easy way to create the perfect altar that can double as the signing table for your wedding.
Hoops
Metal hoops can be used to hold simple flower bunches, ribbon or greenery behind the altar.
If you want to DIY, you can cover hula hoops with fabric or lace and secure them at differing heights from a post or suspend them from an arch.